Well what do ya know… it's finally my turn to show off my new digs!
I actually think its' pretty ironic (in a sad kind of way) that for the past 8 months or so I have been helping photographers brand themselves from head to toe , all the while I barely had a background on my website!  Because I had transitioned my old design business to center more on photography tools and everything was absolutely rushed, I had zero time to really think about myself.  Once I saw that both my design and photography businesses were really taking, it only made sense that I couldn't put my branding off any longer.  Obviously I want other photographers to take me seriously when then come to me for branding, but I had also decided late last year that I was shifting gears with my photography business… as of today, I will officially be specializing in newborn photography!  Of course I will still be taking on other children and family sessions, but those will be limited for the year.
When I first started my photography business, I really did it all… maternity, newborns, children, families, weddings… you name it, I would take it.  However, now that I have the design part of my business, having "normal" on location sessions just doesn't work for me or my family.  Having the ability to only shoot from my home is HUGE!   I dont have to figure out child care for my kiddos if my husband is at work.  I don't have to load my car up and travel.  All I have to do is drag my newborn set ups out, warm the room, and soak up those babies.  Eventually, the plan is for my husband and I to build a little studio for me and we are even looking into buying land very close by to build on…. so many plans in the works

Anyways, with all that going on the past few months combined with the fact it was also time to replenish my marketing pieces, it was the perfect time to rebuild my brand.  Here are the things that were must haves based on: #1 my personality and things I love, #2 the types of images I take and my processing style, and #3 my target market
bright colors
hearts
a simple logo
polka dots
eclectic, modern, with a bit of a vintage flair
Surprisingly, I had ZERO difficulty putting everything together and when I showed my husband the first draft of the store… the first thing he said was it's 100% YOU (except he hates the bird lol).
Corina Nielsen Designs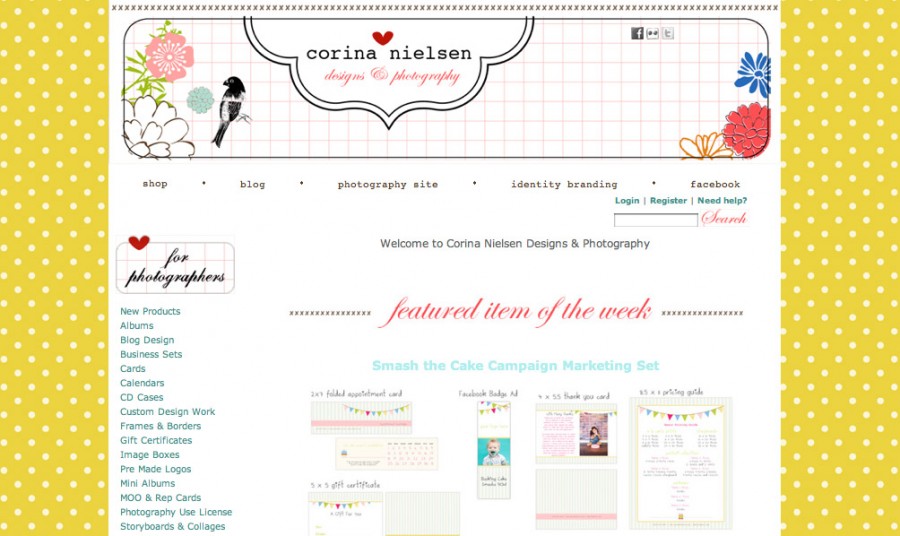 Once the store was done, I had to tackle the blog.  This I had a bit of a problem with.  Because I use my blog for both photography clients AND to display my design stuff, I knew I had to keep it fairly simple so that the pictures and previews would stand out.  Originally, I had used the yellow polka dot background, but it totally overwhelmed everything…. so I lost it!  Then I also decide to take out my slideshow/photo rotator… not sure that will stay gone forever, buts its growing on me.  I like how that except for the header and the pop of color on my date headings, everything is completely white and clean.  Hoping it still looks like "me"!
Then it was time to get on the business/marketing pieces.  I already knew what items I was going to include in both my welcome packet and thank you packet, so it was just a matter of getting the store design on to the business templates and still make everything look cohesive.  Again… didn't have an issue!  I 100% LOVE LOVE LOVE having pieces printed at the lab.  Most of my items are printed through WHCC and I pay extra for the UV Coating!
Here are some previews of my "welcome packet"…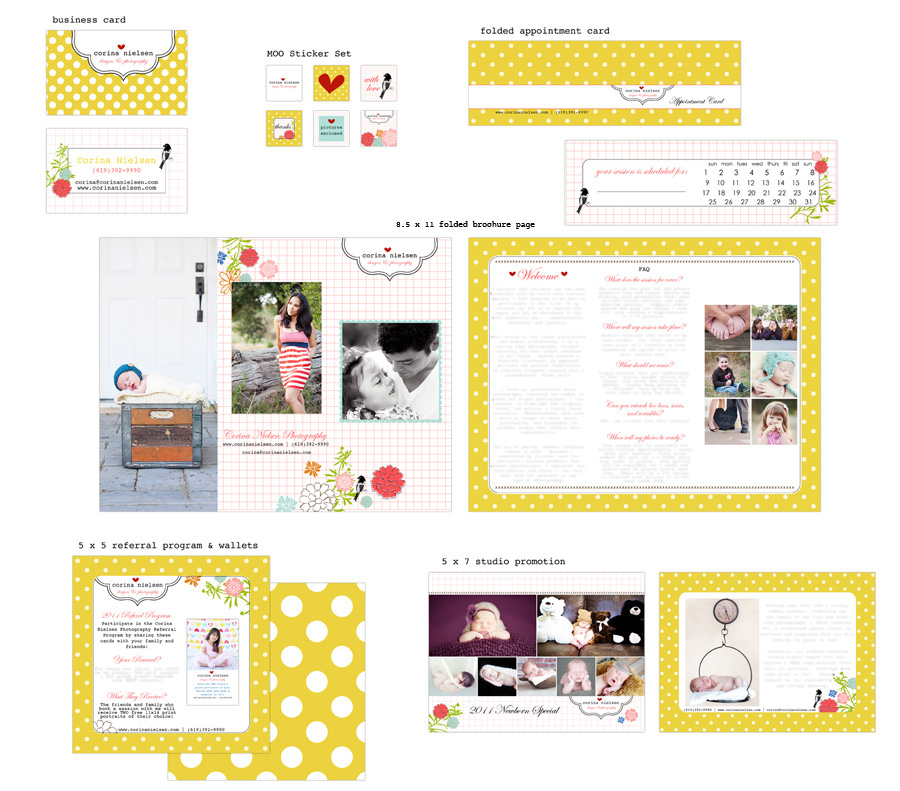 And here it is printed and packed with my contracts and other info.


One of my favorite pieces I'm using is a folded brochure page.  I used to use a 5×5 trifold, but think I prefer the look of these instead.  I can fit way more information on them!  This is the inside view….


and the outside view…


Can't wait to send my first packets out!  It feels SO good to have everything all put together, cohesive, and most importantly my new brand reflects me 100%

 Next post I will feature my packaging items and "thank you" packet, so stay tuned!
Guess that only leaves my other special announcement…. I had intended on announcing this on my birthday as a present to someone else, but things got a bit hectic!  So, without further ado…
Know anyone know someone who needs &
deserves

a branding of their very own?

I have decided that I would like to pay it forward for one lucky photographer!  This giveaway will include the following:
1 on 1 conference call to discuss your business and what you are looking for in your branding
a custom logo design (I will provide 3 drafts like I normally do and we will work with one of them to finalize)
a business set/marketing set which includes 8 pieces of your choice
This isn't your average giveaway though…. here is the catch and other details:
You CANNOT enter to win for yourself.  You must nominate someone else.
Leave a comment on THIS post letting me know of a photographer you know who deserves a branding AND why.  You must provide a link to their site and if you have a link to their Facebook or blog, that would be great too.
Both you and nominee must be "likers" on my Facebook page
Leave a comment on my Facebook wall with this message:
"@yourfriendspage deserves to win a branding of their very own and I want to win one for him/her from @corina nielsen photography!"
Please note that once you begin typing the @ symbol and a few letters of the FB pages, a drop down menu will appear for you to make the pages clickable!
Nominee's must be posted by Sunday, March 27 2011.
I will handpick the winner myself
The winner will be contacted within 72 hours and the branding process will begin near May 1, 2011.
I'm really looking forward to hearing people's stories.  I feel so incredibly blessed in my life… it's only fitting that I want to share a bit with someone else.  Just knowing I can help someone with their business will bring a smile to my face!