Our sweet baby girl is getting older… I don't have a clue how this could have happened but Makena has officially turned SEVEN!  My sweet, smart, considerate, sensitive, quick witted, and forever cuddly little girl is now a big girl!  Seems like it happened over night

 Of course going to Disneyland to celebrate her day like hubby wanted was not good enough for the girls in this family.  Why take the easy way out when I had loads of inspiration for a RAINBOW party?  I had been gathering ideas on Pinterest all year long and was thrilled when Makena got on board for the colorful theme… one can't have a party without a theme right?  Boy was it a colorful weekend…
We started out on Friday with Makena's actual birth day.  Unfortunately, the kids had school so we didn't get to do too much.  Went out to dinner at one of her favorite restaurants and then came back to the house for some cake.  I knew we would be busy with the actual party the following day so I whipped up a quick little 6″ cake for us to have.  I adore these little guys.  So easy to bake and decorate!  Let the rainbow fun begin…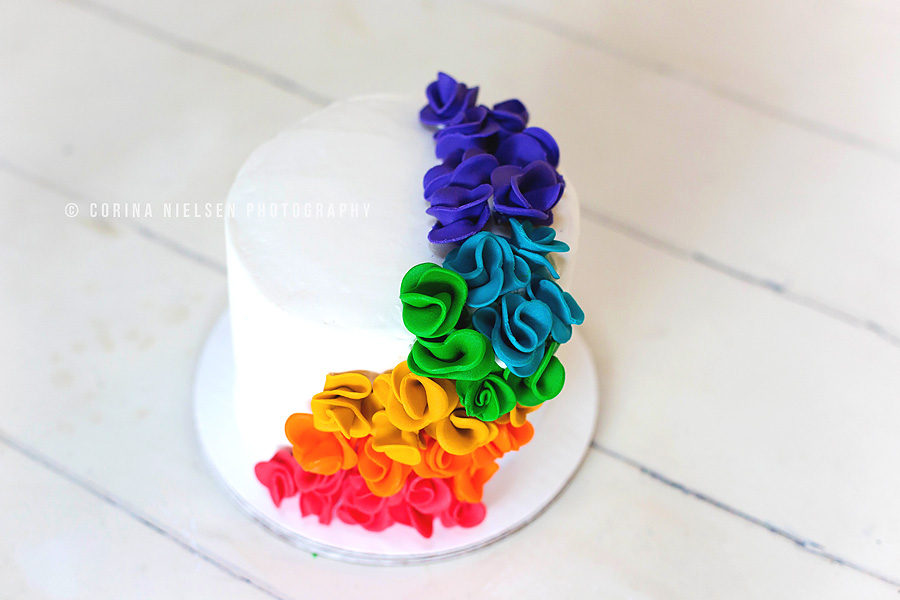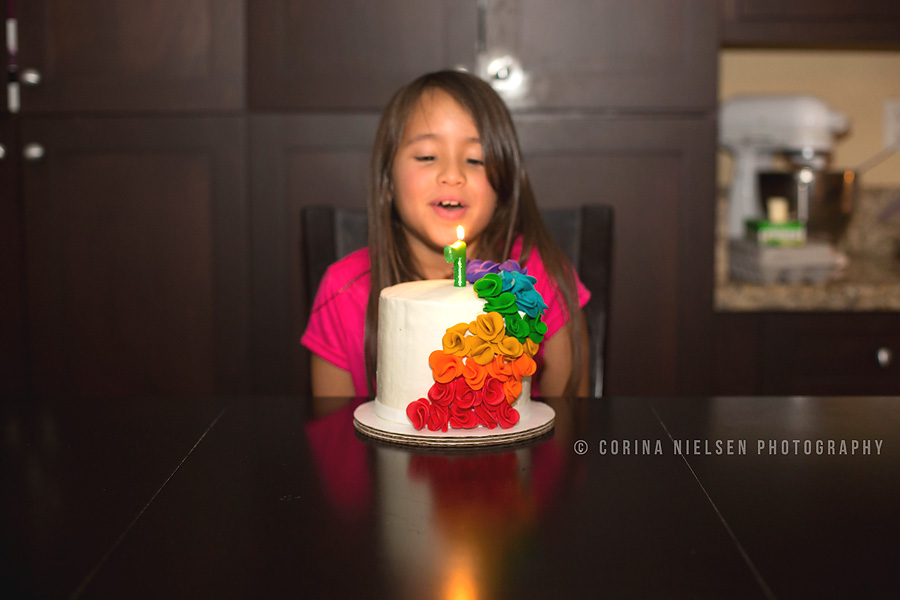 We got an extra special treat having my family come in from Los Angeles a bit early so the kids got to play for the rest of the night!  Then we woke up bright and early to begin the real festivities…
Floral arrangement has never really been my thing, BUT I knew I had to have some fresh flowers mixed in here and there.  Went to my favorite local flower shop and grabbed a couple of bunches of flowers in all of the colors.  Took me about 5 minutes to pick and then 15 minutes to arrange once I got home.  It felt nice having the flowers all over the house!  Easy little fresh touch!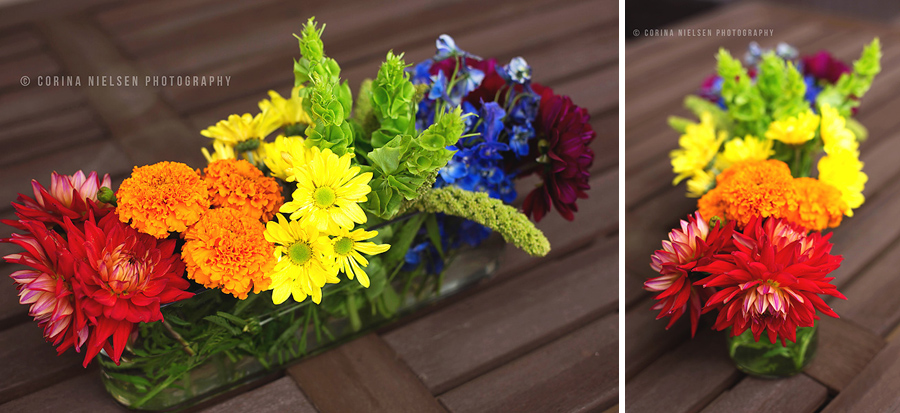 And on to the real rainbow decor…. Makena had a hand in almost every single rainbow touch at her party.  We cut the garlands out together and while I sewed the hearts, she glued each and every single chain together!  She was so excited to help and this was our first project for the party!  Everything else kind of just exploded from there but man, did it all look cute!  I adore this rainbow theme, totally wish I could do it all again.












And the dessert table…. sugar anyone?






















And here is the birthday girl, in a dress her and daddy picked out together!  I love that he eventually got on board with all of this rainbow craziness!  They picked good…  she was so happy and excited from the second she woke up!  This face says it all!


It was nice keeping the party small and quaint!  Makena only invited her bestest friends!  Loved seeing them get along so well and having so much fun.


First order of business… one of Makena's new favorite things to do: face painting!  She always asks to have her face done when we are at a fair, carnival, amusement park, etc.  Since she loves it so much AND I knew it would be colorful, this was a must for her party!  The girls were excited to pick out what they were going to have done.


















Play time…






We also got a VERY special visit from our favorite teacher in the whole wide world… we were lucky enough to have her teach BOTH Blake & Makena for 1st Grade.  Luckily, we have now become friends so I suspect she will be at many more future family events.  She also has a very special bundle being born soon that I get to see and take pictures of

 How cool is that?  We are blessed to have such kind & amazing people in our lives'… we love you Mrs. A!




Game time… musical chairs, freeze dance, and the ever popular piñata!












Cake, presents, and that's a wrap…










Well almost a wrap…. once Makena's friends left, all of the cousins got to play around for a bit together.  Saved the best part of our day for last, getting to spend time with the family





Special thanks to my "fun" husband who thought it would be a great idea to buy the kids silly string!  Thankfully he cleaned it all up.  The kids had a blast so it was totally worth it!












I adore these kids…


I adore my family…


Happy Birthday Makena!  We love you so much and hope your 7th birthday was everything you hoped it would be!