When I first started offering branding to pro photog clients, I thought that I would offer a couple of different options, with a couple of different prices.  Some photographers want an entirely custom look, something that is only theirs and not AT ALL similar to anything else they have seen (and hopefully will ever see).  However, some photographers want something that is unique to them, uses specific colors, their logo, something that resembles their style, but are looking for a theme/concept that is more main stream… say for example polka dots, stripes, a certain pattern, etc.  I have found that the divide is nearly 50/50.
So what I did was offer both options…
The first allows me to create a custom brand for a client but then CHANGE it ever so slightly so that I can sell as a pre made set in the store.  Here is an example to better illustrate:
Original Branding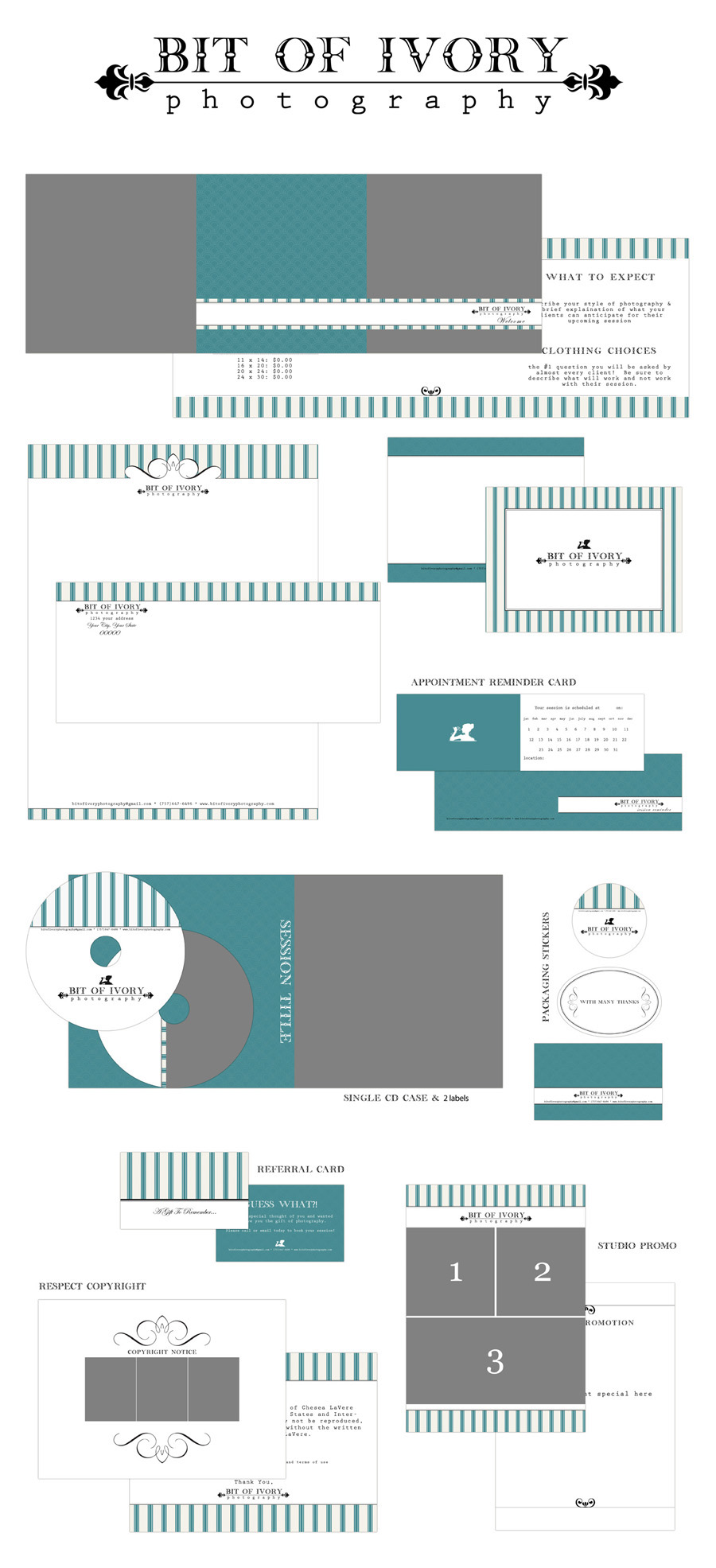 Altered Business Set Sold In the Store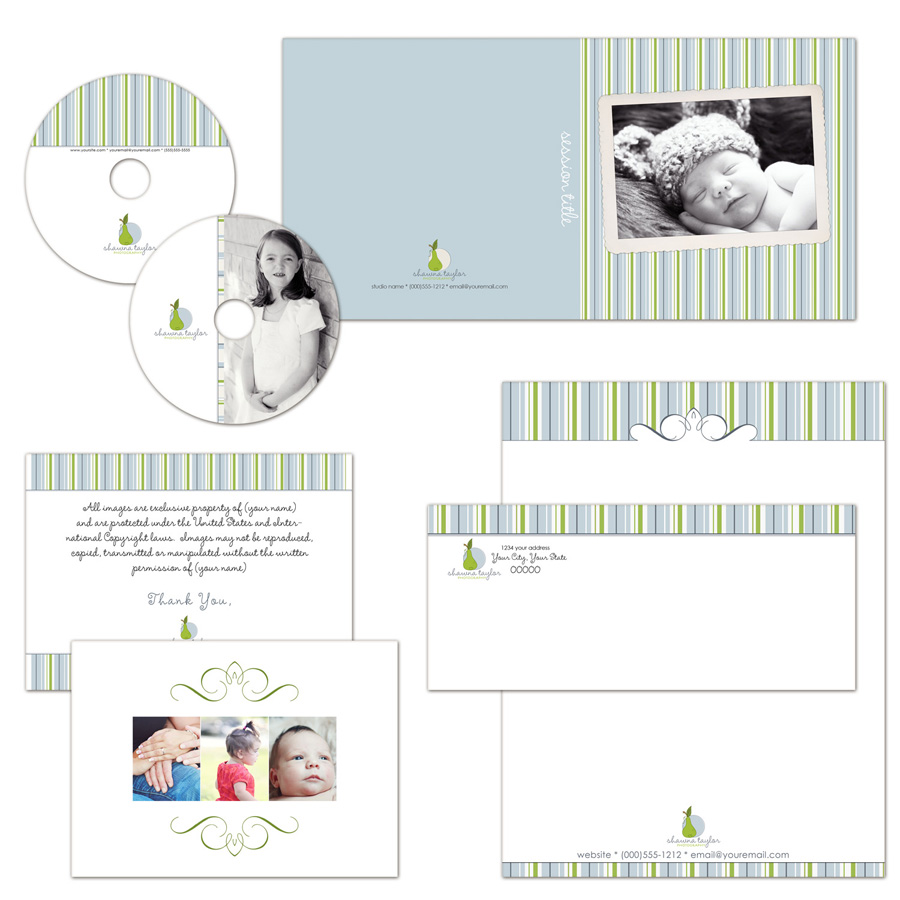 Notice how the set looks different now?  Stripes were changed ever so slightly, colors were added/taken away, fonts were replaced, new logo is placed… different, BUT all based on the original design's that I have tweaked!  This is a great option for those wanting to save a bit more money AND who don't necessarily mind having sets sold that are based on their design!
The other option is entirely custom branding.. made solely just for you, won't ever be resold anywhere at anytime,  and most importantly, YOU maintain the copyright over the theme/concept.  I will never base any future designs off of the original.  This is VERY important to many clients and rightfully so!  It's tailor made just for you!
All that being said, please keep in mind that I take ALL of my custom/semi custom brands seriously.  Each and every client I take on gets my 110% undivided attention.  I ONLY work with ONE branding at a time and I am available from the beginning of the project when I send the questionnaire until the very end when I deliver final files (often times even after that because of additional questions lol).  Nothing is different in the process of the creation & project.   Each client receives the same questionnaire to fill out and we work together to create a brand and concept based on you, your work, and overall feel you are trying to portray to YOUR clients.
The current wait list for my custom branding is now into mid January!!!  Within a matter of a few days early this week, I completely booked up THRU December and am now taking deposits for early 2011.  To find more information on my branding, the process, and prices, you can visit THIS page.
PLEASE NOTE: my rates will be raised for 2011 so if you are interested in locking in my current rates, I am asking that you place your $150 deposit
HERE
before November 15, 2010.  Any deposits taken AFTER that date will go towards my NEW prices/packages… so lock in a great deal now!!!  The current start date for those putting in a deposit now is January 10, 2011.  However, if you place your deposit now, you can book a start date at ANY time in 2011 (this will change as people place themselves on the wait list and I will update accordingly).
So there you have it!  My branding packages in a nutshell!  If you have ANY questions or would like to discuss the packages in more detail, please contact me directly at customdesigns AT corinanielsen.com!
Another exciting announcement….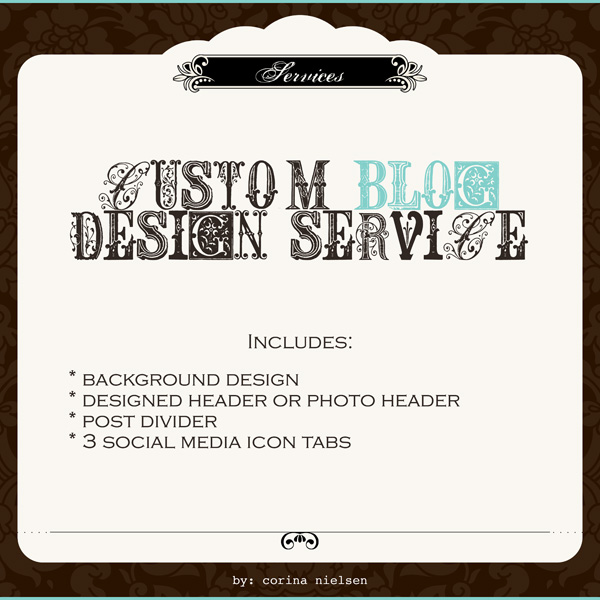 I am excited to announce that I am now officially opening up my wait list for custom blog's and full installation service! Rates begin at $125 and include the following:
WordPress based theme
custom background/coordinating with your current brand
header
set of social media icons (Facebook, Twitter, Flickr, etc.)
post divider
detailed video tutorial to help you get started (available in November 2010)
Additional blog services:
installation
photo rotator
gallery option
extra design options (post dividers, favicons/avatars, etc.)
To reserve your spot on the wait list, simply place your deposit here.  You will be notified of your expected start date for the project and asked to fill out a questionnaire.  Blog design/installation will currently be completed within 2-3 weeks of your deposit.
In honor of this announcement, I have chosen 1 lucky winner to receive a custom blog makeover from my Facebook business page!!!  A couple of weeks ago I had posted asking if anyone was interested in working with me on a free custom blog.  So many people to choose from but have decided I will be redoing a blog for….. drum roll please…..
I also have a winner for the new blog templates I posted about last week HERE!  Winner was picked at random… drum roll please….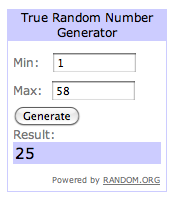 Congrats Sharon & Leslie!  I will contact sometime today with some information/link!
That's all for now folks!  More to share next week….
sneak peek of my favorite and most special session to date
new product releases
gear talk and Q & A
new featured branding client