So excited and proud to show off the new look of Corina Nielsen Photography & Designs!  It's a project I have been working on for at least 2 months now and figured today, my birthday, was the best date to unveil it.  This has been a collaborative project between myself, my husband, and BOTH of my kids.  Every time I expanded one part of my branding, each person in the family weighed in and gave their opinions… I think thats part of the reason why I feel so emotionally tied to my new look.  Each and every detail was carefully considered and in the end, we all LOVE what WE came up with together!  Because I could not do anything I do without the love & support of my family, I knew I couldn't come up with any of this without them!
When I first started to brainstorm ideas, colors, graphics, etc. for the new look, there were a couple of things I had to keep in mind.  #1 I run TWO extremely busy businesses (photography and my graphic design/branding services).  I knew I had to come up with colors and a style that would lend itself to both.  #2 I am a TRUE believer in the "less is more" philosophy so I knew whatever look I went with it would be clean, tailored, and incorporate a lot of white space.   The main reasoning behind this is I ALWAYS want my images, graphics, portfolio to grab clients attention FIRST in both businesses.  Having an overly busy brand will only detour people away from what the focus should be… YOUR work!  However, that being said, to stay true to myself, I knew I also needed COLOR!  I'm a color fanatic…. the more the merrier in my opinion!  So I decided on mainly white with lots of pops of color to run through the entire brand.  This is what we came up with after about 15 drafts or so!


The last thing I knew 100% I needed to incorporate that would run through my entire brand was hearts.  Ever since I was a little girl, you could always find me drawing hearts.  I drew them EVERYWHERE I could, in every color there was.  I know some will find the graphic a bit cliche & overly done, BUT the hearts really mean something to ME!  I sign all my letters and cards with either a heart or XO, so having the heart present in my brand was a MUST.  Didn't need my family to decide that one

Once the logo and overall look was done… now came the fun part!  Packaging and all of the little details!  This was seriously the BEST part of this whole process, dangerous, but definitely fun!  For 2 weeks straight, FED EX, UPS, and USPS were dropping things off left and right!  In the end, I am thrilled at how it has all turned out and very excited to show it off!
Can I just say every time I look at these little bundles, I can't help but smile?  These are the packages that I now send out for my digital collections.  Included are the files clients have ordered on a custom USB drive, client care cards, 5×7 thank you card with a handwritten note on the other side of whats shown, a little thank you goody bag from me, and I also include a little box of sweet treats!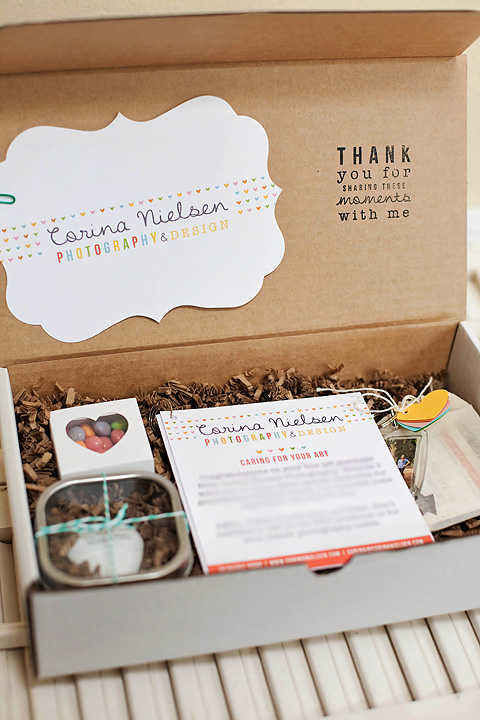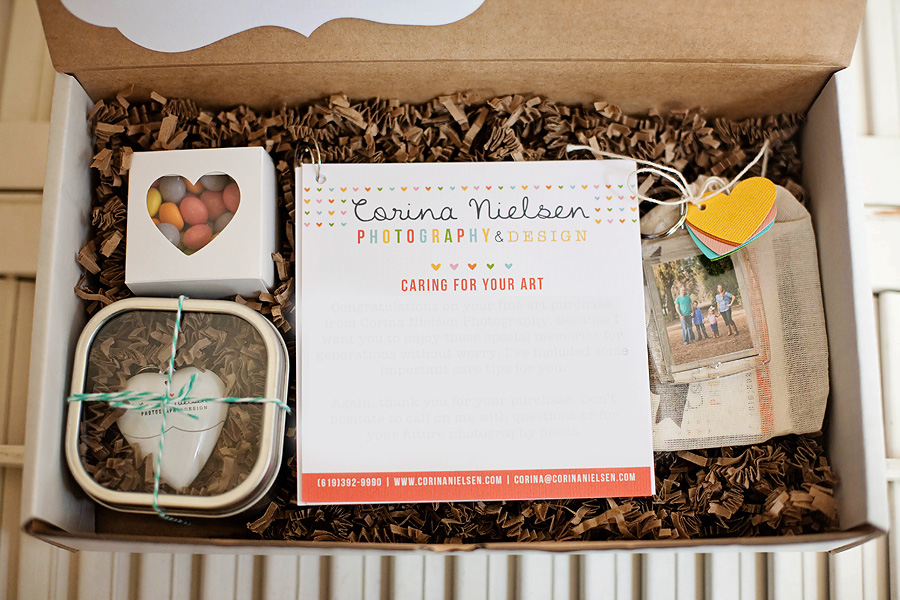 Probably one of the items in my brand I am most proud of and I puffy *heart* the most… my new USB drives!  These guys took the most thought for my husband and I.  I had decided earlier this year that I no longer wanted to do the custom CD's & cases I had been doing since I started my photography business.  I hated having to take the time to prepare the files for the lab and then having to wait for them to send them out.  My husband had a pretty strong opinion that USB drives just made more sense for clients… so we went on the search for a custom one for me!  After many many days, countless quotes from manufacturer's, back and forth emails with them about my customizations, this is what we ended up with!
Originally, I was fighting to have the "real" logo on them with all of my colors but most USB companies will either only do a 2 color process OR a 4 color process.  I was bummed that it couldn't be done, but I love these all the same!  It's convenient, adorable, and most importantly…. I feel like its REALLY unique.  When I did searches for inspiration, I found a lot of photographers had pretty simple swivel thumb drives and although I was originally going to go with one of those, I got the idea for the heart and was lucky enough to find someone to do them!  So happy with the final product!








Another item I was sure I needed to include was a little thank you package to each client.  Nothing big, just a sweet gesture from me to them.


Included in the lithe canvas pouches are a set of wallets (I will most likely pick my favorite image from the session for these OR one I know they love), a magnet with my business information for them to hopefully place on their fridge, and then a keepsake keychain with another favorite client image.  And again… to make sure my brand is incorporated, hearts were a must!  Luckily, I found the exact colors of my look in card stock and I was able to use one of my many heart punches from my scrapbooking days to punch them out!  The canvas pouch also has a hand stamp I made with a thank you banner on it.


Each box is closed and then sealed with my "address return" sticker…


Another custom stamp I made that I figured would come in handy, just to add a little special touch here and there where I may need it!
You can find the stamps I am selling in the store HERE!


As for clients who order print packages… these were also really fun to create!  Just deciding on what color boxes was a big task though!  I had seen a lot of photographers who used different colored boxes and while I REALLY loved them and how bright they were, I had already decided that I wanted to use different colored yarn to tie things up.  It wouldn't have looked right on the colored boxes, so I went with clean, white boxes and then found the colors of yarn used in my branding.  Again… I had to tie hearts in though!  I had seen lots of packaging ideas using doilies, but I had to take it a step further and find something with hearts

 I was lucky to find this shape and in all of the colors I use in my branding!  Last but not least, I have always been a fan of my MOO Mini cards so when I was designing my business pieces, I came up with about 10 different designs that I include on all of my packaging!




My print packages then get sent out in white padded mailers, topped off with a cute sticker!


And for clients who are lucky enough to get both a print & digital collection, this is what their packages look like!


Here is a little closer look at my stickers and MOO mini cards.




You may also notice the little quotes I have included here and there.  Of course there is a rhyme and reason to that as well.  I searched high and low for quotes that were special to me AND that would relate really well to my business.  The main one I use on a lot of my pieces is "Make every moment count."  People who are close to me, know I don't take myself too seriously.  I love to laugh, I love to joke around, I love my husband & family, I love my life.  I have been very blessed with everything I have been given in my 34 years and there isn't a day that goes by that I don't thank God for everything.  I can literally catch myself daily looking around and thinking, "Damn, I am one lucky girl".  I don't take ANYTHING for granted, ever.  I also know that in the blink of an eye, your world can get turn upside down and all of the things that should be most precious to you could be taken away.  Because of this, I have always tried to live my life with the "Make Every Moment Count" attitude.  Whether it be my work moments, the moments with my friends, the moments by myself, or most importantly, the moments with my husband & family you can rest assured that I am living each of them to the fullest AND thankful IN those moments.  It only made sense that I try and relay that message to my photography clients as well.
And last, but not least for today… because I LOVE these so much, I thought I would show them off as well!  My custom stamps!  I'm sure I will be adding to this collection, but to start myself off, I went with a couple of thank you stamps, the round one I use on my packages, and a return address to use on my envelopes and what not.  Call me crazy, but I adore the old wooden handles on them!  Some of the designs I use as well as other I have created can be found HERE!



Stay tuned…. next post I hope to share my studio space as well as my office space where I do all of my design work and store all my packaging goodies!  Until then, I hope you enjoyed seeing me new look and are hopefully inspired for your own businesses!