I don't know about anyone else, but I have ALWAYS loved having a peek at photographers set ups and studio spaces.  There is something so inspirational about seeing where people create their magic behind the camera!   Since my studio was built last year, I realized I never actually even took pictures of it!  All that hard work my husband did to build it and I never showed it off properly!  I had planned on having pictures up here for potential  clients once it was complete, so they know what they are in for during my sessions… so now is the perfect time to do that! A picture is worth a thousand words right?  Lets get right to it!
This is my studio space… it's small, it's cozy, it has a tremendous amount of natural light, and it's just perfect for me!  I especially love that hubby built it for me, makes it even more special

This is my main shooting wall and where I take all of my bucket/prop shots, store about 50% of my faux flooring, rubber backed mats, etc.  I will normally decide which props and set ups I will be doing prior to my session and then leave those ones on top.  Then as I finish taking the shots, they will just get rolled up and put to the side.  My favorite vendor for my flooring?  PEPPERLU!  Amazing quality and great customer services!  Love them to pieces!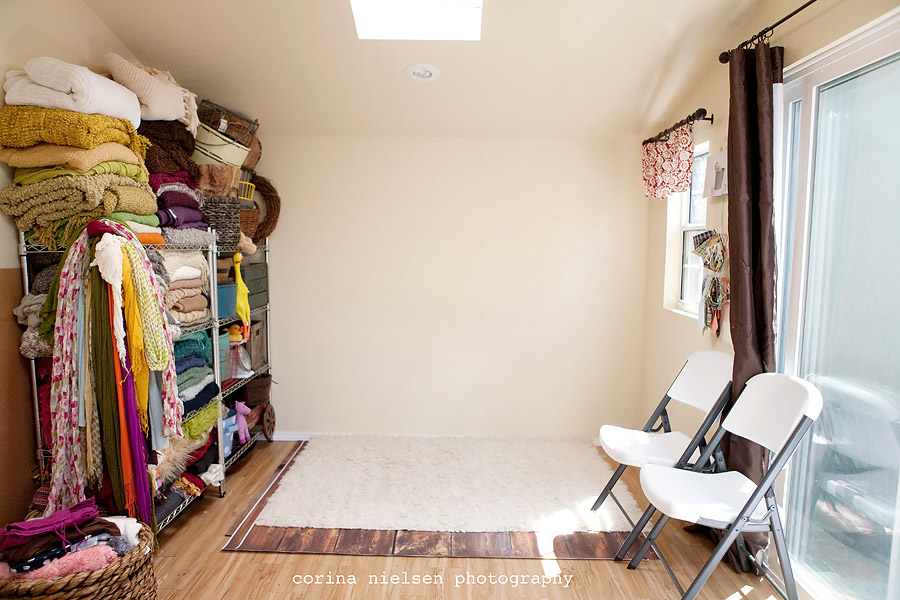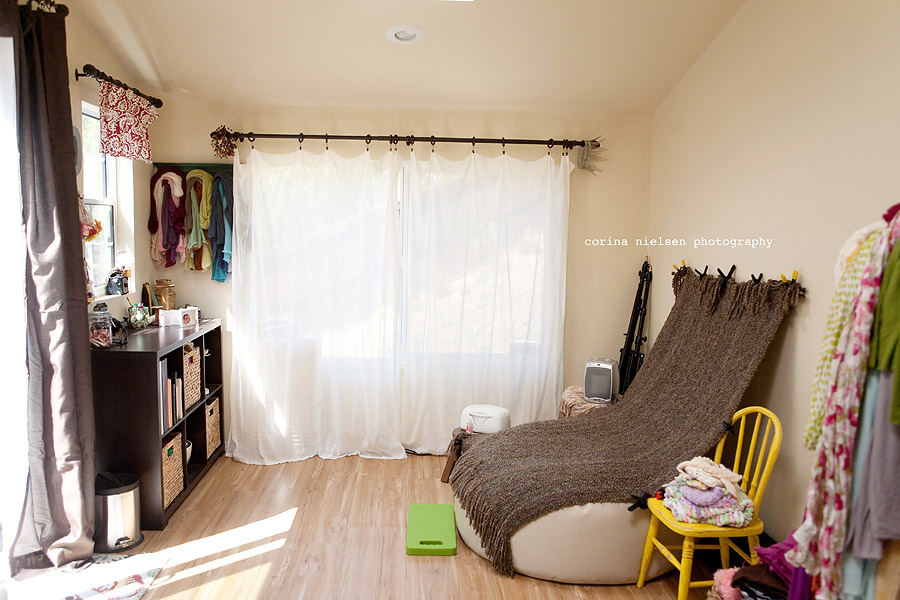 Some information on it since I will probably get asked…. I have a TON of light in the studio, too much on most days here in San Diego.  The large slider is South facing, large window is West facing (makes it really difficult to shoot in the afternoons but since I only do newborn sessions in the AM while my kids are at school, it works out perfect).  I have 2 small windows (on either side of the slider) and then I also have 2 sky lights.  I have recently been playing with my bean bag set up in a way where I get more interesting light so images aren't quite so "flat" so the place where you see the bean bag is not always where I will do my bean bag poses.  Speaking of… my bean bag is from Mindy with Newborn Nest, made right here in the United States and one product I could NOT live without for newborn photography!  If you are looking for a great quality bean bag, she is your gal!  Prior to each session, I always have the blankets and props I plan on using (doesn't always end up the way I plan since you never know with babies), but I do have plan of in mind for colors, textures, themes, etc.  99% of the time, I start with a neutral backdrop and then move into colors.  I find that most of my babies are best right at the beginning of the session and having the more neutral colors will allow to me to get a lot of "classic" images right from the start.  Everything else will just be icing!  I have 2 space heaters (only one is shown here), but the other one I keep on top of my shelf pointing towards the other end of the studio space.
Ok on to more shots… my favorite part of the studio!  Blankets, buckets, & all things prop related!  This is actually the majority of my blanket and fabric stash, but only about 65% of my prop collection.  I have a small storage area just outside the studio that is filled and I also take up a small part of the garage (sorry hubby!)… a newborn photographer can NEVER have enough things to play with though and luckily he understands that!  Then just behind where I do my bean bag work, is the majority of my headbands, hats, wraps, and handmade prop items.  I also keep a few albums and products I offer in here… most are in my office though at the moment!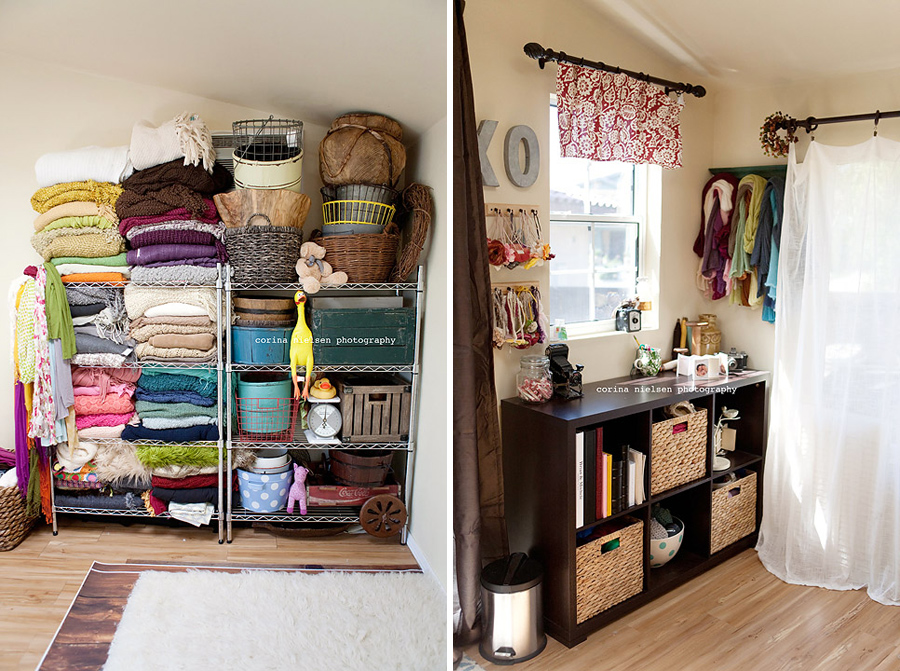 A couple of odds and ends pictures…  Smarties candied, a MUST when working with the smaller kiddos!  These are my life savers when I have to bribe a little one

 Also, next to my bean bag area is my wipe warmer and hand sanitizer.  I have bottles in every corner of the studio as well!






Thats it for the studio… small, sweet, and again, perfect for little ole me!  Could not have made any of this possible without my amazingly supportive and handy husband! I don't know where I would be without him…. I could never have dreamed of having a partner who sometimes dreams bigger than I do.  I am one lucky gal!
Thats not it for my work space though!  Since both my photography & design business are somewhat intertwined, it kinda makes sense to show my office space as well!  I do all of my design work here, fill orders, and it also houses all of my new packaging goodies!  Each and every brand I create is done right here!  You can catch me in that chair every  Monday through Friday from 9am to 2pm…


And no office of mine would ever be complete without my overflowing collection of all things sewing and arts & crafts!  This holds the majority of that stuff, but I had to make room for the new packaging items so another cabinet in the garage houses my excess items

 It may look fairly neat here, but don't be fooled… boxes and things are bursting at the seams!


Four more 16×16 canvases and this wall collection will be complete!  When I first started investing in these, I had no idea how I wanted to display them.  Then I found one that would work so every now and then when the lab has a sale, I will grab one for the office or my house!  I also just recently purged my inspiration board so it's kinda bare right now… won't take long to fill it up though!  I should have taken a picture of it before I cleared it, oh well, next time!


My office is actually our "den" and I LOVE that it has the peek a boo walls so I'm never 100% cut off from the family when I am working if they are around and in the family room.  It's nice being able to see them and still have conversations without yelling through walls and doors.


And because hubby bought these for me, I had to take pictures of them.  Super cute pencil sharpener & one of my regular coffee cups you can catch me with each morning!  Hubby is very thoughtful with his gifts… always nails "me" when making selections!


And here is the new sewing machine that I am head over heels over!  It was far too pretty to NOT have it out!  The other image is just the other corner of the office…. love my vintage "princess" sign… I never quite figured out what I wanted to do with the old window I found, but maybe one day I will!  And the apron was the first real sewing project I ever completed… I was hooked after that!


And last, but certainly not least… probably my most prized photo.  I keep it on my desk and spend a couple of minutes every day before I start working just looking at it, reflecting about my life.  This is a picture of my dad and I, taken by my bestie in Miami while we were in high school.  Back then, it was just a random picture we took during lunch, just because.  Today, its one of the ONLY photos I have of my dad.  It speaks volumes about so many things in my life.  Who I was, who I am, why I am, who I want to be, where I came from, where I am going. It's been 5 years since my father passed away. He was my best friend, my biggest supporter, and the best father a little girl could ever have.  This is my papa.


And to celebrate my birthday and my business I have a new Exclusive Download available on my Facebook page!  An adorable little mini accordion album template!  Perfect for client gifts or as a promotional item!


Make sure you "like" my page, then just click the "free download" button to take you to the link!  ENJOY

These last two blogs posts are both dedicated to my father.   I owe everything in my life to him and without his constant unselfish love, his support, and his dedication to raising me I have no idea where I would be in life… he taught me to work hard, to fight for what I believe in, that I could do anything I set my mind to, and that no matter what… I will always be good enough.  Not a day goes by that he isn't with me.  It's only fitting I start each day with him just like I did before he passed away.
With that… just a final though.  I started both of my  businesses kind of on a fluke and never dreamed that I could be so lucky to truly love each and every moment I spend "working".  I'm truly blessed to be doing things every day that truly leave me satisfied and fulfilled.  My businesses have evolved and grown so much more that I could ever imagine.  At this point in my life, I really feel like I'm the luckiest girl in the world.  There isn't anything I would change.  There isn't one part of my life I don't love and I think thats mostly due to both my husband (and family) and my father.  Both have taught me that life is too short to ever be unhappy.  Enjoy every single day, seize every opportunity, shoot for the stars, and most importantly…. MAKE EVERY MOMENT COUNT!