Excited to share a little "personal" post this week.  I don't share much of the pictures I take on a day to day basis with my family because, well, frankly it just takes too much time AWAY from them when I have to take the pictures off the big camera, edit, upload, post, etc.  Unless I'm posting on my Instagram which is super easy and instant on the iPhone, 99.9% of our personal stuff is just left on the computer and printed.  However, with December upon us and me more or less just wrapping up a few last branding projects & a handful of newborn babies… I'm technically "OFF" this month!  I have been able to find some time in between our activities to even breath!  It's been a GREAT week here so I wanted to share some things my family has been up to!
December has actually been a VERY difficult month for me the past few years.  Not only is it the anniversary of my father's passing, but it is also his birthday month.  Total double whammy.  I started dreading the month starting in September and then spent most of December hiding tears from family & friends.  It's always hard losing a parent or someone you love, but having that happen around the holidays is especially a downer.  I decided this year was going to be different for me though…. I knew that if I kept myself busy (and not with work), it might help alleviate some of my anxiety.
I decided that planning something for the family to do each day would do the trick.  I knew I needed to organize it though and have it planned out so turned to Pinterest for some advent ideas!  Thus our 25 day countdown to Christmas "calendar" was born…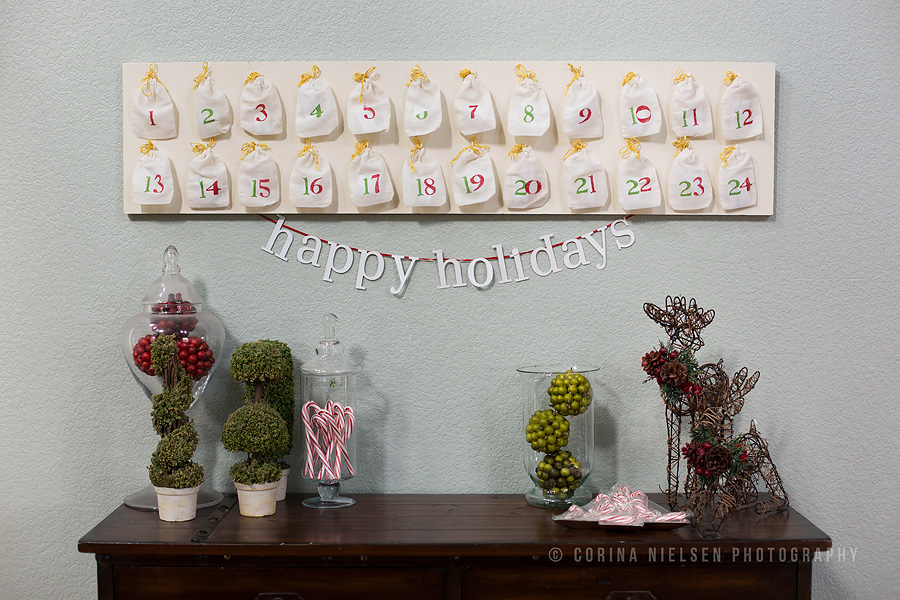 I went to Lowe's and picked up a few items… a small piece of plywood, cream spray paint, picture hanging brackets, and little hooks.  I already had the foam number stamps, green/red paint, and canvas bags so for under $8 I was able to come up with something that is sturdy, cute, and will last forever!  The kids were SO excited about this and everyday they go back and forth opening the pouch for the day.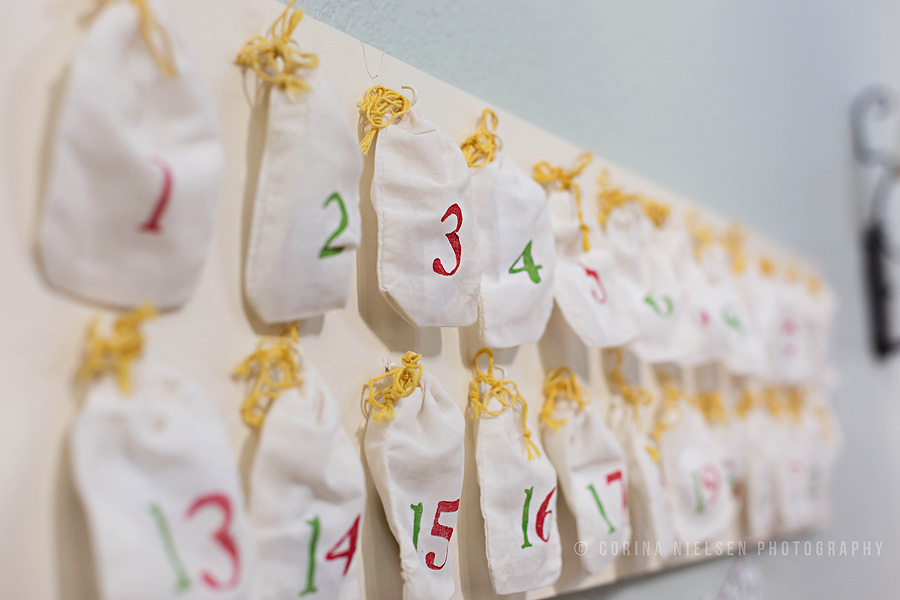 There are a TON of great ideas on Pinterest for holiday activities to do… I posted some on my Christmas board if you want to shuffle through them.  I picked and chose ones that I felt were important to me and things I knew the kids would enjoy.  There were so many things I wanted to do and make that I had to double up on activities on a few of the days.
The very first activity for us was to make a list of things we are thankful for this December. Initially, I was just going to keep the handwritten lists and save them BUT then when I was at Michaels picking up a few things, I found these clear "make your own ornaments".  Thought I would make the activity even better and have everyone put their lists inside them!  We all typed out our lists on the computer, cut each item out, and put them in the ornaments.  What a GREAT keepsake to have and is going to be fun looking at them years down the line.  Love this new tradition!
Makena couldn't help but double the amount of her list… And Blake tried to put Comet in his ornament since he is thankful for him





Perhaps my favorite item Makena put on her list… she is SO my daughter!




Another of my favorites this week was writing a letter to a soldier.  One of my mommy friends on Facebook (thanks Oriana) had posted a link a few weeks ago and I knew for sure I had to include it!  Kids were more than happy to show some appreciation to our men & women.  Blake's letter was more than 2 pages and included an activity for them to do, some kind of puzzle he made up.  Makena kept it simple with a little note and illustration!  Both had very sweet letters.




In addition to writing their soldier letters, one of the other activities for the kids was  to write their lists out to Santa… all of the letters got mailed out together!


We also went through all of our closets, the garage, and the playroom and got rid of a TON of stuff!  Clothes, toys, electronics, furniture… everything was donated to a local shelter/half way house.  There are a lot of people trying to get on their feet out there… any little bit might help someone out more we know!


And since it's the holidays… we had to throw in some baking here and there as well!  Perfect time to indulge and not feel guilty

 So far Makena and I have made Santa brownie hats & my Chocolate Mocha Cupcakes… hubby and Blake took part in the activity by EATING!




Another fun activity we did was making a few of these little treats and writing up cards.  Late last week while at the Starbucks, we brought a couple of these "gifts" with us and placed our order.  We not only bought our beverages & a hot chocolate for the Salvation Army bell ringer, we also left these and some money for the barista.  We asked her if she would be able to pick a couple of customers and give these to them… we said to pick customers that she felt were either having a bad day, looked stressed out, or who were just extra nice and friendly to her.  She looked at us VERY strange and even said she had never been asked to do something like this… I think she was inspired

 The kids wrote a little note in each of the cards saying "Happy Holidays… tis the Season… just a little something to brighten your day… With Love Makena and Blake" (something along those lines anyways lol)!


My kids LOVED doing this… this is something they asked to continue doing here and there throughout the year!  Can you imagine being the person receiving something like this?  You can't help but get warm fuzzies in your tummy and want to join in.  Random Acts of Kindness… definitely something that should not only be done around the holidays!
Aside from our daily activities… I also wanted to spruce the holiday decor up this year.  One of my favorite things to decorate is our dining table.  Im a sucker for a pretty table scape!  I knew I didn't want to go traditional "Christmas" though with ornaments, holiday colors, and an over the top look.  I opted for neutral, natural, simple, and beautiful.  I also didn't want January to roll around and have to immediately change the look.  I feel like this is something I can carry on through all of Winter.


Hubby is always on board with my decorating shenanigans if he gets a piece of the action and gets to bust out a power tool so I enlisted him to make my little votive candle holders.  He cut up some pieces of wood for me (approximately 2″ tall) and then drilled holes in them.  I tied them off with a little old ribbon I had and VIOLA!  $0 spent….


I couldn't find the kind of table runner I was looking for, so I decided to make my own.  Spent $6 on burlap and this is what I came up with… also tied off the chairs with some extra pieces I had.


OK and this idea… seriously ingenious!  THANK YOU PINTEREST….


I opted for the tiny clear hooks… also underestimated the cabinet length so couldn't "tie" the ribbon on.  I had to cut a little slit in the ribbon and hang it that way.  Still totally worked perfect though!


Another little craft Makena and I did was make some throw pillows for our front room.  Instead of buying pillow forms at JoAnne's we went to Good Will and bought these guys.  $2.99 each!  We got them home, washed and sanitized them, then began the project



First we measured and cut some neutral linen fabric I had for another project, then busted out some old scrapbooking stamps, and paint.  Makena was in charge of picking what we were going to write and then I helped her line things up to stamp.




Also dug into my button collection for her "LOVE" pillow…




And last for this post, but not least… hubby also gave us our annual matching Christmas pajamas!  He orders a new set for us every year.  These were SUPER comfy and from Chasing Fireflies.  Hubby always does a good job finding cute ones.  Unfortunately, he wanted nothing to do with having his picture taken for me to post though, gotta settle for me and the kiddos!


So, thats it…. a little over a week in December and it has been jam packed with busyness!  So many more things to share soon including our updated photo wall gallery and some other home decor stuff!
Happy December & Happy Holidays!