I get some crazy ideas sometimes and my husband can vouch for me on that one.  I have always been the kind of person who gets a thought in my head and literally won't rest until it's carried out (in one form or another anyways).  I can have an idea at 1am and will stay awake for hours thinking of how I can accomplish whatever it is…. sometimes its an art project, a couple of times in life it has been "career" moves, any sometimes it's just a food or dessert recipe I want to try.  Whatever it is though, 99.9% of the time, I will make it happen.  My husband jokes around all of the time asking "So, have you thought about being a doctor today?  How about you become a lawyer?  I hear astronauts get to do cool things, you should give that a try!"  Fortunately, those are things I don't aspire to be… however, there are a ton of other things I come up with to pass the time and make life fun!
Of course every photographers' dream is to have a place they can call their own.  Some space/place where they can make magic happen.  Where they can keep all of their crap in one place… When I first started my photography business, I didn't do many newborns and most of my other sessions were strictly outdoors/natural light.  I didn't feel like it made enough sense to have a studio at the time.  However, when I started my photography design business and that snowballed, I realized that in order for me to dedicate the proper amount of time to both businesses, I had to adjust some things.  The main thing that I changed in my photography business this year was deciding to specialize in newborns.  For me and my family, this just works out better since I don't have to leave the house.  My husband has a pretty crazy schedule with his work… he rotates shifts every 4 months and with us not having a baby sitter, well, it gets a big challenging to leave the house.  Being able to mainly work with newborns just allows me to have more time doing what I love and less time prepping and traveling to a session.  I have been working from our master bedroom which worked just fine, but again… every photographer dreams of having something that's all theirs right?
So a few months ago, I ran the idea around in my head.  Tossed it out to my husband.  And being the bestest husband ever, was totally on board with me.  At first we thought that maybe we could lease a place… but then quickly realized that #1 the overhead would just not be worth it when you take rent, triple net, and other expenses into account and #2 the MAIN reason why I was specializing in newborns was so that I didn't have to leave the HOUSE!  So having the most amazing husband ever… he began to research structures we could build ourselves.  Much to my surprise, we found that the cost was pretty darn minimal and we could easily handle a lot of the work ourselves.  Hubby is also always on board with projects that involve him getting to play with tools, so he was sold immediately.  Within a couple of weeks of my initial brainstorm and with the AMAZING support of my hubby…. we broke ground on my studio!
The spot on the property we chose to build on.  It gets the most light during the day.  Literally has sun from sunrise to sunset.


Problems with the location… we have a retaining wall up AND our hill is full of granite.  Makes it a bit difficult to dig.  We were hoping for the best!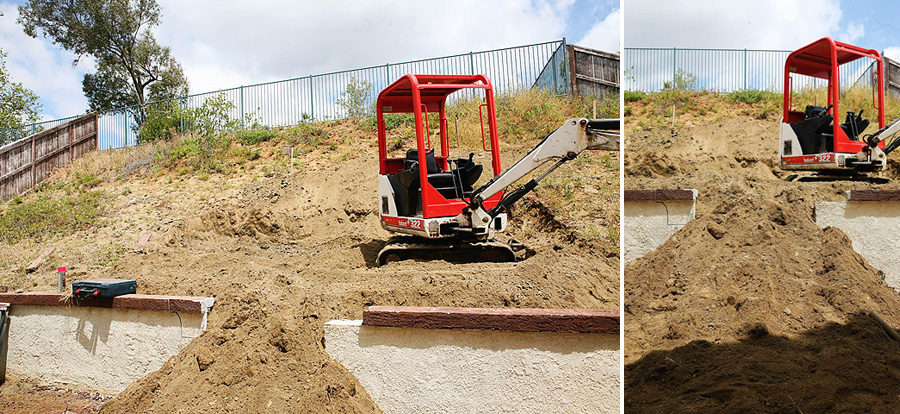 Concerns became obsolete….. more or less!  We were able to take the wall out and dug just enough space for the structure before hitting rock.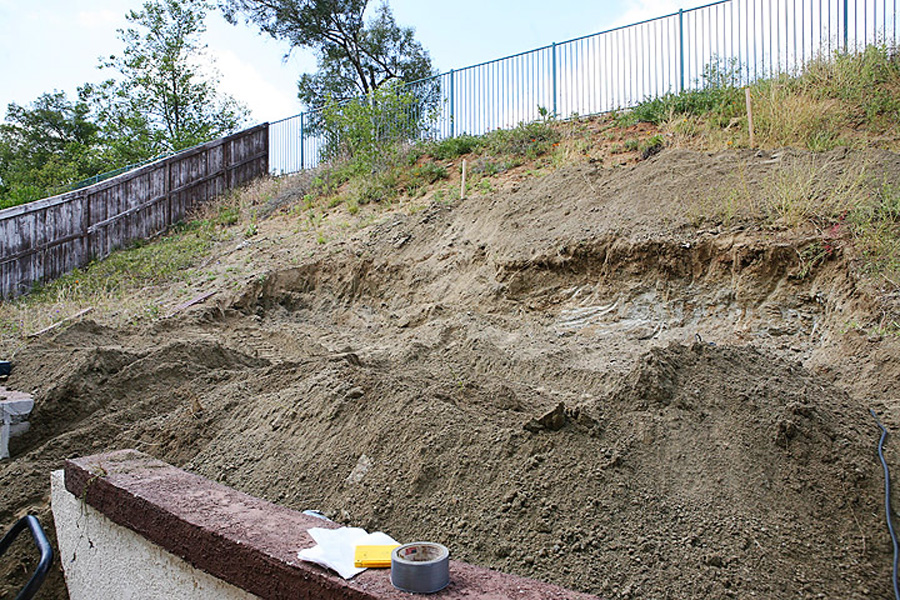 The kids enjoyed pretending they were in construction.  Blake was handling the machines and Makena was the supervisor.  No hard hat here though… just a pink tutu!


Next up, we need a retaining wall to secure the dirt behind the studio.  Since this wall was not going to be very visible, we went with cheap stacked stones.  No reason to spend the extra $$ on a nicer wall.  I can think of a lot of other things I can spend money on



With the wall nearly complete, we plugged right along and poured concrete.


While the contractors took a couple of days off to let the concrete and stairs dry, hubby was hard at work prepping the hill.  As you saw in the first pictures, things were not pretty.  Hubby kicked ass and cleared that bad boy like nobody's business!  Next stop… a small fortune on plants!


This was a family job.  We all spent an entire day out there baking in the hot sun.  I loved that all of us were doing it together though… Blake and Joe were in charge of digging.  I was in charge of planting.  And of course Makena was in charge of supervising.  She had to do this with her new pink princess gardening kit though.




ADORE how it came out…. just needs a couple of more trees and will hopefully "fill out" in the next year!


Time to BUILD!!!!  Love how my studio was delivered just like this.  It's like a building in a box!


Two guys began at 10am…


and were done by 3:45pm.  Pure crazy.  This was also the point where I started to have a small panic attack.  I kept looking at this big thing thinking to myself "Holy shit… what have we done?"!  This feeling didn't really go away for about a week.  It was all becoming a bit too real for me I guess?  For a day or so, I couldn't go look at it.  Wasn't excited at all.  Wanted nothing to do with further planning.  Just nervous & anxious!


It quickly became time to prep the inside though so I couldn't stay in limbo much longer.  The sooner we get this done, the sooner I could use it!  Let's do this!
(ok, well Joe did most of it, since I'm not very good with manual labor and sweating)  I was more interested in all that natural light shining through!


Electrical in…. hubby was convinced I needed an air conditioning unit, so I let him put one in.  He said clients will thank me.  I will took his word for it.


Originally, I hadn't planned on having any light in there.  After all, I'm strictly natural light and we placed it so that I would have it all day long.  But again, hubby was convinced I needed pot lights.  Ok, dear.  Whatever you say.  Receased lighting it is.


Gotta insulate right?  I guess so, that's what Joe convinced me of anyways.






Personally, I think he just wanted to buy more tools for himself.  But he got the job done, so I didn't complain….
And the last shots before I do another post with it all completed and pretty!  Dry wall!


I gotta hand it to my husband though.  When I first met him, he was no handy man.  He had barely ever even painted, let alone even think of ever having to do this stuff.  He was 100% up to the challenge though and has done an AMAZING job.  I seriously am so proud of him.  Thanks to lots of tutorials, books, and youtube videos he did everything on the studio and more or less by himself.  He such a good boy

 He put up all of the drywall and then we were both out there for 2 days straight taping and fixing it up.  Dry wall is no joke and a job neither of us ever want to do again.  SO glad that is over…. we painted yesterday and I can't even begin to explain how excited I am now!
As it turns out, I actually have 3 newborn sessions schedule in the next 7 days!  Hoping that I can lay the flooring and get the finishing touches on the place so I can test drive it!  The final images and studio shots will hopefully be up next week!