Let me preface this post by saying I am no professional when it comes to sewing.  Normally when I make something, it's never "perfect"… always has some type of flaw in it.  However, I am a lover of all things artsy & craftsy so when I see an opportunity to bust out my sewing machine, glue gun, scissors, and/or craft paper I'm all over it!  Last year sometime, one of my very talented cyber friends opened up her very own cupcake shop "Bratty Cakes" (you want some inspiration, you must check out her work… absolutely stunning.  She is no longer taking orders, but check out her photo albums and website).
Anyways, she was getting ready for an event and asked me if I knew how to make a fabric banner.  Well, I hadn't made one before, but figured I would try.  Can't be that hard right?   She ended up not needing one after all, but my brain was already spinning (as it does regularly when I get an idea)!  I thought I would go ahead and give it a try anyways because it was just too cute…. didn't end up perfect, but I didn't expect to either lol.  Months had passed and then these banner things started popping up everywhere!  Photographers were using them like crazy so of course I jump on the bandwagon again… this time I already had a head start on what worked and didn't work for me.  Thought maybe I would go ahead and share!  Remember, I have no idea if this is the "right" way to make one of these… Im just a photographer trying to save a few bucks

Wanna learn how I did it?  Let's do this shall we?
Materials needed:
various fabric scraps approximately 6″ x24″ (I used five different $1.99 fat quarters found at JoAnne's).  You will want at least 5 different patterns.
large ruler
pins
at least 1.5 yards of quilt binding (in coordinating color as your fabric, I always use an off white/cream)  If you want a longer banner that you can possibly use outdoors and tie to something, use at least 2 yards of the quilt binding.
scissors and/rotary cutter
sewing machine OR if you want to try the new sew method, you will need fabric adhesive (FabriTac is my favorite and can be found at local craft stores like Michael's & Joann's)
iron
one cut triangle (you can use the template I made for mine right HERE)

First thing you want to do is cut your fabric.  Again, I chose five different patterns since I knew I was making a small banner.  Fold your fabric in half with patterns facing each other (right sides together).  Place your triangle template on top of the folded fabric and pin the three layers together.  Begin cutting the shape out…


Once your triangle is cut, remove the template and re-pin fabric together (again, right sides facing each other).  It should look like this.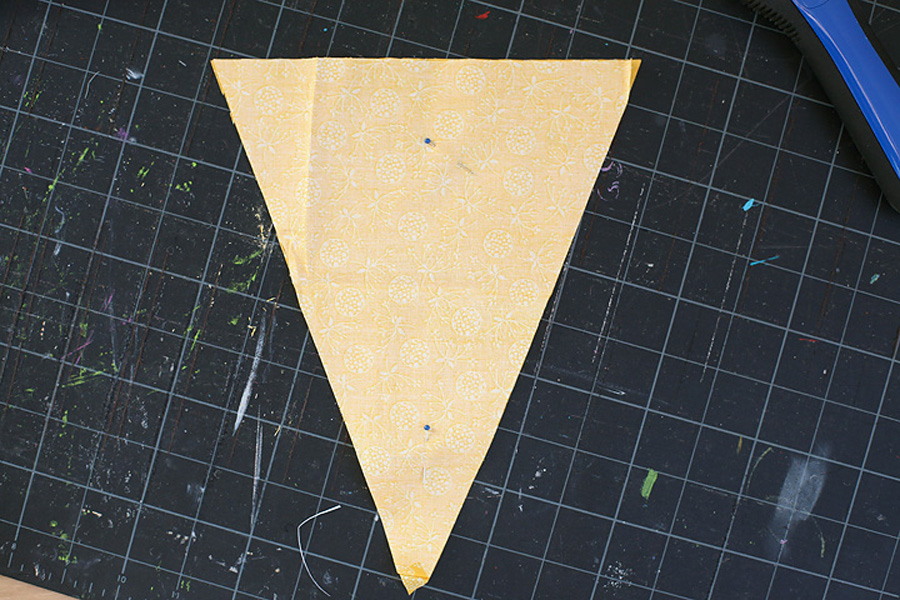 Repeat the process with the other fabric pieces/triangles.  5 of these triangles will make a banner approximately 1.5 yards long…


Now comes the "tricky" part!  You gotta sew/glue the pieces together!  I chose to sew mine because I'm fancy like that.  Be sure to give about a 1/2″ seam allowance.  If you are going to glue your pieces together, I would glue right along the edge making sure there were no gaps in the glue line!  Sew/glue starting at one top corner, make your way down to the point, and then back up to the top corner.  Do NOT sew/glue across the top seam… you will need to turn the triangle right side out soon!


To get a nice clean point when we turn it out, I always like to clip the corners of my pieces.  Carefully snip the very tip off the corner making sure not to go through the stitching.


Ok next step, turn your triangle right side out!  If your TOP edge is a little rough and the corners aren't matching up that great, trim the excess off to get a nice clean edge.   Also, if you aren't getting your corner to really pop out to a nice point, I like to the end of a small paint brush to flip it out.  Be careful not to push too hard, but wiggle it enough to get a nice point out!  Finish the triangles off by pressing them with your iron.  Get all the wrinkles and creases out the best as you can and make sure its nice and flat!


Now it's time to make the magic happen!  Let's put it together!  Grab your quilt binding and fold it in half lengthwise to find the middle. Open up the binding and place one of your triangles centered on that spot.  Fold the binding back over and place 2 pins to hold it together.  Now you can add the other pieces.  I placed each of my triangles exactly 2″ apart.  So, find the corner of the triangle you just pinned and measure 2″ to the right/left… pin another triangle.  Do the same on the opposite side until you have all five triangles secured in between the binding!


Grab the sewing machine or the glue and we can finish this off!
- If you are sewing the banner together, go ahead and start stitching.  I left about 1/4″ space above the bottom of the binding.
-If you are using the fabric glue, you will need to run a string of glue right along the top edges of the triangles (bottom edges of the binding AND do both sides).  Its probably easiest to do all of the triangles on one side and then turn the banner over and glue the other side



Viola!  Banner is now done and ready to be used!  I didn't finish my edges of the binding since I knew I would taping them to the walls when I shoot with it.  Here is my finished banner (it's taped to the wall just on the other sides of the triangles):


I hope someone finds this useful and gives it a try!  Get creative with your fabrics… be purposeful when you choose!  Match another prop you will be using like a basket  or hat!  Or try other variations of the banner!  I have seen semi circles done which are super cut also.  Check out your local fabric store and any clearance section they might have…. you could easily do this project for under $10 and have it 100% customized to suit your style/session!
Happy crafting