If you don't follow Bakerella's blog or Facebook page, you are seriously missing out.  So many ideas, so many good recipes… so little time (and a ever growing waistline to boot)!  A couple of weeks ago, she popped up in my Facebook feed and as soon as I saw the title, I knew this was something I had to try… homemade marshmallows!  Who can resist a little fluffy lump of sugary sweetness?  I certainly cannot.
Even though I consider myself a pretty good baker for the most part, anything having to do with boiled sugar and candy making scares the crap out of me.  The only thing I have ever real done with sugar was make caramel and that alone was totally intimidating.  Thanks to Bakerella, I dusted off my candy thermometer and figured I would trust how easy she said they were!  I didn't want to get too crazy with my very first batch.  I knew I wanted to make the marshmallows pink so I made the "plain" version but instead of vanilla extract, I used bubblegum extract that I hadn't used yet.  Even though it was my first batch, they came out perfect and I was SHOCKED at how easy they really were.  I knew Bakerella wouldn't lie to me.
Next batch, I REALLY wanted to try her PB&J's but nobody else in the family was feeling that idea.  I had even bought the grape concentrate

 So sad I was over ruled, but hubby actually came up with a brilliant idea… how about s'mores?  Makes sense right? Marshmallows, chocolate, and graham cracker= classic combination.  Good job honey!  SO happy he convinced me to do these!  It was really difficult when I got to the dipping part to not eat each one.  For everyone one I completed, both my daughter and I are another.  So good.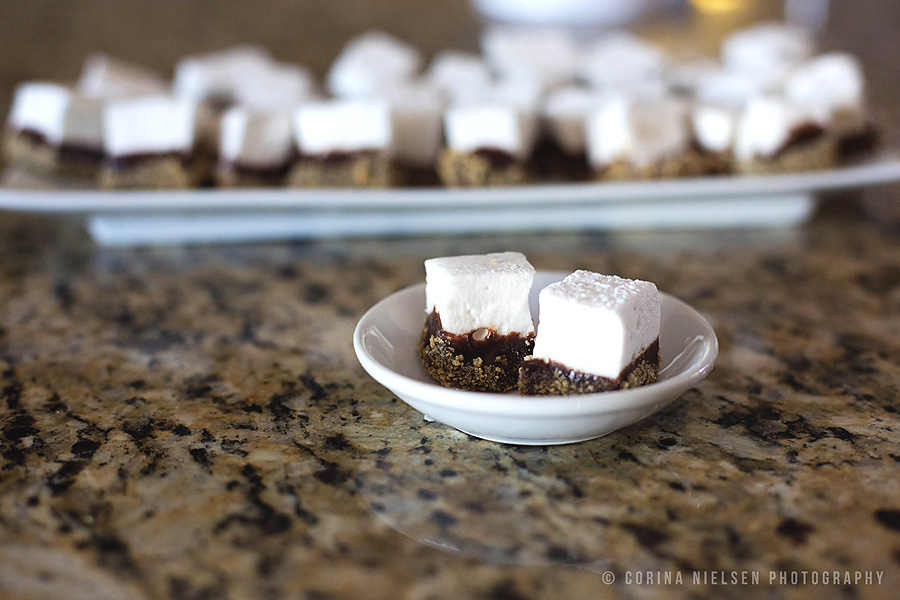 I more or less followed the recipe at Bakerella to make the basic marshmallows.  No twists and turns involved in that.  Here it is again:
Ingredients
4 1/2 teaspoons unflavored gelatin
3/4 cup of water (divided into 1/2 and 1/4 cups)
3/4 cups sugar
1/2 cup light corn syrup
1/8 teaspoon of salt
2 teaspoons vanilla extract
Classic Coating- 1 1/2 cups confectioners' sugar and 1 cup cornstarch
cooking spray
3-4 graham crackers (not split)
1 cup of semi sweet or milk chocolate chips
1/2 of heavy cream
Let's get started stall we?  Have all of your ingredients ready to go, measured out, and all within hands reach.  It will help with the stress you may have with the candy making and sugar situation, it did for me anyways!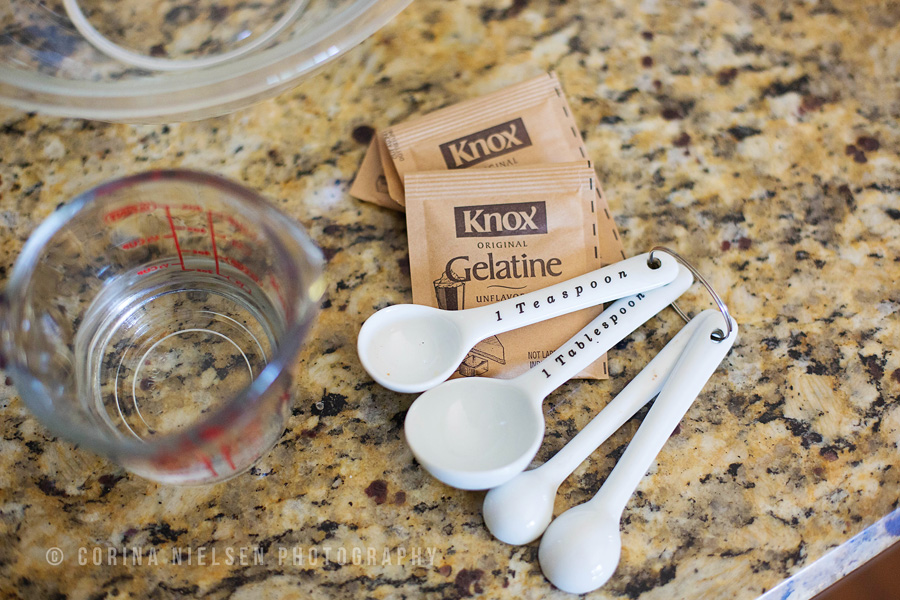 Lightly spray an 8×8 or 9×9 baking dish or pan.  For thinner marshmallows, you can use a 9×13 dish also.  Take a paper towel and wipe down the dish a bit just to make sure its coated evenly.
Bloom Stage
In a small bowl, mix together 4 1/2 teaspoons unflavored powdered gelatin and 1/4 cup cold water.  Whisk together until gelatin is dissolved.
Makena needed her new friend to help us as well.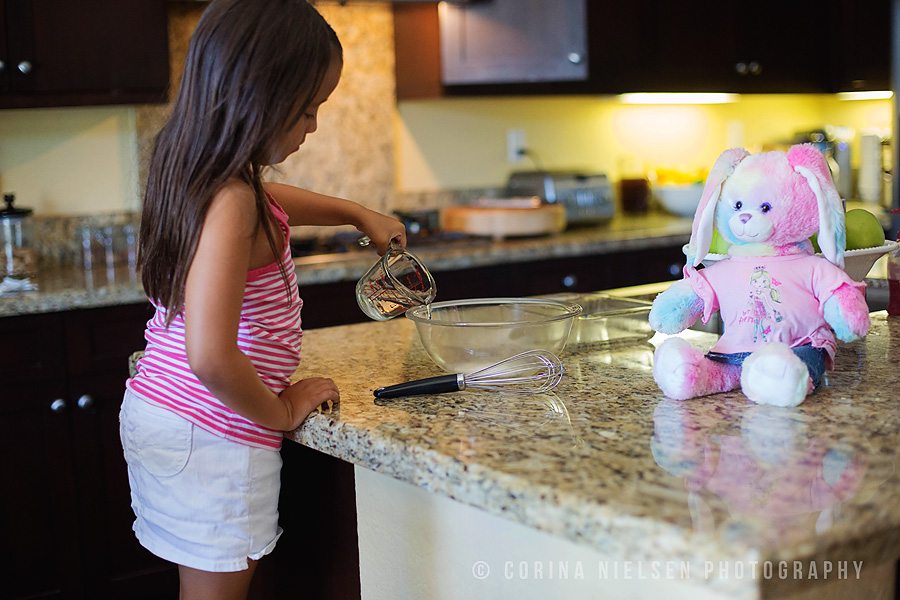 After a couple of minutes it will begin to solidify and look like this.  Let it rest for a minute while you begin the real "work"!


This is where your anxiety will most likely start, it did for me!  Rest assured, this is SO easy… no reason to get your feathers ruffled!  With the fire OFF, go ahead and add your corn syrup, 1/2 cup of water, and salt into a small pot.  Get your thermometer in place and turn heat ON to high.  At this point, you do NOT want to leave the boiling pot.  It won't take very long before the temperature begins to rise… you are going to need it to reach 240 degrees F.  I think mine took about 5 minutes or so.  At 230 degrees, I turned down the heat just a little bit so I can get the other ingredients ready.  It will only take a second, but again, you don't want to leave this mixture over the heat for long!


After you turn down the heat just a smidge, grab your gelatin/water mixture and put in the microwave for about 10 seconds, just to soften/loosen it up a bit.  Add the remaining 1/4 cup corn syrup into the bowl fitted with a whisk attachment, then add the softened gelatin mixture.  Begin mixing that on low speed. and get back to your boiling sugar.  Increase the heat again and make sure you get to 240 degrees F.  Turn OFF the stove and grab your pot!


With the mixer still on LOW, SLOWLY begin to pour the hot sugar mixture into the bowl.


Once everything is in the bowl and starting to combine, turn mixture up to medium-high for about 5 minutes.  It will begin to thicken and look like this…


Increase speed again and beat for an additional 5 minutes.  Once the mixture starts getting really fluffy, a little bit past a soft peek stage, go ahead and add your vanilla.


Beat at maximum speed for the last 1-2 minutes.


The mixture will be nice and thick!  Pour it all into your prepared pan.  You need to move a bit quick with this step though… the more even you pour and the faster you are to smooth it out, the better!


Combine the cornstarch and powdered sugar in a small bowl and whisk until its all combined.  This is your "classic coating"!  Take a small amount, maybe 3/4-1 cup and sift some over the top of the marshmallows.  Allow to sit for 3-4 hours minimum.


Once you have let the marshmallows fully set, its time to make them even better!  Bring on the S'Mores…. first things first, time to cut the marshmallows out!  Sprinkle some classic coating onto your counter or work board.  Invert the pan.  I used a pizza wheel to cut out my squares but you can use a good sharp knife or even cookie cutters if you want to use shapes.  I did roughly 1″ squares.  No need to be perfect here… I like em "rustic" and home made looking!


Take your graham crackers and ground them in a food processor until it is smooth.


Next prepare your chocolate!  Heat your heavy cream in a small pot.  Once it begins to boil, turn off your heat and add your chocolate chips.  Slowly begin to mix until the mixture begins nice and smooth.
Now lets put it all together….



Dip each marshmallow into the chocolate.  I dipped about 1/2 way up so you can still see the marshmallow but it was still coated with a good amount of yummy, chocolate goodness.


Then immediately dip into the graham crackers.


Done, done, and done!  Little bites of amazing-ness…


Don't be skeered… give the marshmallows a try

 Enjoy!