New Pre Made Blog Designs… please meet :
CHARLOTTE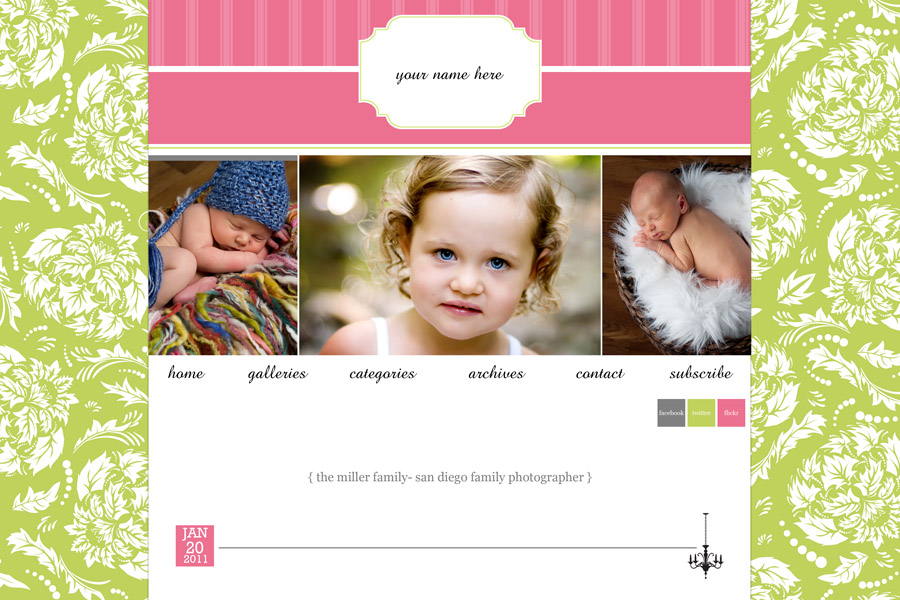 TEAROSE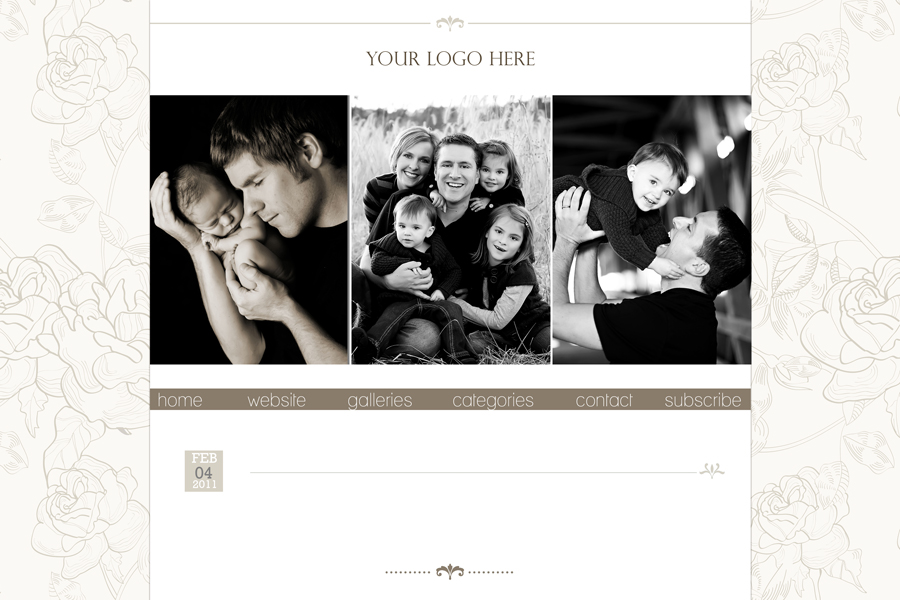 LITTLE MIRACLE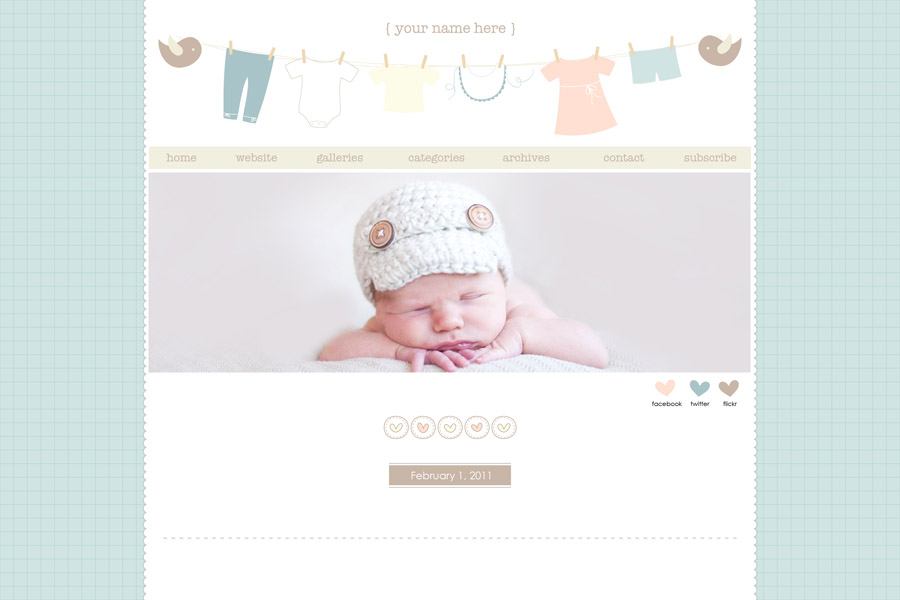 MONTECITO


BELLE


I'm SUPER excited to announce the launch of another brand new line of products hitting Corina Nielsen Designs NEXT week!  These "pre made" blog packages are perfect for photographers who may just be starting out and are not quite sure how they plan on branding themselves OR one of these designs may just be the look they are going after for their brand!  In some cases, some people may also just have a personal blog they want to spruce up!  These pre made designs would make it more affordable for people who are on a tighter budget to get a great new look for their blog!  Your blog is one of the best tools you have of showing people your work, why not make it look good also!
These pre made packages will come with the following items:
background image file (JPEG)
post divider
photo rotator/slideshow templates
and some will also come with social media icons
These designs are built with the intention of being used on ProPhoto themed blogs, but the designs can be implemented into any WordPress blog OR Blogger blogs (IF you know how the coding for them.  I will be offering installation on these forWordPress & ProPhoto blogs only).  For those of you who might be considering switching or beginning your blogging with ProPhoto, I must say it's a FABULOUS product and worth every single penny!  After the initial design installation, you will be able to update items and make changes on your OWN, without having to go to a programmer to help you out with coding OR customizing!  ProPhoto has some really great features like a built in gallery slideshow that other blogs just don't offer.  I can't say enough good things about ProPhoto… I was actually skeptical people paying the $199 to get it at first, but after playing with some client blogs, I soon became HOOKED!  I will actually just switched my blog over to ProPhoto this weekend

For anyone wanting to take the plunge now, I have a special coupon code good for $10 OFF the purchase of ProPhoto.  At checkout, use code:
CNIE9809
So anyways… back to my designs

 These are only 1/2 of the pre made designs I hope to launch early next week, but couldn't hold out any longer!  I have been itching to share them after I completed each one!  I also hope that one day soon I can create the coordinating pre made business sets!  What else will a photographer need to get their businesses up and running AND looking fabulous?
All that being said… how about a GIVEAWAY?  Are you interested in one of these designs?  How about I give a couple of people their choice of any of these new designs?  I will also throw in the installation (ProPhoto blogs only valid for installs)
Here are the details:
leave me a comment on THIS post letting me know which of these pre made blog package is your favorite and why
sign up to receive my newsletter HERE
comments must be left by Sunday February 6, 2011 at 11:59pm PST.
EXTRA ENTRIES:
TWEET THE FOLLOWING MESSAGE:  I want to win a new pre made blog package at www.corinanielsen.com/blog by @corinanielsen
FACEBOOK ENTRY: In your status update, post the following-  @ Corina Nielsen Photography is giving away one of her brand new pre made blog designs!  Win at www.corinanielsen.com/blog!
( In order for your retweet and Facebook status entries to count, I must be able to see them on my Twitter and my Facebook wall.  To ensure the Facebook one counts, make sure you begin to type the @ symbol and then if you already like my page…. begin to type Corina Nielsen and my business page will automatically show!  Just click it in the box.  Your post will then show on my wall)
You have a total of FOUR chances to win! (favorite design, newsletter sign up, retweet, Facebook status update).
GOOD LUCK everyone!!!!  Have a great weekend!
(special thanks to The Red Balloon Photography and Kami Laux Photography for the use of some of their gorgeous images in these previews)
EDITED:
the winner is……