I know I promised an upcycled pants tutorial next but I'm really trying hard to get the sizing just right!  Because I am providing the actual template this time, its important for me to have it done correctly for everyone.  3rd time has to be a charm so I will be testing the latest templte out at my session in a few hours!  If all goes well, the template and tutorial will be up just as soon as its ready!  Promise

In the meantime, to help you get through the wait…. I thought I would do another easy prop tutorial: mini crowns!  These are super popular but I never jumped on the train, mainly because the crafter in me knew there had to be a way to make it myself, just had to find the time!   With a few of my January babies running a bit behind, I squeezed in some time last week to work this up for you!  Ready?  You are not going to believe how easy, inexpensive, and fast you can make these adorable little guys!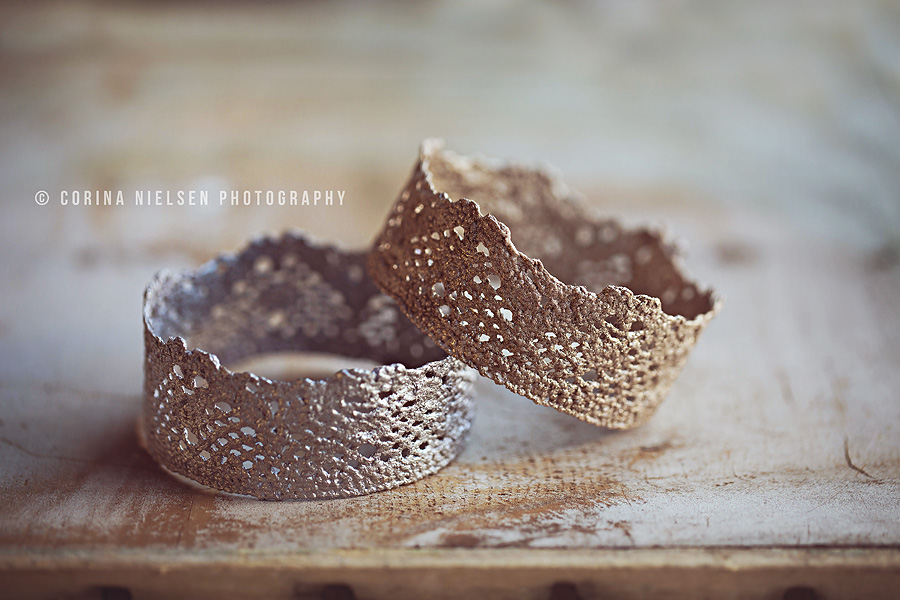 MATERIALS NEEDED:
Aleene's fabric stiffener (I bought my bottle at JoAnne's… with a 50% off coupon)
crocheted lace/trim (also purchased at JoAnne's)
gold, silver, or other colored paint
paintbrush
FabriTac (fabric adhesive) **you could probably get away with a hot glue gun also**
a bowl
gloves
wax or parchment paper
ruler, scissors
small childs cup or other cup approximately 2-1/2″ in diameter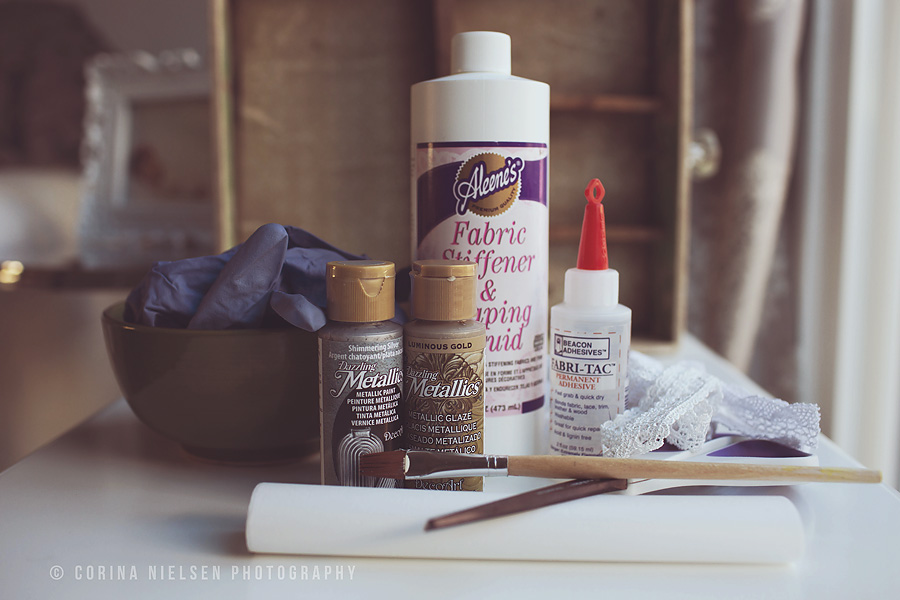 STEP 1: CUT TRIM
For newborns, I cut mine to 9″ and it worked out perfectly.  If you are making crowns for older children just increase the size a bit…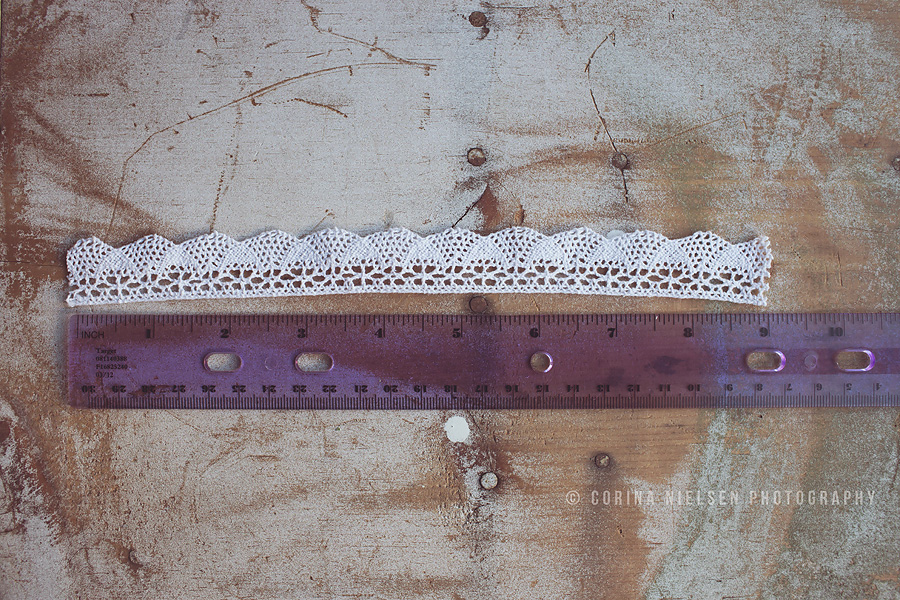 STEP 2: PREPARE LIQUID MIXTURE
I don't know if there is an exact science to this but I kind of winged this part.  The stiffener is quite thick so I thinned it down ever so slightly with some water.  For those that need measurements, I used approximately 2 TBSP stiffener to maybe 2 TSP water.  Stir until completely mixed.  **I don't suggest using a paintbrush to stir, but I was too lazy to grab a plastic spoon once I had got started

**


STEP 3: SUBMERGE YOUR TRIM
You want to make sure every fiber has been soaked.  I simply just flipped it around and around, squeezed, pressed, repeated until it was good and drenched.   Then just squeeze/wring out the excess.




STEP 4: LAY OUT TRIM
Once you have gotten the majority of the excess liquid out, grab your wax or parchment paper and lay the trim out flat.  You will want to get it as flat as you can.  Press down any curled up or folded areas.  Also ensure that there are no bubbles or webbing created in between the lace.


STEP 5: HEAT
OK so this step was a bit of trial and error and luckily it worked out well for me.  Typically, I think you would want to just leave the trim alone and let it dry completely.  Personally, I'm far too impatient for that so decided to give my microwave a whirl.
With the trim laying nice and flat on the parchment paper, place it on the microwave.  I set mine on high for 10 seconds at a time and went exactly 6 rounds and flipped it over in between each round.  This time will vary depending on your microwave, but count on at least FIVE- 10 second rounds.  So set your microwave to 10 seconds, press start, open microwave, flip trim over, close door, set for another 10 seconds, press start, open microwave, flip trim over, close door…… repeat and repeat

** PLEASE BE EXTREMELY CAREFUL, DO NOT OVERHEAT, DO NOT GO MORE THAN 10 SECONDS AT A TIME, DO NOT WALK AWAY**
It should be 99.9% dry and very stiff after the 5-6 rounds!


STEP 6: PAINT
Grab your desired color and paint away!  Paint BOTH sides thoroughly. And the **most important** part to remember in this step is to ensure that no bubbles or webbing are formed in between the crocheted spaces.  To get rid of any that formed on mine, I just picked it up and blew real hard… there is probably a better way to ensure you don't get bubbles, but this worked for me

You could also take a pin/needles and clear any tiny areas you see.  Once you are in the clear, just place it back on the parchment and let it air dry a bit. I also trimmed my raw sides so they were nice and straight at this point.


STEP 7: GLUE 
When the paint is more or less dry to the touch, grab your fabric adhesive or glue gun.  Form the painted trim into a nice circle and place adhesive at one end.  Secure the other end and hold for 20 seconds or until good and stuck. 1, 2, 3, 4, 5, 6…. and so on.


STEP 8:  FORM
Grab your cup, turn it upside down, and put the crown on top.  I pushed mine down just a bit to make sure it was nice, snug, and had a good round shape.  Don't pull too hard or the ends will come undone (if using FabriTac) since this won't be completely dry.  Leave your crown on the cup to completely dry.  I would suggest leaving it like this overnight but if you have to… at least wait a few hours!


ENJOY!