I realize this blog post doesn't quite coincide with my typical display of newborns, families, or tutorials but its something I knew I wanted to share since it is such a huge part of my life.  I bought my first juicer back in high school (or rather my dad bought it) and at the time, I enjoyed juicing but didn't do it regularly and only for brief periods at a time even through college.  Last year, thanks to Pinterest, I began following a ton of health and fitness boards and more often than not, I saw tons of pins for smoothies and juices.  I have always eaten pretty healthy but knew I was not getting nearly the amount of raw fruits and vegetables in my body each day.  I wasn't real sure about the green smoothies YET but I was inspired to buy another juicer.  Costco had a nice cheap one and come to find out, it was the same one I had in high school… obviously just upgraded and newer.  For just under a $100 bucks I figured why not?  Didn't do any research, never looked at an online review, just saw the great price and hopped on board!
I began juicing a couple of times a week at that point, I felt like the machine worked great.  Friends would ask about it and I would always suggest the brand/model I had.  However, as I began juicing more frequently, reading more juice reviews, and watching a ton of documentaries about Cancer/disease research  involving juicing (definitely check out the Gerson Theory…. super interesting), every single place I looked was telling me to avoid my good ole Jack Lalanne/centrifugal juicer!  Rude huh?  I loved Jack.  I knew without any doubt juicing was going to be a part of my daily life, so it was time for an upgrade!  At this point, I began looking at other models and while I would have loved to get Angel juicer or the kick ass Norwalk juicer, my husband seriously would have had a heart attack and disowned me, leaving me and my fancy juicer on the front lawn.  I knew it was going to be either the Champion or Omega and I think both are great options, but I decided to go with this Omega.  I couldn't be happier… so many things I love about it and I am super happy about my purchase & upgrade!
Why not do my own side by side comparison before I put my Jack Lalanne to rest?
Let's do this…. here they are in all of their glory!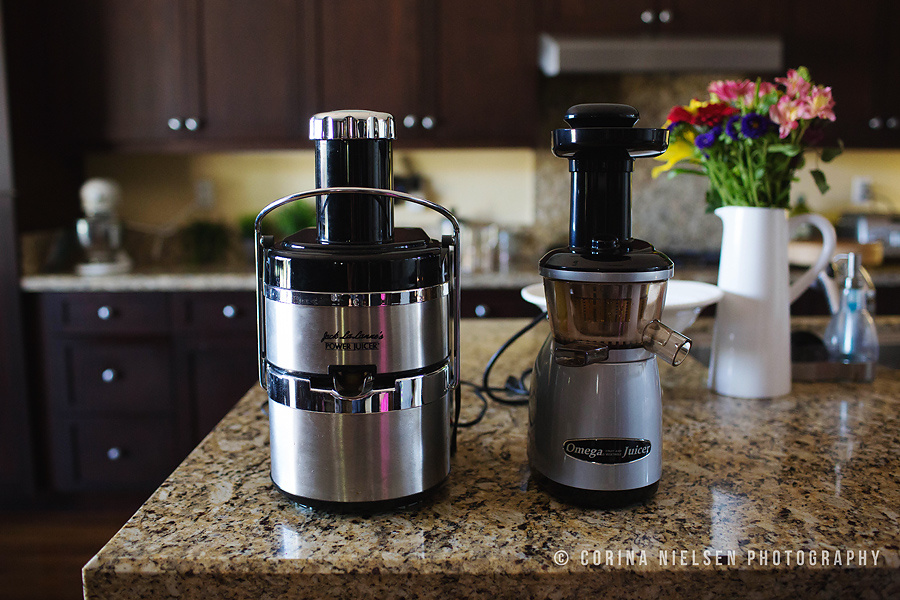 First up, Mr. Jack Lalanne!
I wanted to make sure that I try and get the most accurate results so I weighed the produce I was using.  For each batch, I used the following:
- 3 chard leaves (stemmed)
- approximately 2 carrots
- 1 green apple
- 1 stalk celery
- 1/4 peeled lemon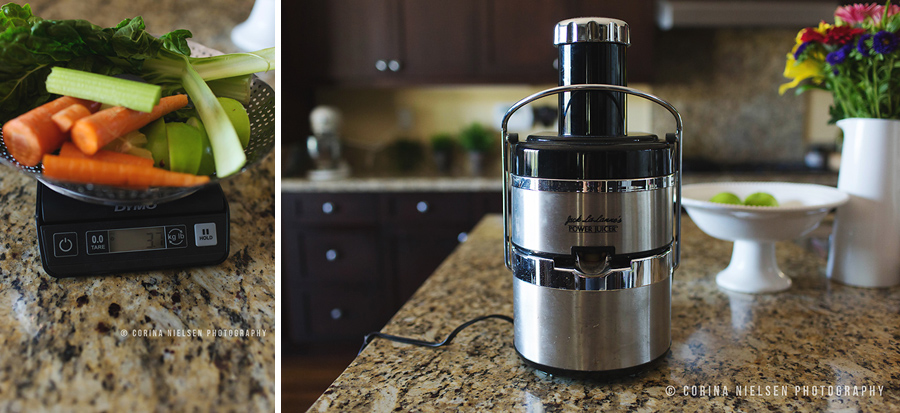 This was the output…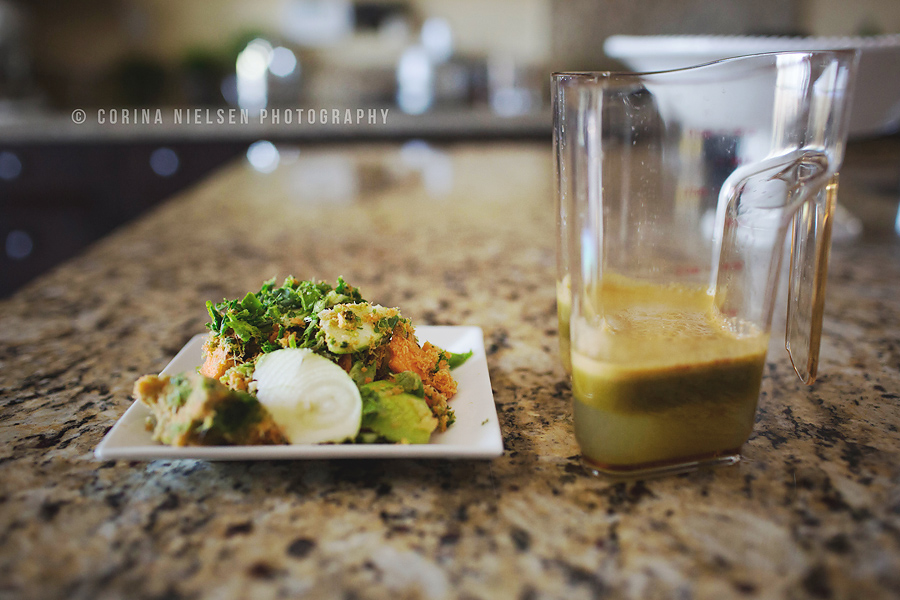 Take a look at the juice that was never "juiced".  This was just a small squeeze in my hand and it was dripping out of my hands!  Never would have thought this was a problem until the Omega came into my life.


And now the new Omega…




Thats what I'm talking about.  Almost completely dry!  I wasn't able to squeeze much out of what was left!


Now for the findings…
LEFT= Jack Lalanne
RIGHT= Omega VRT350
A few things to note here.  The Jack Lalanne juicer left at least double the amount of "waste" AND more importantly, there were literally full leaves and parts of the apple that never even processed through.  What a waste of beautiful produce ( AND $$$)!  The Omega completely broke everything down and utilized every bit that it could.  Bless it's heart.




Although the amount juiced was relatively the same, there was at least double the amount of foam AND more importantly, look at that separation in the liquid.  Loads more water & oxygen in the Jack Lalanne juice.  The Omega produced a much more "whole".  I should note here also that when I did this little experiment, I actually juiced in the Omega first so the juice had been sitting out twice as long as the Jack Lalanne juice.  Almost immediately, the Jack Lalanne "juice" separated.


Cleaning:
Unfortunately, I didn't do any pictures on the clean up aspect.  I feel like any juicer you will be spending a great deal of time cleaning.  All have their own separate parts and pieces that have to get broken down and cleaned up so it's all fairly similar.  A couple of things to note about the machines I have had specifically is the Jack Lalanne juicer had a portion you had to SCREW off EACH time in order to clean it all.  SO annoying.  That alone took a minute to do especially if you tightened it up properly to start and then had to wrestle with it to undo it.  The juicing portion of the Omega just pops off and you can clean each piece easily so I definitely think it's the easier option compared with Mr. Jack.  No idea on cleaning any of the other machines, but again, they are all going to be fairly similar and you will surely spend a great deal of time cleaning VS drinking regardless.
Produce Break Down:
This is one instance where Jack has an upper hand on the Omega.  The Jack Lalanne juicer has a fairly large chute for produce.  I only had to 1/2 apples in that VS having to 1/4 or even 1/8 in the Omega.  Some people rather just do a really quick chop and throw it in the machine which Jack is great for but in the Omega, you will spend a tiny bit more time breaking produce down… not much though and not enough of a difference for me to continue using Jack!
Cost:
Here are the main ones on the market I considered…
Jack Lalanne= under $100 at Costco
Breville= $150-$400
Champion= $225-$300
Omega=$250-$375
Angel= $1,200
Norwalk= $2,500
Bottom line is that if you are in the market for a juicer, first and foremost you need to go with what you can afford.  This is definitely an investment so before you buy anything, make sure it will be a regular part of your daily routine.  Why bother buying another appliance that will just sit on the counter?  However,  if you truly want to make juicing a part of your every day life, you should invest in a good one.  Go for a masticating VS centrifugal (you can see the difference between the two HERE, HERE, and HERE .  I found THIS on the Gerson site which could be helpful to some people as well.  I have a lot of friends who purchased the Jack Lalanne juicer and within a few months the motor went out.  Do your research. Check out youtube.com for comparison videos.  There are actually quite a few… THIS is a good one that does a side by side with the Omega and Breville which I know a lot of people own or are thinking about buying.
And now just for fun, let's take a little look at what my weekly produce selection looks like.  Keep in mind that I juice at least 4-5 times a day for myself and my daughter also has 2-3 glasses a day (my son & hubby have not joined in the fun yet, but I know they will come around).  I also use my Vitamix for green smoothies at least once a day AND the kids always have fresh fruit & veggies in their lunches so this may look like a lot, but I assure you, not much goes to waste.  I buy produce 2 times a week: one big fruit shop and a farmers market trip for most veggies.  I always buy organic when I can but every now and then I will buy at Costco because I can get so much at one time for less $$ which always helps.
Each week is slightly different depending on what I am in the mood for and what looks good, but my staples for fruit are:
- 2 varieties of apples (granny smith and honey crisp)
- grapes
- oranges
- lemons
- some type of berry (mainly raspberries and/or strawberries)
-avocado
- ginger
Feast your eyes on all this gorgeousness I got this week at Costco!






And these were from my regular Tuesday farmer's market outting.










How can you not want to get more of this beautiful, fresh, raw, healthy, food into your body?
And here are some reasons why juicing is so great for you and your overall health:
EASILY get your daily serving of fruits and vegetables.  Much easier to drink 5 ounces of carrot juice VS eating 1 pound of carrots right?
highly concentrated nutrients
 immediate absorption of all the good enzymes & nutrients found in fruits & vegetables (your body doesn't have to break down all of the fibers that come along with whole fruits & veggies)
boost your immune system
huge amounts of antioxidants
detoxes your system
tastes great and you can 100% control what you are drinking/getting in your body
countless other health benefits that studies have shown to help reduce allergies, high blood pressure, high cholesterol, chronic illness, skin conditions, healthier & thicker hair and nails, increase in energy, aids in digestion and reflux/acid disorders, and so many others
Ready for some of my favorite juice recipes???
Stay tuned…. they are all right around the corner!  Follow me on Instgram HERE to see them first!