For those that have been reading my blog over the past couple of years know how much I LOVE to entertain, bake, and go way overboard on "events".  My daughter had a big 4th birthday party a couple of years ago but since then decided to do Disneyland (5th birthday) and Sea World (4th birthday), so no party for me (I mean us)!  When we talked about what she wanted to do this year, I was overly excited that she actually wanted a party!  Then when she agreed to do a Halloween themed party, well I was ALL in, sign me up now please! Not only do I get to put on my fake party planner hat, but I also get to take some time off from work and get creative!  Needless to say, we definitely went all out for this little bash, but oh, the fun we had!  There wasn't a single detail of the party that Makena did not take part in in some way or another.  She was just as excited as me I think!
Makena woke up on Saturday and could not wait to get into her costume.  She had been counting down the days for at least 2 weeks.  I loved how happy she was when it was finally time to get ready and dressed!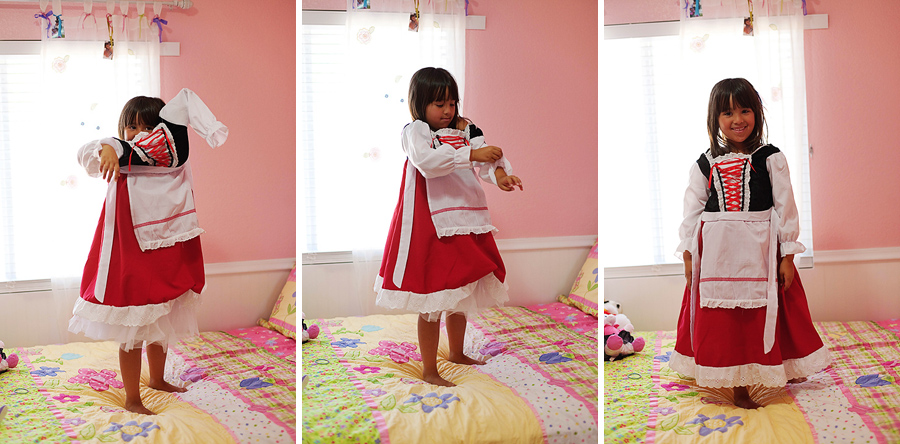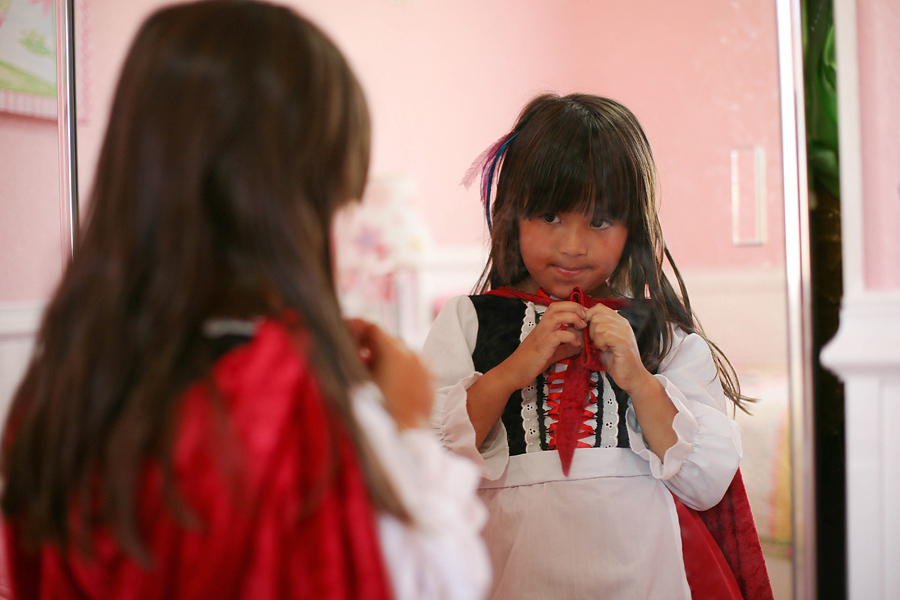 Nothing quite like all things Fall, Halloween decor & sweets!  The house itself didn't have too much going on in terms of decor, but I did dress up a couple of spots.  This is right near the front door!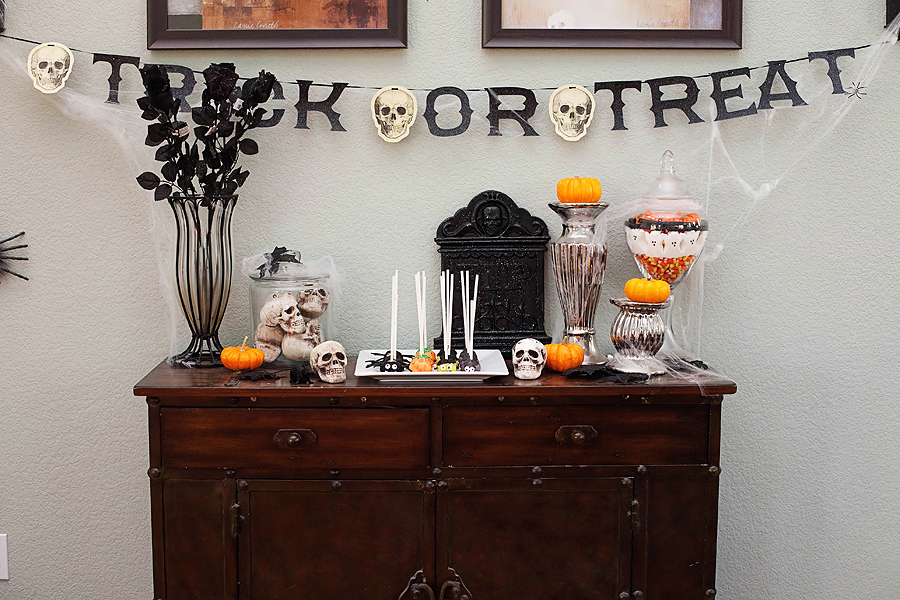 And on to the actual party stuff!  The goody bags… thank goodness for Target and the $1 spot!  You can always find the most adorable goodies there!  Makena filled each of these herself… fake tattoo's, a Halloween pencil & paper pad, and of course some candy!


I also got to bust my glue gun out for some crafting, nothing like a girl and a glue gun!  I had seen a similar idea for this banner online, but decided to spruce it up with some sequined trim.  Love how it came out!  Makena stamped each of the letters and all of the polka dots…


And now for the good stuff… the dessert table!  Can you so totally "overboard"?  I already know I lost my mind, no need to tell me again!  I'm thankful that I actually started things a few weeks ago otherwise, I would have been even more crazy last week!  Makena and I started doing all the fondant work for the cake and cupcake toppers 3 weeks ago.  Her and Blake cut out almost every single flower on the cake, she helped mix the colors, did all the cut outs on the cookies, and got to do a lot of test tasting!  We loved every single minute of it and it felt amazing to be back in the kitchen baking with the kids.  I think all our hard work paid off… I know I will cherish that time more than anything else!






Cake pops were probably the most fun!  Makena helped roll each and every single cake ball herself!  Then I did all of the decorating.  I swear Halloween is the BEST!  We chose to do spiders, Frankenstein, Dracula, pumpkins, and then rounded out the selections with good old eye balls!






We also made our fair share of various candy jars, meringues (SO fun and yummy, will definitely do these again for another holiday),  and sugar cookies!










We are also very very fortunate to know one of the best bakers/florist/stylist's around… my friend Milisa from Mili's Sweets did the cupcakes, candy apples, flower arrangements, and then in the madness before the party started, she put together the whole dessert table for me and made it all look PERFECT!  There was no way I could handle all of it, so I am thankful she was there to lend a hand!  For anyone living in San Diego, Milisa'a cupcakes are seriously the best I have ever tasted.  She rocks my socks!  Salted caramel and churro? Yes, please!








During the party, the kids had a few things to do in between the sugar highs.  I had a little craft set up and then we did some games (finding eyeballs in a big bowl of JELLO= super fun & gross, pin the nose on the pumpkin, and no party is complete without a pinata)!




















My sisters did an awesome job on the pumpkin didn't they?  Such a fun game… can definitely be changed to whatever theme/party you have!
We decided to make the food nice an simple this year.  We went to COSTCO, grabbed some pizzas and pre made  sandwich's and called it a day!  I couldn't resist doing just a couple of Halloween themed things though!  A "pumpkin" veggie tray, "mummy" hot dogs, and "bone" breadsticks!  Luckily these took no time at all







And then there was the cake… I knew I had to do better than I did for Makena's 4th birthday and while it was the same size, this one definitely came out 10 times better!  Makena and I spent a lot of time making the flowers together then the night before the party, she stuck all of them on the cake all by herself.  I think we did a pretty darn good job if I don't say so myself!  I did the fondant "Makena Red Riding Hood" topper a couple of weeks before the party and surprisingly, she wasn't as hard as I first thought she would be.  For my first fondant figure, she actually looked pretty normal looking (I think anyways lol)!






Makena loved how the cake turned out also but I think she was more excited about everyone singing happy birthday to her!  She used to hate it when people sang it to her, but this time, she was all ears and loved the attention!








We had 3 huge layers of cake!  Makena's only request was that she got to have lemon as a layer, so I made that the top layer for her, cookies & cream for the middle, and the bottom layer was chocolate!  I was really impressed with myself getting the "polka dots" into it.  Turned out super cute I think!  Next time I will remember to add MORE polka dots though!


Last but not least, Makena rounded out her birthday surrounded by her friends, opening presents, and oohhing and aahing over all the new things she gets to play with!


Best part of my day?  Getting to see Makena spend time with the people she loves most…






She even got to have a sleepover with her cousins!  Loved being able to spend some quality time laughing and playing with the family.  This is what it's all about….


It was definitely easy to go overboard on her 6th birthday party.  I'm sure my family thought I was completely insane, but that's alright.  What made up for it was how thankful Makena has been ever since we started the prep.  There wasn't one single day that went by, she didn't turn to me (at least once or twice each day) with a big hug and a thank you for doing this or that.  She really enjoyed helping with everything and will remember her 6th birthday forever!
Happy birthday to the most kind, thoughtful, sweet, smart, and beautiful little girl in the whole wide world!  I love you baby….