Since I had a couple of new custom logo's I wanted to share today, I thought it would be fun and informative to share how final logo design's come to life during my creative process.
When a new client comes to me and places a deposit for branding, blog, or logo they will always receive a detailed questionnaire that goes over information like basic business info, requested colors, graphics, concepts, etc.   Once this is received, I compile all of the information and begin to create a set of proof's for the client to choose from.  The more information I get, the more samples and links that are given to me regarding what inspires THEM and how they want their photography brand to be portrayed, the better idea I get of what direction the logo/branding will take.
Let's take a look at a couple of samples….
Kathy came to me with a pretty clear cut idea of what look she was going for.  Right now, she mainly specializes in horse shows, but was looking for a logo & branding that would span across other types of photography, namely portraiture.   Of course, it was easy to come up with the concept!  We both immediately knew we would be going towards a "western" theme!  Kathy already had the "branding" initials so all I had to do was work around that.  These were the first drafts of the initial design proofs: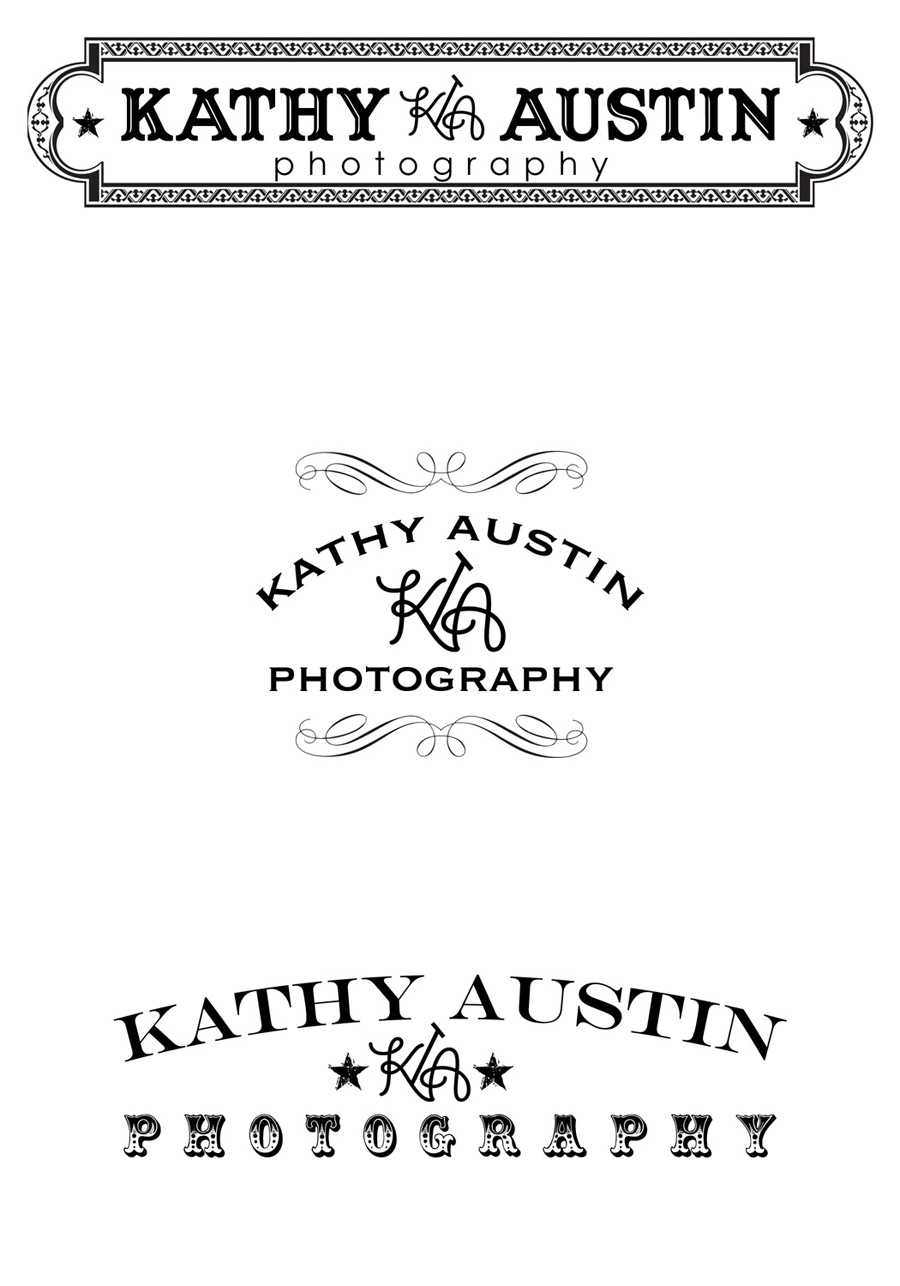 Once Kathy received these, she knew she was drawn to the 1st and 3rd design for sure.  She felt like that spacing on the 1st one was a bit crowded, liked the fonts used, but also thought that we needed another design element…. of course keeping with her western concept, barbed wire had to be used somewhere!  Once we worked that out, I sent another 2 proof's that were "tweaked" copies of the original drafts.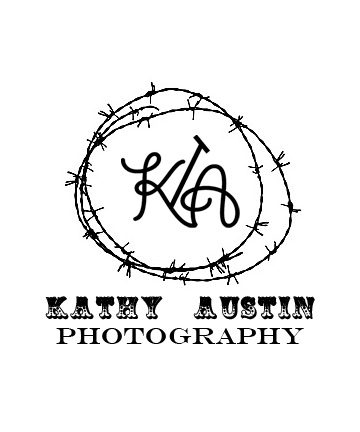 Once she saw these… she knew exactly what she wanted, just wanted one last little change… the barbed wire HAD to be metal!  Here was the final draft and the beginning of Kathy's new brand:


When Val came to me about her new custom branding she requested something with a vintage feel and of course she needed a "red balloon"!  If you look at her amazing work, you will see that her style is consistently vintage and she utilizes muted tones in all of her post processing!  After reviewing her questionnaire and browsing through her photo's, I was instantly drawn to this amazing photo and the tones in it:


Once I saw this, I knew the base color that would be utilized in her logo… a muted aqua!  Again, I came up with 3 concepts for her initial designs:


Val immediately knew #3 was out… but she loved the first design and the font and text placement of the 2nd design.  However, she felt a bit torn and requested I try one more concept using a silhouette and using the color ivory somewhere.  For a long time, Val had this idea of using a little girl holding a red balloon in her branding, so I did a couple of very quick drafts just to show her the new text I would use and the silhouette idea:


From here, Val kept going back to the initial first design draft, BUT with the font change…. and here is the beginning of her new branding and the final draft of her logo:


I'm really excited to start working on both of their business/marketing sets!  Both ladies have entirely different styles and different concepts that will be implemented into their branding!  I feel so blessed to work with so many amazing photographers… each one SO different from the next… each one making me really reach far into my creative-ness to give them a ALL a unique product they are proud to use everyday in their budding businesses!
For those that are interested in custom logo's and/or custom blog design, the current wait list is about 2-3 weeks.  Once you pay your initial deposits, you will be contacted within 48 hours with your questionnaire.  All I ask is that you take your time filling it out and really think about YOUR business and how you want YOUR clients to see you and your work!  Everything else is left up to me

For more information on my full branding packages, prices, and current wait list, please go HERE!  To lock in my current rates, deposits must be placed HERE before November 15th.  Keep in mind, right now you are able to book ANY start date you want in 2011 (after January 18th where the current wait list ends), but this will allow you to book your spot and take advantage of the extra low prices I currently have! Otherwise, price changes will be effective as of January 1, 2011!!!  Your balance will NOT be due until final files are ready to be delivered, approximately 1-2 weeks AFTER your start date!
For now, let me leave you with a little sneaky peek of the next client branding feature I have coming up this week…. so excited to share this one!  It's an extra special one