What a whirlwind the last 6 months have been!  I finally stole a few moments to create some new products for the store!  Very excited to have both a pre made business set & a coordinating blog available!  Instant branding… gotta love it!
Forget Me Not Pre Made Business Set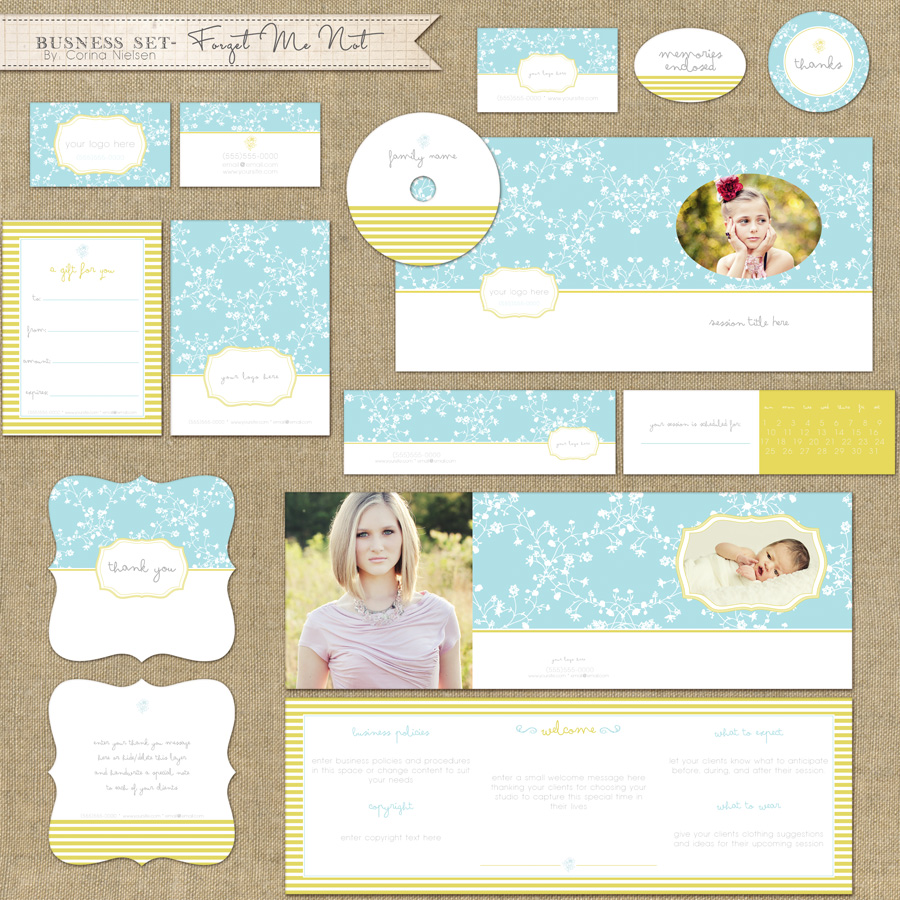 Business Set Includes: business card, CD single case & custom DVD-CD (Millers/MPIX), packaging stickers (Millers/MPIX), 4×5.5 gift certificate, 2×7 folded appointment card, 5×5 welcome trifold, 5×5 ornate thank you card.  Files come as fully layered rasterized PSD's so you can change/edit text, add images to built in clipping paths, add your logo & business info., etc.  All items use WHCC specs EXCEPT the custom DVD-CD and packaging stickers.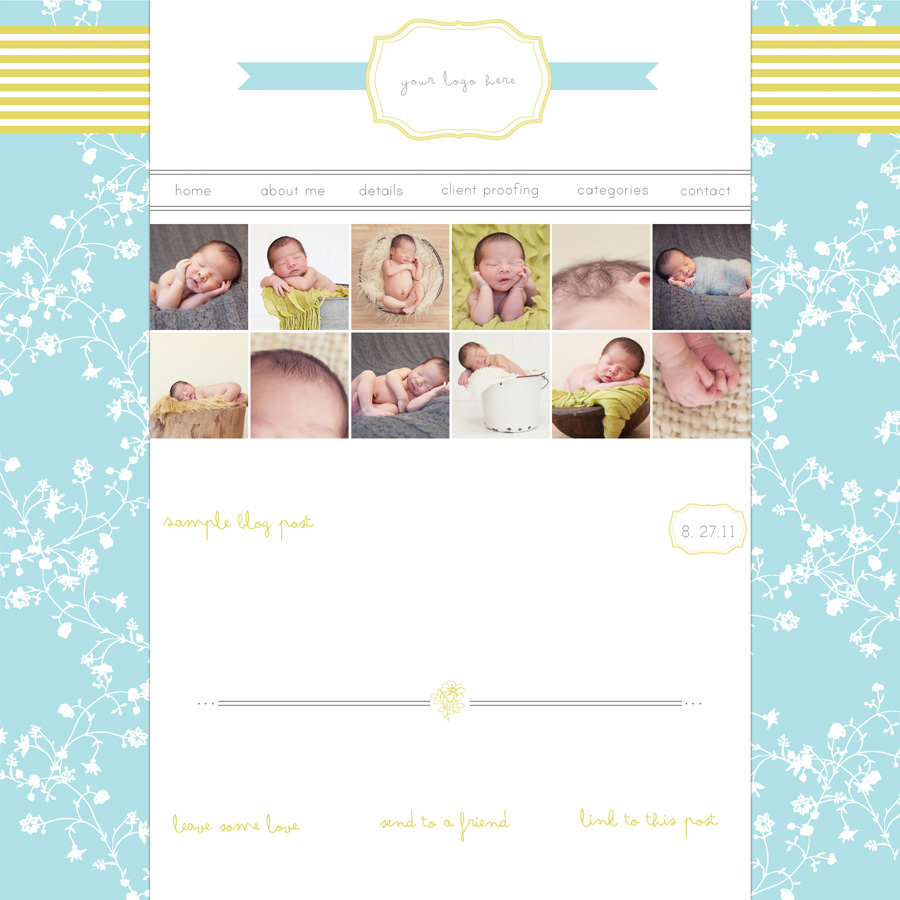 Pre Made blog includes: background image (1600×1600), header, post divider, date background, call to action buttons, and 5 different photo rotator templates.  Blog is specifically made for ProPhoto blogs and installation services are also available.  
The "Forget Me Not" business set and pre made blog can both be purchased in the store this week only and are on sale for 25% off!
I'm also VERY excited to announce my first official "Facebook Exclusive Download"!!!  Earlier this year I had intended on having a new free download available each month, but unfortunately I never got around to it with my branding schedule so full.  Now that the kids are back in school AND I have spaced my Fall clients out a bit more, I will have lots of time for the "fun stuff"!  With holiday season right around the corner, I knew that a sweet little calendar template would be the perfect item to release first!  Take a look…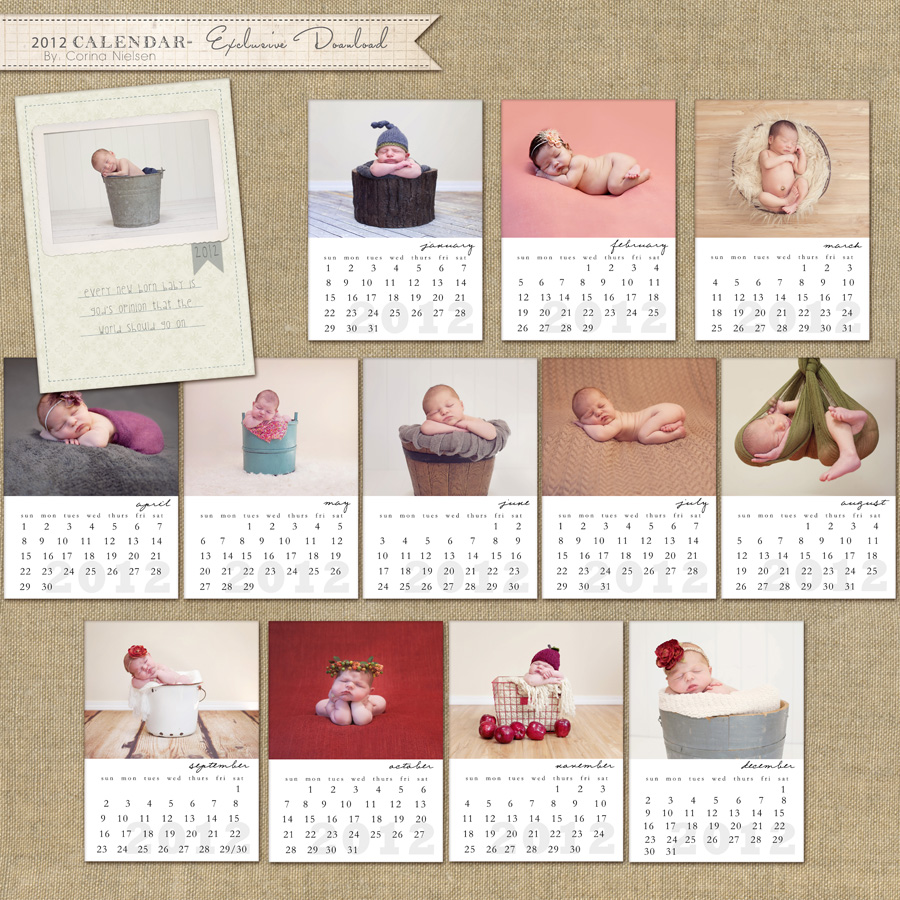 I even squeezed in some time to have my own studio sample printed with the lab.  Although these templates are sized at 5×7 (with a bleed) and can be printed as single prints OR a proof book, I was SO happy with my last spiral bound calendar from Color Inc. that I decided I HAD to have this printed there also!  For those not familiar with this product, here is some information about it right from Color Inc.:
Spiral Bound Photo Books
Spiral Bound Photo Books are a stylish and professional way to present and organize your images. These books are created using our single-sided Standard Professional Paper bound with a black metal binding along with custom front and optional back cover images mounted on white styrene for the durable protection of your prints. If an optional back cover is not selected, a black card stock backing will be applied at no additional charge. Spiral Bound Photo Books can not contain more than 70 pages, excluding the front and back covers.
Add rounded corners for free!
Select the "Remove Backprint" option in ROES to receive pages without file names or order information printed on the back for an additional $2.99.
Black Easel Back options are also available on back covers for an additional $1.99.
(excuse the VERY quick, last minute pictures… sample is still cute though!)


For those that may not want to have it stand upright, I thought it would be cute to add some ribbon to it!  Since the album was purposely made very simple & clean to blend in with everyones branding, this is where you can get creative and tie in to your OWN look and style.  Add the ribbon, use your cute packaging, put your sticker on the back… lots of room to present your clients with an adorable gift!  Templates come in rasterized layered files so you can also add your own text/font you currently use in your branding.  Since I specialize in newborn photography, I also added a little quote: "Every new born baby is God's opinion that the world should go on"  Love how it turned out….




I decided this time to try a little bit of texture on the album, so went with a linen finish….. can't tell from the photo, but I *heart* it!  Will definitely do this again!


So how do you get this sweet little free calendar I made up just for you?  That's SUPER easy

 Just head on over to my Facebook business page HERE and unlock the "exclusive download"!  As a VERY special bonus, Color Inc. has also agreed to offer my readers a 10% OFF coupon to have their calendars printed!  Once you have downloaded your calendar, added your images, text, and date, and are ready to send it off to be printed, go to Color Inc. ROES system and at checkout use coupon code:
Corina0911
I really hope everyone takes advantage of the special savings the lab has offered and you won't be disappointed in the quality or product!
ENJOY and have a wonderful weekend!!!!