I have been working on this one for a few weeks now and after 3 different templates, I think I created one that works just perfect.  It can easily work for newborns 7-9 pounds.  It will greatly depend on the type of fabric/sweater you are using though.  The great thing about these upcycled pants is you can easily adjust as you pose the baby for each shot.  Just some pulls here, tucks & pushes there and the pants can be molded to each baby!  So without any further ado, my upcycled pants tutorial is now ready to go!  Grab your Good Will and thrift store finds, get them washed & sanitized, take out your sewing machine, and lets get going!
Materials Needed:
1 old sweater (preferably something with a nice stretch to it)
pins
scissors
my newborn pants template printed & cut from a LEGAL sized piece of paper (TEMPLATE FOUND HERE: www.corinanielsen.com/corina/CNIELSEN-PANTS.zip)

coordinating yarn or trim (can be used as an optional belt)
sewing machine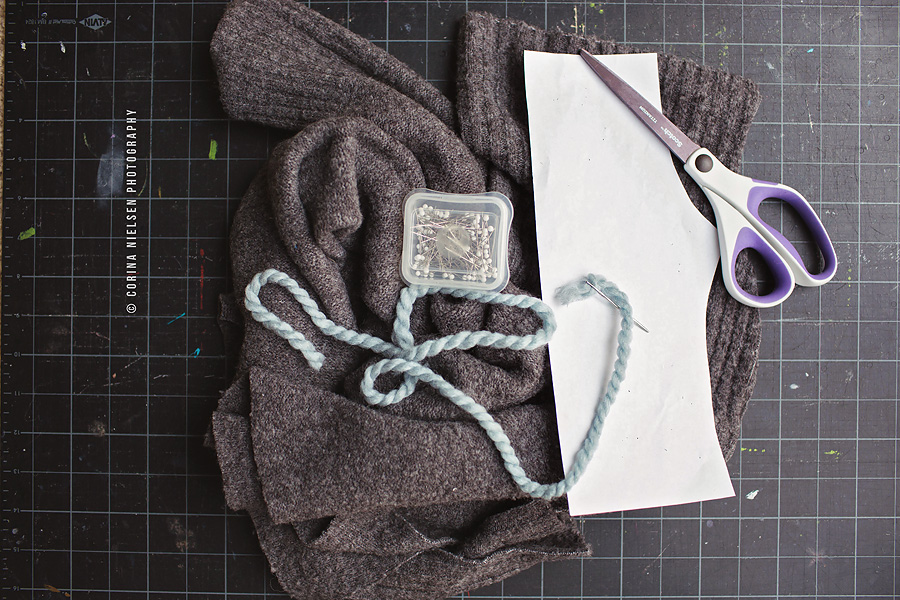 STEP 1:
Cut the bottom portion of your sweater off.  You will need it to be at least 11 1/2″ in height.  I normally just make a straight cut just under the arms.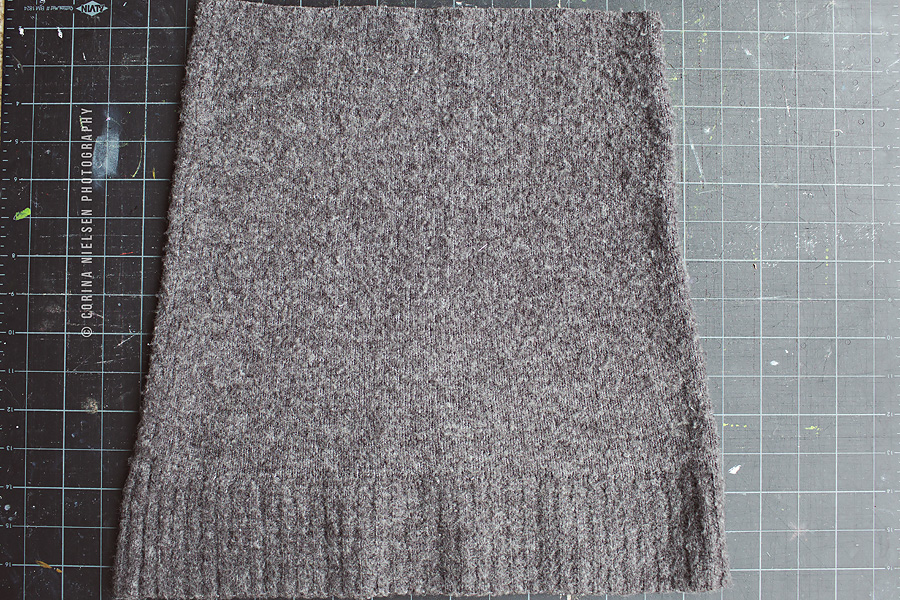 STEP 2:
Now cut along the side seams of the front and back.  You should now have TWO pieces of fabric/sweater made from the front and back of your sweater.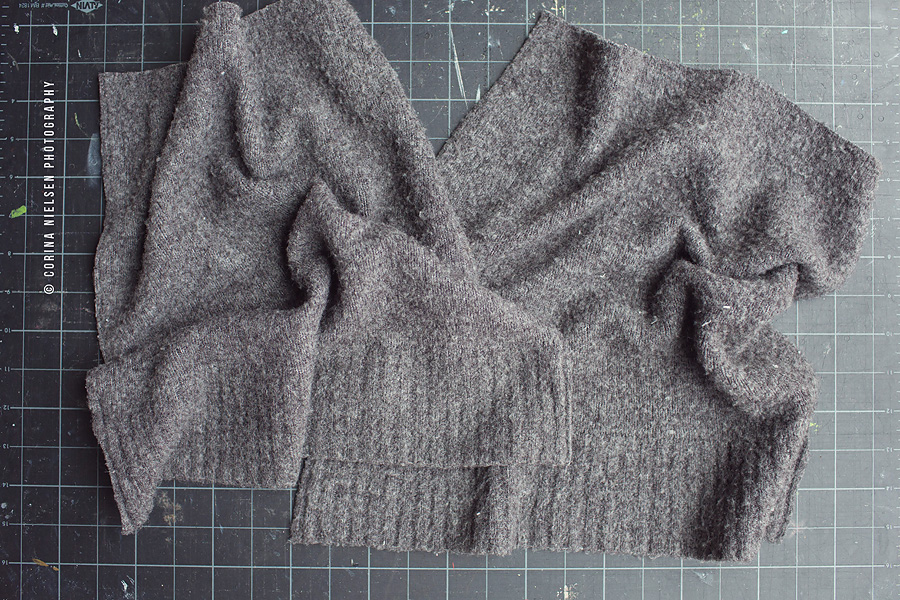 STEP 3:
If you are using a very large sweater, you may be able to get away using one side to create the pants, but in most cases you will need both.
In any case, take one of your pieces and fold it in HALF with RIGHT sides together.  Make sure you line up the BOTTOM edges (this will be cuff of your pants so you want this straight).






STEP 4:
Grab my printed & cut template and pin to the fabric/sweater making sure the fold (straight) side is lined up with the fold in the sweater. Also make sure that the bottom edges are lined up as well.  If your sweater has a pattern on it, also ensure that it is straight.


STEP 5: 
Cut around the perimeter of the template.
Repeat STEPS 3-5 with the other piece of fabric/sweater to make the other side of the pants.


This is what your TWO pieces should look like after you take off the template.


STEP 6:
Now its time to pin the two pieces together and sew.  With RIGHT sides facing together, match everything up as best as you can.  Depending on how straight you have cut and followed the template, things should pretty much be exact

Pin UPPER half of the pieces together.


STEP 7:
Sew upper pinned area on each side.
I used a plain straight stitch & 1/2 seam.  I like to use a slightly larger seam allowance on these since sweaters and thicker materials like these seem to shift a bit while I sew sometimes… using a bigger seam allowance will just ensure that you get through both pieces of fabric and not have any gaps.  Once you have sewn the upper seams together, just trim off the excess bulk and threads.


STEP 8: 
Here is the magical part… take the pants and shift them to the right (or left) until the seam is in the center…. you should see the pants "shape" now!
Now pin the BOTTOM seam together and again, ensure that the bottom edges of the cuff are lined up straight.


Once you have it sewn together, trim off the excess fabric/bulk and threads.


STEP 9:
This step has a few different options you can choose from so after you make a couple of these pants, you can decide how "perfect" you want them & which option works better for you and your style.
OPTION 1- You can simply fold down the upper edge/waist of the pants, pin and sew.  This will leave a raw edge on the inside of the pants, but you won't really see it at all.  This is just the easier, lazier, and non perfect  option

OPTION 2- Fold the upper edge of the waist down about 1/4″.  Then fold that over again another 1/2″-1″ down.  This will hide the raw edge and give the waist a nice finished edge inside AND outside.
I chose the lazy option for these particular pants because my sweater was super thick to start with.  Having to fold the waist down twice would have just made them a bit to bulky for me but for thinner sweaters, I like the finished waist of OPTION 2!




Pants are now sewn and more or less ready to go!  Here is a view with them still inside out.


STEP 10:
You could easily leave the pants as is and simply tuck the waist a bit when you pose baby to get rid of any extra bulk, but you can also add a little belt to tighten things up as well.  Grab some trim, extra fabric, or yarn and a large yarn needle.
This part may look and be a little tricky, but once you have threaded your trim or yarn onto your needle, grab the waist and put the needle through approximately 1″ of the top layer (just the front facing layer) and through to the other side.  Continue the 1″ spaces, going through only the top layer until you have gone around the entire waist.
The most important thing to remember is to try and space the gaps so that it looks nice and uniform and leaves an even space in the front where you will tie it together.




And here they are in action… decided not to use the "belt" though for the tutorial sample!




And a couple of other sets I have made in the past couple of weeks…






How easy was that?  You can literally make a pair of these pants in less than 10 minutes once you get the hang of everything!  SO easy, SO cheap, and there is never an excuse for not having new props to use or not being able to afford them!  Sweaters at Good Will range from $2.99-$5.99 or so and from one sweater, you should be able to produce at least a pair of pants, leg warmers, and possibly a hat.  I'm ALWAYS guaranteed 3 pieces from any of my Good Will sweaters.
I hope you have found this helpful and are now able to create some new fun props for your newborn photography!  Enjoy!