Last year when I first posted my newborn up cycled hat tutorial, I had NO idea how helpful it would be to so many photographers.  At the time, I knew I hadn't seen any other tutorials specifically on upcycled newborn props which was the exact reason why I made one!  It makes me happy to know that it has been pinned on Pinterest so much and shared amongst photographers & crafters around the world.  Last night I actually did a search on Google for "upcycled newborn hat tutorial" and guess who shows up FIRST and SECOND????  Not sure if this changes depending on where you live, but it was cool to see on my end either way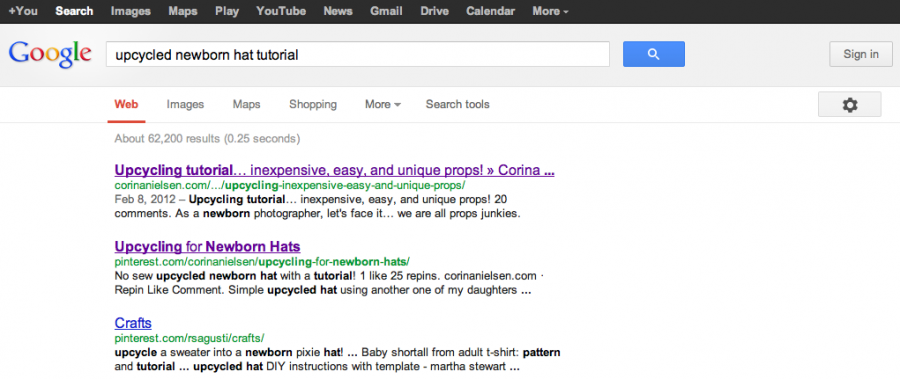 I have been eager to do more tutorials and last week when I visited Good Will and came back with a bunch of "new" sweaters and shirts, I figured it was a great time to work on some new things and share!  Using about 6 different Good Will purchases, each under $5, I was able to make at least 15 hats, 6 headbands, a 6 bracelets, 4 sets of leg warmers, and 3 mini layering blankets… I'm planning on sharing a few tutorials in the next couple of weeks, but for now, here is a quick little post on dividing up your sweaters and getting the most props you can!
Start with a large washed and sanitized sweater.  This is what I keep in mind while browsing Good Will/2nd hand stores: #1 color, #2 unique and interesting patterns/stitching, #3 a good stretchy knit/fabric, and #4 items I know I can get at least 3 props out of.  Obviously, when you spend $4 on a piece and can get one item out of it, you have already scored, BUT why not get the most bang for your buck right?  Was stoked when I found this oversized soft purple sweater!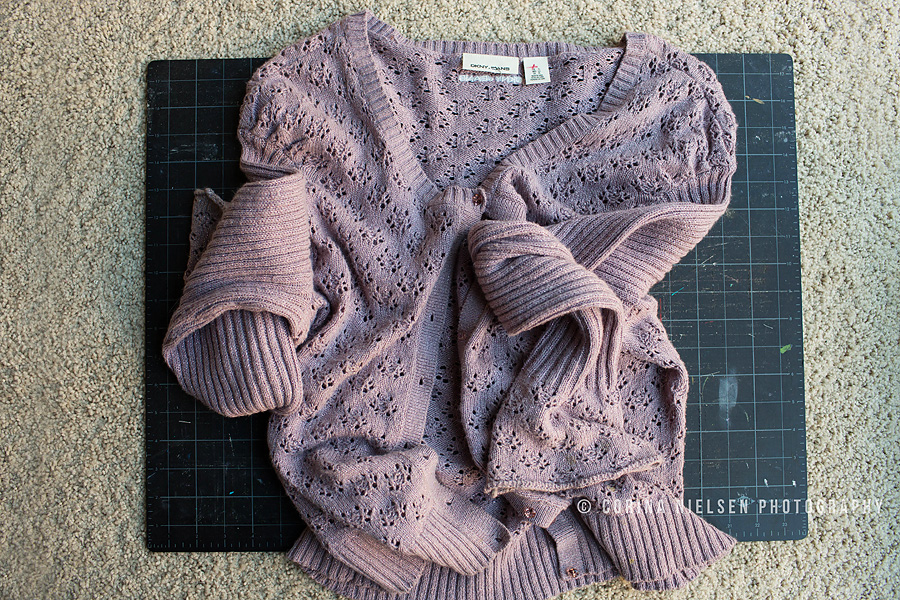 Lay out your item and think about how you can divide things up and maximize your end results.  Think about different shaped hats you could get, if you want to do leg warmers, headbands, etc.  For this particular sweater, I knew the cuff on the sleeves was stretchy enough to make hats so I made 2 different ones… one with a long tail and then one I could make with little ears.  I saved the top part of the 2nd sleeve for the leg warmers!  Then, because the back of the sweater was SO pretty, I knew it would make the perfect little mini  blanket, this is actually what I cut out first from the sweater.  Just made it as rectangle and straight as possible!  To prevent some of the unraveling, I did a very tight straight stitch with the sewing machine on the edges. Sometimes I will actually do a zig zag stitch to give the ends a bit more depth and fun OR you can also add some coordinating lace trim or ribbon to really finish off the edges!  For the "sleeve"hats, you can refer to my first tutorial :)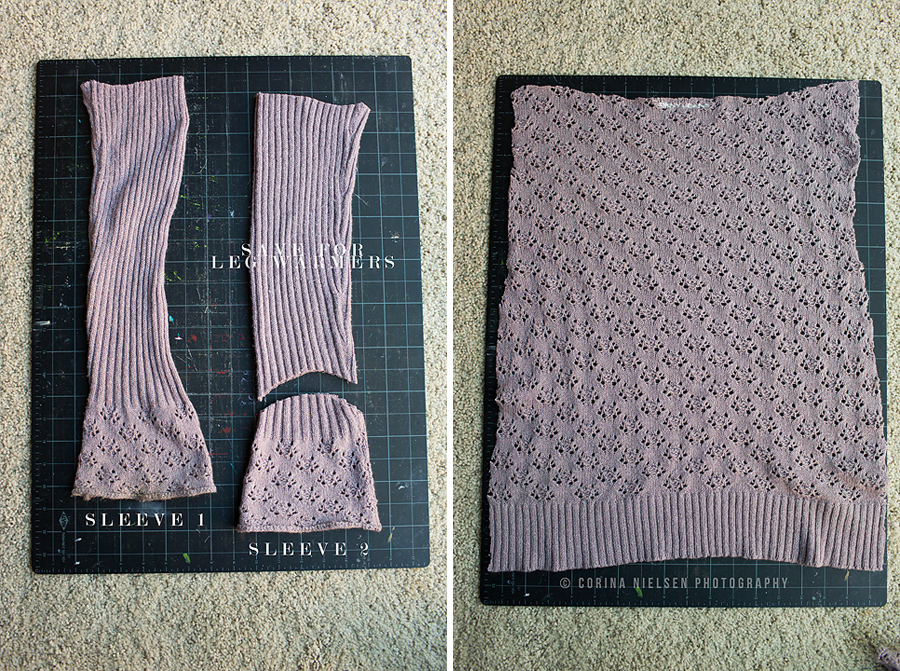 Next,  I worked on the leg warmers.  I ended up making 2 sets because so I would have a more plain pair and then a pair with some lace (but then I forgot to add the lace while I was sewing the edges, but you get the idea).  Again, this is the sleeve portion of the sweater… I cut it along the seam to flatten the whole sleeve out, then I cut rectangles out approximately 4″x5″ (the size will GREATLY depend on the stretch of your material though).


Since both edges were raw for me, I stitched BOTH the top and bottoms.  You can use a straight stitch or for some fun and depth, use a zig zag stitch on one or both edges.  This is also the time where you would want to add any trim, lace, etc. to the edge.  Just pin that to the top/bottom of the rectangle and sew the edge/s.


Fold the piece in half with RIGHT sides facing and do a straight stitch along the long side.  Turn it inside out and viola… instant leg warmer!


When I looked at what I had left of the sweater, I saw I still had both front panels so I just put them on top of each other and used one of my templates to create another hat.  The tail on my template wasn't quite long enough on the template I used, so I just extended it.  NOTE: the 2nd image below is the hat I made with one of the sleeves… noticed I didn't have an image to illustrate how I cut it!


Don't forget about the buttons or other special trims and notions on your piece!  You don't necessarily have to reuse it on the items you immediately make BUT save them to adorn another prop you make

 Love these little crystal buttons on my sweater!  These will be used for a headband for sure at some point!


Last but not least… I was also able to make a little matching headband and bracelet set

 I used a small piece of the sweater collar for the bracelet and then used one of the sides of the front area where the buttons (no idea if there is an actual name for it lol) were for the headband.
Headband was cut to about 13″ and the bracelet was cut to 5″.  Again, the length you cut items to will depend on the individual piece and the "stretch" it has to it!  I didn't sew either edges of these, but I think for my own use (not selling) they will work just fine.


So, let's recap everything I was able to make from a $5 sweater from Good Will….


 2 sets of leg warmers (one plain and one was supposed to have lace trim which is not shown)
3 hats (2 from the sleeves and one from the front panels of the sweater)
1 mini blanket
1 headband
1 bracelet
And the pieces in action…
headband, bracelet, & mini blanket (layered with an additional scarf I had)


Hat #3


Leg Warmers & Headband


I probably could have come up with another few items, but was eager to get to the other sweaters and shirts I had bought that day.  Namely, pant sets…  If you are up for another tutorial, go ahead and let me know on this post!  I'd be happy to share the basic tutorial and the template I created!  Here is a little preview:


Enjoy and happy upcycling!