I have to say that ever since I made the decision to change my business hours and give up the phone in the afternoon/evenings, I feel like a huge weight was lifted from my shoulders.  I have been more relaxed, focused, and most importantly "present" with my family anytime I am with them.  I think this is one of the best decisions I could have possibly made for us and I'm just sorry I didn't bite the bullet a bit sooner.  With everything falling into place and fitting "life" into the new schedule, I was still feeling like so many other things needed to get taken care of as well.
One of the main projects I have been wanting to attack was my own picture situation.  Back in the old days… you know, the film days, you filled up your roll of film, immediately brought it to the store, and had it developed then possibly put it into an album. More importantly, after printing you were always given the negatives that could be stored for generations. Nowadays, with everything being digital, it's easy to fall into a trap where your memories and pictures just stay on the computer or your hard drive/s.  Granted, sometimes its nice being able to just flip the computer on and look through pictures, but there is nothing like having the printed image in your hands.  I remember a couple of months ago being at my sisters house and seeing the kids find an old album I made for them.  It was SO fun to turn the pages and hear the kids laugh at everything they saw and then say "Oh my gosh, I totally forgot about…".  I loved seeing everyone gathered together looking at those pictures.  It really lit a fire under me!  So as soon as I got home, I started organizing my files and began having the past 6 years of our lives' PRINTED!!!  This was a HUGE project though which is why I probably put it off for so long.  So happy to have things underway now!
As a photographer I need to bring up this little , minor detail.  Now, I would NEVER suggest anyone having any professional photo's printed at a kiosk or non pro lab like Target, Costco… Walmart (oh the horror)!.  You have invested money into a photo session for top quality images, so definitely do NOT ruin them by printing anywhere but with your photographer or places they have hopefully suggested to you.  The quality in your prints cannot even be compared… even at first glance they won't look the same, colors are ALWAYS off, always!  Also, over the years, you will definitely see a big difference in how the pictures look…
Now that being said, when I decided I was going to print thousands of photos from the past 6 years, I knew it would never happen if #1 I hand edited each and every single one in Photoshop or if #2 I ordered from my pro lab, that would just be too expensive.  ALL of the ones we printed were just regular day to day things like playing in the pool, family trips,building our house, landscaping, sports, holidays, etc.  The "important" photos from holiday sessions, dance recitals, studio stuff I have done with the kids… those are always printed at my pro lab and hung/displayed in the house, no if, ands, or buts about it.  My goal with printing was to ensure that the family had these images and memories to look at anytime they want, present and future.  I could care less if these pictures didn't have the best pops of color or were artistic looking.  I wanted all of those memories and every day events printed!  Thats all.
So, take a look at our lives' for 2006 and 2007!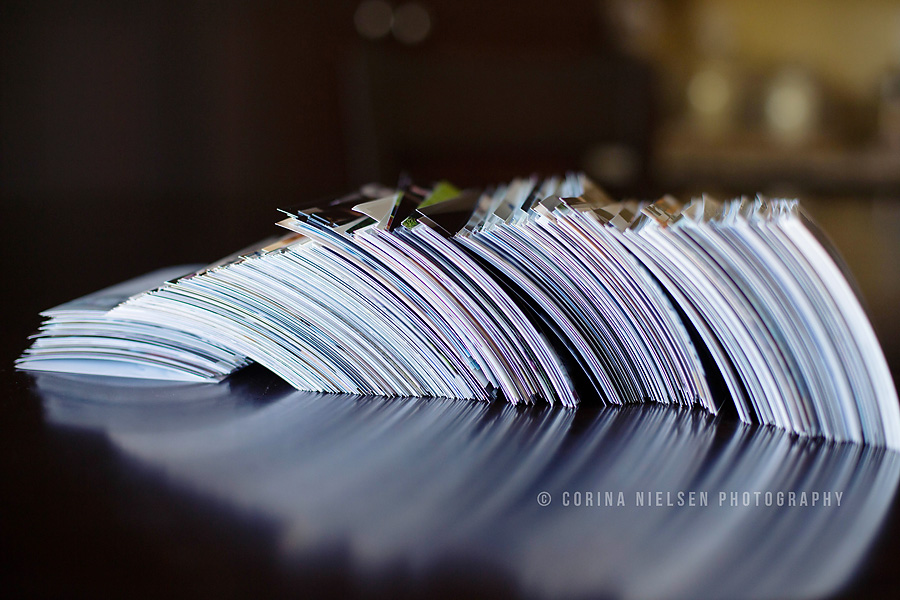 The first batch came to about 1,600 pictures and that was only 2006!  This was after narrowing every "event" on my computer down.  Only printing the images that gave the best story, captured the best emotions.  There were pictures everywhere!  We obviously couldn't just leave them in one big pile and shove everything in a big box so hubby and I spent a big chunk of time organizing them.  He even bought me these neat boxes from the Container Store (which are totally on SALE now, weren't when he bought them)! This is what our tables looked like after the first batch of printed photos!  Things were a mess…. but a somewhat organized mess I think!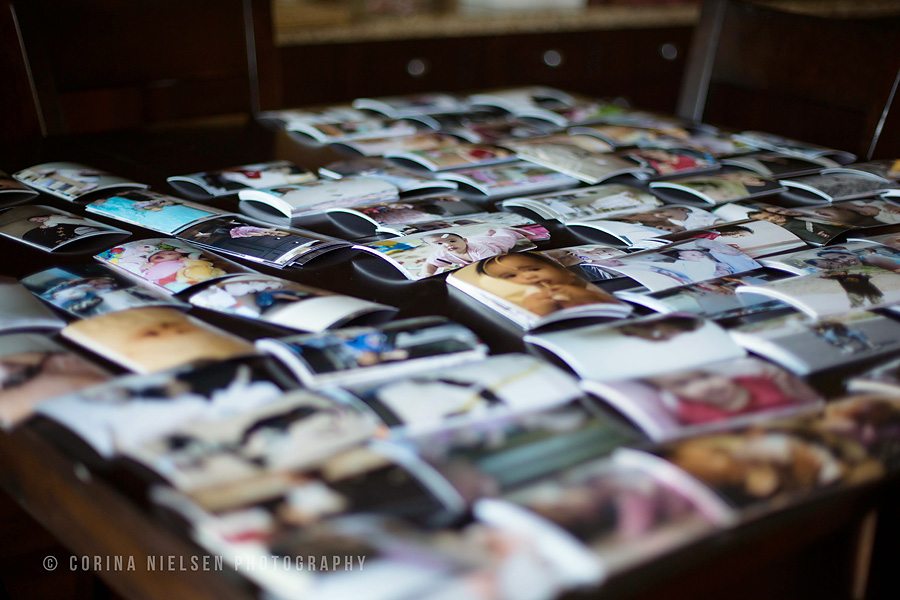 Once we had all of our piles done, it was time to organize them into the container.  Everything was done by Month/Year and I even busted out my handy dandy labeler to help us out!  OCD & anal retentive much?  YES I am….


Look at how neat and pretty things look now!




Obviously starting to  print everything was my main goal, but when my BFF was in town last week and was wondering about the San Diego fires we had a few years ago… having things organized like this was so handy!  I remembered what month/year it happened and then I just grabbed the container!  Easy peasy!  When I had my nieces and nephews staying with us a couple of weeks ago, but heart just about melted when the girls found the boxes of pictures.  I never suggested they look at them, but this is what I found them doing downstairs the very first night they were there…




Now THIS is the reason why I did what I did… they sat there and went through all of it.  My heart was smiling from ear to ear listening to them laugh, call the boys in to show them this or that, and to just be "together".  Beat still my heart.
One of the other important things that had been on my mental to do list for years was backing all of these precious memories and pictures up.  2006-2011 were more or less all backed up on an external hard drive, but here I was in June and all of 2012 was still on my laptop AND I had pictures all over the place in random folders, nothing made much sense.  First thing I did was put 2012 on my external hard drive.  Then I put everything into folders by year/month.  It took forever, but everything was now at least accessible & easy to find.




So, we are backed up on 2 hard drives and CD's.  Perfect right?  Nope, that definitely wasn't good enough for me. Lets face it, all things digital are susceptible to fail.  Not only that, nobody can predict a natural disaster or fire so what good is it to have all of those pictures and files stored on the computer or your hard drives in your home if they could all potentially be ruined and lost forever?
Welcome Carbonite!


Ideal off site storage for all of your pictures, files, and your computer!  The initial back up took forever, but so well worth it.  I now feel 100% covered and protected.  My client files are now protected as well as our personal pictures.  Definitely look into this.  There are other similar companies who offer the service, but I had heard such good things about them, thats who I went with!  My heart and brain are now resting easy knowing our memories are safe and sound (and in multiple locations)!
Take a look at the new back up process:
images taken off camera (personal pictures I do not edit or bring into Photoshop unless its a special event).  Everything is converted from RAW to JPEG in Lightroom, then exported to their appropriate folders
Time Machine & Carbonite are automatically hooked up so the computers and new files on them are backed up every few hours
at the end of each month, I take all of our personal pictures and all of my client files, and put them on an additional external hard drive (I chose to use a different brand than the one for my Time Machine because you just never know)
from now on, all personal pictures will be printed each month, organized, and stored.  Any place you print through will offer a burned CD of images, so I add that on as well and keep them together.  Our new photo storage boxes are stored in the book shelf closest to the garage where the cars are.  We have always kept ALL of the albums, kids school awards, school pictures, important paperwork/files in the same place so in the event we need to make a mad dash out of the house, we can literally grab everything at the same time.  No need to run around the house and look for anything… all of the really important stuff is together.
When I explained my entire back up system to my husband, he thought I was crazy but you really just never know!
Don't wait until its too late!!!  No time like the present