it's upgraded, better than ever, AND I am giving away a FREE copy to one of my VERY lucky readers!
People who follow my blog and Facebook page have heard me talk about ProPhoto many many times now.  When I first started my business/es, I had heard of it but was really hesitant in spending $199 to get it.  That's a big chunk of change on something I knew very little about!  However, after getting frustrated with trying to update pretty minor things on my regular WordPress blog like color, font, menu items, my header, and tweak the overall design I knew something had to be done if I ever wanted to gain a real web presence and get my name out there in the world.  I dreaded going into my blog admin and spending countless hours attempting to tweak things… so I rarely blogged.  I was completely doing myself a disservice and I knew it.  So, after doing some research, looking at all kinds of reviews, seeing all of the "greats" use ProPhoto, I knew it was time to start taking blogging seriously so I dove head first into ProPhoto 3.
Let me tell you… it was hands down the BEST investment I have made for my business/es.
It didn't take long too getting familiar with the admin side… still a WordPress blog, but ProPhoto has everything is totally spelled out for you.  Immediately I was excited about blogging because it was just so darn easy to get everything set up in a post that I wanted to, have the nice big images being displayed, have my menu nice and organized so that people could easily find what they needed to, and if I wanted to add a gallery the option was there to make it totally dummy proof (right up my alley)!  I honestly didn't think blogging could get any easier.  That is until they went and updated things to be even more fabulous.
When I was sent the P4 upgrade to beta test, I was literally smiling ear to ear.  My husband kept asking me "What the heck is going on over there and why do you keep saying Holy Crap, are you kidding me?"  P3 kicked ass, but P4 just runs circles around it.  Just when I thought that blogging, updating, and customizing my blog (and clients blogs) could not get an easier, I was totally blown away.  I must go over some of my favorite features with the upgrade….
Organizing your menu's has NEVER been so easy…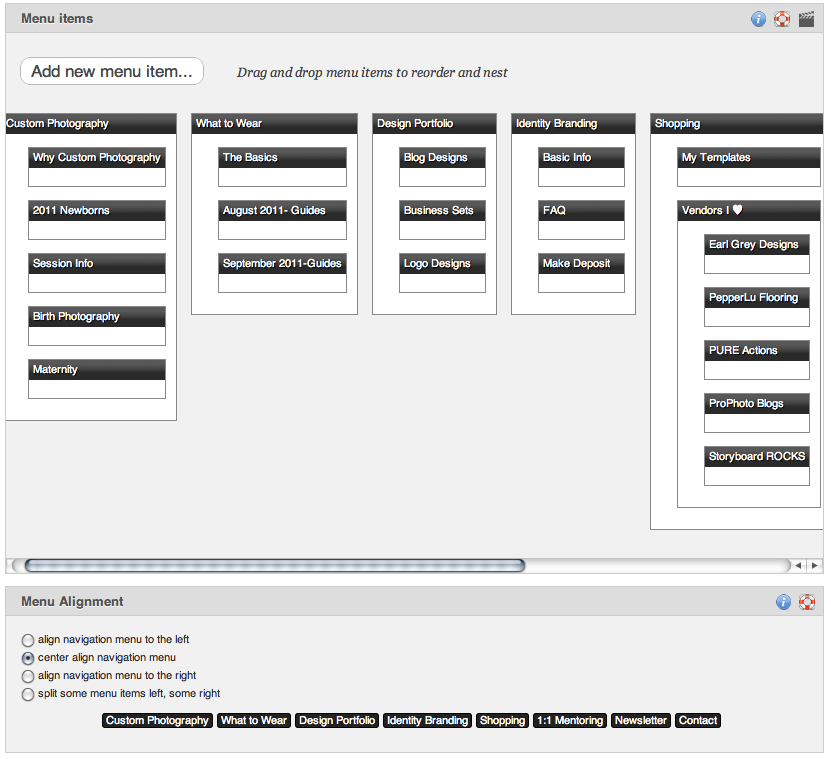 Before ProPhoto, I found that one of the most difficult things to tackle with my blog was getting my menu items done properly.  I always had a hard time trying to add things that linked here or needed to go there.  P4 has really made it super simple for the user.  You literally just have to move these little black boxes into the right place, then add the link you want, hit save and you are DONE!  No more trying to figure out link menus, categories, lists, blog roll, or anything else I didn't fully understand.  Only takes a couple of clicks and you are done!
Using custom fonts quickly & easily rocks my socks…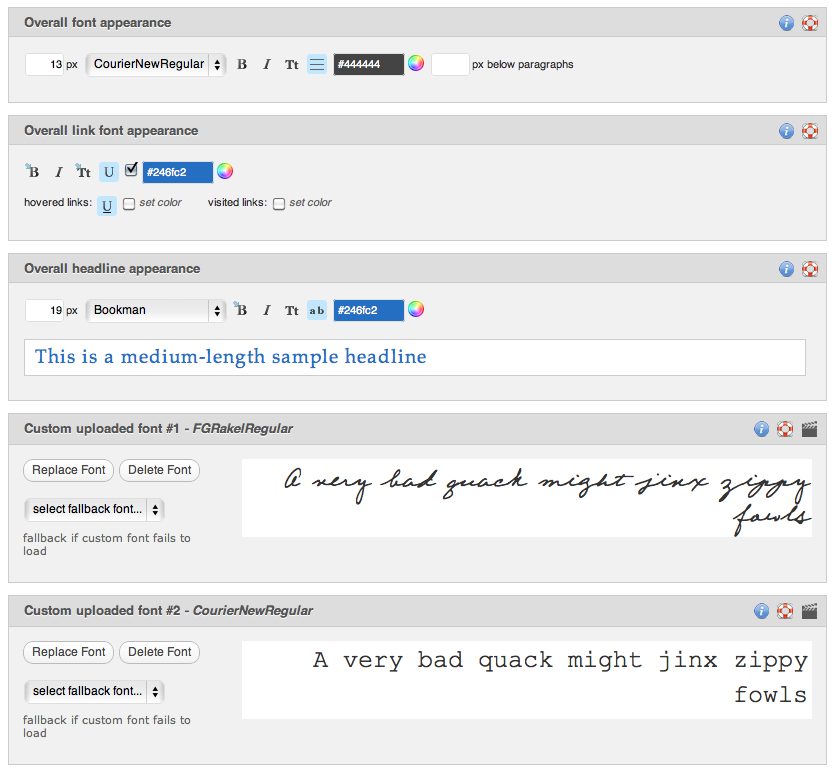 Obviously, I have been using custom fonts on my blog as well as most of my clients' blogs.  However, in order to do that in P3 or other WordPress blogs for that matter, you needed a special plug in and custom coding for it.  While it wasn't difficult… it did get a bit annoying having to go into the back end of your entire site to add folders and what not.  P4′s new custom font feature will really allow people to customize their blog to match their branding seamlessly.  Love the font you use in your logo?  Well, why not use it on your blog as well?  In many cases when you purchase a font, you can also buy the web version for you to use… an absolute MUST in my opinion!  You will want to use it on your business/marketing pieces, makes sense to use it on your blog as well!  With a few simple clicks, upload the font, and use it ANYWHERE you like!  A-MAZING

 Hands down one of my favorite new features!
"A Call to Action" is so super sweet…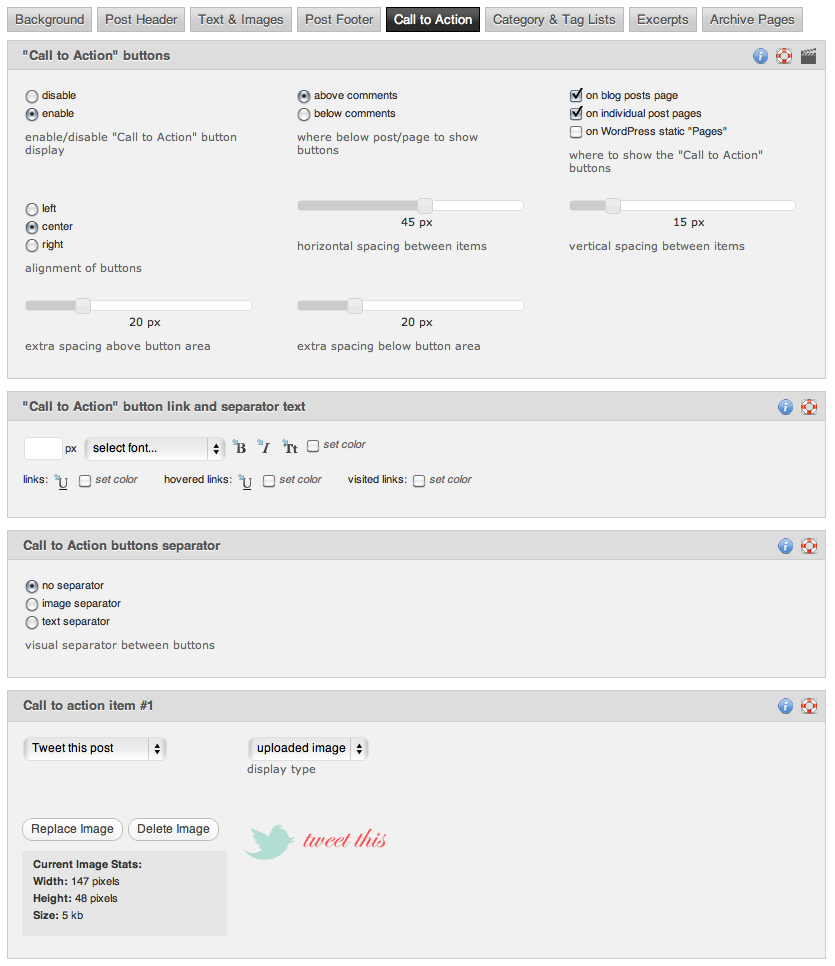 Like icing on the cake!  P4 has really given you the ability to allow your blog readers connect with you quickly and easily!  Have readers subscribe to your blog, become a fan of yours on Facebook, follow you on Twitter, email you, and much more.  You can use text OR match your current branding with graphics & text… just upload the image you want to use and let the connections begin!
Here are all of the features that ProPhoto has to offer….


Itching to get your very own
ProPhoto
blog with all these amazing updates?
It's giveaway time!!!!  ProPhoto has generously offered to give one of my blog readers a copy of their very own.  This is an amazing opportunity for someone and their business!  I am super thankful that they have agreed to do this with me and honored to have the opportunity!  Ready for the details?
Giveaway will run from today September 27, 2011 through October 4, 2011 (11:59pm PST)!  Winner will be announced here on my blog October 5th and will receive their download link to P4 within about a week.  Because ProPhoto is just releasing P4 today, they are extremely busy with customer service and troubleshooting.  Once the dust settles, the winner will be given their download!
Please note that this giveaway does NOT include any installation services, you will need to have WordPress installed on your site or be switching to WordPress in order for ProPhoto to operate, and does not include a custom design.  You will be able to use the built in designs OR upload your own design as you wish. 
Can't stand waiting?  Want to own a copy of P4 TODAY?  
I don't blame you…. I'd purchase it immediately also! It's 100% worth every single penny!  Go ahead and use coupon code CNIE9809 when purchasing ProPhoto HERE for $10 off!!!