With the first batches of rubber stamp orders now being received, I thought it would be a good time to go over a few general stamping tips.  I have gotten a couple of inquiries regarding the stamps in regards to what stamp pads to use and troubleshooting and it's always easier to illustrate things as opposed to attempting to explain over emails!  Hopefully this will help a couple of people out!
Stamp Pads
I'm use a brand called StazOn (in black) and I haven't had any issues with it.  The main reason I chose this over the countless other brands is because in a lot of my packaging (both for photography clients and rubber stamp customers), I'm using a few different types of surfaces (plastic bags, paper, muslin, and glossy boxes).  StazOn is perfect to use on all of these since its fast drying and good for "EVERY SURFACE"!  The downside to using this particular pad is that it will stain your stamp.  The ink is permanent!  However, as long as you still clean your stamp every now and then, especially right before you use another color, the black should not transfer at all!  My pad is actually a few years old also so in all fairness, I don't know if the product has changed at all. My guess is a newer one would be even better because its nice, fresh, and full of ink!  I desperately need a new pad, but even the old one is working good.
I bought 3 other brands: Memento in gray, Memories in brown Papertrey in sorbet.  These worked OK but I found that the quality of the stamp result wasn't nearly as good as with the StazOn in black.  I'm not sure if the color has anything to do with it, but I for one am thrilled with the results of the darker colors.  I have to test out a few others to be sure though!  The lighter colors seemed to bleed a bit more and smudge easier.  The black and brown both gave nice crisp stamped images!
A couple of things to keep in mind when choosing a pad: think about what type of surface you are going to be using.  Different stamp pads have different uses so be sure to read the label correctly before purchasing.  Unless you are embossing, avoid pigment inks  and pads specifically for heating.  These will all take much longer to dry because they need to absorb into the "surface", you will run the risk of inks bleeding and/smearing.
Basic Stamping
#1 ensure you are stamping on a clean/hard surface
#2 use a firm ink pad that you know has a good amount of ink
#3 press stamp firmly onto your stamp pad a few times (especially when you first use your stamp).  Do NOT rock back and forth too much or you may ink the sides which will in turn leave an impression as well
#4 stamp FIRMLY without rocking or moving in any other direction except down.  If you do not apply even pressure and/or rock the stamp, your image will appear smudged and text/graphics will not be as legible.  In some cases, if your stamp has fine details and small text, you may not have to press quite so hard to ink OR stamp.  Practice makes perfect!
#5 clean your stamps as needed.  Use a stamp cleaner and follow the products care & description.  Allow stamp to dry completely before using it again!  Any excess liquid will definitely cause the stamp to bleed.
Let's put some of these things to use shall we?
Since quite a few people purchased Quote #16 last week, I figured I would order one for myself and test out a few packaging ideas!  So here is my stamp, my StazOn ink pad, a nice hard work surface, and a plain piece of paper.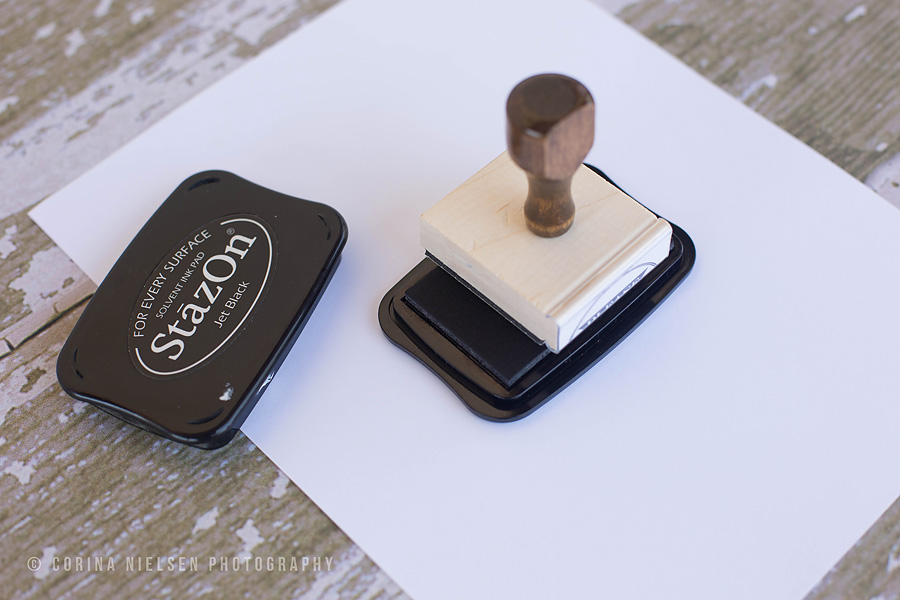 Apply FIRM & EVEN pressure to the stamp, pressing down ONLY.  Do not rock back and forth or side to side.  Again, if the pressure is not even you run the risk of smearing, smudging, as well as getting ink on any edges.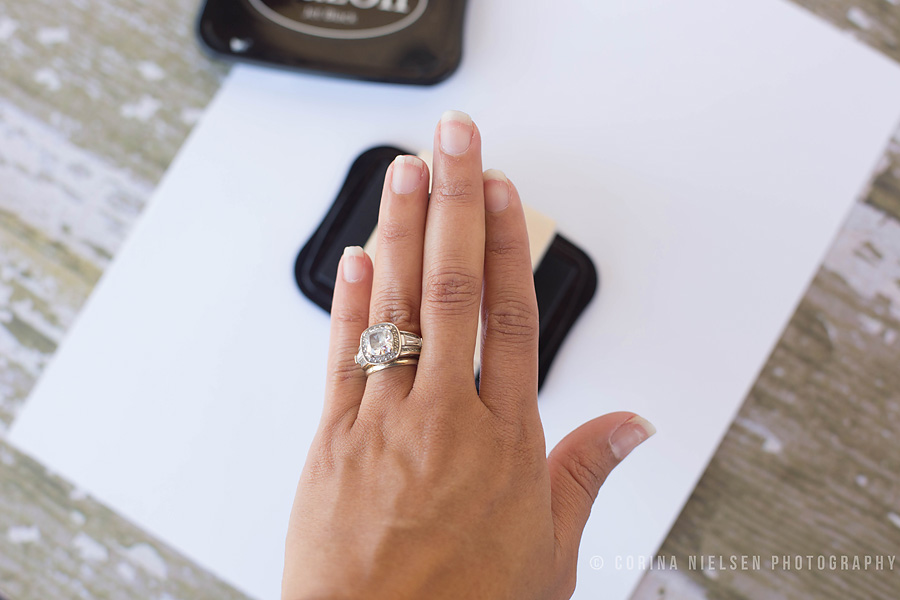 Pick up the freshly inked stamp and take a quick look to ensure you have inked the entire image/text… reapply if you have missed any spots.  Then stamp your surface… again, apply FIRM & EVEN pressure straight down.  If you happened to get any ink on the edges (due to rocking when you inked), those will transfer to your stamp impression as well.  I think the key to stamping is applying just the right amount of pressure based on your particular stamp!

If you seem to be having difficulties getting ink on the sides or corners of you stamp, you can also try inking upright.  Doing this may allow you better visibility and ensure you are applying even pressure while inking.
** Please keep in mind YOU will be using TWO hands while doing this… I had to take the picture to show you what I meant!  One hand will be holding the stamp pad and the other hand will be holding the stamp, applying the pressure to ink **


Practice BOTH methods… hopefully one will work better for you and produce a better "stamp"!


Another problem you may encounter with a few stamps is if you left a lot of blank spaces on your custom stamp file you provided me.
** Please note I offer a file prep service for ALL custom stamp orders.  Having this service will ensure the stamp is made properly from the very beginning.**
Here is an example of a stamp that was made incorrectly the first time around.  "Photography" was accidentally left off the first time around before production but its a good example to use to illustrate a possible issue!  As you can see, the rubber was trimmed as it would be with any of the stamps with a lot of blank space.


In the process of inking the stamp, if you rock even a little bit, you may get your ink along the edges.  Then if you rock again while stamping, that ink will obviously transfer when you stamp like below.


However, if you follow the directions and practice using your stamp properly… you can achieve a nice, clean "stamp" like this!


In the meantime… if you are still having troubles with the accidentally inked edges, there is an easy (but slightly messy) fix.  After you ink, turn the stamp upside down and simply wipe the edge a bit to ensure that it won't transfer!  Kinda of annoying to do with every stamping you want to do, BUT it will work until you get the hang of inking & stamping!


The most important things to remember are for your custom stamp: #1 apply firm, even pressure when inking/stamping & #2 size your file/graphics properly.
Now how about a little practical use for Quote #16!!!  When I created this design, I had a very specific idea in mind for a packaging idea!  The last time I was at Staples for shipping labels, I had seen these adorable 2 1/2″ circle stickers.  I immediately knew I need to make a circle stamp and since so many people had requested a "do not bend" stamp, thats the direction I went!


These Avery stickers come in a package of 225 (9 to a sheet) in both kraft (YUM) & glossy white.  My Quote #16 is actually only 2″ in diameter but I somewhat did that on purpose when I designed it because there are a lot of other labels and tags that are smaller than these guys… this way there are plenty of other options for using the stamp!  I for one am a sucker for kraft and natural packaging… and these stickers are too cute!


The tricky part about using these is that you have to try and find the center of the sticker while you are stamping!  After one or 2 mess ups, I got into the groove and figured out the placement!  A little room here, a bit of room here… perfect!




And here they are in use!  For those photographers who may send prints through the mail to clients and haven't invested in any boutique type packaging/boxes, you can grab some plain envelopes at your local office supply store (they sell manilla, kraft, and white at my Staples), sandwich your prints in between 2 sheets of sturdy cardboard, then slip them inside the envelopes.  Then seal it with one of the sweet stamped stickers or simply stamp directly onto the front of the envelope!


Or if you have invested in upgraded packaging, use your stamped sticker either directly on the box OR fancy it up with some ribbon that coordinates with your branding!


Hope this helps some customers!  Be on the lookout for some more packaging & stamping ideas in the near future