Oats gone wild… checking in full force today!!!
As a kid, I remember my dad taking me to our favorite neighborhood ice cream shop for a special treat, but unlike most kids that were content with a single scoop in a cup I almost always went for a full on banana split!   Swanson's ice cream shop, banana, vanilla, chocolate, strawberry, fudge, and the cherry on top was always my favorite classic combo.  Those tastes and memories will forever be engrained in my memory!   And boy how I do miss those days of unlimited calories and not having a single care in the world about what I ate… oh, the joys of being a kid!
Now as an adult, as much as I would love to dive into a banana split, it's not something I would do very often.  Not because I think banana splits and dessert are bad for you, but simply because if I used my calories on something like that, I would end up going hungry the rest of the day!  Banana splits are good, but not good enough for me to starve myself for!  This girl loves eating way too much and if I'm hungry, everyone around me is miserable… including myself!  So if I ever eat a banana split now, I still would never eat the whole thing, just a few nibbles!
For the occasions when my craving is strong though, I have come up with a brilliant alternative!  This one is made up of more than just ice cream though and it actually has some added touches of nutrients!  Like I have said before, overnight oats or OIAJ (oats in a jar) are SO versatile.  You can make them virtually ANY flavor you like and the toppings bring it all to life… why not a banana split?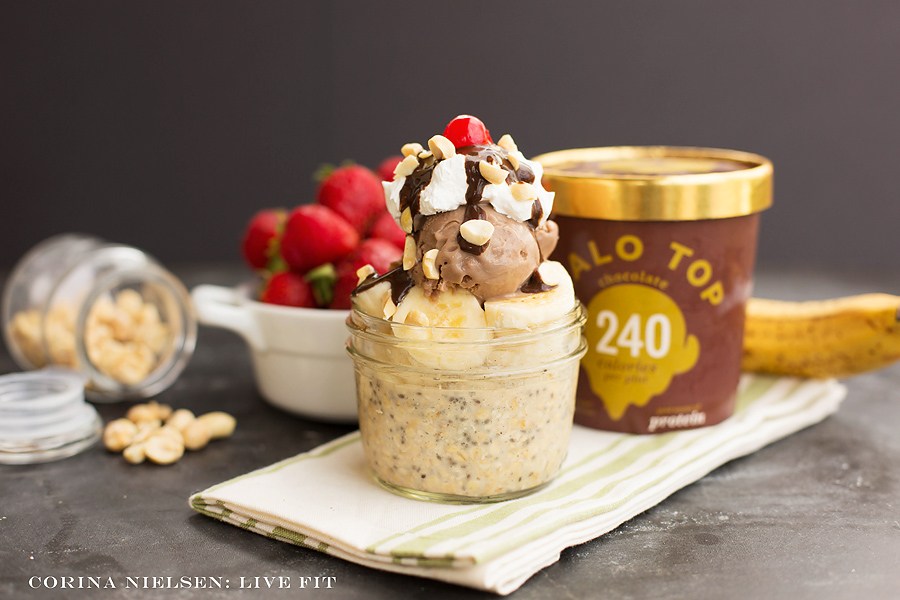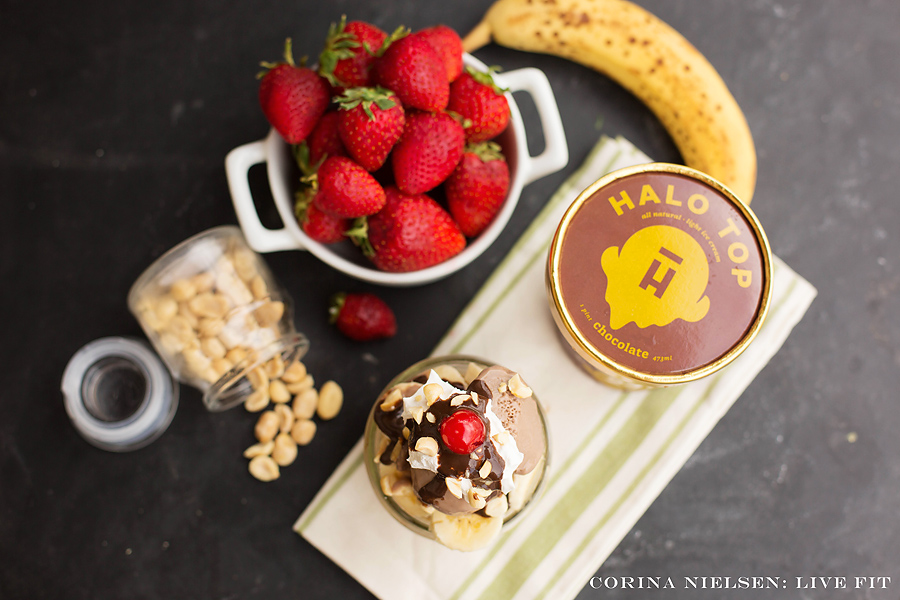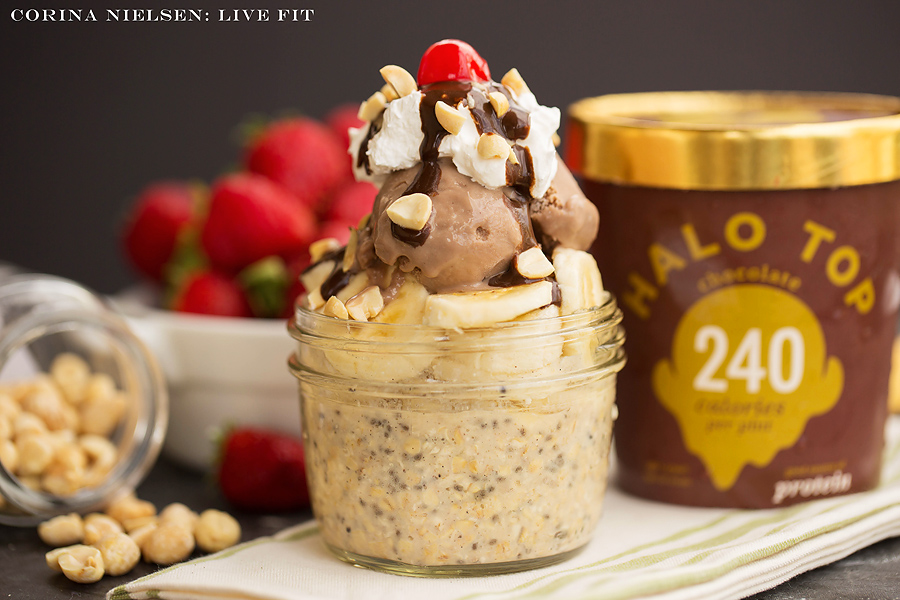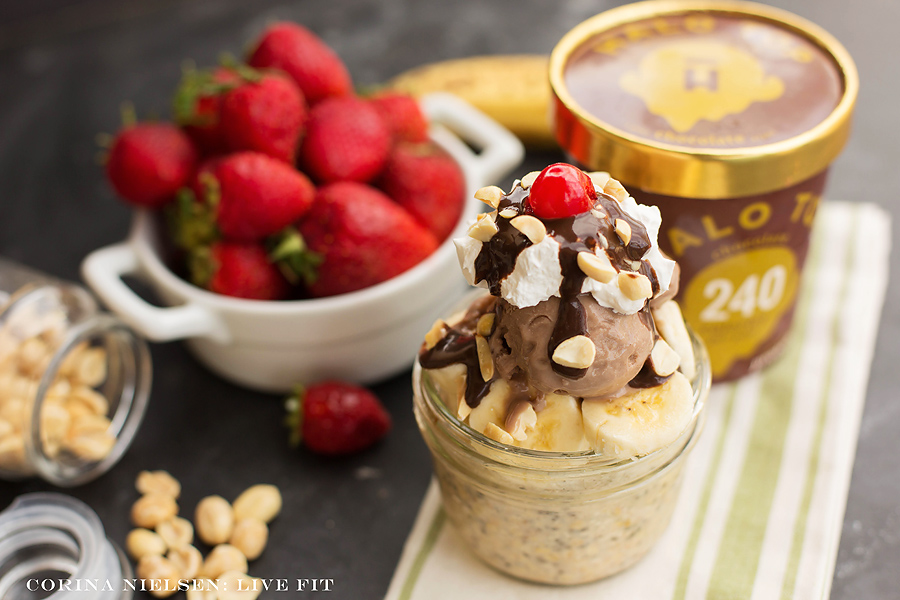 Strawberry flavored oats, sliced bananas, chocolate ice cream, chocolate fudge, whipped cream, cherry (again, my favorite part as a kid), and as an adult I even started to add peanuts!  I hated nuts as kid, but now I could eat nuts by the cupful.  They add the perfect variety in texture with that crunch!
The oats are flavored, volumized, and packed with protein ('strawberry' MuscleEgg & strawberry protein powder) and also have added fiber and healthy fats with chia seeds.  These additions will help keep you feeling fuller LONGER and give you more bang for your buck hitting your macronutrients!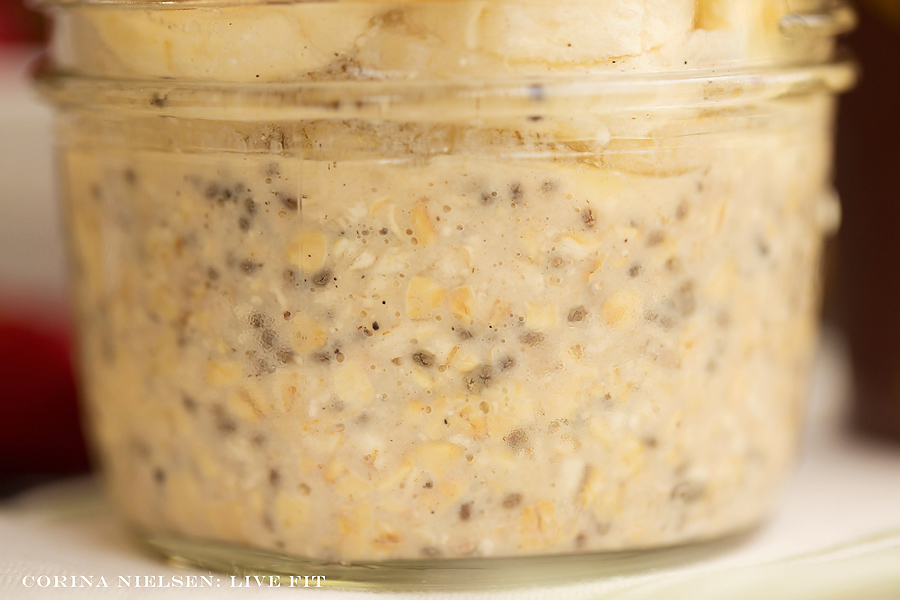 Obviously, you can't have a banana split without bananas… duh!  Instead of having a whole banana though, you cut the calories dramatically just by adding in a handful of slices.  Since the fruit is SO distinct and the flavor is so strong, you really won't "need" to add the entire banana.  Notice I put need in quotes… if you have lots of room to play with your calories, add that whole banana!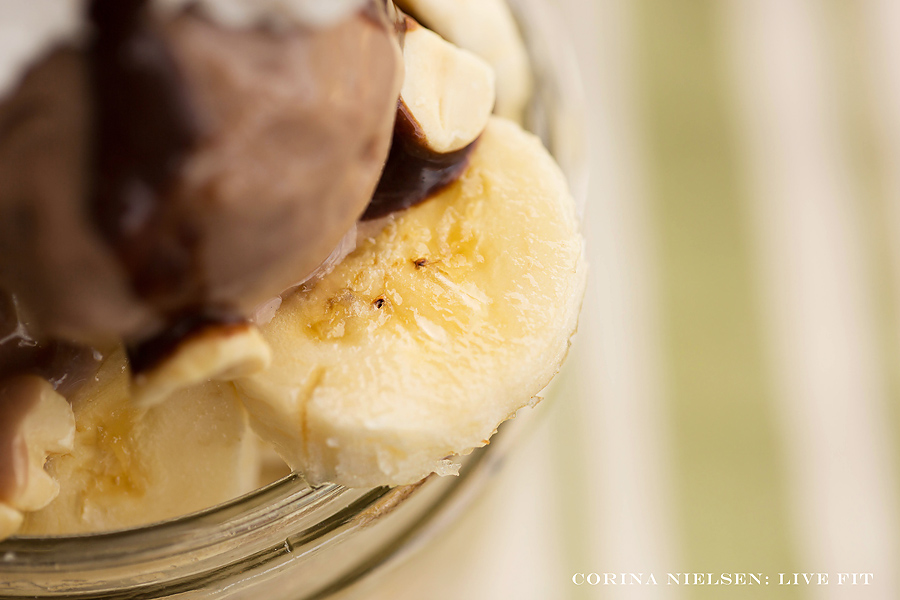 Chocolate ice cream.  CHECK!  That's a must on any sundae!  However, instead of using a regular ice cream, I chose Halo Top simply because it tastes amazing AND has a much better nutritional profile than other ice creams.  240 calories for the ENTIRE pint and 24 grams of protein!  NOT your typical ice cream my friends!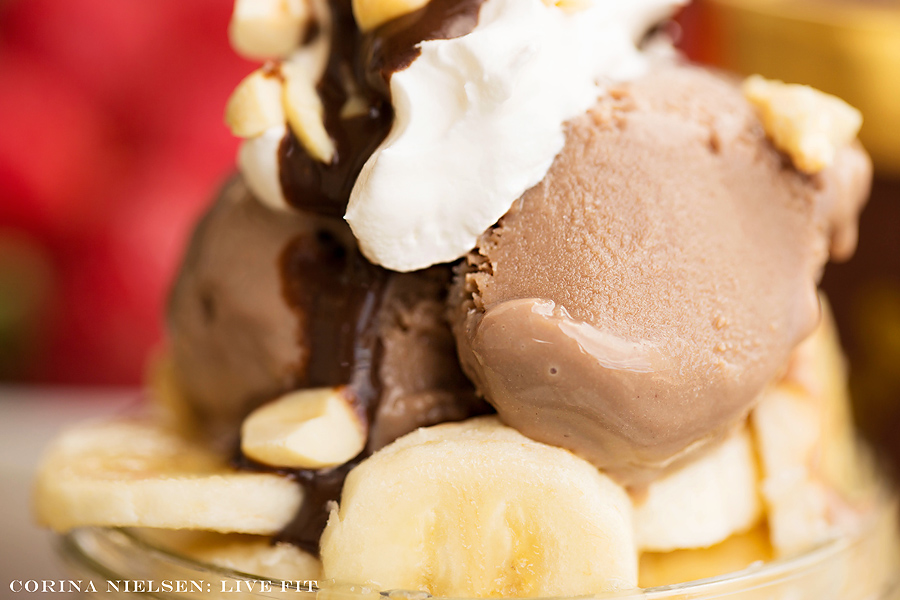 Fat free whipped cream (I couldn't forget that cherry of course), some nuts for crunch and flavor, and instead of using regular chocolate fudge, I reduced the calories and used Walden Farms chocolate syrup!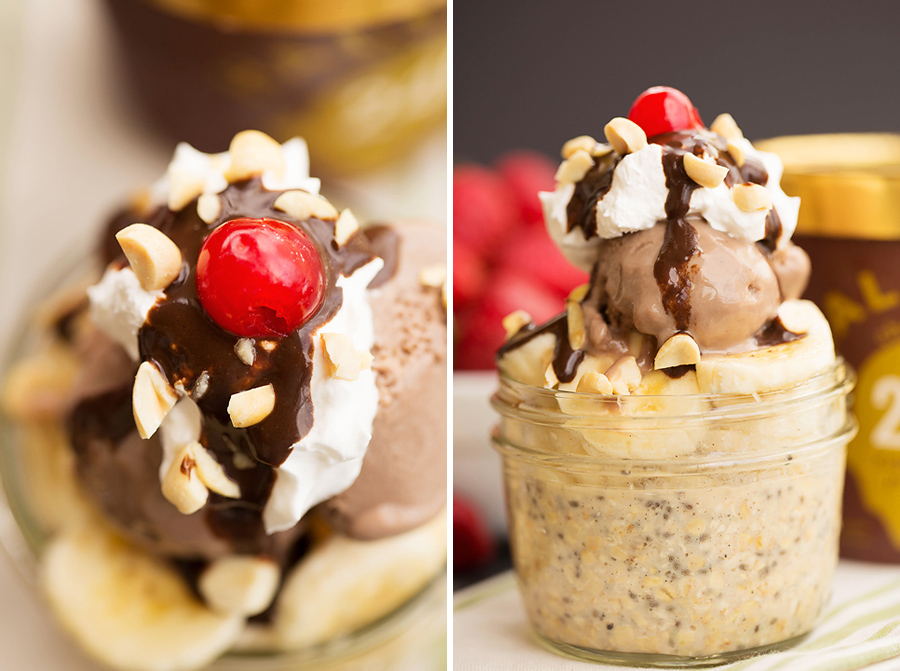 This is one banana split I don't have to just take nibbles of.  The entire thing will go in my belly!  I would eat this anytime of day, but I would consider this a perfect post workout meal!!!  High in protein, quick carbs, and low/moderate fat!  Lots of gains to be made with this meal!
Banana Split Overnight Oats

Print recipe
Ingredients
1/3 cup quick oats
1 tablespoon chia seeds
1/2 scoop strawberry protein powder
1/2 cup milk of choice
3 heaped tablespoons Strawberry MuscleEgg egg whites
10-20 drops Berry Sweet Leaf Stevia drops (or sweetener of choice)
1 scoop Chocolate Halo Top ice cream
1/4 Small banana (sliced)
2 heaped tablespoons fat free whipped cream
1 tablespoon chocolate syrup
1 tablespoon peanuts
Directions
Step 1
In a small mason jar, stir oats, chia seeds, and protein powder. Add milk, sweetener, and Muscle Egg egg whites. Mix until well combined. Place in fridge for 3-4 hours or overnight. Top with bananas, ice cream, whipped cream, chocolate sauce/syrup, and chopped peanuts.
Note
NUTRITIONAL INFORMATION: calories- 359, fat- 9 grams, carbs- 39 grams (sugar-7 grams, fiber- 11 grams), protein- 30 grams