Fall is officially in the air here in Southern California (a whopping 70 degrees today) and anytime our temps finally start to drop after a long hot Summer, you can rest assured that I start stocking up on all things pumpkin!  I bought 4 cans just last week for recipes swirling around in my head.  Nothing says Fall quite like pumpkin right?  And since weekends were made specifically for donuts it was the perfect time to also bring out my handy dandy mini maker and get going on those Fall flavors!
I woke up this morning with 2 things on my mind…
#1 a breakfast that included a combination of pumpkin & bacon
#2 I was going to absolutely destroy legs today with my husband
First things first, need to fuel my body with #1 in order to achieve #2!
This is what happened this morning.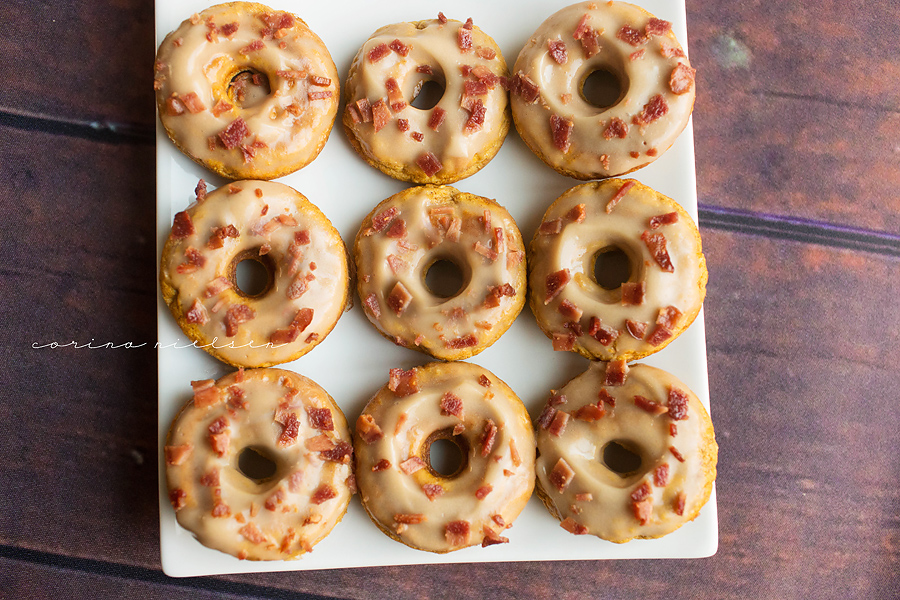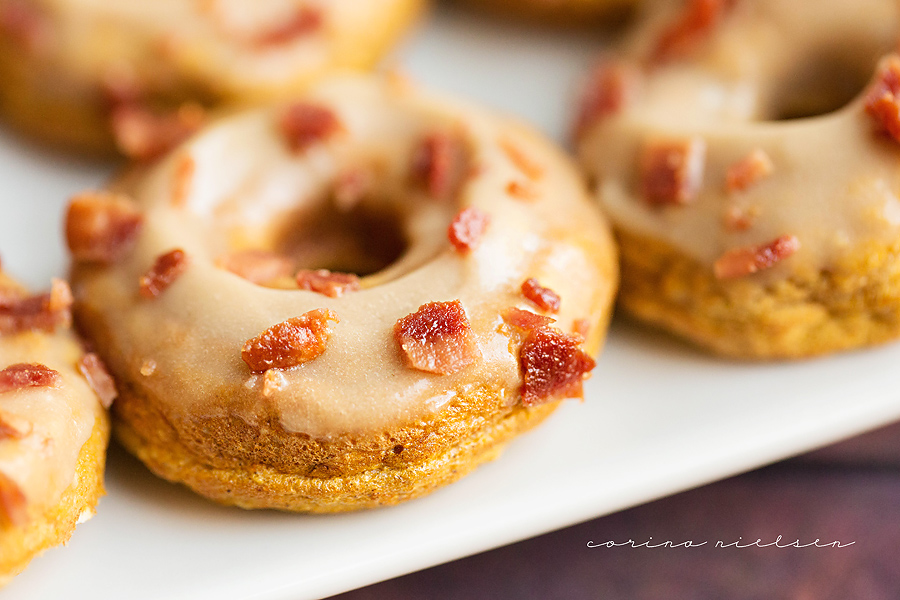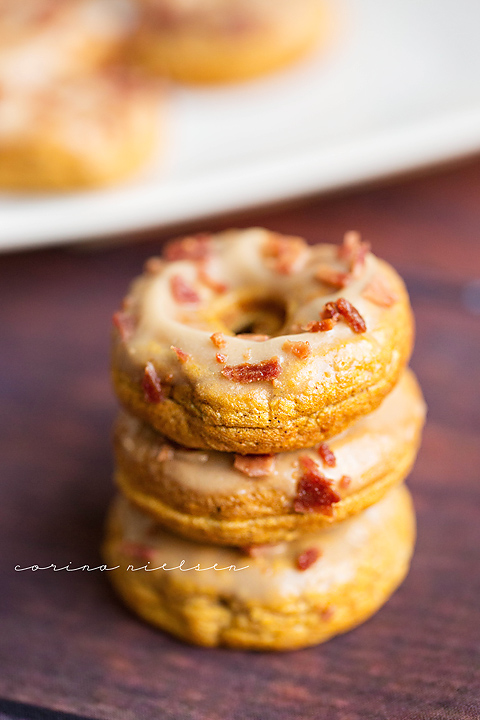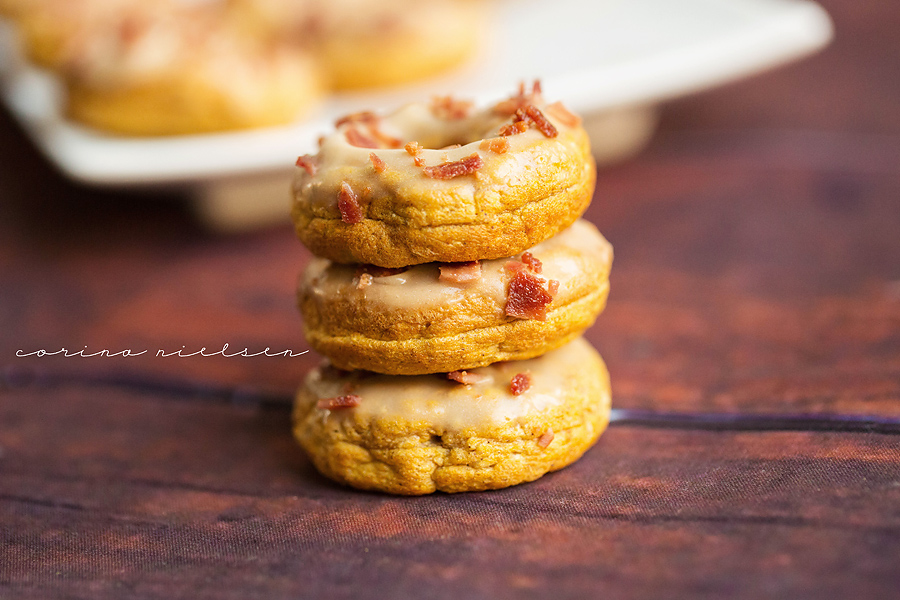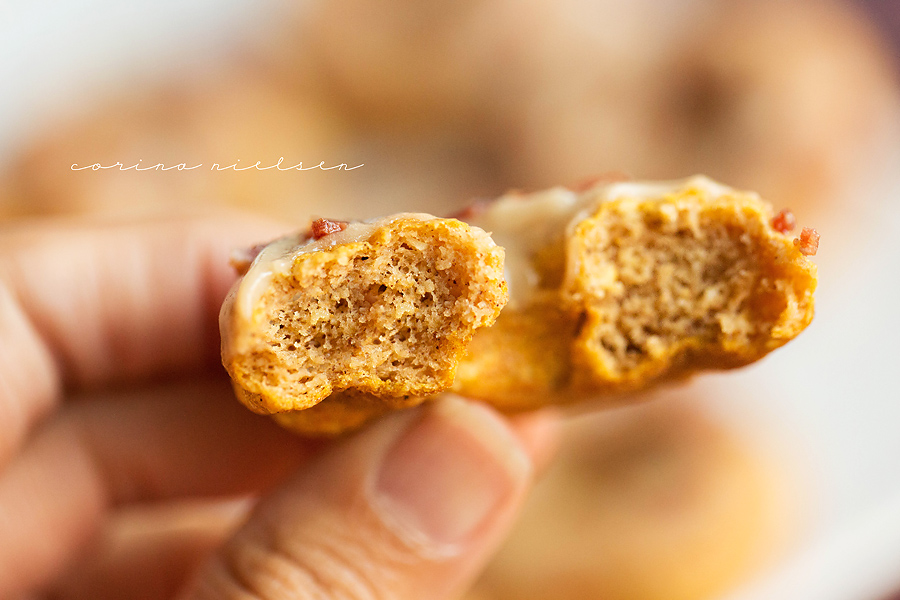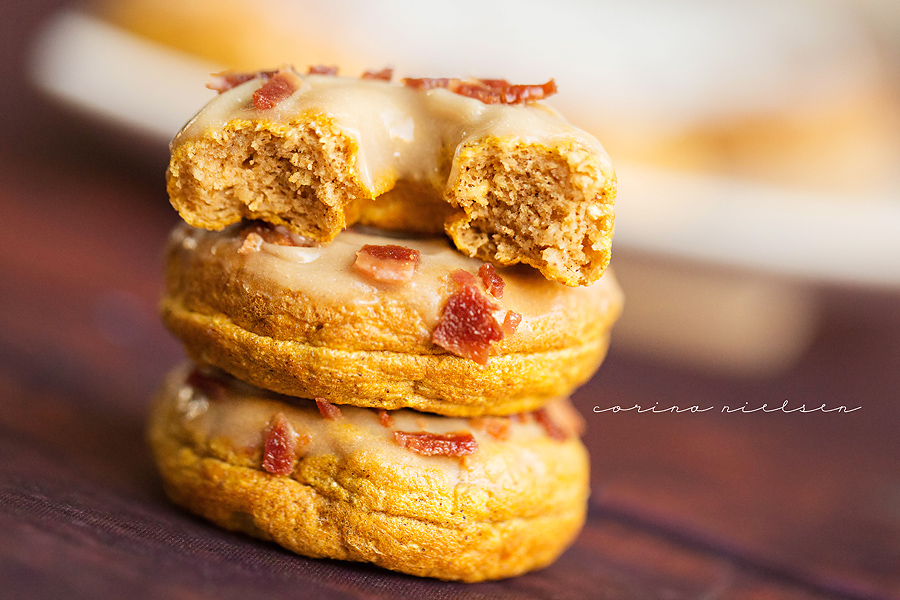 One of the best breakfast's I have had in awhile…. these were kind of ridiculous.  Each nibble was a party in my mouth.  The perfect bite of sweet & salty, packed full of protein and the proper fuel to crush leg day.  Holy YUM!  I ate all 14 mini guys on my own like a champ.
After I killed these, I set a new PR on leg press… 6 plates (45lbs each) + the machine (45lbs) for a total of= 315 pounds.  All thanks to my pumpkin maple bacon donuts.  That's what did it folks.  Surely a 100 pound, 5′ 0″ tall girl could not do that without donuts right?  Nope, don't think so.  It's the power of the donut people.  Give them a try and see what your body can do!
Pumpkin Spice Donuts w/ Maple Glaze & Turkey Bacon

Print recipe
| | |
| --- | --- |
| Serves | 14-18 mini donuts |
| Prep time | 10 minutes |
| Cook time | 5 minutes |
| Total time | 15 minutes |
| Meal type | Breakfast |
| Misc | Pre-preparable |
Ingredients
1/4 cup rolled oats (processed into oat flour)
2 tablespoons coconut flour
1 scoop vanilla protein powder
1 teaspoon baking powder
1/2 teaspoon baking soda
1 teaspoon ground cinnamon
1/2 teaspoon pumpkin spice
1/2 cup Pumpkin Spice MuscleEgg egg whites
3 tablespoons canned pumpkin
1 1/2 teaspoon maple extract
20-30 drops vanilla cream stevia
1/3 cup unsweetened almond milk
3 tablespoons plain coconut milk yogurt (can substitute 0% Greek yogurt) (** TOPPING **)
1 1/4 teaspoon maple extract (** TOPPING **)
3 tablespoons maple syrup (** TOPPING **)
1/3 scoop vanilla protein powder (** TOPPING **)
2 medium slices prepared turkey bacon (** TOPPING **)
Directions
Step 1
Blend oats into oat flour and mix dry ingredients in a medium sized bowl.
Step 2
Add remaining donut ingredients and mix until well combined. Preheat mini donut maker.
Step 3
Place batter in a large zip lock bag and cut a small hole (1/2 inch) at one of the bottom corners. Seal bag.
Step 4
Place batter in donut maker (will make 2 batches) and cook according to manufactures instructions. Approximately 2-3 minutes per batch.
Step 5
Mix topping ingredients (yogurt, maple extract, maple syrup, and protein powder) until smooth.
Step 6
Dip the top of each donut in glaze and sprinkle with prepared chopped turkey bacon.
Note
NUTRITIONAL INFORMATION (for entire batch): calories- 554, protein- 51, carbs- 55, fat- 14