Dear rolled oats,
I am so sorry I have neglected you all of these years.  I never knew just how good you were (or how good you are for me).  I am so happy that I gave you another try because I am now completely hooked.  I could probably eat you each and every single day (sometimes even twice a day).  You are a perfect base for so many other flavors, ingredients, and combinations.  Sweet, savory, and everything in between.  I will continue to eat you now for the rest of my life.
Sincerely,
XO Corina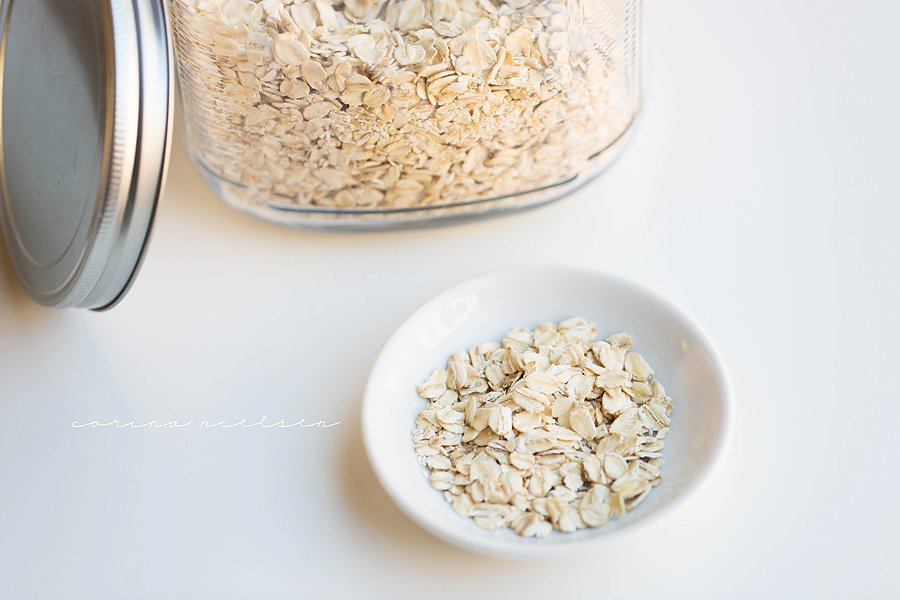 Of course I have eaten oatmeal over the years but never really loved them like I do now.  I definitely never craved it but that all changed this year once I started my little journey.  After I began to see everyone I was following on Instagram with their big bowl of morning oats, oats in a jar, oats in their baked goods, oats with zucchini, oats, oats, oats all day, every day I thought I must be missing something.  Then it happened.  I too became utterly hooked.  The moment I started to really play with my bowls and add all kinds of crazy flavors through extracts, flavor drops, fruit, vegetables, protein powder, granola, and nut butters I realized they really were the perfect little vehicle for countless combinations.  Like my French Toast, a big bowl of oatmeal can be super macro friendly as well as amazing fuel to get your day started off right.  When you begin to add in the "extras", you will have the perfectly balanced breakfast full of complex carbs, protein, and some healthy fat.
Not only is super quick to prepare and  super delicious, it also has quite a few health benefits as well!
full of fiber (fiber helps keep you fuller longer so hunger is better regulated, is heart healthy, increases how quickly food goes through your digestive tract, prevents a large amount of insulin from entering the blood stream, lowers cholesterol, promotes healthy skin, and increases energy)
can boost your immune system
it's 100% all natural (there should be NO additional ingredients listed on your package), gluten free
high in protein
antioxidant values are said to compare with broccoli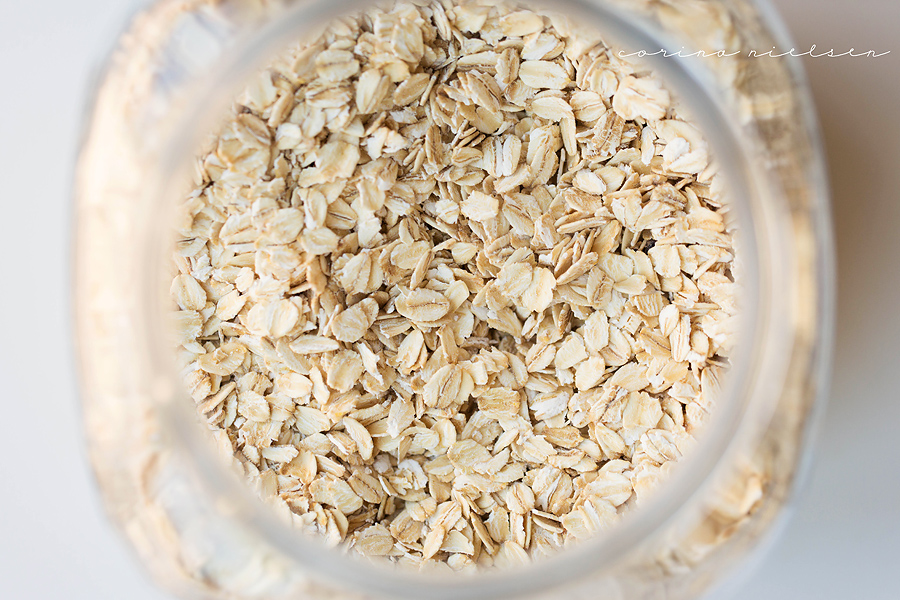 As you can see from my Instagram feed, I enjoy adding all kinds of flavors to my bowls of oats, but nothing beats classic flavors.  My favorite bowl that I eat nearly every day is peanut butter & strawberry!  This is packed with protein because I add egg whites to the oats as well as a little of my favorite protein powder to the peanut butter mixture.  It's heavenly and really gets my day off to a good start.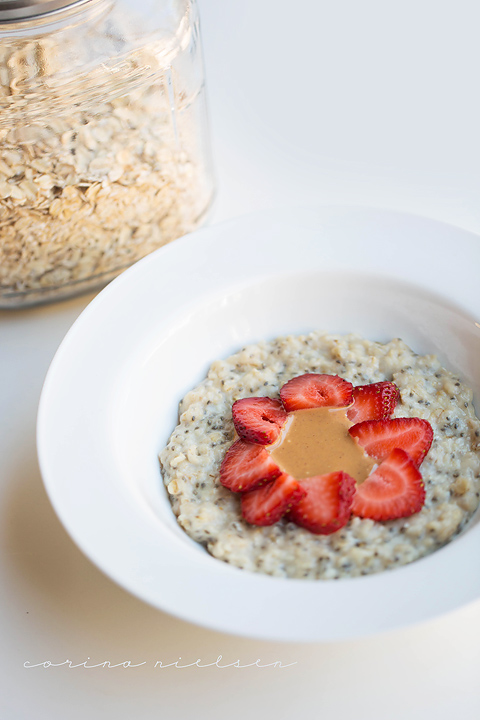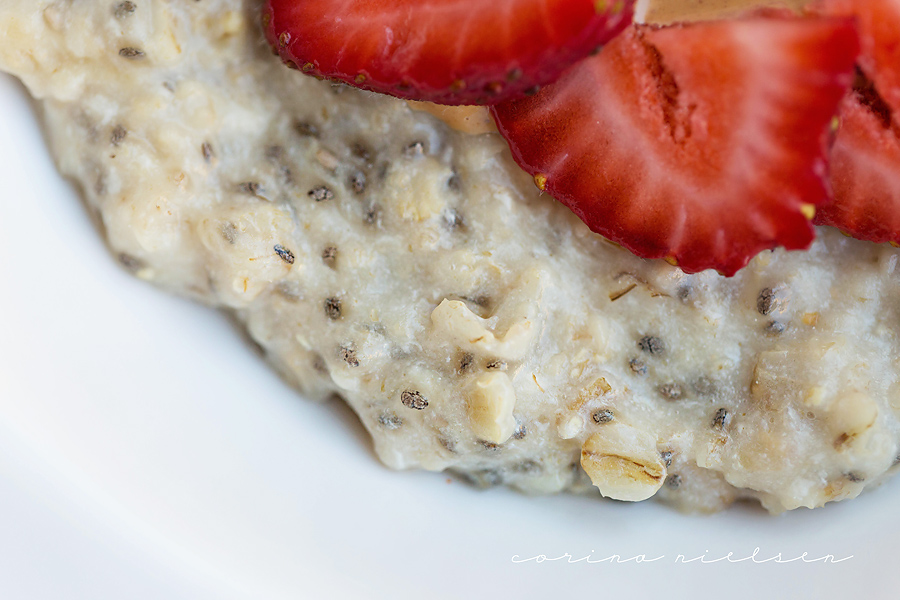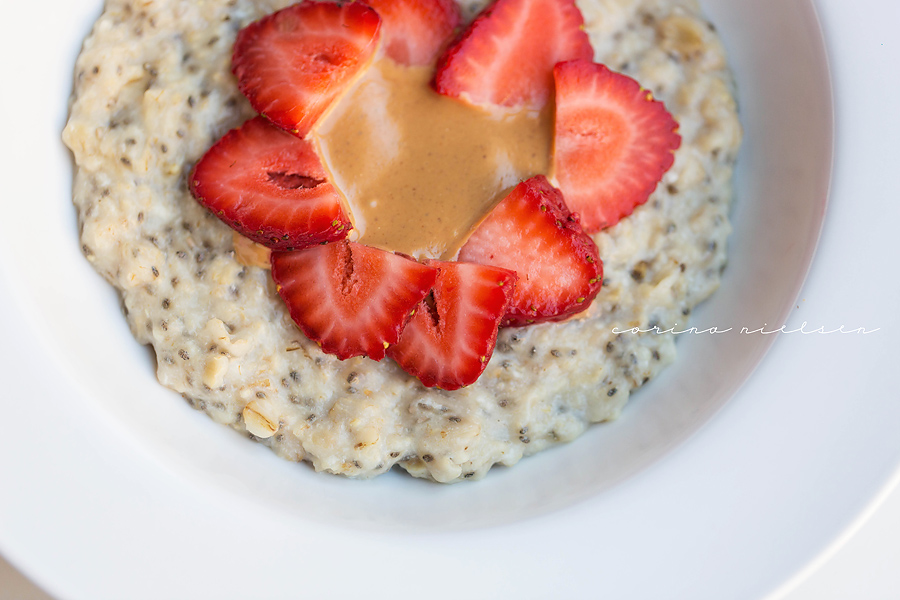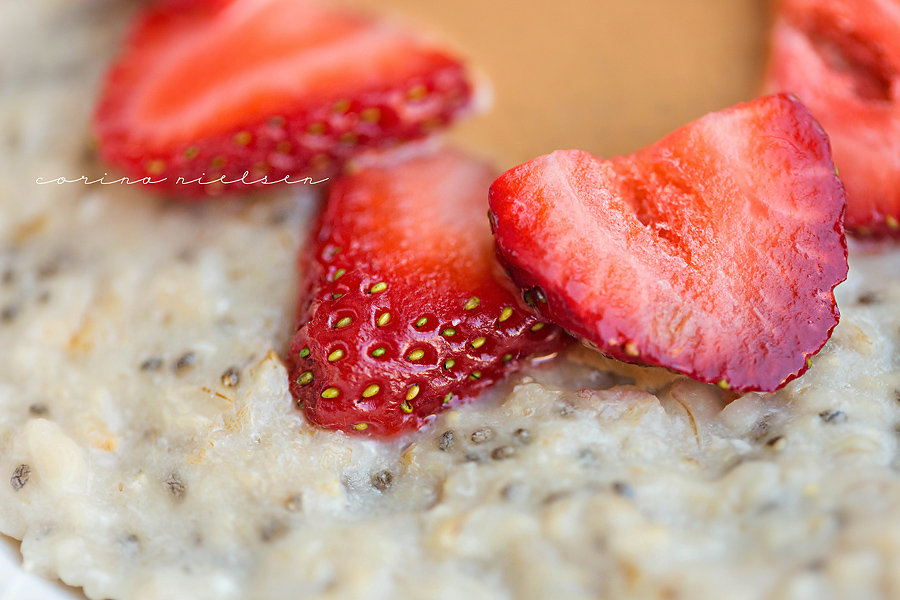 A delicious & nutritious breakfast served in under 10 minutes!
Basic Protein Oatmeal

Print recipe
| | |
| --- | --- |
| Serves | 1 |
| Prep time | 1 minute |
| Cook time | 8 minutes |
| Total time | 9 minutes |
| Meal type | Breakfast |
Ingredients
1 cup water
1/2 cup rolled oats
1 heaped teaspoon chia seeds
20-30 drops Vanilla Cream SWEET LEAF STEVIA
1/2 teaspoon vanilla extract
4 tablespoons liquid egg whites
3 Medium strawberries (sliced) (** TOPPING **)
1 tablespoon Better N' Peanut Butter (** TOPPING **)
1/2 scoop Vanilla TRUTEIN protein (** TOPPING **)
3-5 tablespoons water (** TOPPING **)
Directions
Step 1
Cook oats, chia seeds, water, vanilla, and stevia in a small pot over low to medium heat for 5 minutes until liquid is almost all absorbed.
Step 2
Add egg whites 1 tablespoon at a time, stirring in between each addition.
Step 3
Cook for an additional 1-2 minutes. Turn off heat and let cool slightly.
Step 4
Prepare topping by mixing peanut butter, protein, and water in a small bowl. Add more water to get desired consistency. I go for a thick pudding like consistency.
Step 5
Top oatmeal with protein topping and sliced strawberries
Note
NUTRITIONAL INFORMATION: calories- 341, protein-  28, carbs- 38 , fat- 6