Nothing quite like waffles on an ordinary October Sunday morning.  Just like with pancakes, French toast, or even my bowls of daily oatmeal, waffles are the perfect base for all sorts of flavors and combinations.  I have done them sweet and savory and have never been disappointed.  I'd totally be a happy camper if I could eat waffles every single weekend for the rest of my life.
Today, I decided to stick with one of my all time favorite stacks I have made … Apple Pie!   Again, I am ALL about classic flavors and nothing is more classic than a good ole Apple Pie right?
The rest of the family got up late today, so I was able to prepare my breakfast, drink a nice big cup of hot coffee, and enjoy my waffles on the couch under a blanket, and cuddled up in my footsie pajamas.  Yes, it was a great morning.  Other moms will know exactly what I'm talking about and be jealous of my Sunday!  Going to be even more jelly when you see feast your eyes on my waffle stack… take a look.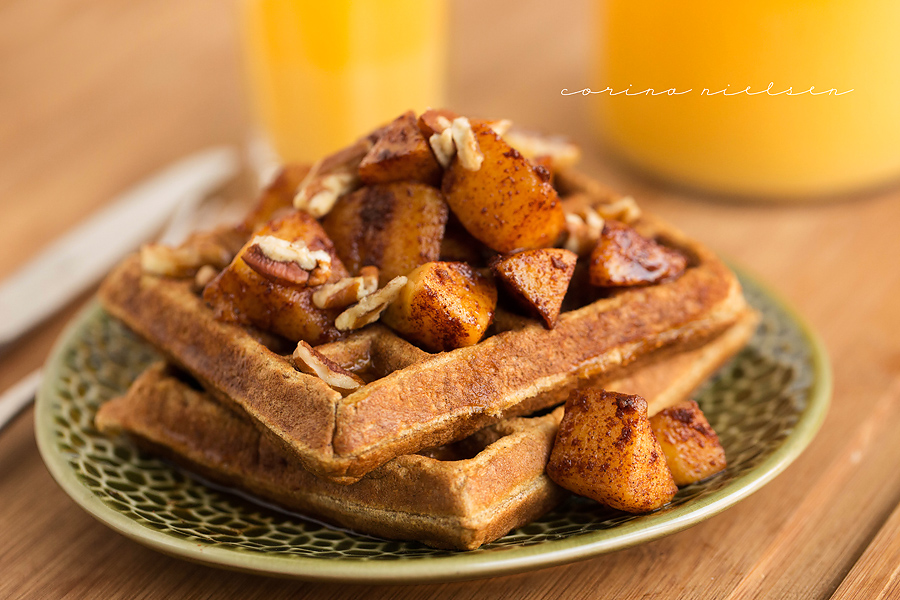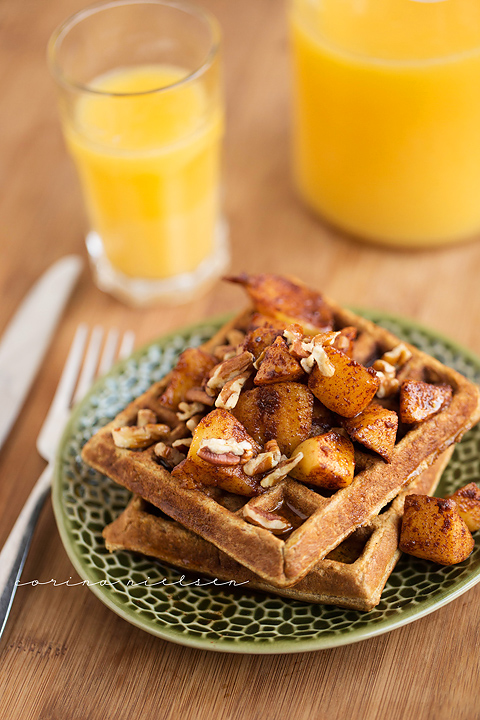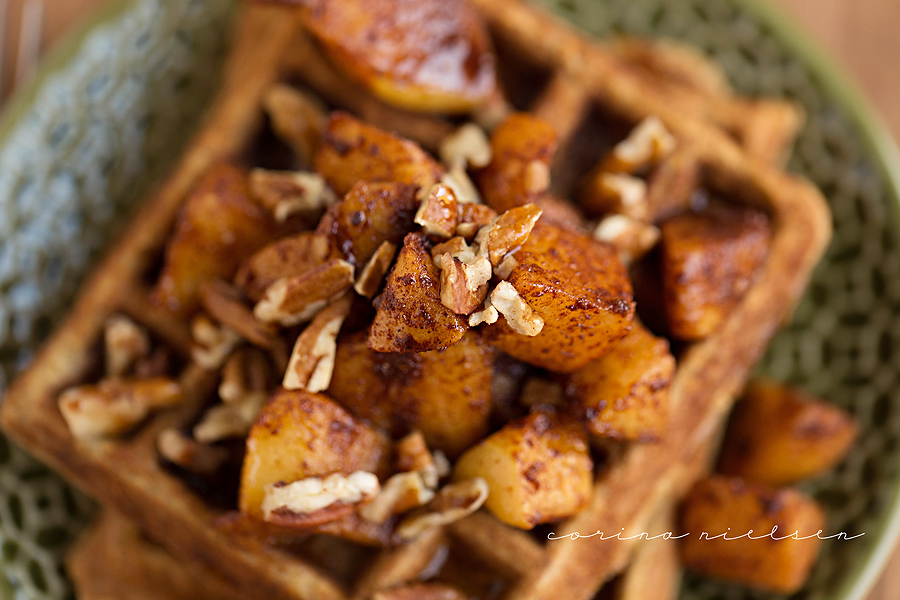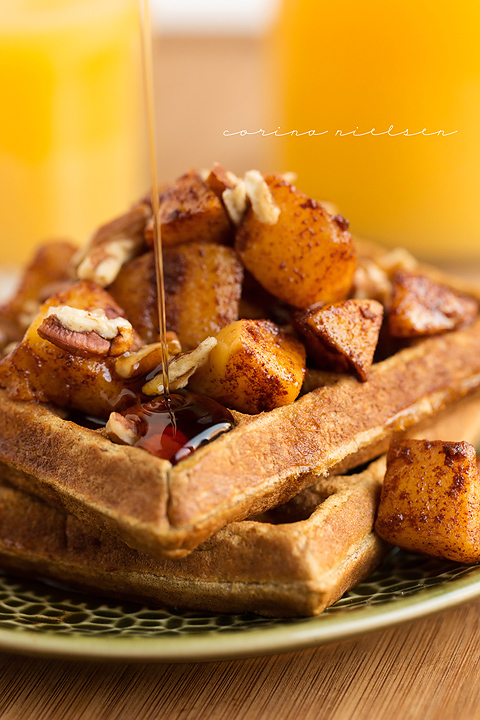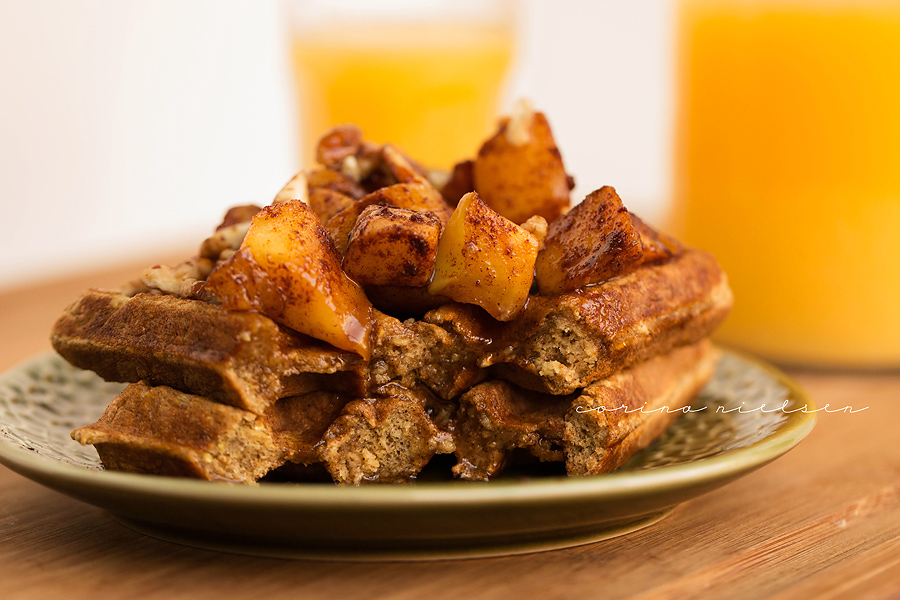 MMMMMM…. need I say more?
Next weekend, you must give these a try.  Better yet, these waffles actually refrigerate AND freeze really well so you could do a couple of batches for the whole family and just save them for when you have a little extra time to savor each and every single bite.
Apple Pie Protein Waffles

Print recipe
| | |
| --- | --- |
| Serves | 1-2 |
| Prep time | 10 minutes |
| Cook time | 10 minutes |
| Total time | 20 minutes |
Ingredients
1/2 cup rolled oats ((blended to oat flour))
1 tablespoon coconut flour
1/2 scoop Trutein vanilla protein powder ((Cinnabon Trutein works great also))
1/2 teaspoon baking powder
1/4 teaspoon baking soda
1/2 teaspoon cinnamon
1/8 teaspoon apple pie spice
1 Large whole egg
3 tablespoons egg whites
1/2 cup unsweetened apple sauce
1/2 teaspoon vanilla extract
30 drops vanilla cream stevia
4 tablespoons unsweetened almond milk
1 Small apple (** TOPPING**)
1/2 teaspoon lemon juice (** TOPPING**)
1 teaspoon coconut oil (** TOPPING**)
1 teaspoon coconut sugar (** TOPPING**)
1/2 teaspoon cinnamon (** TOPPING**)
1 heaped tablespoon pecans or walnuts (** TOPPING**)
1/4 cup maple syrup (** TOPPING**)
Directions
Step 1
Combine all ingredients for waffle batter in a medium sized bowl. Let sit for 5 minutes while you prepare topping.
Step 2
Preheat small pan. Peel, core and chop apple into chunk 1/2"-1" chunks. Add coconut oil to hot pan then add apples, lemon juice, cinnamon, and coconut sugar. Cook until apples are softened and golden brown.
Step 3
Preheat waffle iron/maker and spray with non stick. Stir batter one more time and pour into waffle maker. Cook waffles 2-3 minutes until golden.

Step 4
Layer cooked waffles with apple topping, nuts, and maple syrup.
Note
NUTRITIONAL INFORMATION: calories- 539, protein-31, carbs- 69, fat- 16