Words cannot even describe how much I LOVE this dish.
For someone who has a hard time getting her daily veggies in each day, this dish certainly does the trick perfectly.  It's a dish I have eaten now at least 5 times in the past 2 weeks or so and I never even realize it's packed with vitamins and all healthy ingredients because it's that delicious!
Aside from the zucchini which you will want to make the "noodles", you can use any vegetebles you like and have on hand.  I choose these particular ones for my dish because I like the mix of flavor and textures… zucchini, red cabbage, green cabbage, bean sprouts, red bell pepper, and carrots.  Green onion, cilantro, and lime were my garnishes.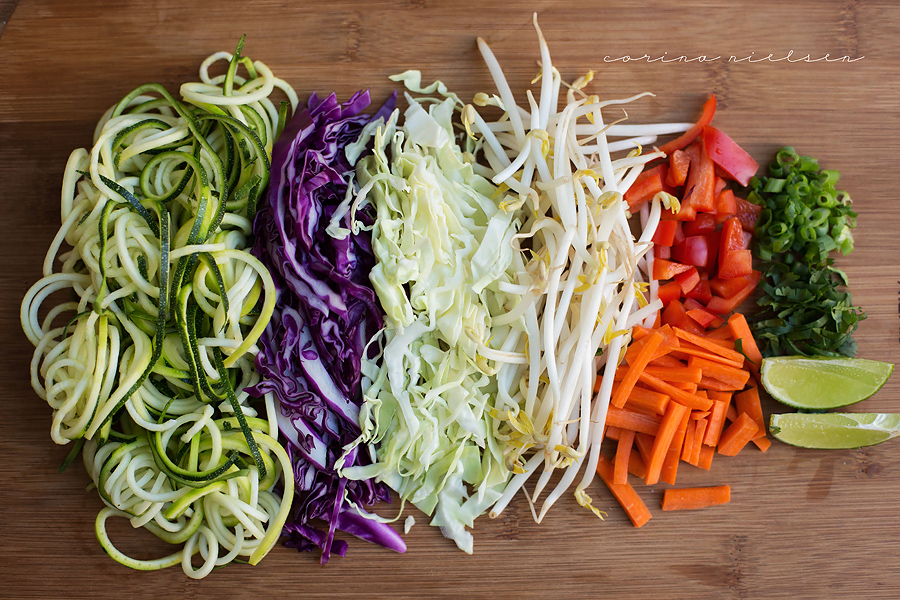 It's such an easy dish to prepare especially if you prep at the beginning of the week like I do.  Just "spiralize" your zucchini, do a quick chop on a couple of veggies, make the dressing in under 5 minutes, and boom!  Not only is it easy to prepare AND delicious, but I think it looks rather impressive as well…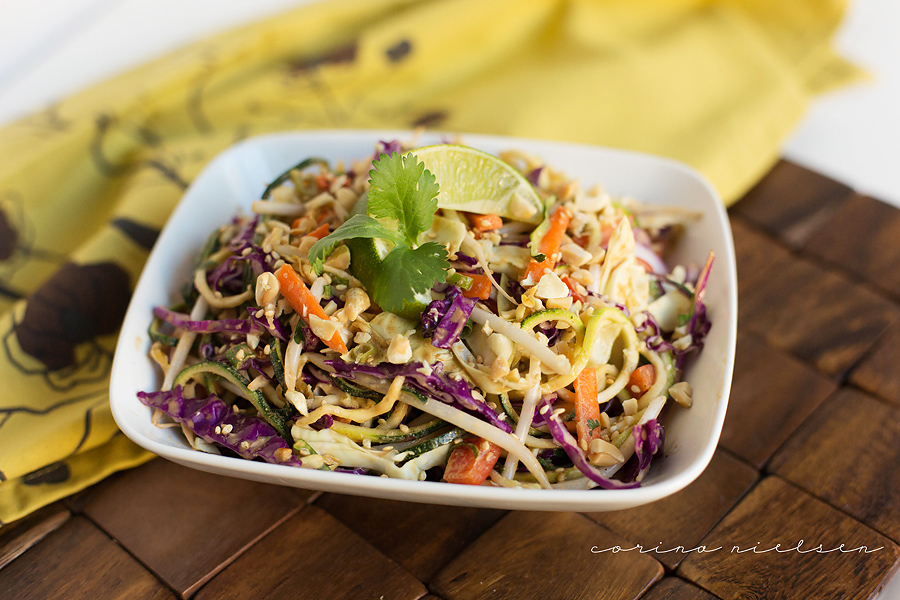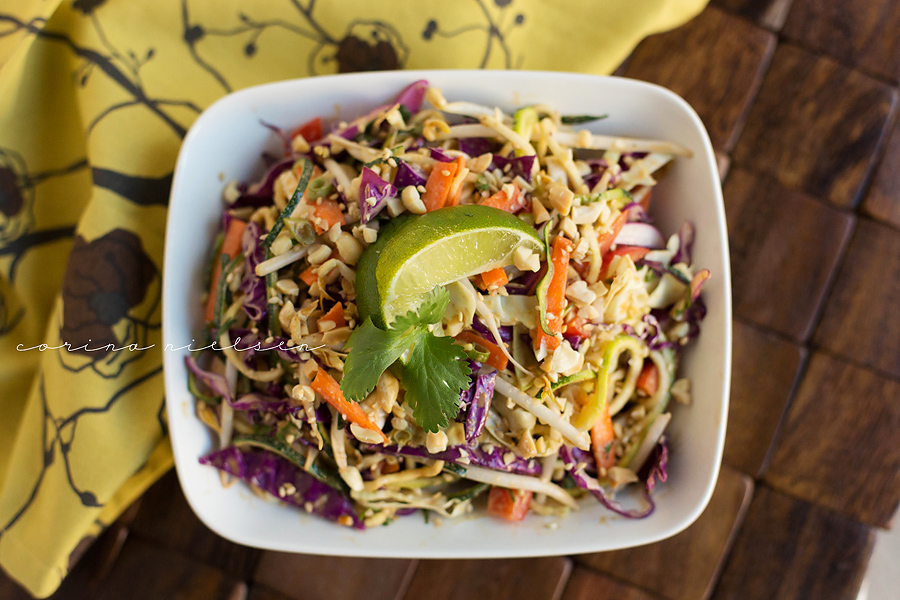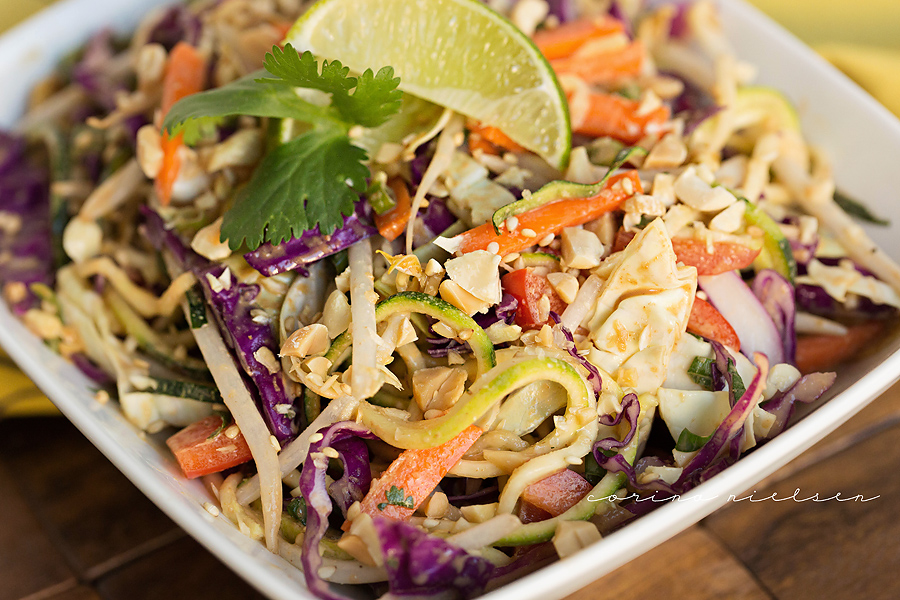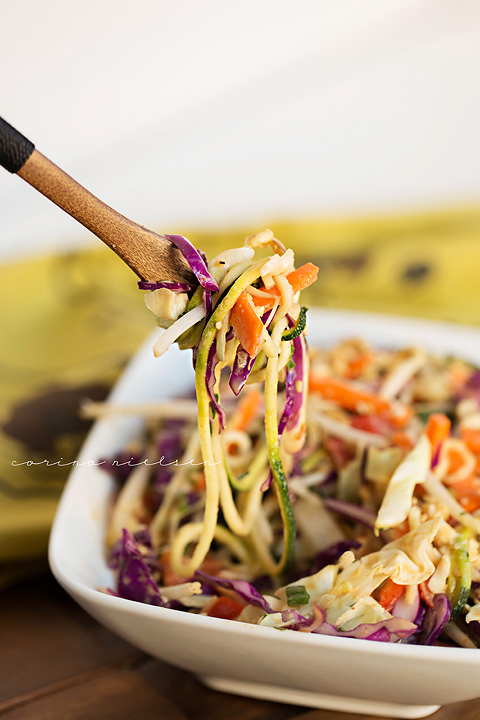 Do yourself a favor and give this one a go… vegetables never tasted SO good!!!
Again, use any combination of veggies you like and then make the dressing below!
Thai Peanut Sauce

Print recipe
Ingredients
2 heaped tablespoons Better N' Peanut Butter- Low Sodium
2 teaspoons low sodium soy sauce or liquid aminos
1 1/2 tablespoon rice wine vinegar
1 tablespoon honey
1/2 teaspoon sesame oil
1 clove chopped garlic
1/2 teaspoon chopped shallot
1 pinch red pepper flake
1/2 teaspoon garlic powder
1/8 teaspoon salt
1/8 teaspoon ground pepper
10 drops coconut stevia (** OPTIONAL **)
1/2 Small lime (** TOPPING **)
1 tablespoon sesame seeds (** TOPPING **)
1-2 tablespoon roasted peanuts (** TOPPING **)
Directions
Step 1
Stir all ingredients (except lime, sesame seeds, and peanuts) in a small bowl until well combined.
Step 2
Dress salad or pasta immediately before serving. Can be used for dipping meats as well. Squeeze lime over dish and sprinkle with sesame seeds and peanuts.