Dear crockpot, how much do I love you even though I under appreciate you?
I really don't utilize this magic piece of kitchen equipment nearly enough.  It really is the best meal planning & prep for a busy mom (or anyone with a busy schedule for that matter).  Throw a bunch of things you have on hand in the pot, turn in it, let it run for a few hours, and I'm almost always guaranteed a delicious dish.  This chili I made last week was no exception.  Extra lean ground turkey, some spices, tomatoes, butternut squash, corn, and a little cinnamon on top made for a new (super versatile) family favorite.  You could easily add a can of beans to this too I suppose, but I really do hate beans so my chili is always bean free…. and extra yummy!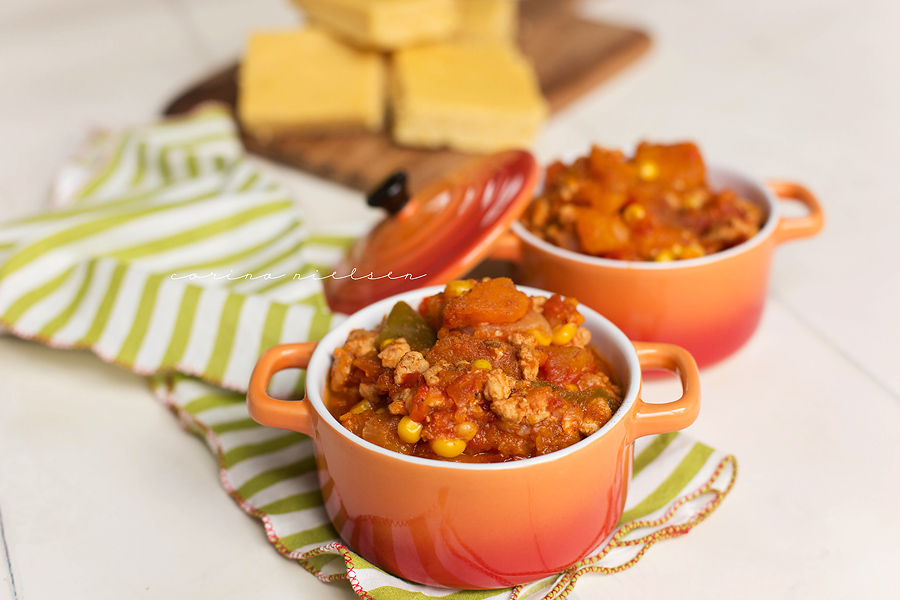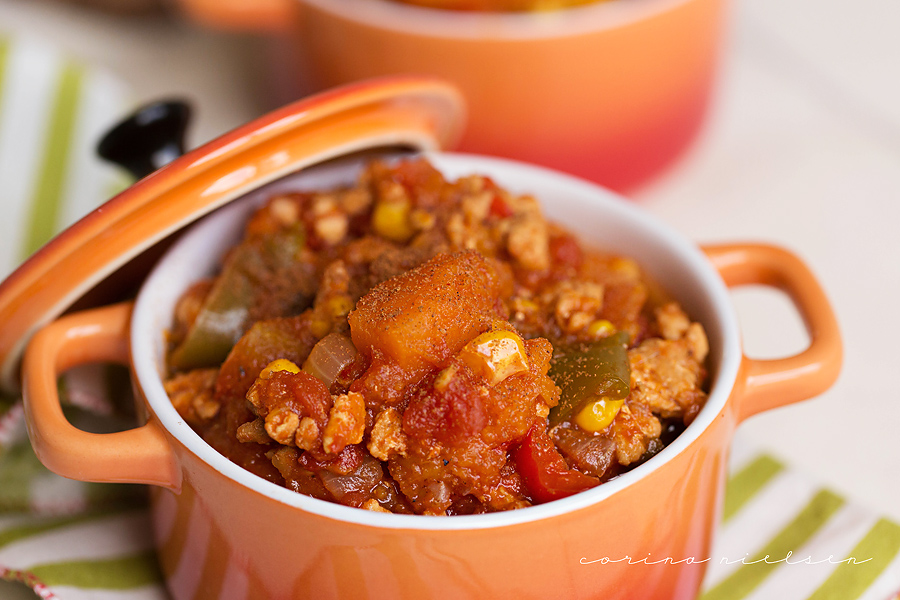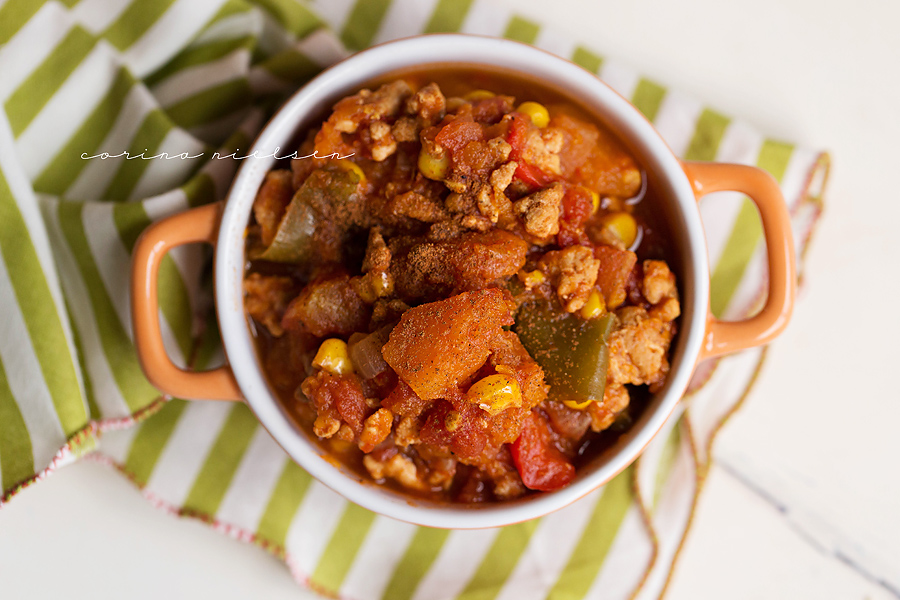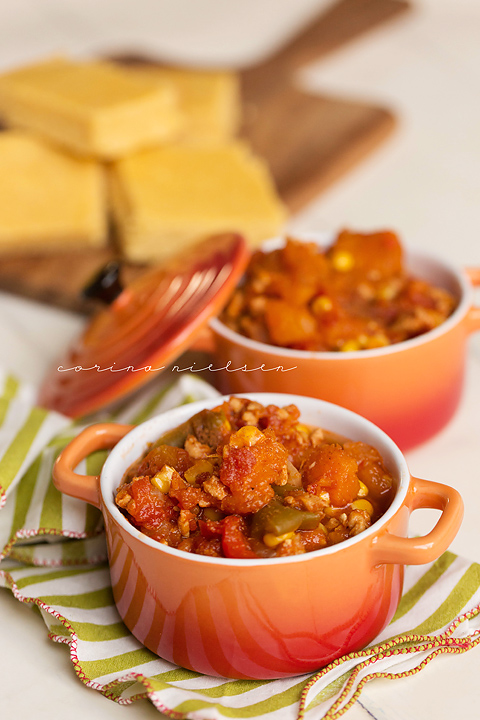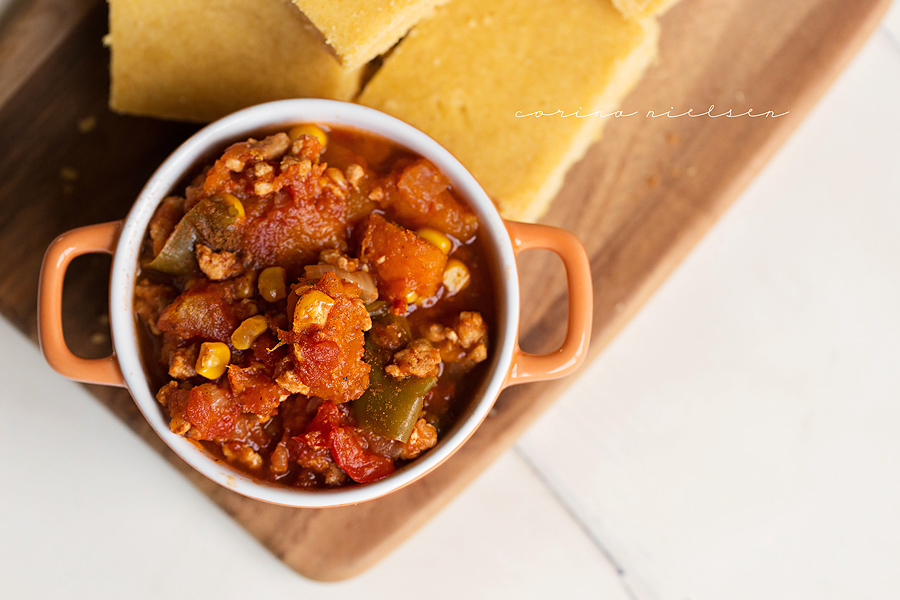 Since I made this batch a couple of days ago, my family has already had it a few different ways, all equally delicious.  We ate it on it's own with some cornbread, my husband mixed a some with some scrambled eggs for a late night meal, I filled a pita with some it yesterday and topped it with a avocado and Greek yogurt & lime, I mixed some of the chili with my daughters favorite rotini noodles and topped it with a little parmesan cheese, and I also made some nachos with it the first day using some crisped up brown rice tortillas. Healthy, delicious, EASY and SUPER versatile right?  Win win win for everyone!
A note to myself for today…. use my crockpot more often!!!!
Here is the recipe for you:
Turkey & Butternut Squash Crockpot Chili

Print recipe
Ingredients
1 tablespoon extra virgin olive oil
1 package extra lean ground turkey
1 Medium red bell pepper
1 Medium green bell pepper
1 Medium yellow onion
2 cups cubed 1 (** I buy mine pre chopped and packaged at Costco **)
3 garlic cloves
2 heaped tablespoons tomato paste
1 tablespoon chili powder
1 teaspoon ground cumin
1 teaspoon paprika
1/4 teaspoon red pepper flakes
1/2 teaspoon salt
1/2 teaspoon pepper
28oz diced canned tomatoes
3/4 cups sweet corn
1 tablespoon ground cinnamon
Directions
Step 1
Add olive oil to a large pot and heat under medium high heat.
Step 2
Chop vegetables (peppers, onions, and butternut squash) and finely chop garlic.


Step 3
Cook ground turkey for 1-2 minutes.
Step 4
Add peppers, onions, and butternut squash and sauté together for 2-3 minutes, add garlic, and cook for another 1-2 minutes. Add all spices, salt, and pepper.
Step 5
Add tomato paste and stir until vegetables are evenly coated.
Step 6
Add diced tomatoes and stir until well combined.
Step 7
Place mixture in your crockpot and set on low for 4-6 hours.
Step 8
Add corn 15-20 minutes prior to serving.
Step 9
** OPTIONAL but STRONGLY recommended ** Sprinkle chili mixture with a little cinnamon after plating.
Note
NUTRITIONAL INFO: calories- 210, protein- 25 g, carbs- 23 g, fat- 2 g