As long as I have this blog, you will continue to see my favorite French Toast combinations… God, I love my stacks so much.  So many possibilities, so many flavors, so many options.  It will never get old!  Last week, I grabbed a big bag of Andes Peppermint Crunch mints to keep i a candy dish by our front door (this is a holiday candy  favorite in our house)!  Ripping one open before I even got out of Target immediately inspired me to turn that flavor into a glorious French Toast stack.
Turned out better than I could have even dreamed…. feast your eyes on this!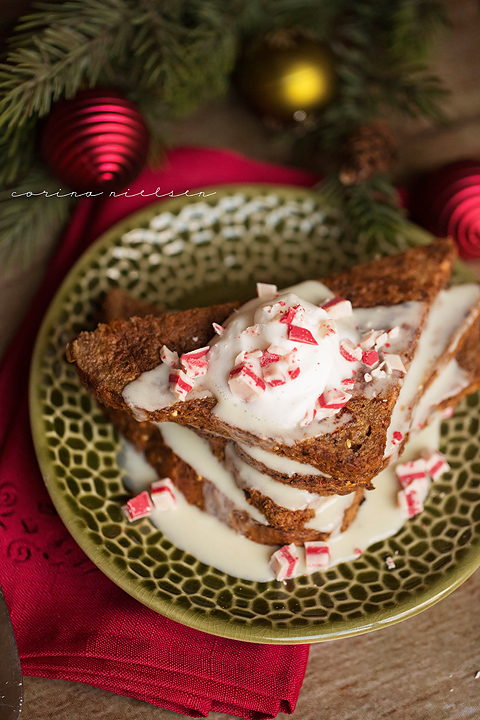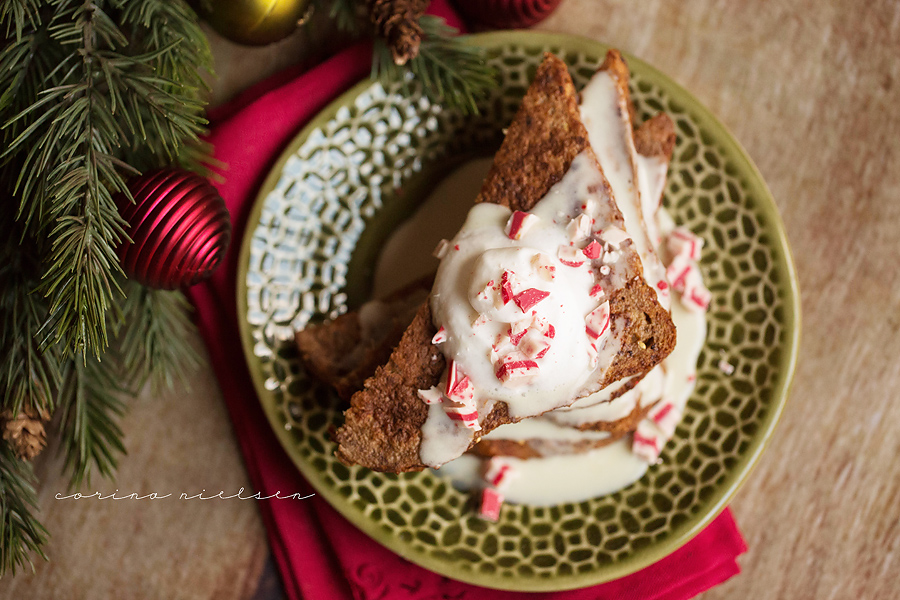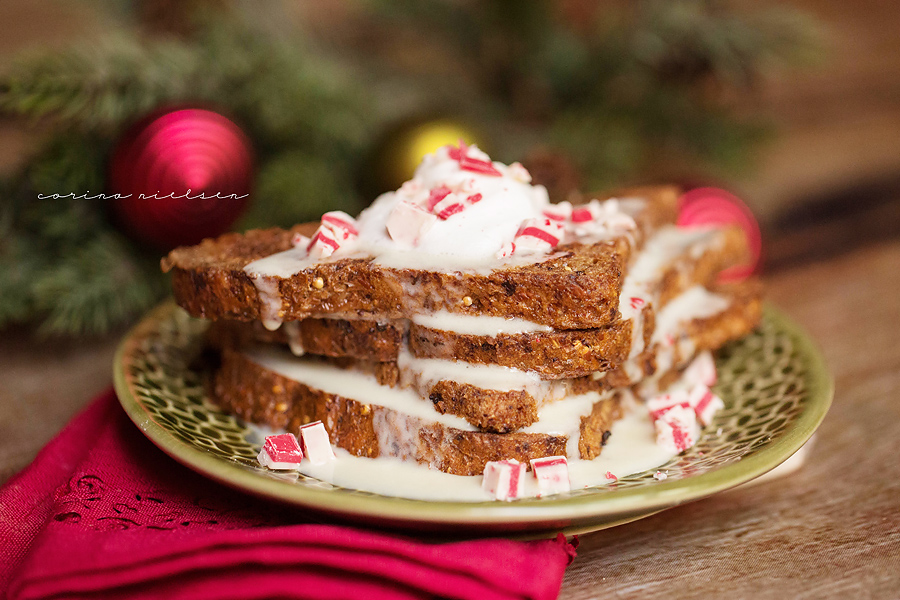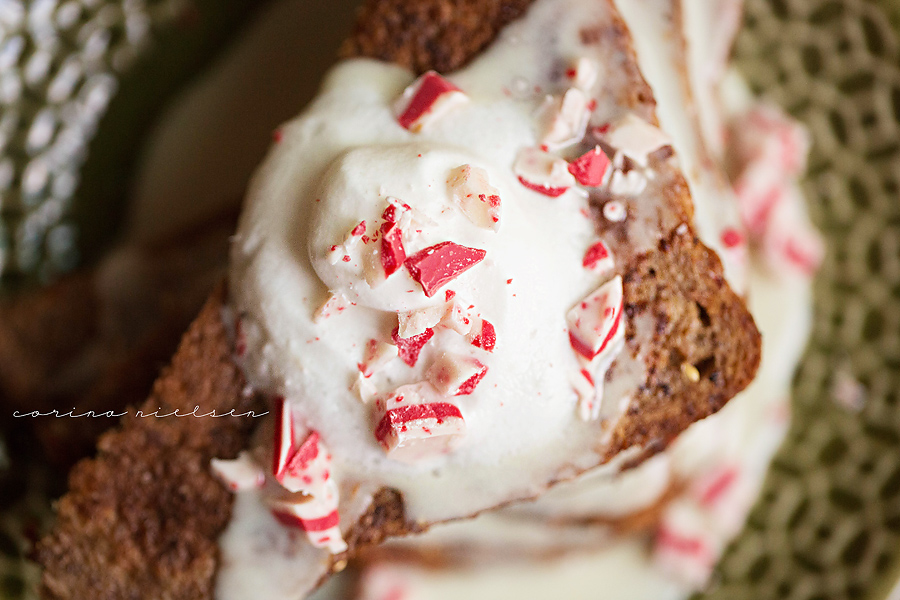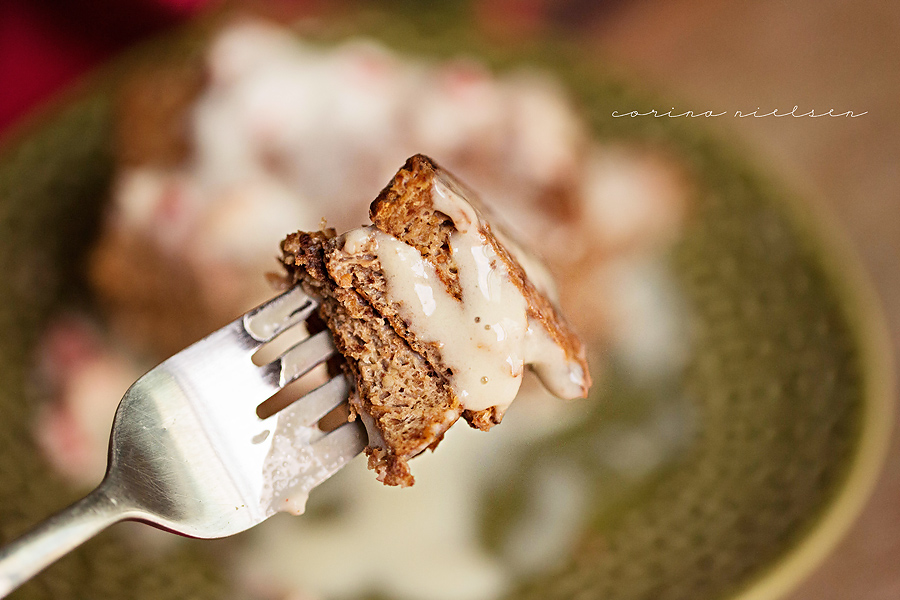 Drool…..
Same basic recipe, just added a bit of peppermint extract for the flavor, cacao, whipped cream for some extra yummy sweetness, and a sprinkling of the chopped Andes Peppermint Crunch mints or course.  Simply divine.  I made this particular stack last week and have already had it 3 more times!!!  It's that good!  Can't get enough!  Perfect with a nice hot cup of hot chocolate or a mocha!
Holidays or not, this French Toast combination will be enjoyed ALL year long (better stock up on those Andes chocolates ASAP)!
Peppermint Crunch French Toast

Print recipe
| | |
| --- | --- |
| Serves | 1 |
| Prep time | 10 minutes |
| Cook time | 5 minutes |
| Total time | 15 minutes |
| Meal type | Breakfast |
Ingredients
1 Large egg
2 tablespoons liquid egg whites
1/2 teaspoon vanilla extract
40 drops chocolate Stevia drops (** OR plain stevia **)
1 heaped teaspoon dark cacao powder
2 tablespoons unsweetened almond milk
2 medium slices Ezekiel 4:9 Bread
1/2 scoop vanilla protein powder (** I use TRUTEIN **)
3-4 tablespoons water
3-4 drops peppermint extract (** ADD SLOWLY TO TASTE **)
1-2 Andes Peppermint Crunch Chocolates
Directions
Step 1
Combine first six ingredients together in a large bowl (egg, egg whites, stevia, vanilla, almond milk, cacao powder) until well combined.
Step 2
Soak bread in egg mixture for 5-10 minutes most/all liquid is absorbed.
Step 3
Pre heat skillet and coat with non stick spray.
Step 4
Cook slices of bread for 2-3 minutes on medium high heat until each side is golden brown.
Step 5
Prepare topping by combining protein, water, and extract. Add water slowly until you get the consistency you like. I like mine a little thicker than regular syrup.
Step 6
Layer bread with protein mixture, top with whipped cream and mints.