Meal prep is HUGE for me now that I have started to buckle down and my reverse diet is done.  During that time, it was kind of a free for all knowing I had so many macros each day to work with.  I could always fit everything I wanted in each day with no problem.  Ah, the beauty of a bulk…. however, now that my official "cut"/diet has begun and I am in a slight caloric deficit to shed the body fat, meals are requiring a bit more thinking AND planning.  I much rather have a few things ready to go each week for meals than spend 20 minutes trying to figure out numbers and making things fit into this little calorie puzzle.  With my work schedule constantly changing and needing to run around after these darn kids of mine, I never know if I will have the time to whip up a meal or if I need to eat something on the go (literally on the go, eating in the car).  It's really nice being able to grab a tupperware of food that has already been thought out, made, and weighed.  Such a HUGE time saver and spares my brain a few brain cells.
One staple item I always prep at the beginning of the week (or bi-weekly) is a good, hearty marinara sauce.  I like having jars of it on hand for quick pasta dishes, pizzas, and even sandwiches so it's something you can regularly find in my refrigerator.  I know it's really easy to pop open a jar of Prego (which I definitely do on occasion), but nothing beats a home made sauce and when you can have a big batch done in about 20 minutes, why not just make it fresh right?  I have been making this sauce with very few changes for the past 10 years and it's always a big hit with the usual family friendly food we have around here.  You will also notice it's pretty similar to my tomato soup recipe except that I blend at the very end to get it smooth.  The base is more or less the same though!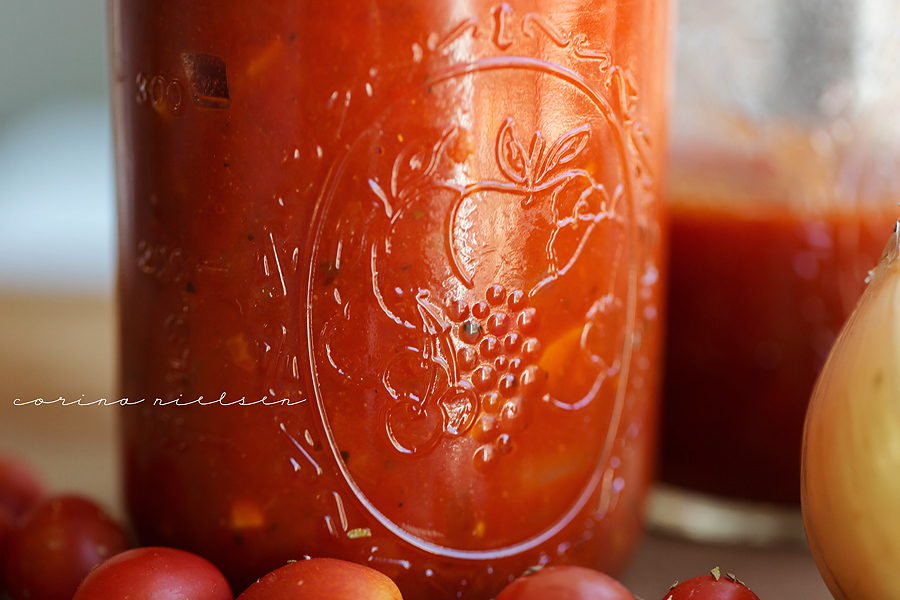 ** Marinara Recipe Below **
Each week my meal prep changes, but another thing I like to have on hand is cooked quinoa.  It's such an easy ingredient to add to your for a little boost of extra nutrients and protein.  I have added them to my eggs, my oats, salads, stir fry's, soups, wraps… such a versatile grain and it's so good for you.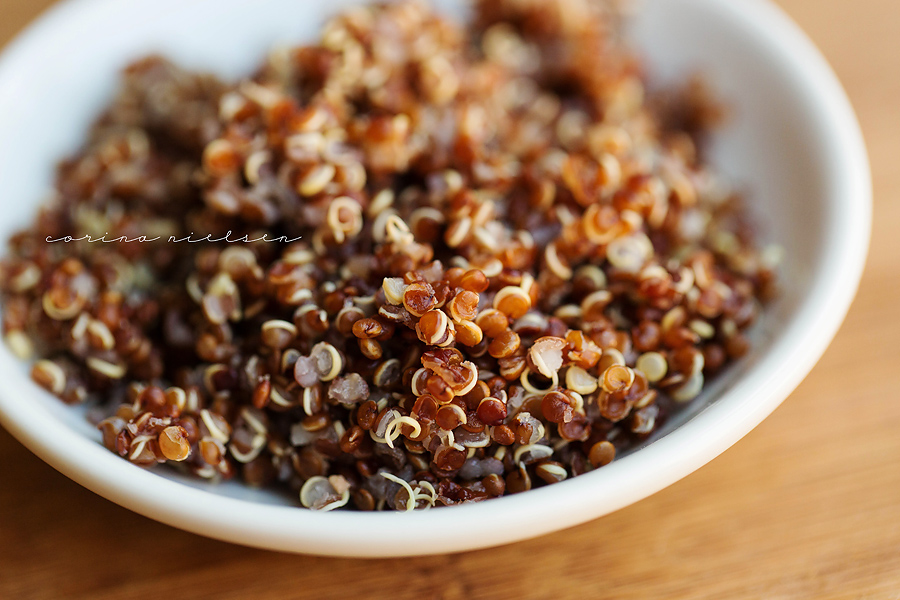 A few months ago, I decided I would combine three of the things I usual have prepped every Sunday: marinara, quinoa, and ground turkey.  I had a decent sized amount of each of these towards the end of the week and of course I didn't want any of it to go to waste.  End result?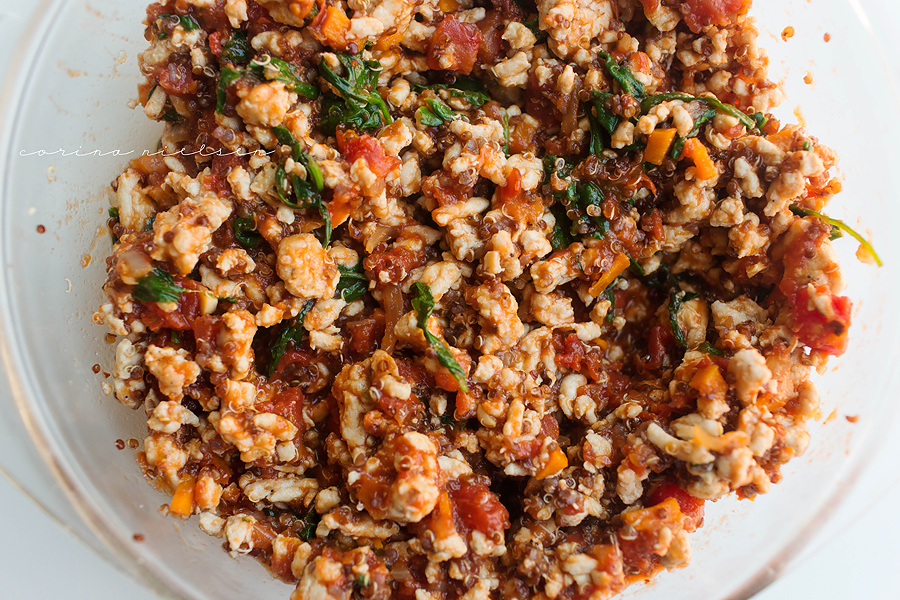 The perfect stuffing for some peppers!   I even added a little sautéed spinach to get my greens in 🙂  Just roughly chopped spinach sautéed under low heat with a little garlic, salt, and pepper.  Just brown some lean ground turkey, then add the cooked spinach, about 1-2 cups of the marinara, and about 3/4 of a cup of quinoa and your filling is done!  Next, tackle the peppers.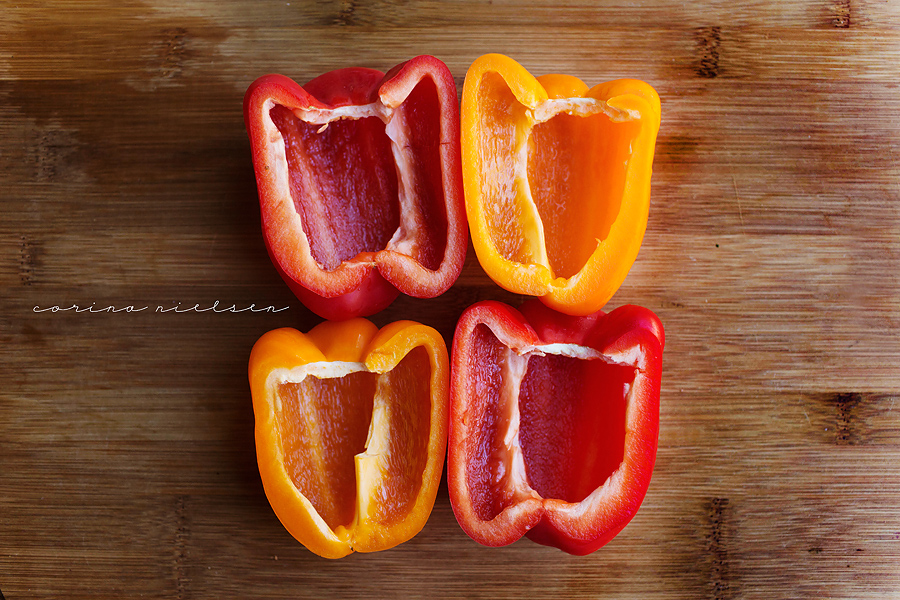 Cut your peppers in half lengthwise, remove seeds, and stuff with your mixture.  Then roast in your oven at 350° for about 45 minutes until the edges of the peppers begin to soften, remove from the oven and add some freshly grated mozzarella, return to oven for 5-10 minutes until nice and melted!  I actually used almond cheese on these, but anything that melts well and you have on hand will do just fine.  A little sprinkle of parmesan would be even better…
These are actually not only great to make for a quick weeknight dinner, but also perfect to do for meal prep at the beginning of the week.  Just store them in a container in the fridge and microwave when you are ready to eat!  Simple, quick, flavorful, and the perfect little bundle of nutrition!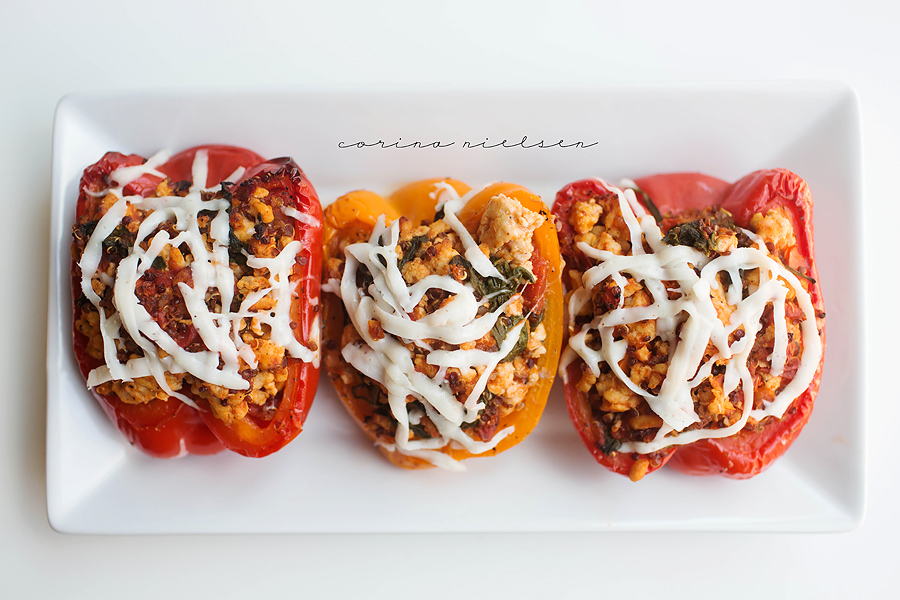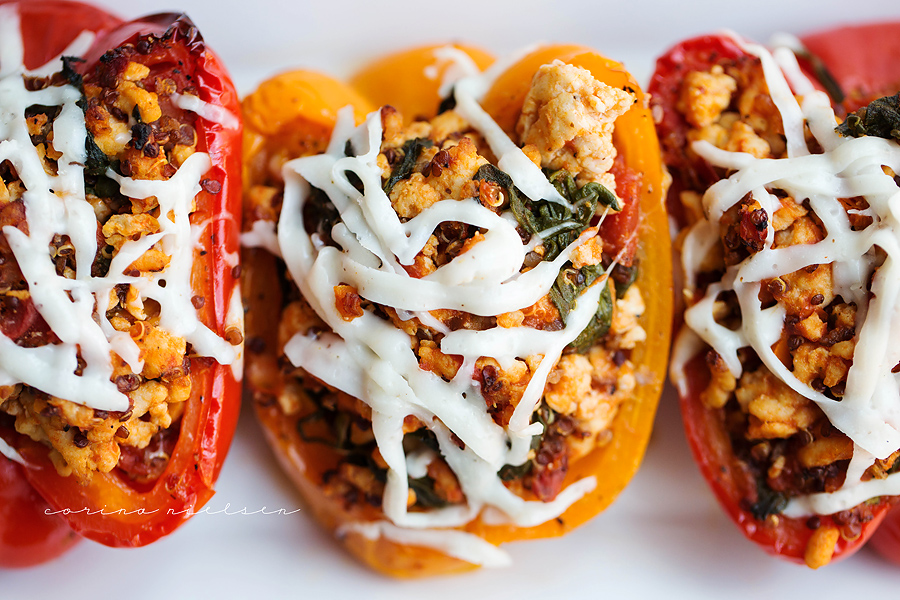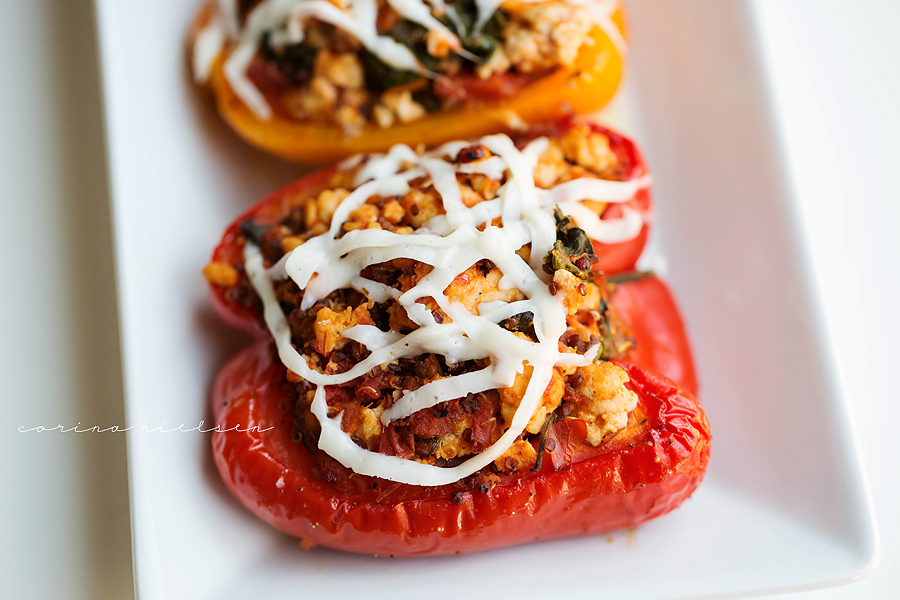 Here is the recipe for my marinara sauce:
Basic Marinara

Print recipe
Ingredients
1 medium slice carrot
1 Small onion
1 Large clove garlic
1/4 cup white or red wine
2 tablespoons tomato paste
1 teaspoon garlic powder
1 teaspoon oregano
1/2 teaspoon rosemary
1/2 teaspoon thyme
1/4 teaspoon salt
1/8 teaspoon pepper
14 1/2oz can diced tomatoes
28oz can crushed tomatoes
Directions
Step 1
Heat a large sauce pan under medium heat and spray with non stick spray.
Step 2
Roughly chop carrot, onion, and garlic.
Step 3
Saute carrot and onion in pan for 3-5 minutes until slightly softened. Add garlic and stir for another 1-2 minutes.
Step 4
Stir in tomato paste to coat the carrot, onion, and garlic. Add all of the spices.
Step 5
Add the wine and cook for 1-2 minutes until liquid is dissolved.
Step 6
Add in diced and crushed tomatoes. Stir until combined, cover, and let simmer under low heat for 15-20 minutes.
Step 7
Adjust seasonings to taste.