Well, I'm still alive and doing grrrrrrr-eat!  Today, I officially start week 3 of my 8 week cut!
I can honestly say that it wasn't easy to adjust to start with but the past 4-5 days I have been feeling amazing.  The first week of dropping calories my body was definitely fighting it.  I actually GAINED 4-5 pounds!  Not only that, but I was seriously close to giving up completely by day 3 because I was SO hungry.  My overall reduction in calories wasn't even that big, I actually increased carbs to 320 grams on my "high" days.  I had moments where I doubted what I was doing and if I could really do the whole 8 weeks of this "dieting" business.  At the end of the first week though, everything began to fall into place.  I lost the initial weight I had put on, I wasn't feeling as hungry anymore, and overall my mental state was back to normal and ready to kick ass.  I'm guessing my body just had to adjust to the sudden changes it was being forced to deal with?   Once those things were under control though, I had another set back…. kids got me sick AGAIN!  I was fighting a cold last Tuesday to Saturday!  Good Lord, can I get a break here?  This little body can only take so much abuse.  Luckily, it wasn't too bad and I was still able to hit the gym and of course stay on top of my macros.  Considering this is literally the first time in my whole life that I have ever dieted, I think I have adjusted my mind set fairly well thus far.  Dieting is much harder to deal with mentally than it is physically… to me anyways right now!
I'm feeling leaner and tighter.  The scale hasn't moved much since the initial gain (which is totally fine with me) but I know my body is slowly beginning to change which is so exciting and rewarding.  Some clothes are starting to get loose as well… this is one of the best indications that you are progressing.  I'm still eating quite a bit (over 1900 calories on my high days) and actually feel nice and satisfied after each meal and in between meals.  I'm never overly hungry or full, just satisfied all day which tells me my body (and mind) are getting what it needs, nothing more and nothing less!  Can't ask for more than that right?  So thankful that I made the decision to reverse diet BEFORE dieting down any further 4 months ago.  At the time I was eating anywhere from 1700-2000 calories which means that in order for me to cut/diet to get to where I'm aiming to be, I would have needed to drop calories extremely low to make a decent amount of further progress.  Getting my calories up to over 2300 and carbs to over 320 grams has allowed so much more flexibility and my metabolism will still be functioning great at the end of this cut/diet.  Very pleased with how things are progressing…. it may be a slow process doing it this way, but its well worth it in the end for not only you body but your mind as well!  VERY very few people should be aiming to lose 10, 15, 20+ pounds within a few months.  Like I always say, when choosing to diet and lose weight, one should ALWAYS look at the long term effects as well as the short.  Sometimes taking a bit longer to get things done leaves your body much better off!
Here are my update pictures and stats:
TOP SET IS 2 WEEKS AGO, BOTTOM SET IS YESTERDAY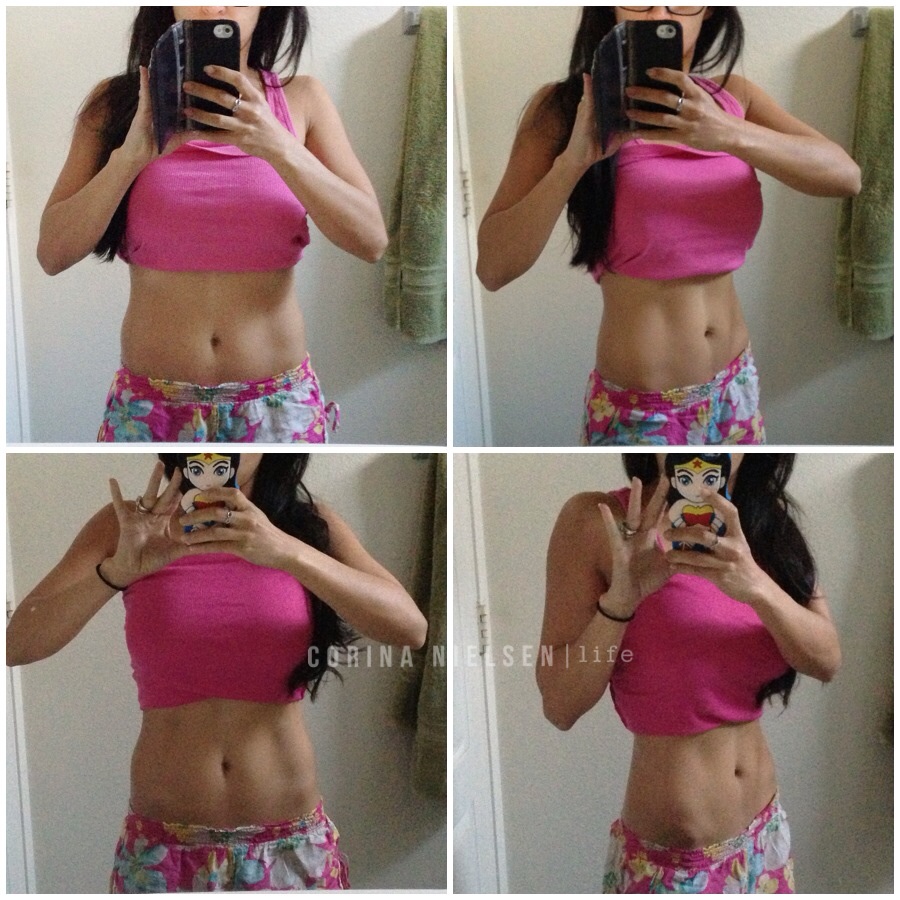 PREVIOUS STATS (all relaxed/non flexed):
WEIGHT- 103.2 lbs
BODY FAT- 19%
WAIST- 27″
BICEP- 10.5″
QUADRICEP- 18.5″
HIP- 30″
GLUTE- 34″
CALVE- 12.5″
SHOULDER- 38″
NEW STATS (all relaxed/non flexed), changes marked in RED:
WEIGHT- 

101 lbs

BODY FAT- 

18.5%

WAIST- 

26″

BICEP- 

10″

QUADRICEP- 

18″

HIP-

29.5″

GLUTE- 

33.5″

CALVE- 

12″

SHOULDER- 38″
I'd be totally lying if I said that I was happy about the reduction in numbers everywhere here…. unfortunately, you cannot spot reduce so I'm stuck losing just about everywhere.  I would be more than happy to ONLY lose inches on my stomach and reduce body fat %  while keeping the other stats the same!  I hate thinking about losing any of the muscle gains I have made the past 5 months, but I know a small amount is inevitable and I need to look at the overall picture.  All in all though, I'm pleased with the process and look forward to the coming weeks AND more changes!  Best is yet to come, I know it.  Pushes and motivates me that much more!!!!