Living in California, I swear we have some of the best produce available all of the time.  I can't think of very many fruits that aren't available year round here even if they aren't technically considered "in season".  Thankfully, we also have Farmer's Markets all over San Diego and on any given day of the week, finding one to go to is only a hop, skip, and a jump away.  Not only that, but I'm fortunate enough to also be located in North County San Diego and it's home to hundreds of local farms.  I can walk 1/2 a block in one direction from my house and find thousands of avocado trees, walk 1/2 a block in the other direction and be right in the middle of a citrus grove.  I feel so fortunate to have year round access to so much beautiful produce.  I may promote moderation and balanced living being able to enjoy pizza, hamburgers, and ice cream on occasion BUT my heart and body will always feel optimal having beautiful, natural, and whole foods fueling it!  Luckily, I not only eat my fruit and veggies daily, but I also ENJOY it… but there really isn't much to love when everything is so fresh AND basically available in your own backyard (or your neighbors)!
Aside from mangos, strawberries and raspberries are probably my favorite fruit.  I could eat baskets of them at a time.  As a kid, my God parents had an acre of land FILLED with raspberries.  The bushes lined the entire property and I remember eating at least 100 a day any time we visited.  So delicious.  Eating raspberries now always brings back those memories for me!  Last week, the Farmer's Market had the MOST gorgeous berries.  They were SO big and bright.  Colors were simply amazing and when I sampled them, I knew I would be buying some cartons for the week.  Again, I could eat them on their own, but this weekend I decided to do something more special with my little berry haul….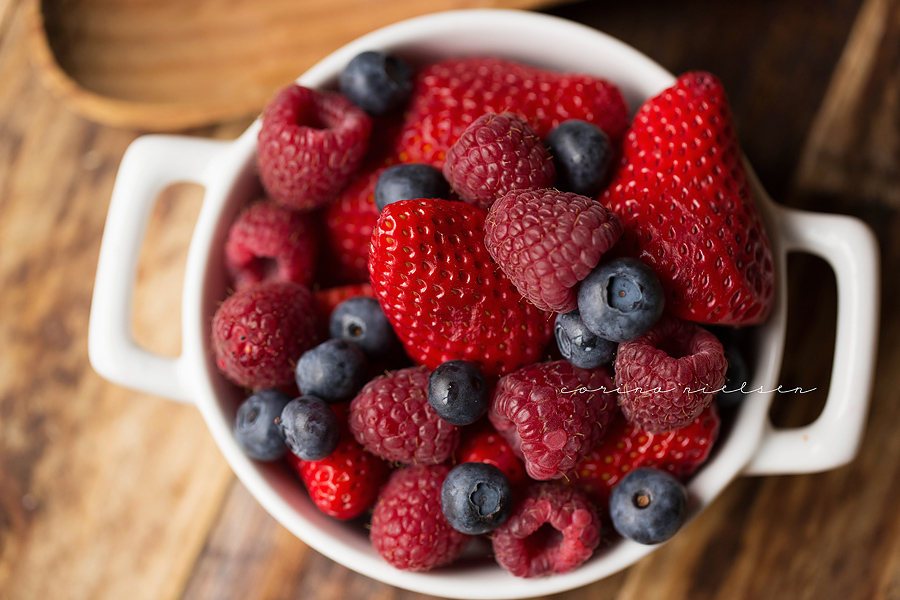 With Valentine's Day around the corner this week AND my husband actually having to work that day, we celebrated a little early this past weekend.  First, I made my husbands favorite Cuban dish, Ropa Vieja.  Then we watched Lone Survivor at the luxury cinemas (huge reclining seats, cocktails, and food available while you watch?  Yes, please!).  And then we came home to enjoy these beautiful little napoleons I whipped up.  Definitely not your average little stack here though folks.  The special thing about these?  They are not only 100% healthy (and delicious), but also PACKED with protein.  Literally packed with protein.  This is a true body building type of dessert.  No need to get off track with our cuts/diets when we can enjoy something like this anytime we want.  They appear extra special because they are pretty darn beautiful, but are also a breeze to put together.  Extremely macro friendly, low carb, and low fat.  I ate all of mine and my husbands because they were so good!  Aren't they pretty though?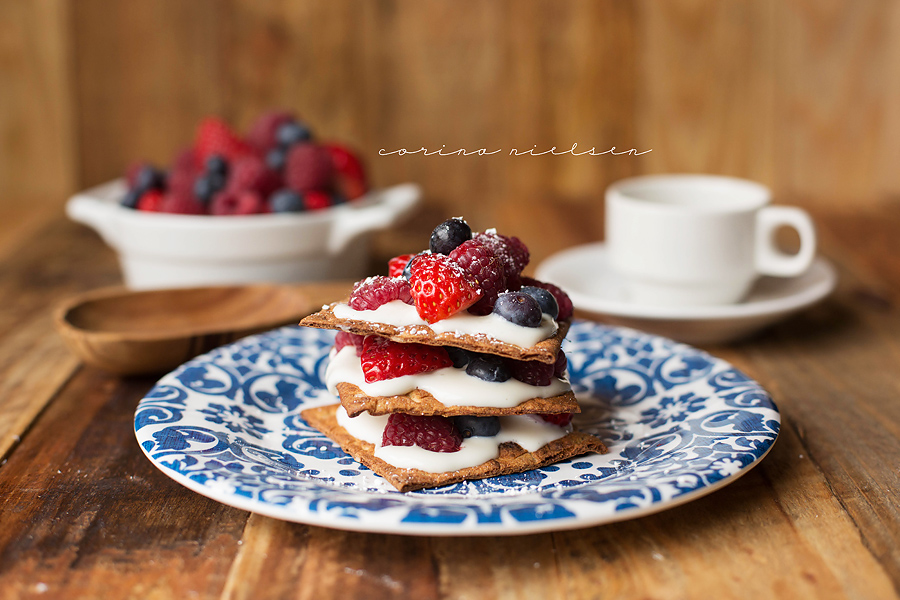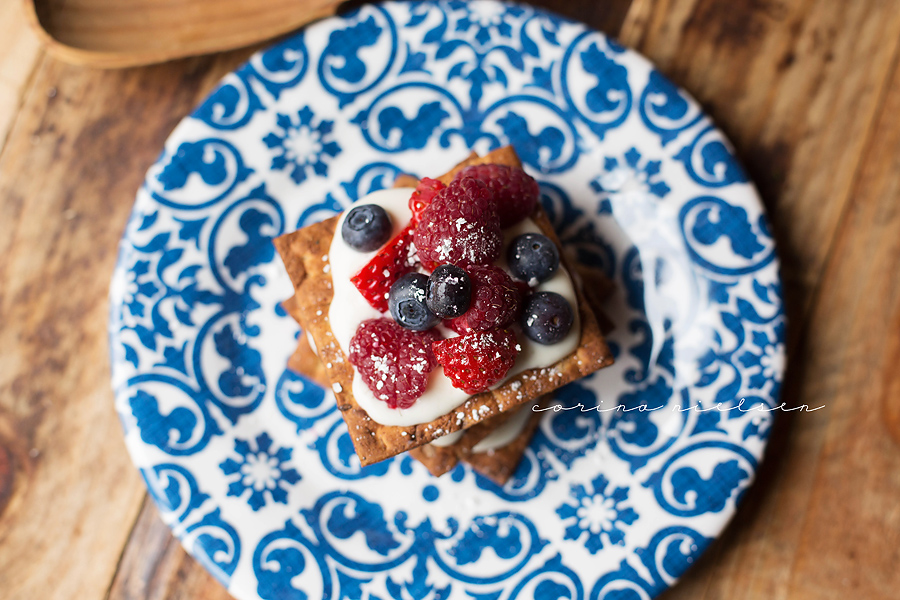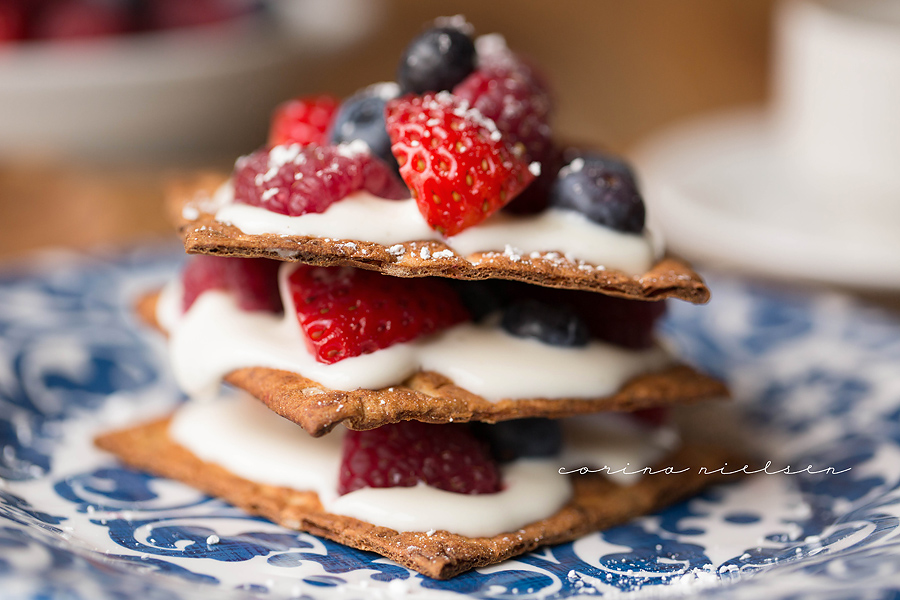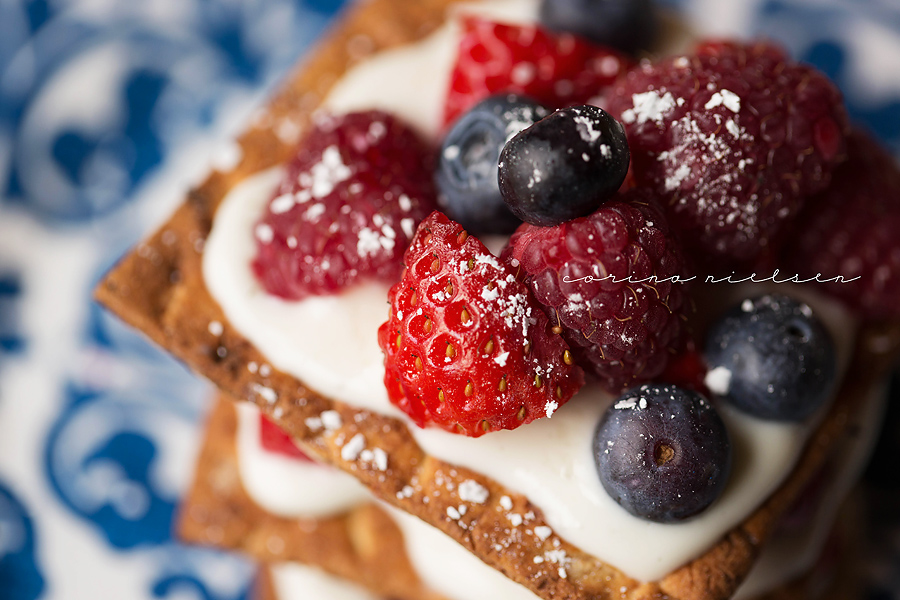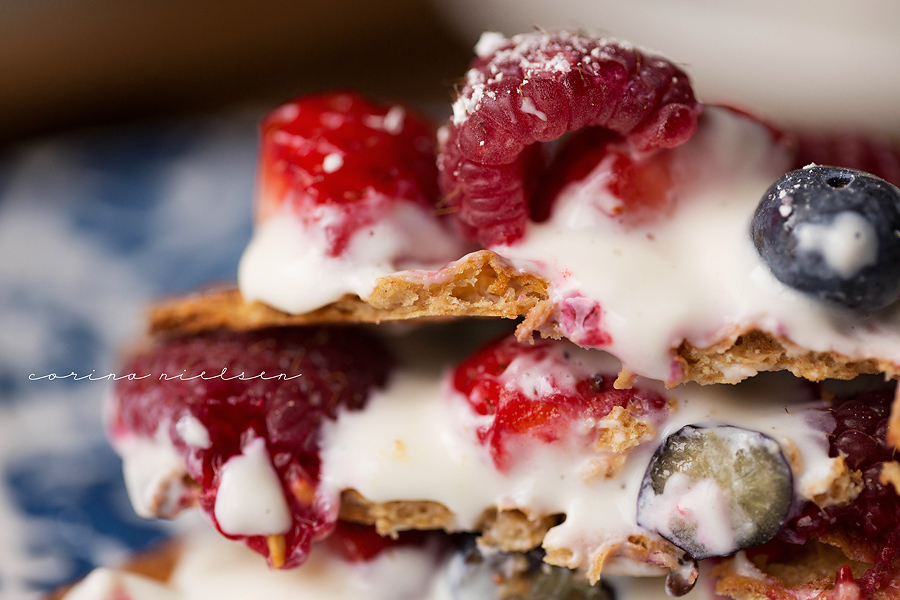 Mouth watering huh?
If you are in need of something to satisfy your sweet tooth but need it to be totally healthy, these are a great option!  I made these for a special little evening with my husband, BUT I know for sure I will be enjoying them regularly on my own.  So easy to whip up and the only thing I forgot to add to these before I took the pictures was some sliced toasted almonds…. gotta have a little healthy fat in true body building food!!!  Suffice it to say, I will probably be coming up with a few more "napoleon" ideas in the near future!  For now, I will reminisce with these pictures and most likely make another one of these stacks as soon as possible!    It's Farmer's Market day again tomorrow 🙂
Mixed Berry Protein Napoleons

Print recipe
Ingredients
4 Large strawberries
1/4 cup raspeberries
1/4 cup blueberries
1/4 teaspoon orange zest
1 tablespoon juice from orange
1 piece P28 Flatbread
3oz 0% Greek yogurt
1 scoop vanilla protein (** I use TRUTEIN **)
1/2 teaspoon vanilla extract
3-4 tablespoons water
2-3 drops almond extract (** OPTIONAL **)
Directions
Step 1
Cut P28 flatbread into 3" squares and place them on a cookie sheet. I only used 2/3 of one flatbread which will give you 3 squares for each napoleon. I saved the last 1/3 of the flatbread for another time.
Step 2
Broil flatbread for 2-3 minutes, flip and broil for another 1-2 minutes until edges are golden brown and crispy. Do NOT leave flatbread in oven for long. You must watch it the entire time to prevent it from burning. Set aside and let cool completely.
Step 3
Combine Greek yogurt, protein powder, orange zest, and extract/s in a small bowl. Slowly add water and mix until you have a nice thick consistency similar to pudding. Set aside.
Step 4
Chop strawberries into quarters and slice raspberries in half. Toss fruit in reserved orange juice.
Step 5
Begin to layer napoleon starting with a piece of toasted flatbread, protein mixture, and then berries. Repeat until you have 3-4 layers. Top with a little sprinkle of powdered sugar and/or sliced almonds.
Note
NUTRITIONAL INFORMATION (ONE NAPOLEON without almonds): calories- 174, carbs- 19 g, protein- 21 g, fat- 2 g