Be prepared.  This is going to be a long diet/cut check in….
There is a difference between people who reluctantly drag themselves into the gym every now and then, hop on some cardio equipment, possibly get on some circuit machines to lift some weights, maybe do a few sets of ab exercises, then call it a day AND people who are truly die hard gym goers that enter the gym with a definitive plan and who not only look forward to working out but LOVE it.  Call them obsessed meat heads who only care about they way they look, but those in the latter group (I believe) are the truly dedicated & committed to their training.  They are the individuals you see in the gym DAY IN & DAY OUT, rain, shine, hurricane, or snow storm.  You can count on seeing their faces just about every day lifting hard, heavy, and controlled. Well, I've been in that die hard group for about 9 months now.  If I wasn't at the gym training, or with my family, or working, you can rest assured that I was thinking about lifting (or eating/nutrition).  Fitness has become so much a part of my life and my daily routine.  For exactly one year now, I made bettering body, mind, and spirit a top priority.  This wasn't a short lived phase that lasted a month or two, I quit, then I could go complain about the results I didn't see (from the work I didn't do).  I believe with all my heart that this is the difference between fitness & health being your LIFESTYLE VS. something you occasionally try to do every now and then.  And please don't get me wrong here… I put ZERO judgements on individuals who only pick up the fitness bug every now and then.  Any time I see anyone new at the gym, running/walking outdoors, trying a new workout video, etc. I think to myself "Good for them!" even if I never see them again.  It all comes down to priorities.  Fitness, training, and nutrition became MY priority this past year.
I can say with complete certainty that I LOVE working out (well lifting & eating more than anything… cardio you can keep).
So, when a part of your life and who you have become is taken away from you (even momentarily)… well, it not only stings, but it's downright miserable. This past week has single handedly been the worse ever for me.  At no other point this last year have I ever broken down in tears so many times.  I was a complete wreck for numerous reasons.  I was 3 weeks away from completing my cut/diet, feeling amazing despite being on restricted calories (thank you reverse dieting), lifting hard, and continuing to train 5-6 days a week.  Unfortunately, I have also been dealing with a knee issue for a little over a month now.  Didn't start out to be a big problem, but this is where I was ALL last week.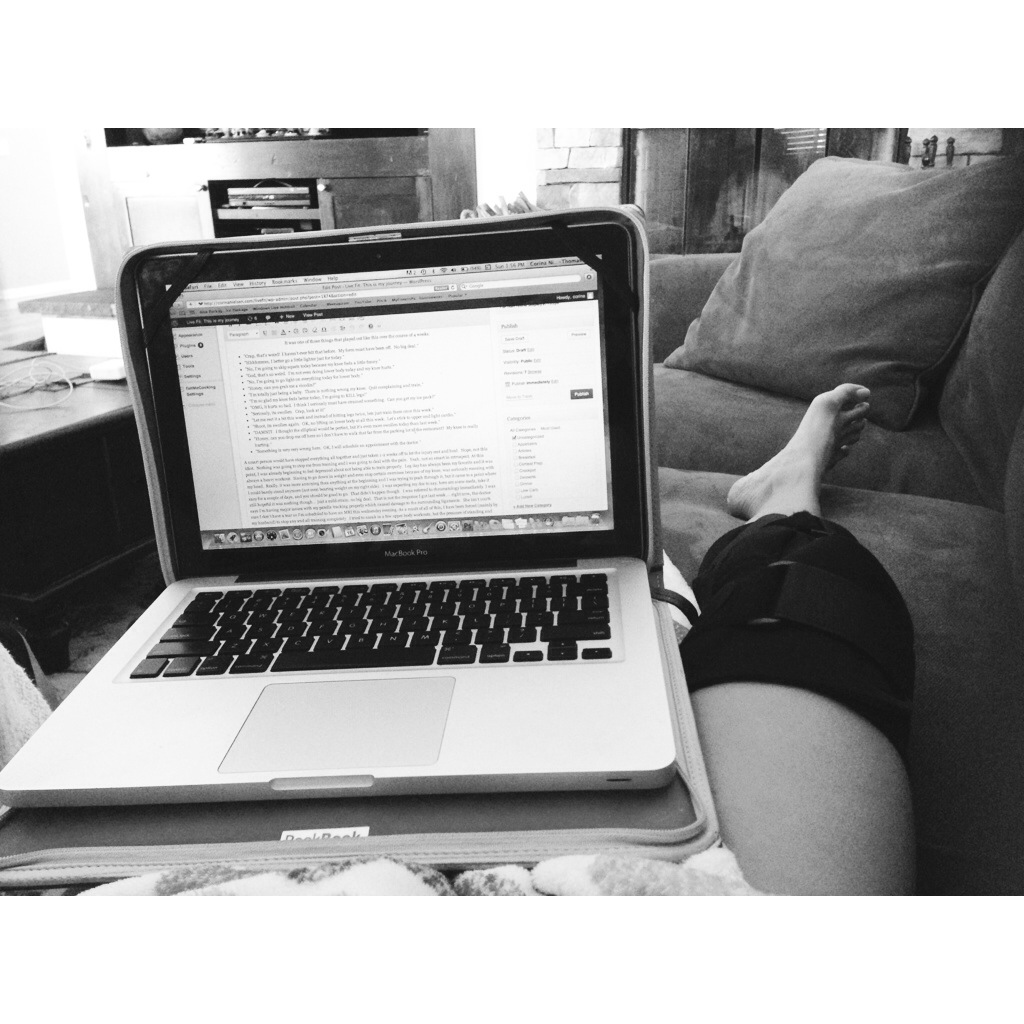 It was one of those things that played out like this over the course of 4 weeks:
"Crap, that's weird!  I haven't ever felt that before.  My form must have been a little off.  No big deal. I will get it right next time."
"Hhhhmmm, I better go a little lighter just for today to feel things out."
"No, I'm going to skip squats today because my knee feels a little funny."
"God, that's so weird.  I'm not even doing lower body today and my knee hurts."
"No, I'm going to go light on everything today for lower body."
"Honey, can you grab me a vicodin?"
"I'm totally just being a baby.  There is nothing wrong my knee.  Quit complaining and train."
"I'm so glad my knee feels better today, I'm going to KILL legs!"
"OMG, it hurts so bad.  I think I seriously must have strained something.  Can you get my ice pack?"
"Seriously, its swollen.  Crap, look at it!"
"Let me rest it a bit this week and instead of hitting legs twice, lets just train them once this week."
"Shoot, its swollen again.  OK, no lifting on lower body at all this week.  Let's stick to upper and light cardio."
"DAMNIT.  I thought the elliptical would be perfect, but it's even more swollen today than last week."
"Honey, can you drop me off here so I don't have to walk that far from the parking lot to the restaurant?  My knee is really hurting."
"Something is very very wrong here.  OK, I will schedule an appointment with the doctor."
A smart person would have stopped everything all together when it first started bothering them AND just taken 1-2 weeks off to let the injury rest and heal.  Nope, not this idiot.  Nothing was going to stop me from training and I was going to deal with the minimal pain/discomfort I was having.  At that point, it wasn't bad at all.  Yeah, not so smart in retrospect. At this point, I was already beginning to feel depressed about not being able to train properly.  Leg day has always been my favorite and it was always a hard & heavy workout.  Having to go down in weight and even stop certain exercises because of my knee, was seriously messing with my head.  Really, it was more annoying than anything at the beginning and I was trying to push through it, but it came to a point where I could barely stand anymore (not even bearing weight on my right side).  I was expecting my doc to say, here are some meds, take it easy for a couple of days, and you should be good to go.  That didn't happen though.  I was referred to rheumatology immediately. I was still hopeful it was nothing though… just a mild strain, no big deal.
However, that is not the response I got last week…. right now, the doctor says I'm having major issues with my patella tracking properly which caused damage to the surrounding ligaments (I think that's what she said anyways… that appointment is kind of a blur since all I was concerned with was "CAN I TRAIN?").  She isn't 100% sure I don't have a tear so I'm scheduled to have an MRI this wednesday evening. As a result of all of this, I have been forced (mainly by my husband and kids) to stop any and all training completely.  I think they are tired of hearing me complain to be honest with you LOL.  I tried to sneak in a few upper body workouts, but the pressure of standing and bearing any weight on right side killed me.  Even making dinner or picking up a few things at the store was torture on some days.  Do you have any idea how hard it is to stay away from something you have consistently done almost every single day for almost an entire year?  It's been SUCH a hard week not only dealing with the physical pain, but the emotional/mental pain I have had.
In addition to my knee issues, this dieting thing is not all it's cracked up to be.  In all honesty, it's not even that I am hungry.  Actually, in the past 2-3 weeks I have rarely found myself hungry at all.  Part of that is that I have been so upset and depressed about my leg, but even still… I'm definitely not starving and because of my reverse diet, I know my calorie decreases have been minimal.  Last week, I was still averaging about 200 grams of carbs still which is pretty high I think for the tail end of a cut/diet.  Protein and fats have remained the same this entire time.
For me, dieting and being on restricted calories has effected me in many ways other than hunger.  I have been finding myself more moody (again, that could be do to the knee pain and frustration), I'm getting headaches (not sure if that has anything to do with the diet but it's new for me), and I have had ZERO energy (this I know has something to do with my intake).  Normally when I show up at the gym, I'm ready to roll.  I'm excited to lift and can jump right in.  I barely even need time in between sets because I'm so pumped.  Yeah, not so much the past few times I was able to train though.  Also, I know most women want their clothes to fit different…. a big sign of progress is being able to fit into things/sizes you weren't able to before.  Thats all fine and great when it comes to my waist BUT when I feel myself swimming in pants, shorts, and pajamas around my thighs and butt… that's not cool (for me since one of my main goals was to build my glute's).  Dear God, why can we not spot reduce?  Tummy go away, everything else get bigger and better!!!
More than all that though, the hardest mental issue I have had to deal with has been with actual lifting.  I have had to go down in weight on just about EVERY exercise.  I used to pride myself on being able to curl 25 lb dumbbells on my hypertrophy day… last time I trained bi's, I was barely able to do 20 lb dumbbells for 2 sets and had to finish with 15's (even 10's maybe).  I'm feeling so weak and small. For some people, the end goal on their journey is strictly to drop the pounds and get skinny, which is great for them.  That has NEVER been my goal though.  Once I started lifting last year, I have only wanted to feel and look strong.  I was always striving for a healthy, athletic look and what I am being left with now is a skinny, semi defined look that I am not happy with physically, emotionally, and mentally.  I almost feel like I should have continued with my reverse diet longer to build more muscle… 2-3 months of heavy lifting didn't do as much.  Sure, I made some gains but not quite what I hoped for now that the "fluff" is starting to go away and I'm seeing what I'm left with.  Building muscle is NOT easy.  It takes a lot of time despite what so many people think.  A girl simply does not just go into the gym for a month, lift some weights, and get huge.  It's just impossible (well unless maybe you are taking some extra special "supplements" of the illegal nature).
As of right this second (and my feelings have changed almost daily this week)…. I felt WAY better about myself and my body with the extra "bit" on me.  I prefer when I had tons of energy ALL day long.  I loved being able to lift and feel strong EVERY single day.  The past couple of weeks, none of these feeling have been present in me.  I realize though, that because of my knee issues, it might be making me feel bad about everything including training, eating, self image, etc.  Had I not had this set back with my knee, I could possibly be feeling entirely different.  Again, not being able to train even a little bit (even cardio) has been a very difficult thing to deal with.  Feeling like a lazy ass on the couch is no fun, for me anyways.
All that being said though, I'm not calling the cut/diet quits just yet.  I know this was an off week because of health issues.  The pain and frustration of not being able to function will have an impact on anyone.  It just hit me a lot harder this past week which is why I needed to take a break and regroup.  I haven't hit the gym, weights, or cardio at all.   My plan as of today is to continue on the same macros, attempt to train some upper body until my MRI on Wednesday, and then reassess the plan after I hear back from the doctor.  If I have to take another week or two off from training, I will most likely call the cut over and begin reversing immediately.  If I get the go ahead to even lightly train lower body and do some cardio, I will finish out my last 2 weeks of the cut and then reverse diet again.
This has definitely been a set back for me, but I'm still in this and committed to my lifestyle!  Priorities, goals, and plans may have shifted and you can hold me down, but don't count me out!!!!  I have to keep reminding myself that this is a JOURNEY and there will be bumps and turns in the road.  I was dumb to think that it would be smooth sailing the entire year or even just through my cutting/diet phase.  Like I have said many times, there really shouldn't be an "end" destination or goal.  It's about constantly evolving and as long as I continue to get better than I was the day before… that is ALL that should matter to me!  This week is teaching me a lot and in the end, it may have been a good thing.  I'm a firm believer that everything happens for a reason… I don't know why yet, but eventually I will!
And last… with all that out there, I do also have some check in pics & stats since I haven't quit the cut just yet!  For my other check ins, I was posting comparison shots between where my mid section was at the top of my reverse diet and then where I was currently, but for this one I wanted to show a 2 week progress instead.  Left shot is about 14 days ago and right is from this past weekend.  Because I haven't been able to train or do any cardio at all, I'm barely walking on most days, the majority of this progress is strictly from "diet".  I was even more strict with hitting my macros because I basically had no calories going out/being burned.  For not being able to do anything active for at least 7 days now, I will take it!!!  Definitely getting tighter.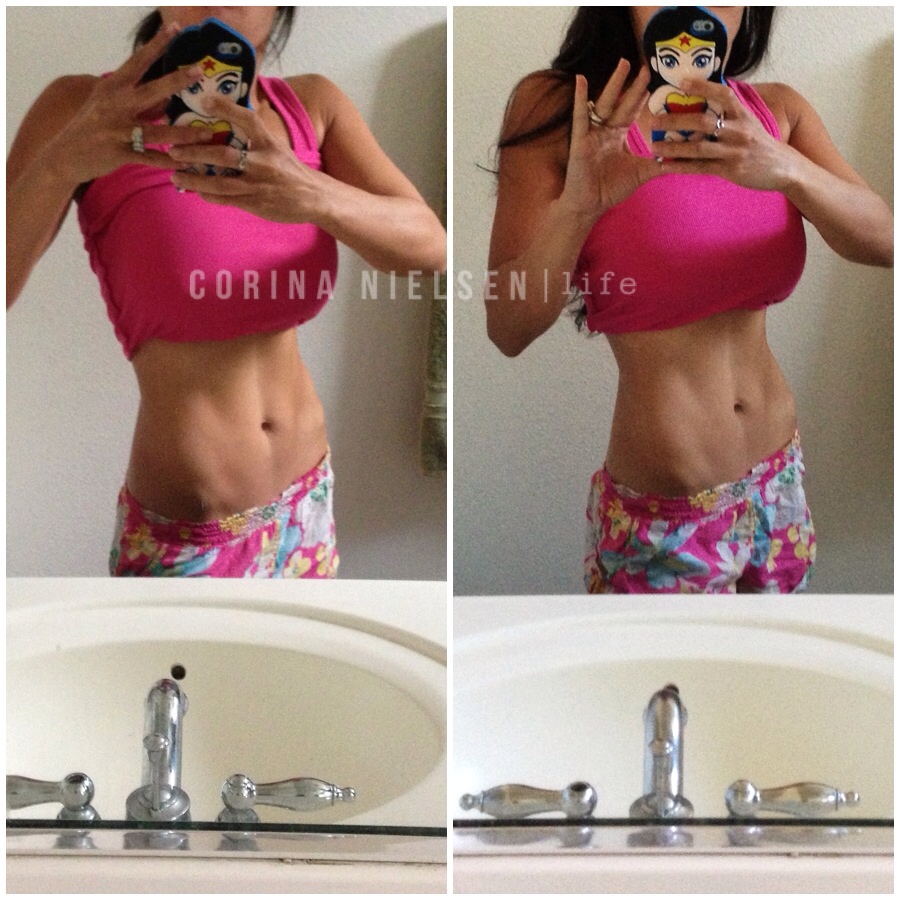 AND….. look who dropped some more body fat?  LOWEST I have been my entire life.  This was taken the last day I trained though, so I have no idea where I am at this week.  Again, I will take whatever I can get right now!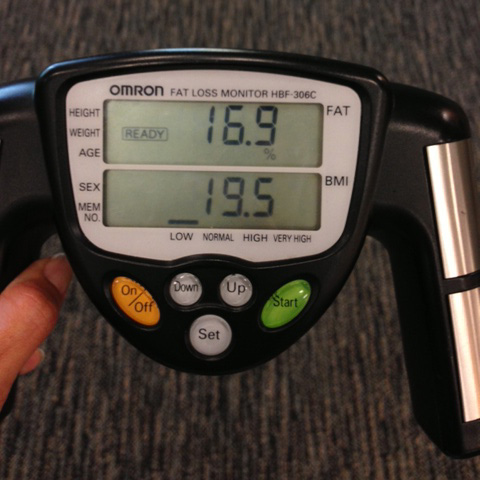 BEGINNING STATS AT THE TOP OF REVERSE DIET (NOT FLEXED):
WEIGHT- 103.2 lbs
BODY FAT- 19%
WAIST- 27″
BICEP- 10.5″
QUADRICEP- 18.5″
HIP- 30″
GLUTE- 34″
CALVE- 12.5″
SHOULDER- 38″
CURRENT STATS (NOT FLEXED):
WEIGHT- 99.5 lbs
BODY FAT- 16.9%
WAIST- 25.25″
BICEP- 10″
QUADRICEP- 17″
HIP- 29″
GLUTE- 33″
CALVE- 12″
SHOULDER- 37″
Whew… that was a lot of info 🙂  It's Monday, my mind and heart are feeling optimistic, knee pain is minimal… I *might* just have to try and get some upper body work done this afternoon!!!!  Crossing my fingers!  Even if I'm only able to do 3 exercises and have to use 5 lb dumbbells…. I'm going to go after it!