Although I stand behind and love every recipe I put out, every now and then I come up with something that is TRULY remarkable…. certain things that I have no problem making and eating on a daily basis.  This is definitely one of those recipes!  It has been my breakfast EVERY single day of my cut/diet (on my low carb days) for an entire 6 or 7 weeks now.   Not once have I made it and not loved it.  I actually take my time eating it every morning because I want to savor every single bite and hold on to it as long as I can.  I honestly crave it throughout the rest of the day as well and cannot wait to make it again the following morning.  It's so quick, easy, and macro friendly, I can almost guarantee that when my cut is done, this meal will continue to be a staple of mine.  It's THAT good.
The best part is (as with so many of my recipes) is that it's extremely versatile and flavors can be changed around to suit what you have on hand or to what you are craving.  For the most part, the base will always remain the same (although you can swap out the vanilla extract for other flavorings OR even make this savory by adding spices to it).  The texture is a cross between eggs and a pancake I guess?  I can't really explain it, but it is fluffy, moist, and just plain delicious!  I'm literally eating one of these right this very second as I prepare this post… gah, it's so good!!!!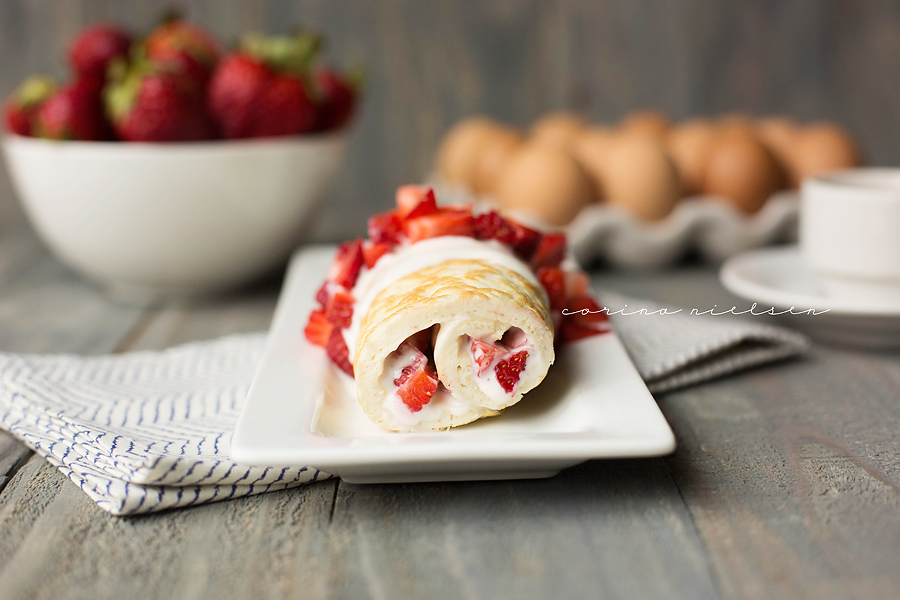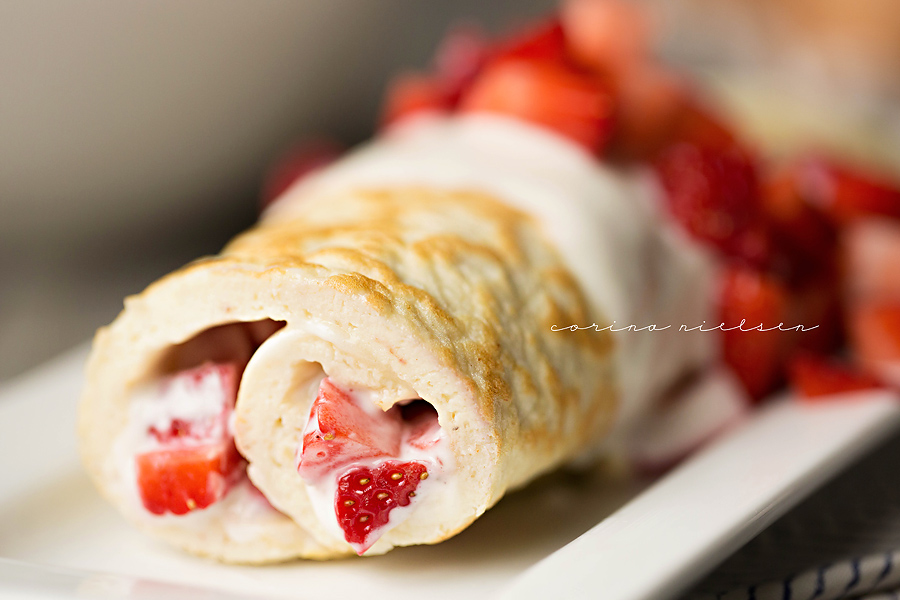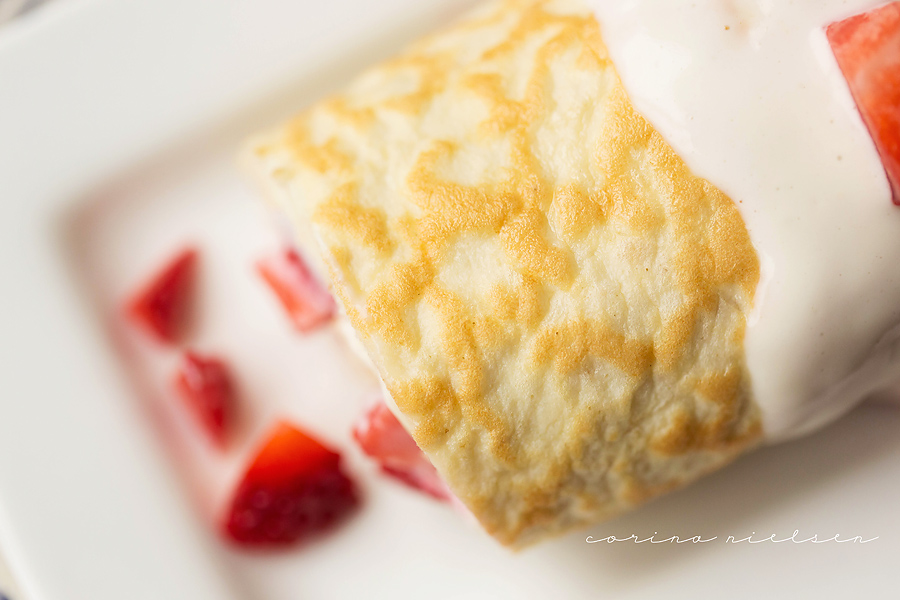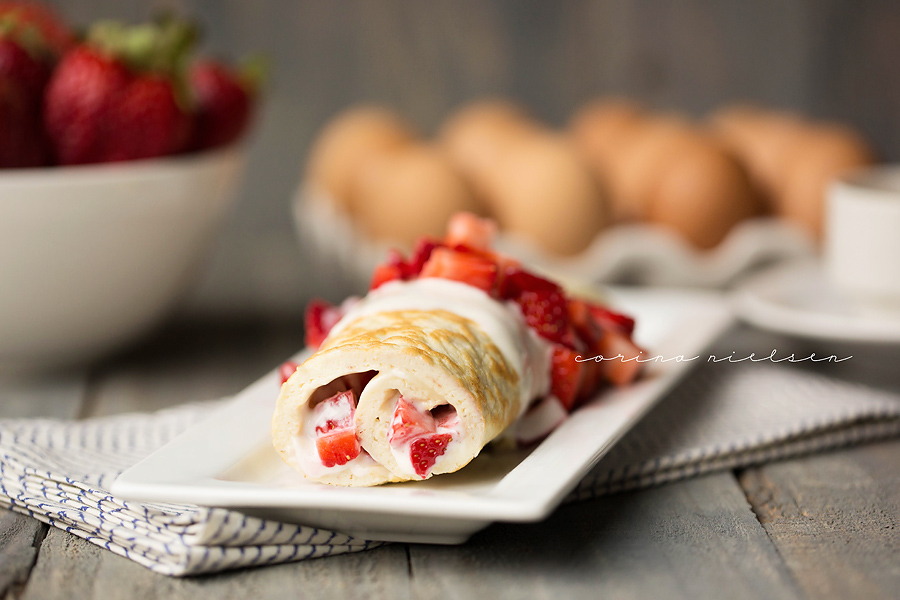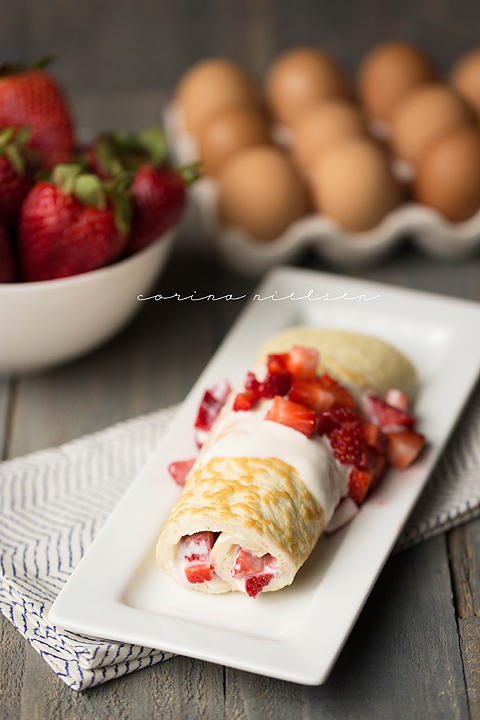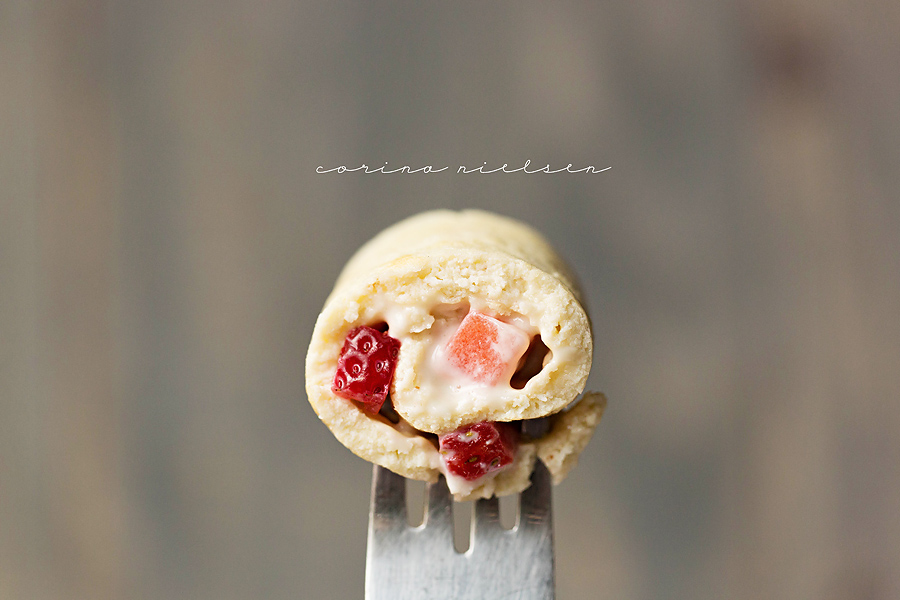 Quick, easy, just about fail proof, and it tastes as good as it looks?  I'm in.  Definitely in.  Sign me up for the long haul because this is on my daily menu indefinitely!
Strawberries & Cream Pancake Roll Ups

Print recipe
Ingredients
1 Large whole egg
1/2 cup egg whites
1 1/2 tablespoon coconut flour
1/2 teaspoon psyllium husk
1/4 teaspoon vanilla extract
8 drops Berry SWEET LEAF STEVIA
1oz 0% Greek Yogurt
1/2 teaspoon coconut oil
1/3 scoop Trutein Vanilla Protein
5 drops Vanilla Sweet Leaf Stevia
2 tablespoons water
2 Medium strawberries
Directions
Step 1
Combine egg, egg whites, coconut flour, psyllium husk, vanilla, and stevia (8 drops) in a medium sized bowl. Mix/beat well with a wire whisk.
Step 2
Add coconut oil to an 8" or 9" non stick pan and let preheat at medium heat for 2-3 minutes. You can also just use non stick spray instead of the coconut oil.
Step 3
While pan is preheating, combine Greek yogurt, stevia (5 drops), protein powder, and water in a small bowl. Mix until well until smooth (should resemble a pudding texture). Cut strawberries into small pieces.
Step 4
Turn heat to low and make sure coconut oil (or non stick spray) covers the entire surface. Add egg mixture to pan and let cook 2-3 minutes on first side. It should be golden brown on the cooked side and barely any leftover liquid on the other. Using a large spatula, carefully flip it, turn off heat, and let cook for an additional 1-2 minutes until cooked through. Remove from heat.
Step 5
Spread protein mixture over the entire surface and add chopped strawberries. I saved a little of each on top as well.
Note
NUTRITIONAL INFORMATION (using coconut oil): calories- 300, carbs- 14, protein- 32, fat- 11
A BIG must here for flavor is using Trutein protein (seriously the BEST tasting as I have said many many times), but I'm sure you can get away using something else!