Normally, I wouldn't post a variation on a recipe of mine so quickly but I really could not wait any longer to share this one.  I've been holding on to it for a whole week now!  Like I had said in my previous post, these "Strawberries & Cream Pancake Roll Ups" have been my breakfast almost EVERY single day for at least a couple of months now.  I craved them at night before I went to sleep and could not wait until I could enjoy them yet again the following morning.  I had attempted a few other variations recently including chocolate raspberry, chocolate hazelnut, coconut mango, and banana cream which were great, but I always came back to my regular strawberry one until this version…
Cinnamon Caramel Apple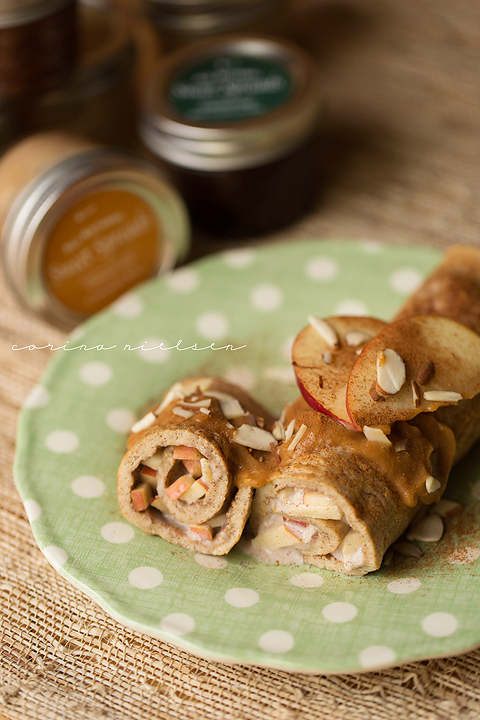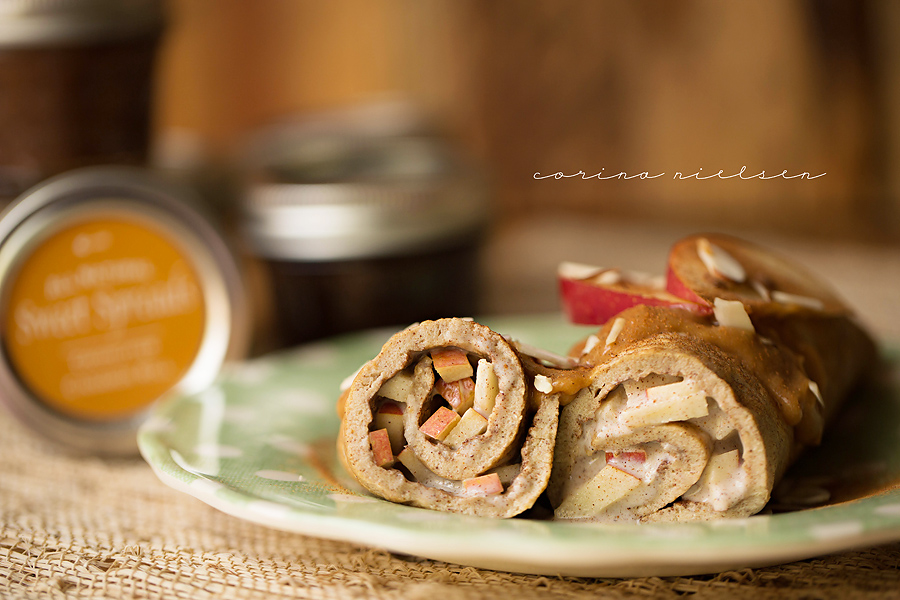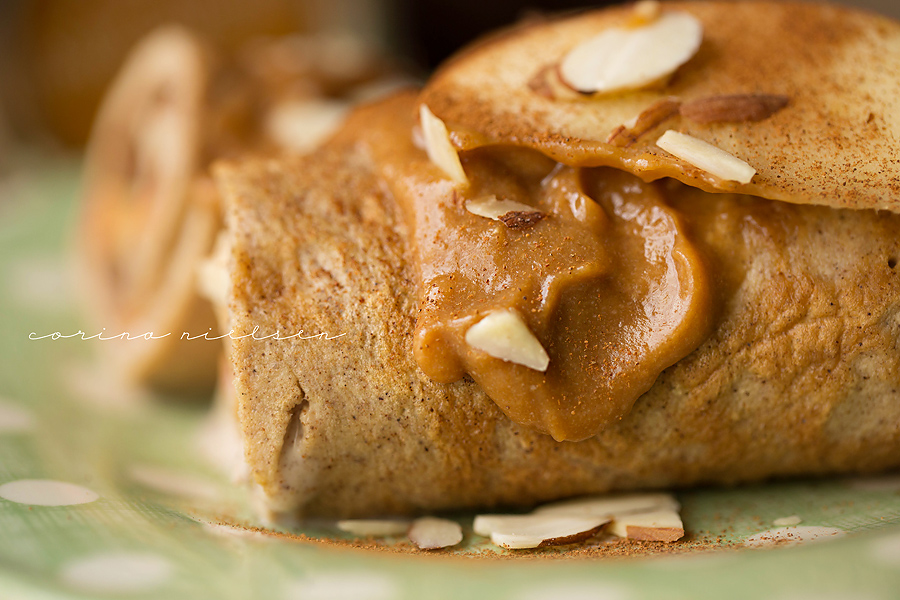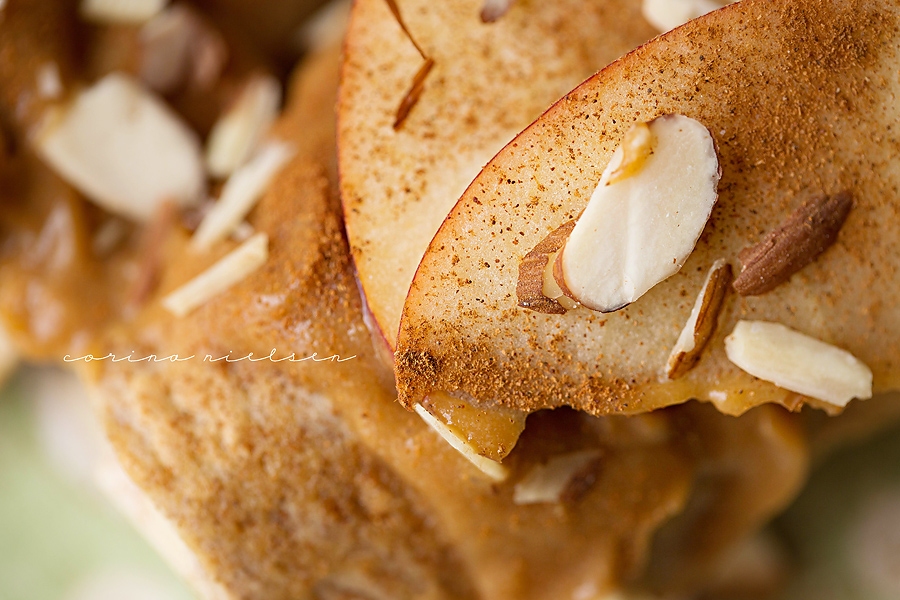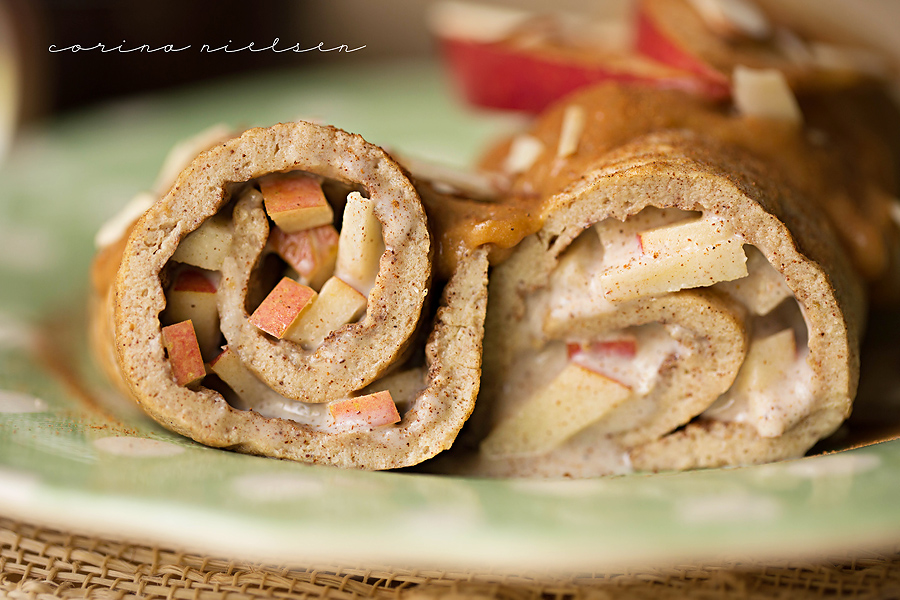 Lord help me.
They are not only equally as delicious as my tried and true strawberry version, but I'm going to go out on a limb and say they are even BETTER.  Twice as good.  Perhaps even three times as good.  They taste just like one of those caramel apple pie's you would find at a State Fair or favorite old school diner where everything is home made with love by someones grandmother.  I'm not sure what it is, but each and every bite of these just feels so comforting.  I know it sounds weird and I swear I can't explain it, but eating these just makes my heart happy.  I get fuzzy inside just thinking about them.  Of course I wouldn't share recipes here that I don't love and stand by, but certain things I make and eat are extra special to me… this is one of those recipes.  Please give these a try.  I promise you, breakfast will never be the same….
Cinnamon Caramel Apple Pancake Roll Ups

Print recipe
| | |
| --- | --- |
| Serves | 1 |
| Prep time | 10 minutes |
| Cook time | 5 minutes |
| Total time | 15 minutes |
| Meal type | Breakfast, Dessert |
Ingredients
1 cup liquid egg whites
1/4 teaspoon maple extract
1/4 teaspoon vanilla extract
2 tablespoons coconut flour
30 drops English Toffee Sweet Leaf Stevia ((or 1 packet sweetener of your choice))
1/2 teaspoon ground cinnamon
1/4 teaspoon coconut oil (or non stick spray)
2 tablespoons 0% Plain Greek Yogurt
1/3 scoop PEScience Snickerdoodle Protein (30% OFF coupon below)
1/8 teaspoon ground cinnamon
3 tablespoons water or unsweetened almond milk
1/2 Medium finely chopped Fuji Apple ((or other sweet, red apple))
1 tablespoon sliced almonds, walnuts, or pecans
1 tablespoon Walden Farms Caramel Dip (** this is a MUST **)
Directions
Step 1
Mix egg whites, coconut flour, stevia, and cinnamon in a large bowl.
Step 2
Preheat a 8"-9" non stick pan and coat with coconut oil (or use non stick spray).
Step 3
Pour pancake mixture into pan and cook under low to low medium heat for 2-3 minutes. Gently lift one side, once it is golden brown and very little liquid remains on the surface, flip pancake. Turn off heat and let the other side cook an additional minute. Remove from heat and cool slightly.
Step 4
Mix Greek yogurt, cinnamon, protein powder, and water together in a small bowl. Mixture should resemble a pudding type consistency.
Step 5
Spread protein mixture over pancake, add chopped apple, and roll.
Step 6
Top with Walden Farm's Caramel Dip and sliced nuts.
Note
NUTRITIONAL INFORMATION- calories- 286, carbs- 15/8 gram fiber= 7 grams NET carbs, protein- 39, fat- 5
If you are interested in receiving 30% OFF on your PEScience products, use my code CORINA at checkout at www.PEScience.com