A couple of weeks ago while filling up on gas, my son came in with me to pay at AM/PM and asked if he could get a Snicker's bar.  After I paid and we got out of the door, he ripped it open and started to devour it… it looked as though he hadn't eaten in a good 5 days.  Guess he was hungry.  Before I could even ask for a bite, the whole damn thing was gone.  Rude huh?  I was super ticked off, annoyed, and almost went back in to buy another one except we were already running late to an appointment so I had to suffer the rest of the afternoon thinking about that stupid Snicker's.  I really just needed a bite.  So angry.
As soon as we got home, I started the normal routine… kids homework, picking up the house, starting dinner, and I had also planned on making a batch of my Sweet Potato Brownies.  As I began to get everything ready to bake, I honestly couldn't think about anything except that damn Snicker's.  The light bulb in my head came on as soon as I went into the cupboard and saw a brand new package of dates I had bought.  I had seen a ton of Vegan recipes using dates as a base for "caramel" and instantly thought SNICKER'S.  By George, I'm about to make me some Snicker's brownies!  I had already intended on tweaking my original recipe a bit so it was the perfect time to play around with this idea.
I'd say this was my idea that translated well….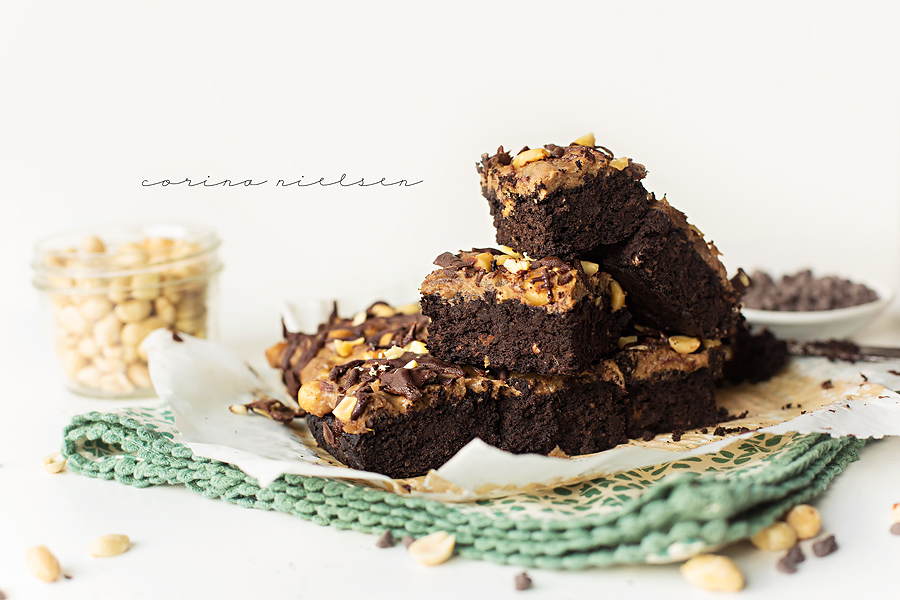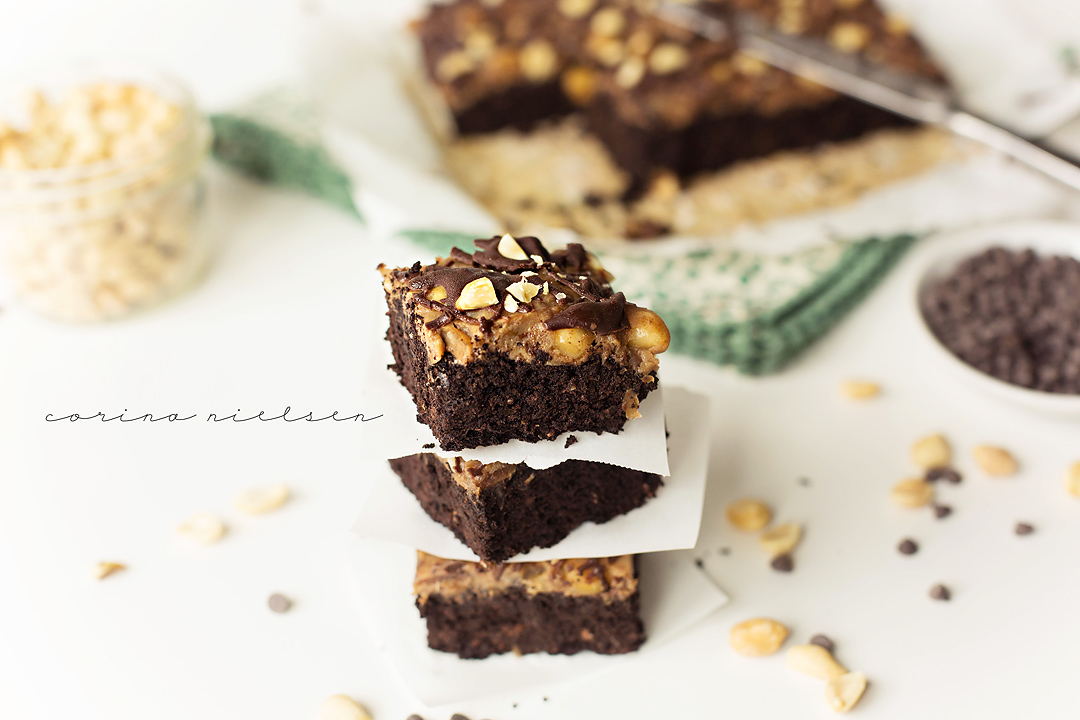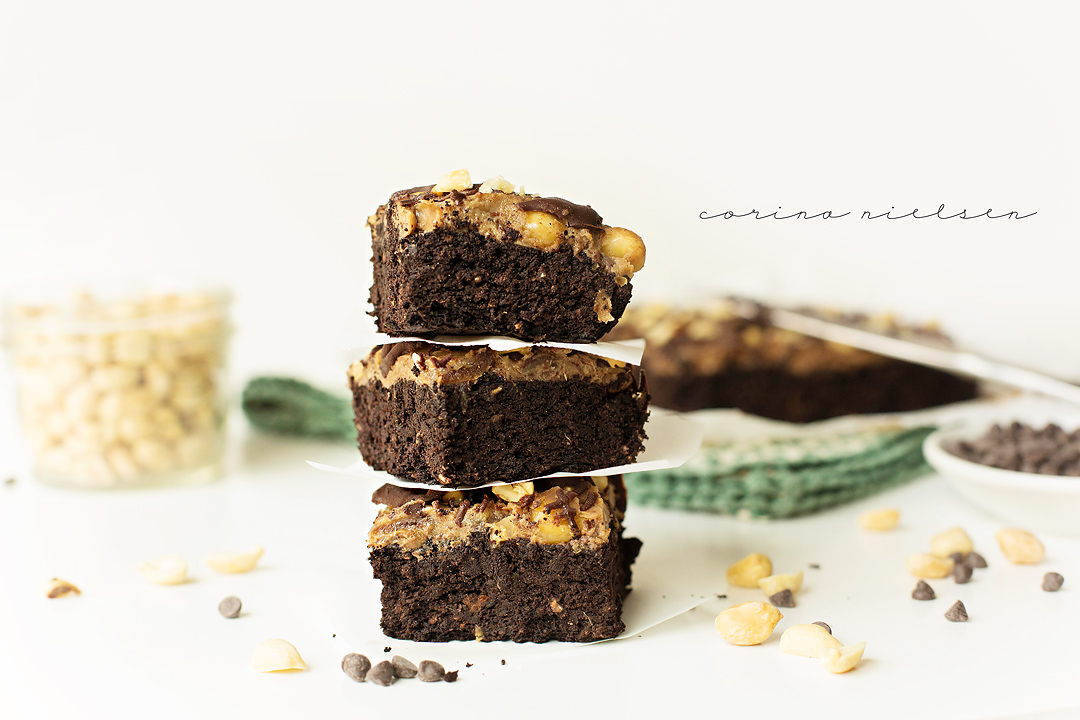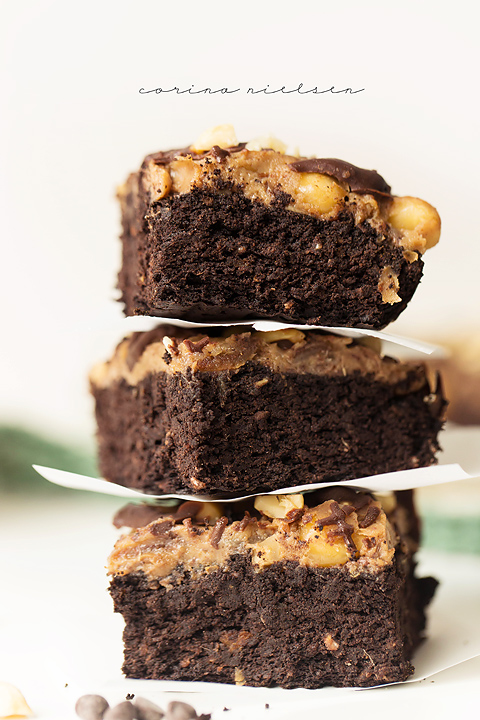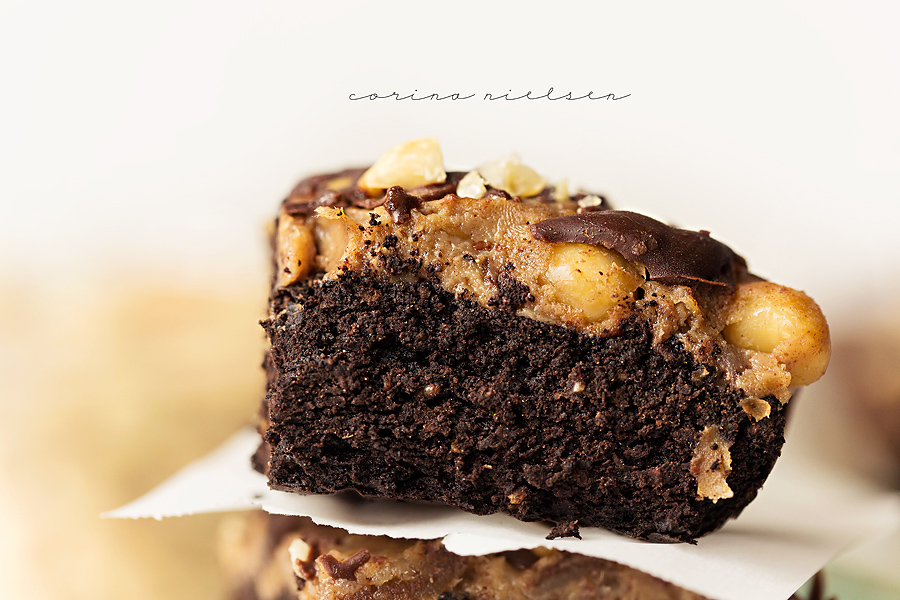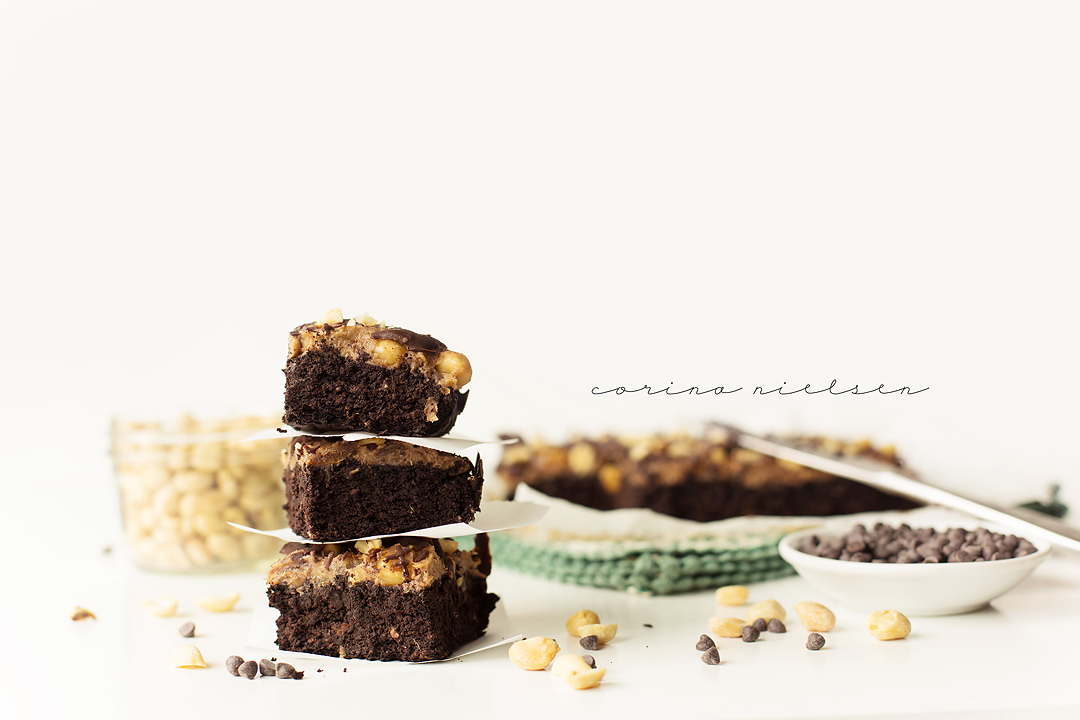 Snickers Brownies

Print recipe
| | |
| --- | --- |
| Serves | 12 |
| Prep time | 15 minutes |
| Cook time | 20 minutes |
| Total time | 35 minutes |
| Meal type | Dessert |
Ingredients
1/4 cup oat flour (brownies)
1/4 cup sweet sorghum flour (brownies)
2 tablespoons coconut flour (brownies)
1/2 cup cacao powder (brownies)
1 teaspoon baking soda (brownies)
6oz baked sweet potato (mashed) (brownies)
1/2 cup Chocolate Caramel Muscle Egg (Egg Whites) (brownies)
1/3 cup coconut sugar (brownies)
1/4 cup unsweetened apple sauce
1/4 cup coconut oil (softened) (brownies)
1 heaped teaspoon vanilla extract (brownies)
45 drops Chocolate Sweet Leaf Stevia (brownies)
3/4 cups unsweetened almond milk (brownies)
12 dates (soaked in warm water for 5-6 hours or overnight ()
2 tablespoons almond butter
1 1/2 teaspoon vanilla extract
1/3 cup chopped peanuts
1/4 cup Walden Farms Syrup or regular maple syrup
3/4 cups water
1/2 teaspoon coconut oil (chocolate drizzle)
1/4 cup Enjoy Life mini chocolate chips (chocolate drizzle)
2 tablespoons chopped peanuts (nut topping)
Directions
Step 1
Preheat oven to 350°. Grease an 8x8 or 9x9 pan with non stick spray or line with parchment paper.
Step 2
In a large bowl, combine all BROWNIE ingredients (flours, cacao, baking soda, mashed sweet potato, egg whites, coconut sugar, salt, softened coconut oil, extract, stevia, almond milk). Mix until very well combined. Pour in prepared pan.
Step 3
Bake for 25-30 minutes and let cool slightly.
Step 4
Prepare "caramel" topping while brownies are cooling. Add dates to a small food processor and pulse for 1-2 minutes until they are broken down and in small chunks.
Step 5
Add processed dates, almond butter, vanilla, syrup, and water to a medium size pot and let simmer for 5-10 minutes. Stir occasionally until mixture is smooth and light golden brown in color. Stir in chopped peanuts and let cool 3-5 minutes.
Step 6
Pour "caramel" topping over brownies and let cool until the topping has slightly hardened.
Step 7
Prepare chocolate drizzle by mixing coconut oil and chocolate chips in a small bowl. Microwave in 15-20 second increments, stirring in between until smooth. Drizzle over caramel topping and sprinkle with remaining chopped peanuts.
Note
NUTRITIONAL INFORMATION (makes 12 servings): calories per serving- 192, carbs- 35 g, fat- 6 g, protein- 6 g
Yeah, these pretty much rocked my socks.  Obviously not a Snicker's BUT delicious and I definitely enjoyed more than a bite… my son was not allowed to partake in these as I hid them from him.  That will show him!