National Donut Day has already come and gone but visions of those tasty treats have continued to dance around in my head.  I didn't get a chance to make it to the donut shop last week, but I did manage to whip up a batch of my own donuts last weekend.  Super DELICIOUS but obviously not the same regular donut… just no real replacement  for all that sugar and fat!  However, I was able to enjoy the entire batch of SIX  VS the ONE store bought donut I would have eaten!  Yeah, thats a win win situation in my opinion because these were SO good.  I was licking any and all topping that had fallen off the donuts and onto the plate….. this was a great post workout meal!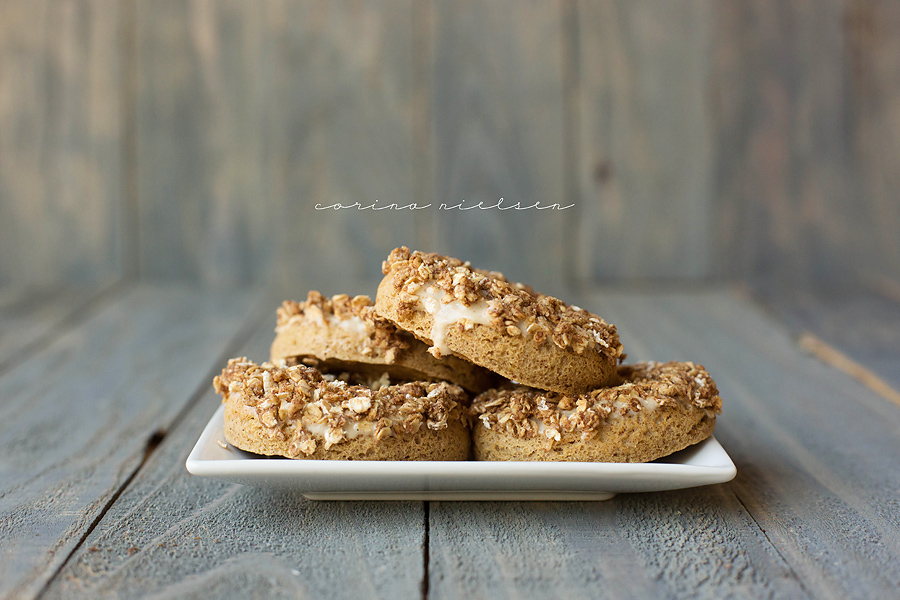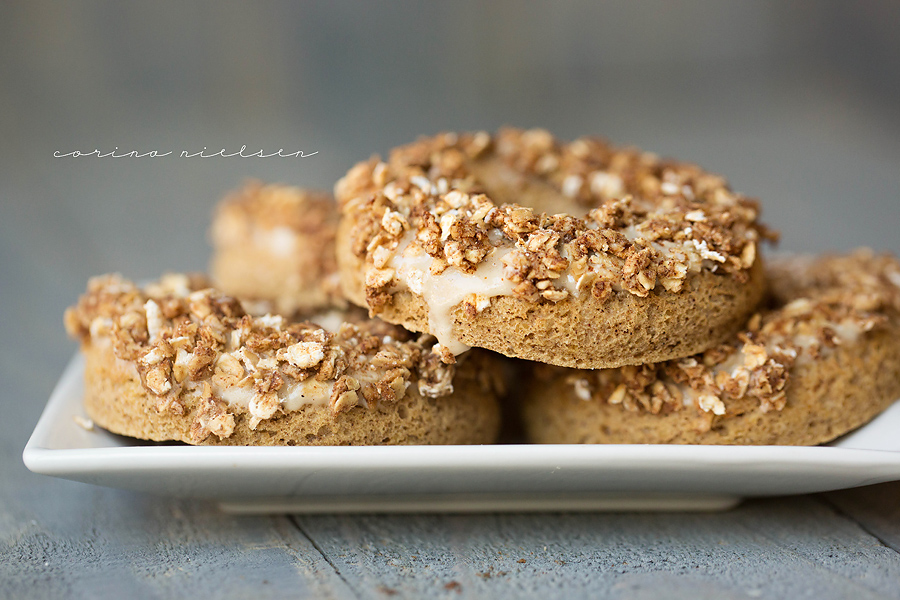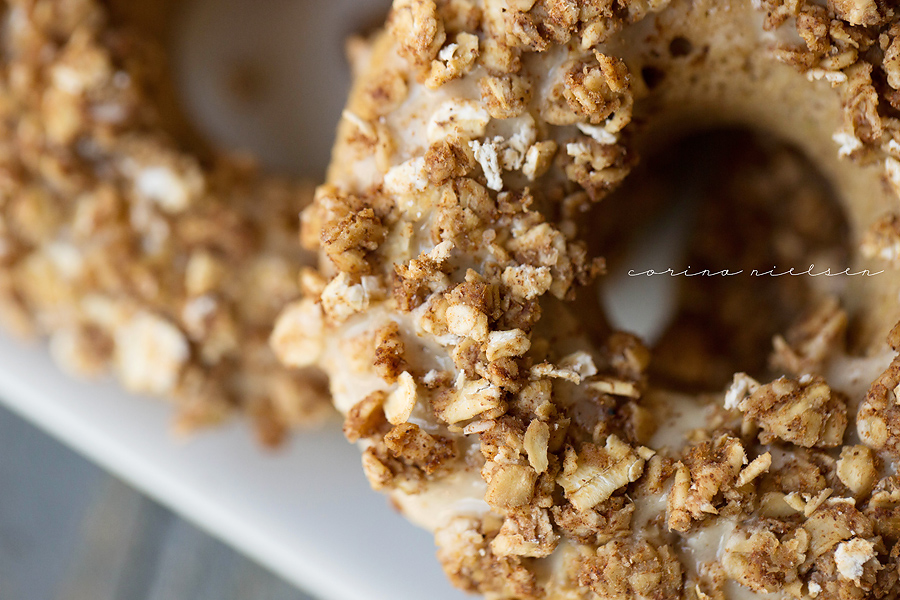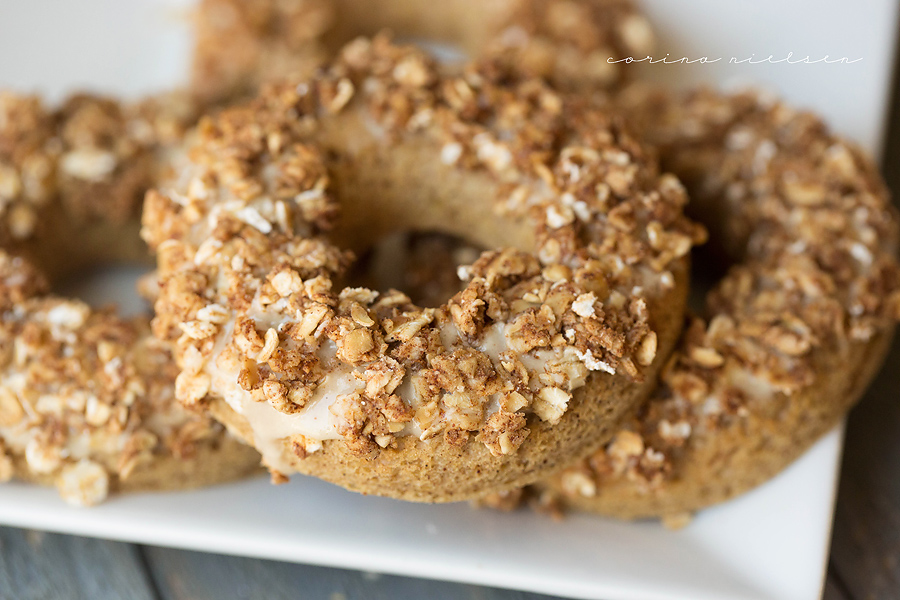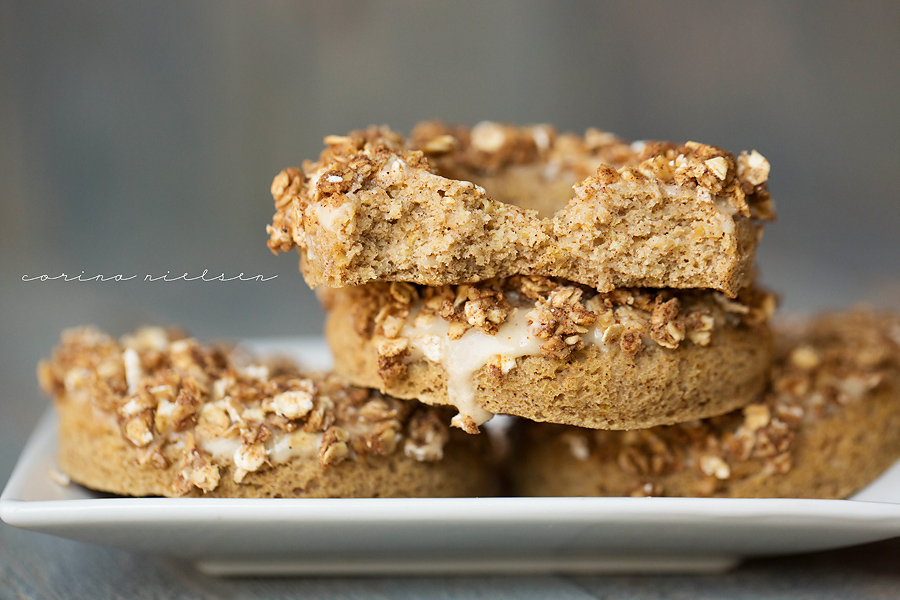 Pretty aren't they?
Maple Cinnamon Crumb Donuts

Print recipe
| | |
| --- | --- |
| Serves | 6 |
| Prep time | 10 minutes |
| Cook time | 15 minutes |
| Total time | 25 minutes |
| Meal type | Breakfast |
Ingredients
1/2 cup oat flour
2 tablespoons coconut flour
1/2 cup Vanilla Muscle Egg (egg whites)
3 tablespoons unsweetened apple sauce
1 teaspoon baking powder
1/2 teaspoon baking soda
1/2 teaspoon maple extract
1/2 teaspoon vanilla extract
40 drops English Toffee Sweet Leaf Stevia
1 teaspoon cinnamon
1/4 cup unsweetened almond milk
1 pinch pink salt
1/3 scoop Vanilla Trutein Protein (** GLAZE **)
1/8 teaspoon maple extract (** GLAZE **)
3 teaspoons maple syrup (** GLAZE **)
1/4 cup rolled oats (** TOPPING **)
2 teaspoons coconut sugar (** TOPPING **)
3/4 teaspoons cinnamon (** TOPPING **)
2 teaspoons unsweetened apple sauce (** TOPPING **)
1/2 teaspoon coconut oil (** TOPPING **)
Directions
Step 1
Preheat oven to 375° and spray a donut pan with non stick spray or coconut oil.
Step 2
Place all donut ingredients (everything except for glaze and topping), in a large bowl. Mix until well combined and smooth.
Step 3
Carefully pour batter into prepared pan and bake 12-15 minutes. Prepare glaze and topping while donuts are baking.
Step 4
Combine glaze ingredients in a small shallow bowl (protein, syrup, extract) and add enough water to create a nice consistency for coating. Water amount will vary depending on your brand of protein.
Step 5
Combine crumb topping ingredients in a small bowl (oats, coconut sugar, cinnamon, applesauce, coconut oil). Use your hands/fingers to mix well.
Step 6
When donuts are done, dip in glaze then sprinkle on crumb topping.