After dieting for the past 4-5 months, I went a little crazy this year with my holiday baking.  I think I must have ingested at least 20 cookies, 10 dessert bars, 5 slices of pie, 1/4 pound of peanut brittle, 3 slices of cheesecake, and 1/2 a chocolate cake… yeah, it wasn't pretty BUT damn, it was sure good!!!  None of these things were remotely "healthy" or nutrient dense, but I was well aware of what I was choosing to eat and did it all with open arms!!!  It had been ages since I used real butter, sugar, and flour.  Holidays and special family time like this don't come around very often so the last thing I wanted to do was worry about staying on track, counting macros, or feeling guilty about the choices I was making for food and treats.  Everything was thoroughly enjoyed with zero guilty or remorse… that's the difference between an all out binge and staying in control!  Fortunately for me, my eating didn't back fire on me, I didn't gain 10 pounds, and it fueled the workouts I was able to squeeze in here and there last week!
With Christmas winding down now though, I knew I had to get in one last little holiday treat!  Instead of making something that may put me over the top again, I opted for something with a slightly better nutritional profile… protein biscotti!!!  I had the idea many moons ago, but never tested it out.  I was a bit scared that it wouldn't turn out quite as crispy as regular biscotti, but to my surprise it turned out great and was just as easy (if not easier) to whip up!  Fast, easy, delicious, and the perfect little treat for my sweet tooth!  They are great to nibble on their own, but served with a fresh hot cup of coffee???  End of the holiday heaven!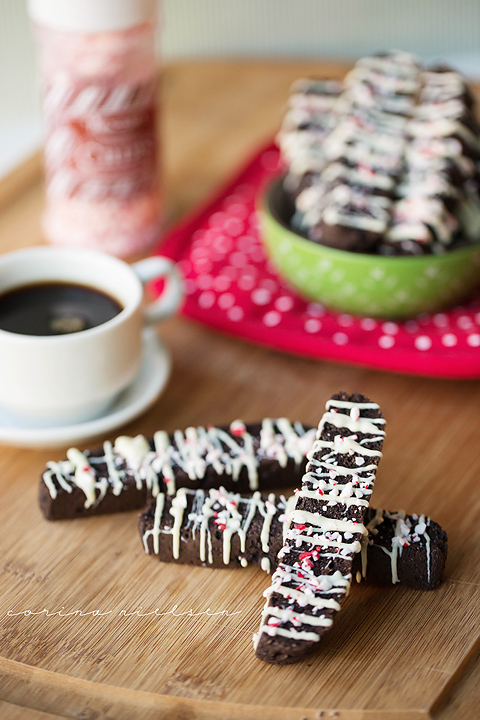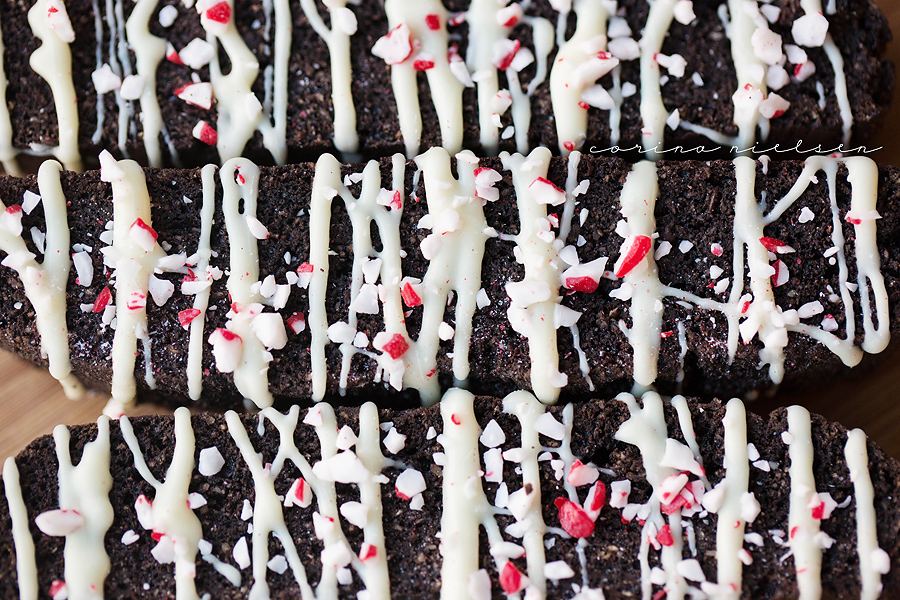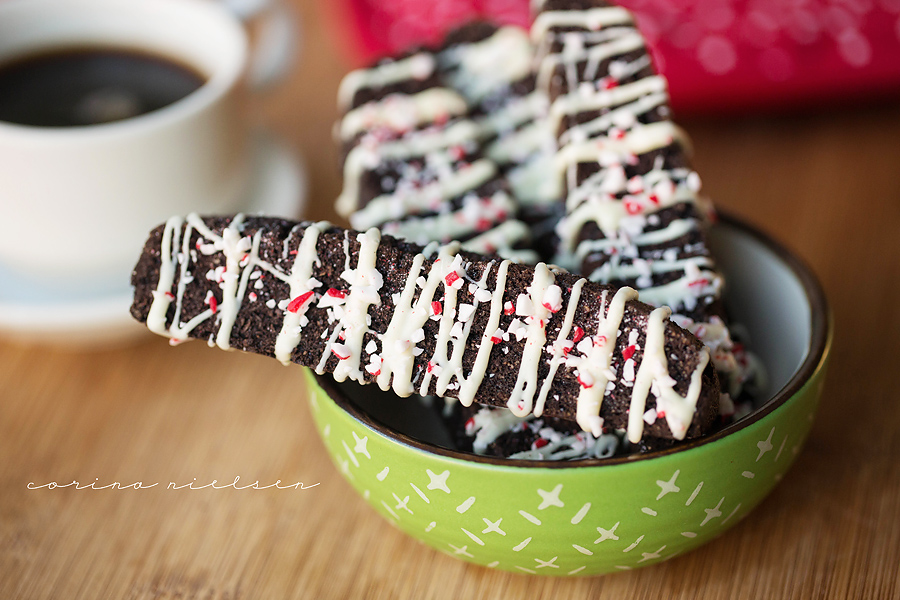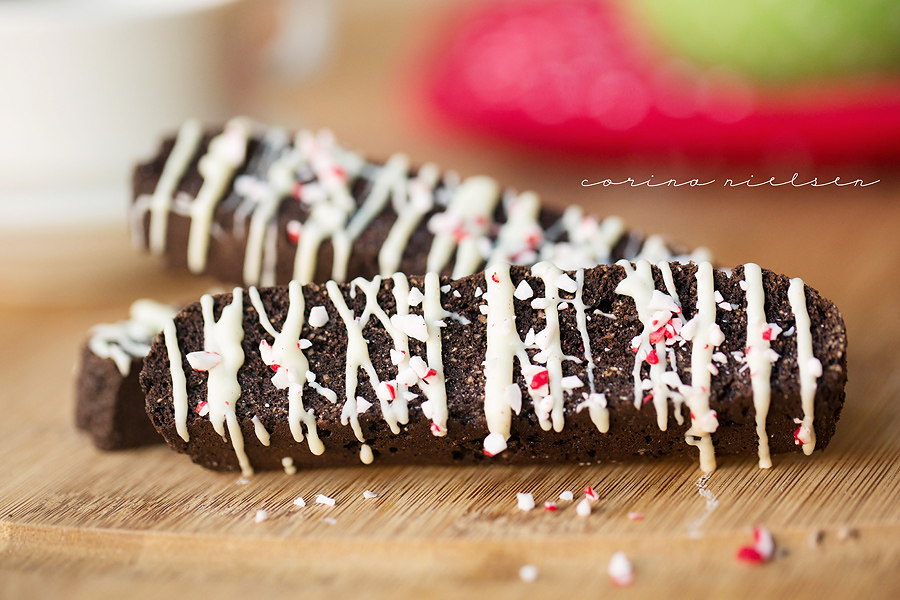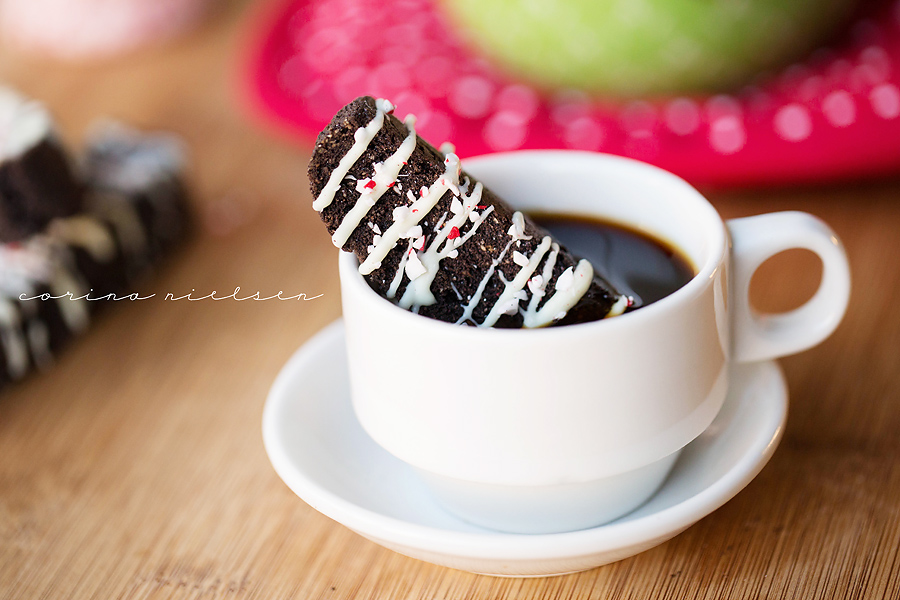 Mint Brownie Protein Biscotti

Print recipe
| | |
| --- | --- |
| Serves | 6 |
| Prep time | 5 minutes |
| Cook time | 40 minutes |
| Total time | 45 minutes |
| Meal type | Dessert, Snack |
Ingredients
1 cup almond flour
1 scoop PEScience Chocolate Protein (** 50% off at www.pescience.com using code CORINA50 **)
1/4 cup cacao powder
1/2 teaspoon baking soda
1/4 teaspoon salt
1/4 cup Mint Brownie MuscleEgg egg whites
2 tablespoons Peppermint Mocha creamer or almond milk
4 drops peppermint extract
50 drops Double Chocolate Sweet Leaf Stevia
2 tablespoons white chocolate chips (** topping **)
1 teaspoon coconut butter (** topping **)
1 heaped tablespoon crushed peppermint candies (** topping **)
Directions
Step 1
Preheat oven to 350 degrees and line a sheet pan with a silpat or parchment paper.
Step 2
Combine biscotti ingredients (first 9 listed) in a bowl or stand mixer. Mix until well incorporated and dough forms into one large ball.
Step 3
Take dough and shape into an even rectangle that is approximately 1" thick. Shape will roughly be 4"x 6 1/2" in size.
Step 4
Bake for 15 minutes, turn oven OFF, but leave the dough/pan in for 20-30 minutes.
Step 5
Slice biscotti into equal portions approximately 3/4"-1". Lay on cookies on their side and bake for an additional 15 minutes at 350 degrees. Turn oven off, but leave cookies in for an additional 10-12 minutes while oven cools.
Step 6
Remove from oven when cookies and let cool completely.
Step 7
Prepare topping by combining white chocolate chips and coconut butter in a small bowl. Melt in microwave on high in 15-20 second increments until smooth. Drizzle over cookies and top with crushed candies. Let set 10-15 minutes.
Note
NUTRITIONAL INFORMATION (makes 6 cookies): calories- 173, protein- 10 g, carbs- 12 g, fat- 12 g PER COOKIE