I've been eating chia seeds ever since I started my journey and often go in waves with eating them, but lately I seem to be addicted!  I already add them to my HUGE daily salads, but for the past few weeks I have also been addicted to chia seed pudding.  It's such a quick and easy make ahead snack and your imagination can run wild with different flavor combinations.  I will typically do 1-2 large batches of different flavors each week and then just eat it straight out of the mason jar, scoop some on my nightly ice cream sundaes or proyo (protein yogurt), and even use it as a topping for my pancakes and French toast!  It adds an interesting texture, extra nutrients and fiber, and of course another layer of flavor.
One of the best batches of chia seed pudding I have made recently was a very simply orange flavor!  It's intense, yet fruity and perfectly sweet.  It was a nice little change from the Winter flavors I have been eating for the past month… extremely refreshing!  Of course orange always lends itself well to chocolate (and who doesn't like chocolate) AND I do love pancakes (who doesn't love pancakes) so I figured this combination was a match made in heaven.  I could not have been more right.  Granted, there is so much going on in this stack but it's perfect down to the last bite…. I promise!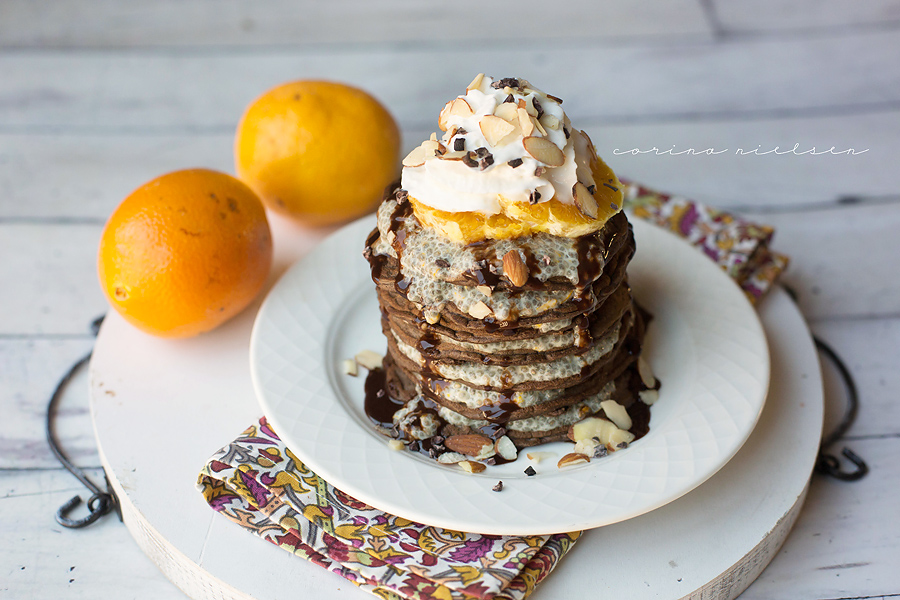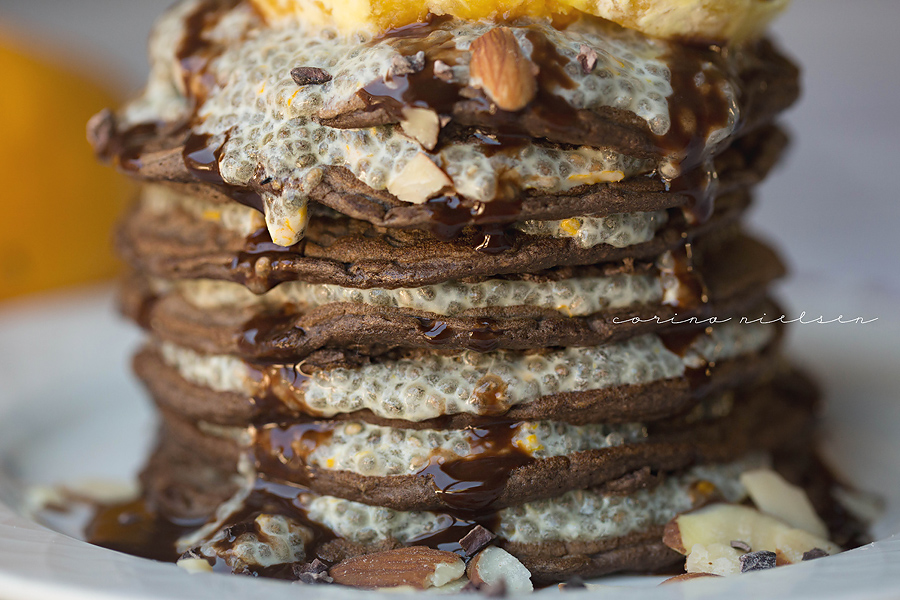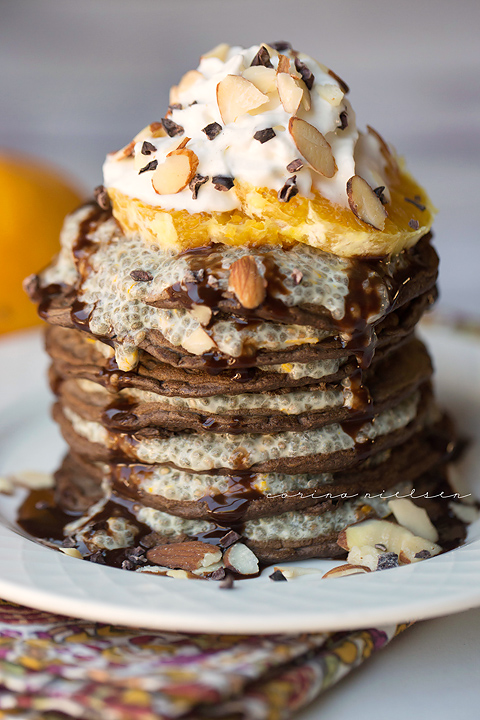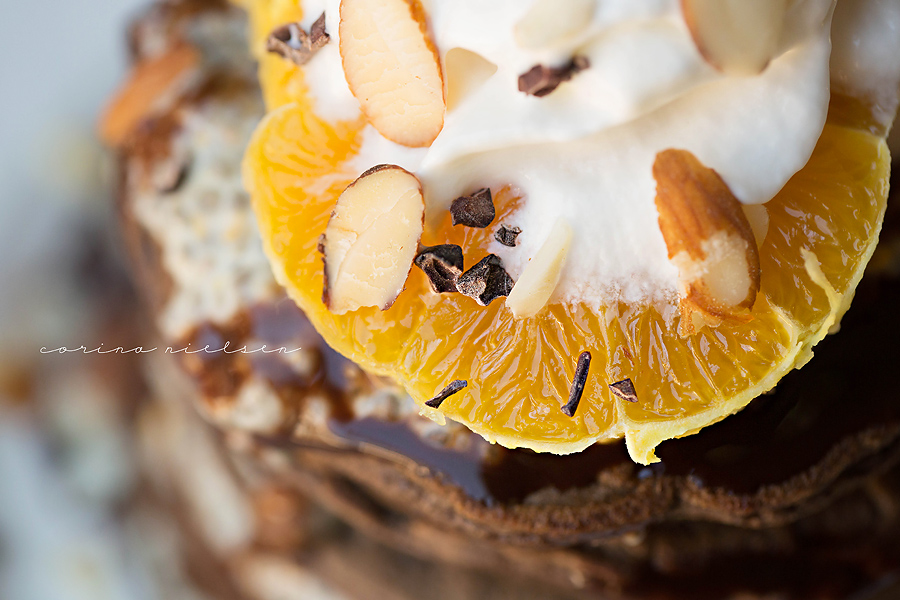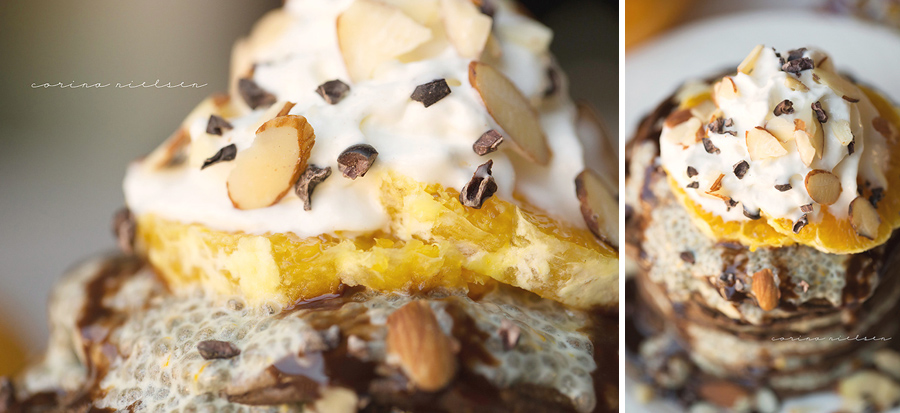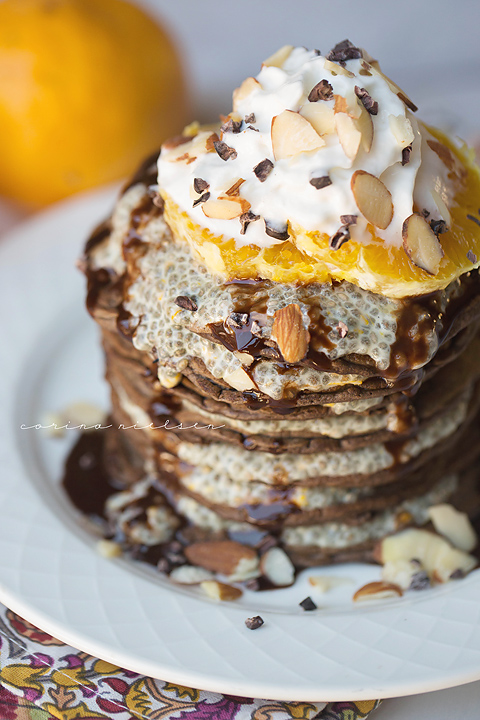 Chocolate Orange Protein Pancakes

Print recipe
| | |
| --- | --- |
| Serves | 1 |
| Cook time | 5 minutes |
| Meal type | Breakfast |
Ingredients
1/3 cup oat flour
2 tablespoons coconut flour
1 scoop Chocolate Truffle Truffle Protein
1 teaspoon baking powder
1/2 teaspoon baking soda
2 teaspoons fresh orange zest
1/4 cup fresh orange juice
1/4 cup Chocolate MuscleEgg egg whites
1/4 cup almond milk
50 drops Double Chocolate Sweet Leaf Stevia
2 tablespoons ChiAmazing chia seeds from MuscleEgg (** topping **)
1/2 cup almond milk (** topping **)
5 drops Orange Sweet Leaf Stevia (** topping **)
1/2 teaspoon fresh orange zest (** topping **)
1 tablespoon Emmy's Organics Chocolate Sauce (** topping **)
Optional
1 tablespoon sliced almonds (** topping **)
1 tablespoon cacao nibs (** topping **)
Directions
Step 1
Prepare chia seed topping first, by placing chia seeds, 1/2 cup almond milk, 1/2 tsp zest, and orange sweet leaf into a small container or bowl. Mix until well incorporated and let sit for 2-3 hours.
Step 2
Combine flours, protein powder, baking powder, baking soda, egg whites, 1/2 cup almond milk, sweet leaf, zest, and orange juice in a bowl. Mix until smooth.
Step 3
Preheat your skillet and coat with non stick spray.
Step 4
Cook pancakes 2-3 minutes per side. Layer with chia seed mixture and add orange slices, almonds, cacao nibs, etc. as desired.
Note
NUTRITION INFORMATION: calories- 464, protein- 46 g, carbs- 51, fat- 13 g