When I was younger, I couldn't even fathom the thought of eating a "loaf of meat".  I had no idea what kind of meat people used, how it was made, what was in it, or how it was cooked.   All I did know was anytime I ever saw meatloaf, it never really looked appetizing.  Ever.  Period.  It was always dark brown, smothered in some dark sauce which I assumed was gravy, and often times just had loads of onions on it (I wasn't an onion fan at the time either).  Then as I got older, my tastes in food changed, and I broadened the variety of foods I was trying, I decided I would get adventurous and actually give meatloaf a try while eating out one time… that little slice lived up to everything I thought meat loaf would be.  It was dry on the inside, flavorless (except for the cup of gravy it was smothered in of course), and of course still totally unappetizing to even look at.  I was disappointed but instead of turning my head at the loaf of meat idea forever, I decided to challenge myself and come up with a meat loaf that not only looked amazing but also tasted amazing.
After a couple of tries, I succeeded in a flavor profile for my loaf of meat that I LOVED!  My original recipe for meatloaf was more "Western" style with smokey BBQ sauce, finely chopped onions, green and red peppers, chili powder, and garlic.  I stuck with this staple recipe of mine for YEARS… at least 10 to be exact.  If I was making meatloaf for the family, this was the version they got every. single. time.  We all loved it so why try and fix what wasn't broken right?  Well, apparently it eventually did break…
A few months ago, my daughter asked me what we were having for dinner that night.  I said meatloaf and she immediately looked like I had told her she was grounded for the rest of her life.  Not only that, I also heard my husband give an unpleasant groan.  Rude.
Well, I didn't have a back up plan for my meatloaf dinner BUT I figured I would go ahead and try to change things up a little (they were getting this loaf of meat whether they liked it or not) and see what I could do to bring my meat loaf back to life since it was clearly going out of style.  I didn't have a lot of extra ingredients on hand BUT since we did have spaghetti a few nights prior and I tripled the amount of marinara sauce I usually make, I thought "What the hell, let's do an Italian meatloaf!"  Sounds good enough to me.  I usually add BBQ sauce, marinara?  Why not.
Words can't even express how ecstatic I am over this new version.  Like I said, I loved my Western one but it doesn't even come close to this one.  It's SO much better than I expected.  I feel like a HUGE idiot for not trying it sooner and even more of an idiot because I've done turkey meatballs SO many times… exact same concept and flavors, duh.  The thought of making a bigger version of that never even crossed my mind.  Anyways, the family LOVED this and although my daughter and husband were skeptical (my son eats everything so I'm never worried about him), BOTH requested the leftovers for work/school the following day.  Actually, this is a GREAT meal prep/ food prep idea!  DOUBLE SCORE!!!
Since we eat with our eyes first anyways, I personally think it's a little difficult to NOT want to give this loaf of meat a try.  I think it looks kinda perfect actually….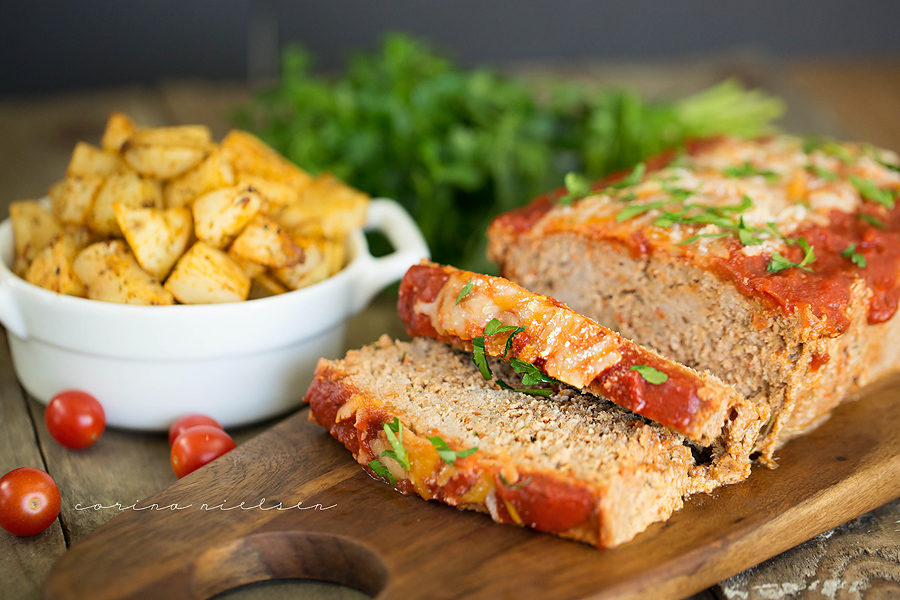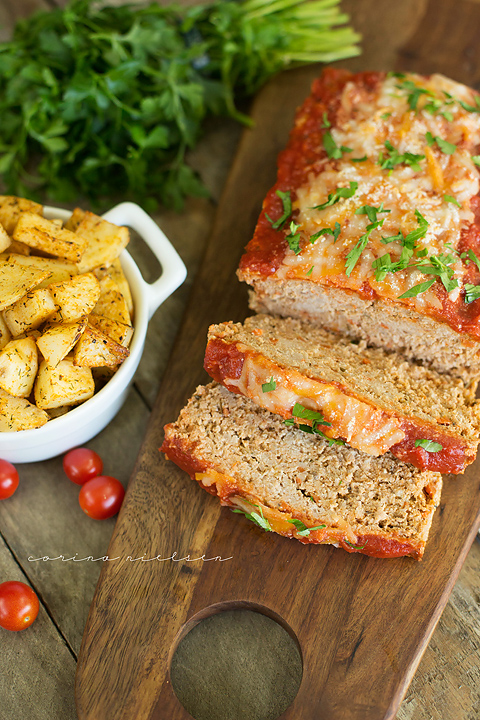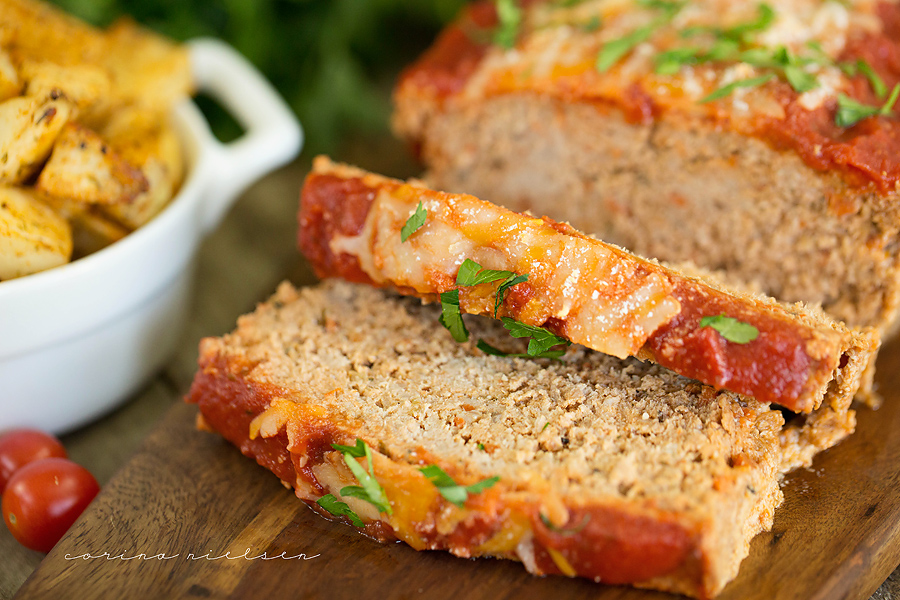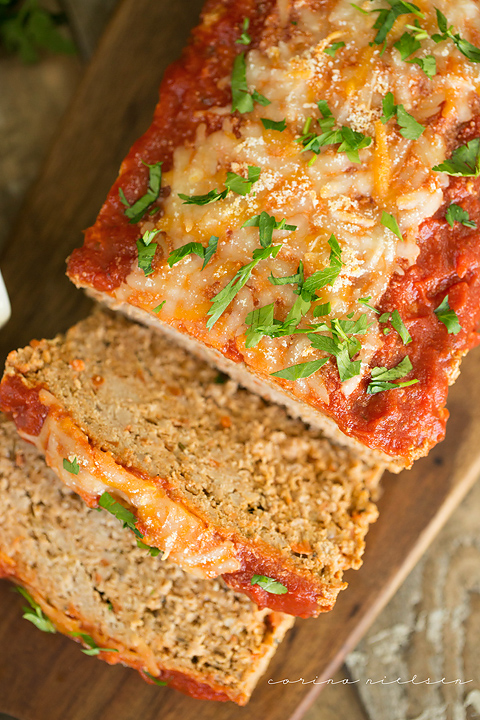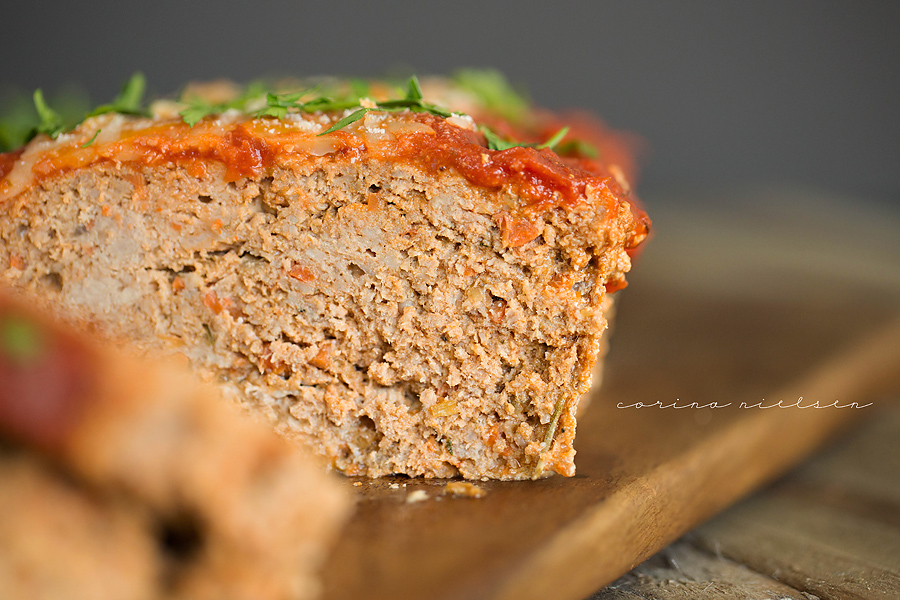 As with my Western meatloaf, roasted garlic and dill potatoes are a must… haven't written a recipe for them because it's so simple:
3-4 large potatoes peeled & cut into 1-2″ pieces, coat with 1-2 tbsp of olive oil, 1 tbsp of chopped garlic, seasoned with salt, pepper, dried dill, garlic powder, paprika (sorry, no measurements because I just sprinkle until it looks good).  Roast at 375 degrees for 30-40 minutes until golden brown.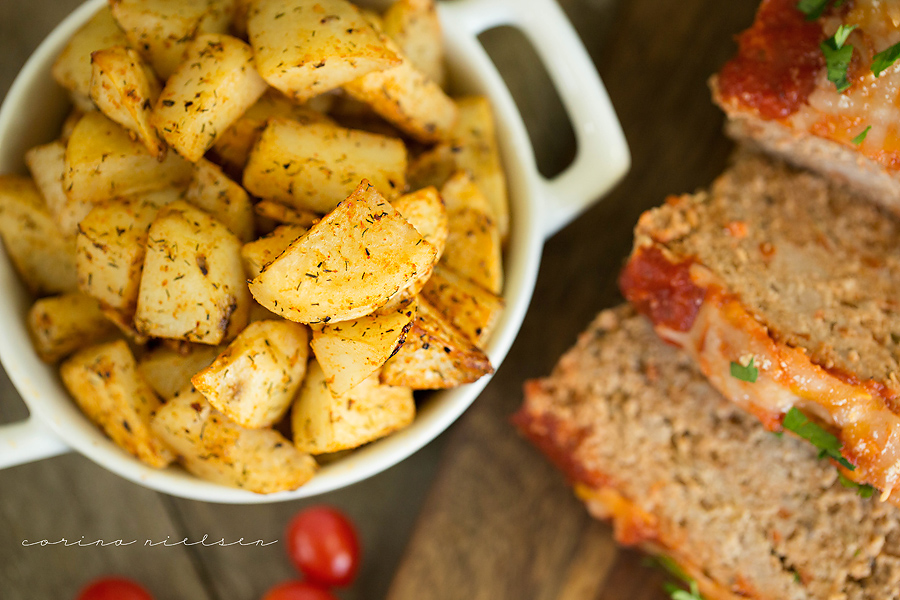 Dinner is served!!!  I expect to see lots more of this meatloaf in my future!
You can find the recipe for my basic marinara sauce HERE!!!
Italian Turkey Meatloaf

Print recipe
Ingredients
3lb 93/7 ground turkey
3 Jennie O Sweet Italian Sausage Links
1 Medium carrot
1 Medium celery stalk
1 Small onion
1 tablespoon garlic
2 tablespoons tomato paste
1/4 cup chicken stock, white wine, or sherry vinegar
2 Large whole eggs
1 cup marinara (divided)
1/4 cup dried italian bread crumbs
1/2 teaspoon salt
1/4 teaspoon pepper
1/2 teaspoon oregano
1/2 teaspoon thyme
1/2 cup Italian cheese blend
1/4 cup parmesan cheese
1 heaped tablespoon fresh chopped parsley
Directions
Step 1
In a medium saute pan, cook chopped carrot, celery, and onion for 3-5 minutes until soft. Add garlic and cook for an additional minute. Add tomato paste and stir until well distributed. Deglaze pan with chicken stock or wine and stir until just dissolved. Remove from heat and let rest. Once completely cooled, place everything in a small food processor and roughly chop (3-5 short pulses just enough to make a thick paste).
Step 2
Preheat oven to 350 degrees and coat a loaf pan with non stick spray.
Step 3
In a large bowl, mix eggs, spices, 1/2 cup of the marinara sauce, and breadcrumbs. Add ground turkey, sausage, and vegetable mixture. Using your hands, combine all ingredients until everything is evenly incorporated.
Step 4
Add meat mixture to loaf pan and make sure it is even and and the top is level. Top with marinara remaining sauce.
Step 5
Cook for 50-60 minutes until internal temperature is 160 degrees F and sides have started to pull away from the sides.
Step 6
Remove from oven and add cheeses. Return to oven and broil for 2-3 minutes until cheese is melted and slightly browned. Finish with fresh parsley.