I had to sneak one more QUICK Valentine's Day goody in!!!  Short, sweet, and to the point today because I have two kids home from school, a husband who just to home from a brutal work week, and a long to do list to power through!  This recipe really is a no brainer though and absolutely irresistible!  I intended on making these for my husband but this little batch barely made it out of the oven before I attacked them myself.  One bite to taste test it and the next thing I knew all three were gone.  However, I was gracious enough to give my husband a teeny tiny little nibble and he requested another batch to be made immediately, for HIM!!!  That convinced me my tastebuds weren't deceiving me.  No problem, I got another 20 minutes for ya babe… I even kept my hands off of his batch to take a few pics…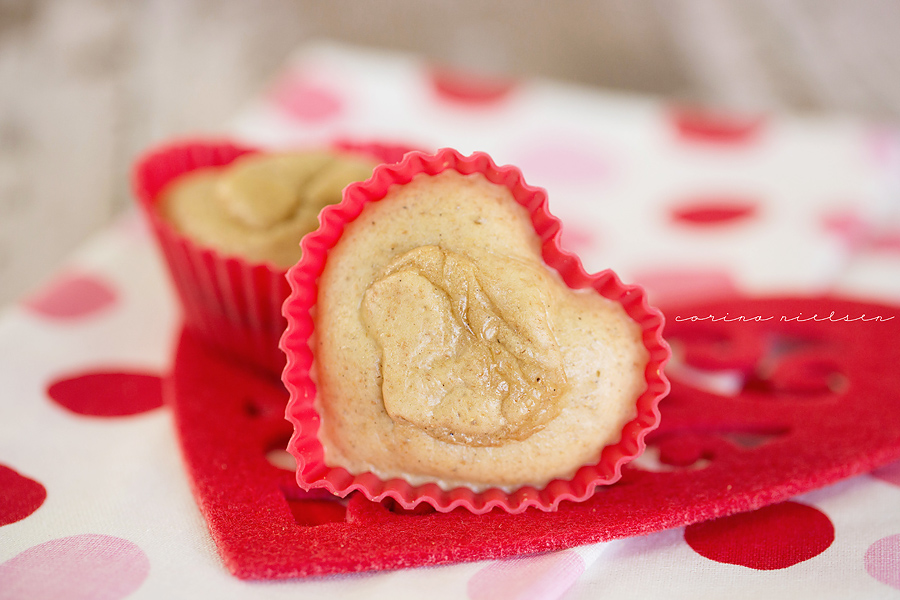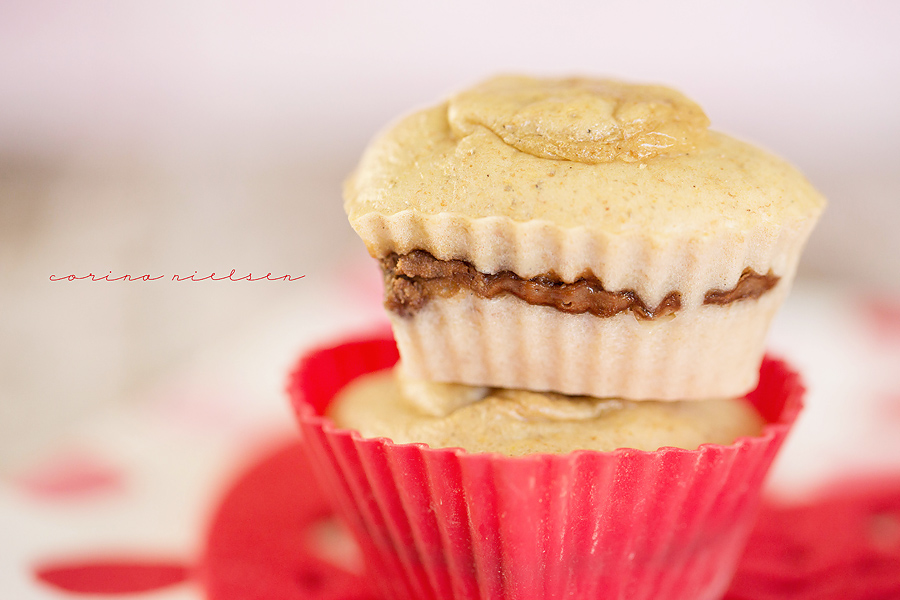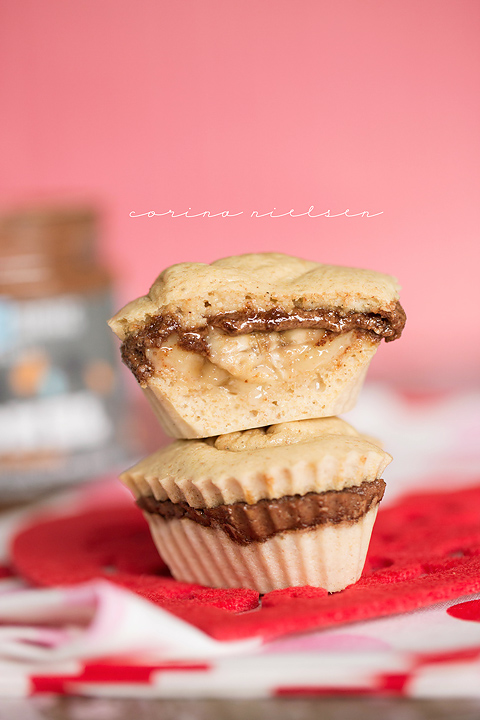 Here is the real magic behind these sweet little love cakes.  Words can't describe how in love I am with these nut butters…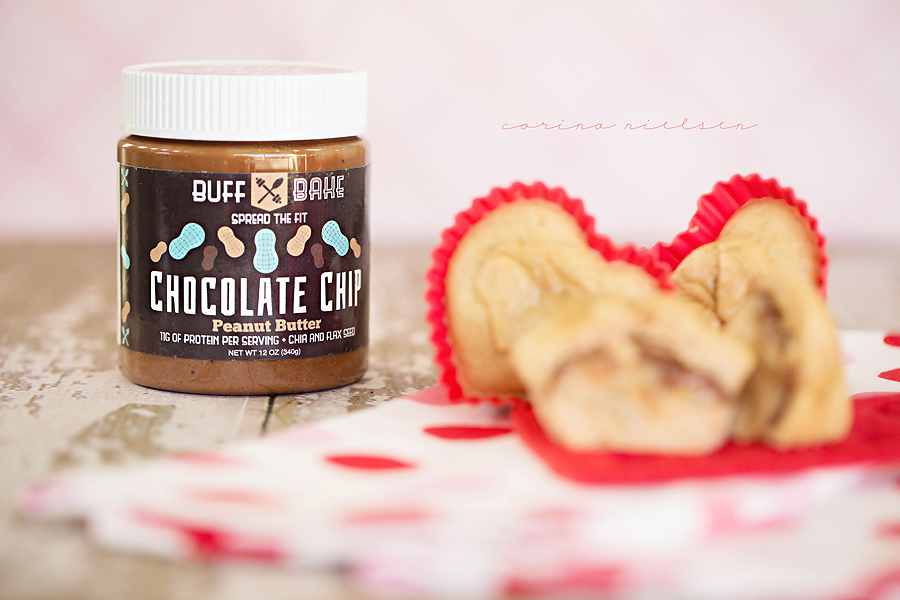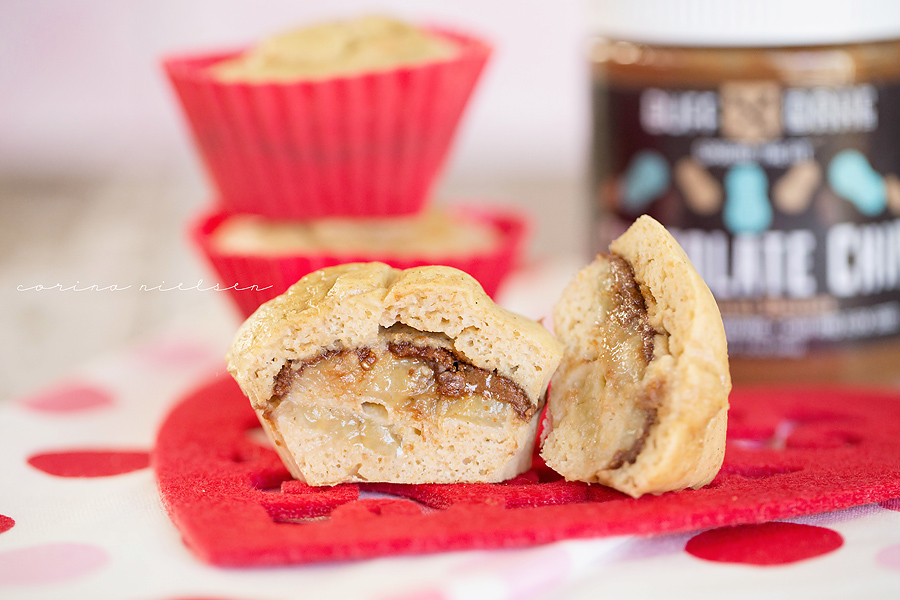 I added a teeny tiny bit of protein powder to the batches I made but it's not entirely necessary… it will add some good flavor, a bit of extra sweetness, and of course more protein!  If you choose to omit it, no problem!  You can simply use a little less milk OR add more Kodiak mix.  Batter should be similar to regular cake or pancake batter!!!  Easy peasy baking with Kodiak 🙂
Chocolate Chip Peanut Butter Smothered Banana Cakes

Print recipe
| | |
| --- | --- |
| Serves | 3 |
| Prep time | 5 minutes |
| Cook time | 15 minutes |
| Total time | 20 minutes |
| Meal type | Dessert, Snack |
Ingredients
1/4 cup Kodiak Power Cakes
2 tablespoons Vanilla MuscleEgg egg whites (or plain egg whites)
3 heaped tablespoons milk of choice
1/2 Medium thinly sliced banana
3 heaped tablespoons BuffBake Chocolate Chip peanut butter
Optional
1 tablespoon PEScience Cookies & Cream Select protein (or 1 more tbsp Kodiak)
2 teaspoons stevia or sweetener of choice
Directions
Step 1
Preheat oven to 350 degrees and line a cupcake pan with liners/coat with non stick spray OR use silicon molds.
Step 2
In a small bowl, mix Kodiak Cakes, protein powder, almond milk, and egg white (sweetener as well if desired) until smooth.
Step 3
Place 1 heaped tablespoon of batter into cupcake pan/liner OR silicon mold, add a few slices of banana to cover batter, then 1 tablespoon of peanut butter to cover bananas, and top with 2 additional tablespoons of batter to cover peanut butter. Repeat process to make 2 more cupcakes.
Step 4
Bake for 15-17 minutes until top is completely set, remove from oven, and let cool.
Note
NUTRITIONAL INFORMATION (makes 3 cupcakes): calories- 155, fat- 8 grams, carbs- 10 grams, protein- 12 grams PER CUPCAKE