While shopping at Sprouts last Fall for my usual staples (brown rice tortillas, no salt added garbanzo & black beans, various veggies, fruits, black bean pasta, Arctic Zero Ice cream, puffed kamut cereal, and Zevia), I stumbled upon these "pumpkin snap" cookies that were being displayed on the end cap.  They were calling my name and sucked me right in.  Usually I'm not a fan of hard and crisp cookies (I'm a soft, squish, and under cooked kinda girl), but I figured what the heck, let me give these a whirl.  Tis' the season for all things pumpkin and all.  I was pleasantly surprised at how flavorful they were and although they aren't a soft cookie as I prefer, I was sold on them.  Addicted is probably more accurate.  I think my daughter and I went through a whole bag of them in about a week.  I was putting a couple of cookies in her lunch, grazing on them myself during the day as well as crumbling them on top of my waffles, pancakes, and ice cream sundaes.  They are scrumptious!  Warm, comforting, not overly sweet, with a hint of pumpkin and cinnamon.  Yum!
Of course the next time I found myself at the store, I had to grab another bag.  In addition to how my daughter and I were eating them already, my mind had something else brewing for these sweet little crisp cookies!  I knew they would function as the perfect "scoop" for a sweet protein hummus I had been dreaming about (yes, I absolutely dream and day dream about food constantly).  Also at this time, I had just signed on with PEScience and my tub of their AMAZING "Snickerdoodle" protein was just begging to be used!  Pumpkin and Snickerdoodle are a match made in heaven!  This snack was EVERYTHING I had dreamed of… and probably more.
I realize that it may be March now and all things pumpkin are over for the time being, so I was shocked the last time I went to Sprouts and saw that they STILL had these Pumpkin Snaps.  I thought for sure this was a seasonal item, but I guess not.  I think it might be stocked regularly!!!!  YES!!!!  I grabbed a bag and first thing I did when I got home was make another batch of my "Snickerdoodle" protein hummus!  It's SO SO simple, takes barely any effort at all (totally idiot proof), few ingredients (almost qualifies as one of my "Under 5″'s), and you can easily adjust the flavors to your preference.  Also, even though I intended to use it solely with the pumpkin cookies, I've snacked on it with apples, bananas, on a rice cake, smeared on bread, and even slathered on a tortilla.  Super super versatile!!!  It's SO good.  PEScience "Snickerdoodle" is A-MAZING!!!!!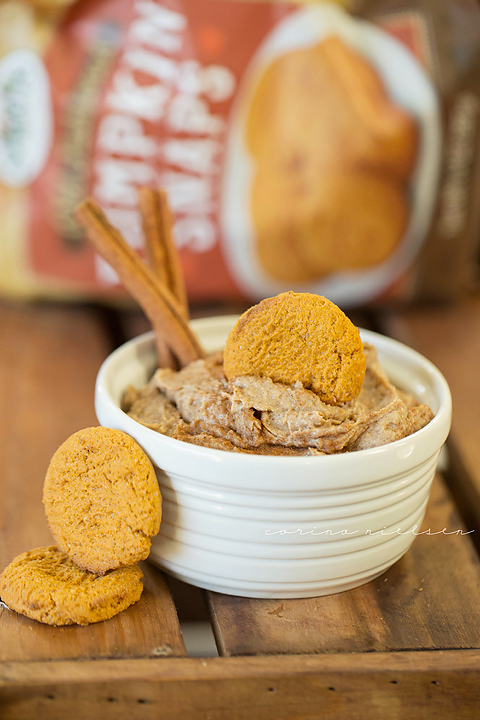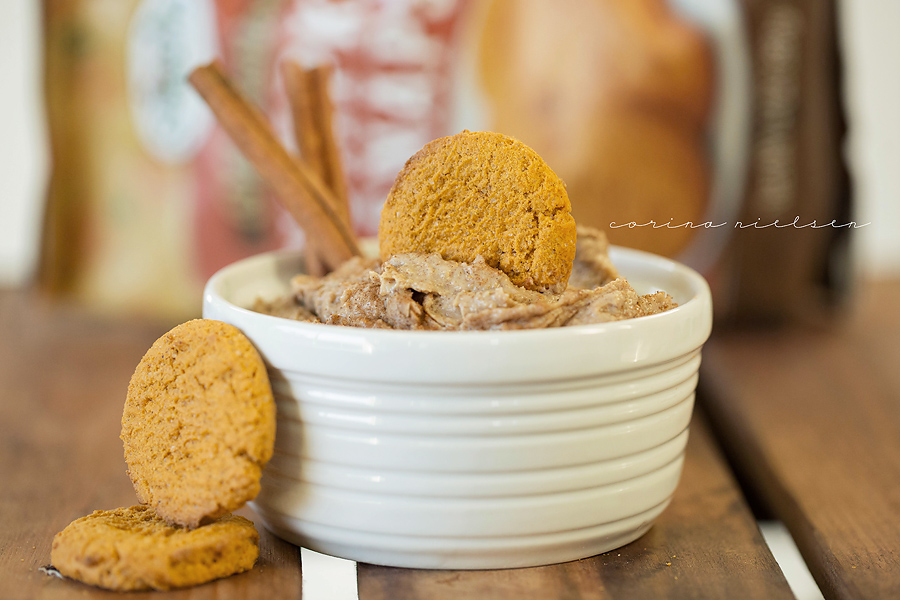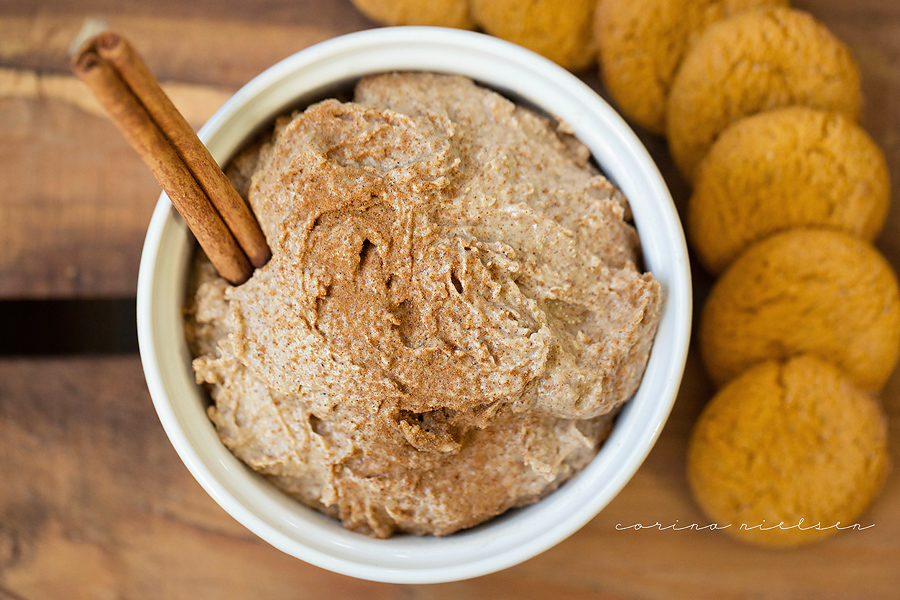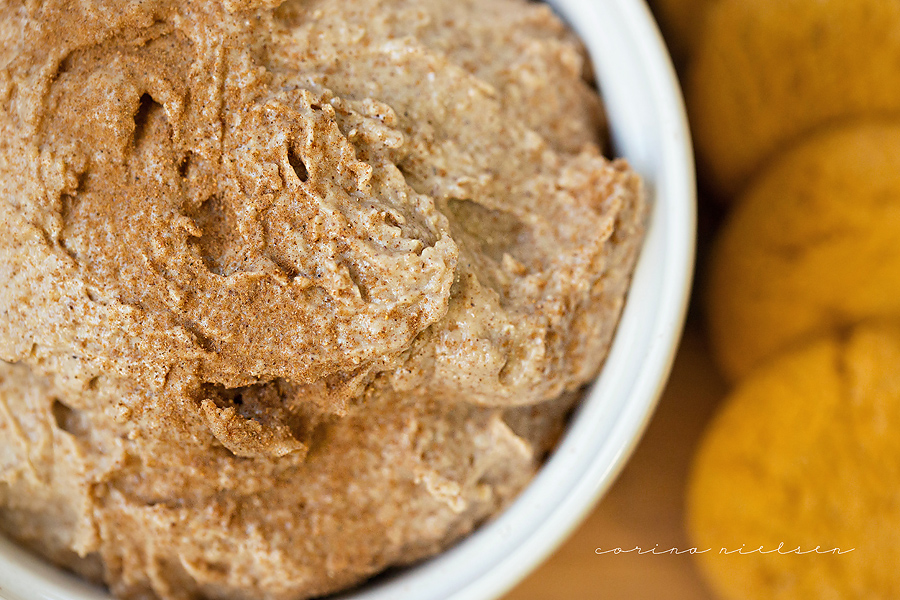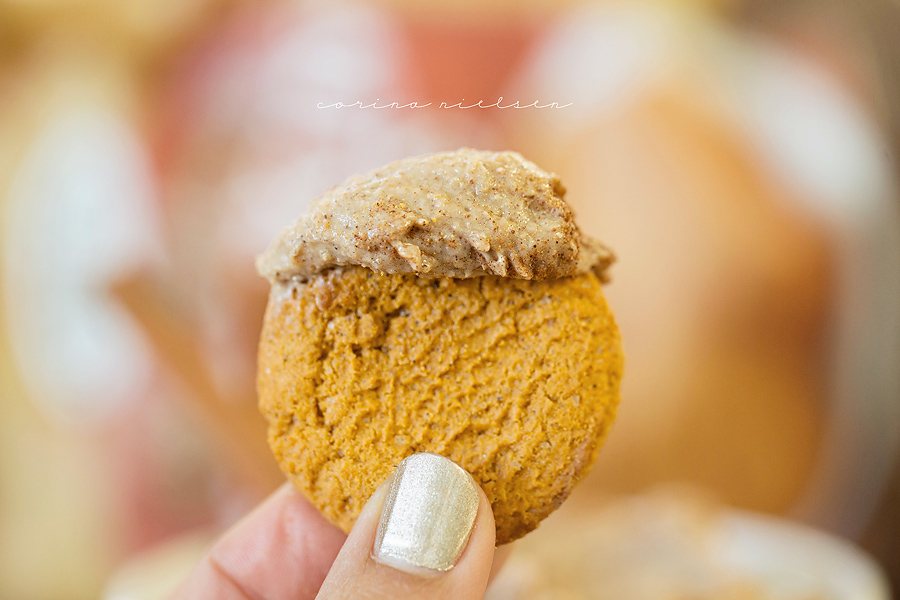 Sweet Snickerdoodle Protein Hummus

Print recipe
Ingredients
15oz garbanzo beans (no salt added)
2 heaped tablespoons BuffBake Snickerdoodle almond butter (or almond butter of choice)
1 teaspoon vanilla extract
50 drops English Toffee Sweet Leaf (or sweetener of choice)
1 1/2 scoop PEScience (30% OFF coupon below)
1 1/2 teaspoon cinnamon
1/2 cup milk of choice
Directions
Step 1
Drain/rinse 1 can of garbanzo beans and place them in a food processor. Add protein powder, cinnamon, vanilla, almond butter and 1/4 cup of milk/water. Blend until smooth and adjust consistency by adding more liquid if desired.
Note
NUTRITIONAL INFORMATION (makes 10 servings): calories- 76, protein- 6 grams, carbs- 8 grams (3 grams fiber), fat- 3 grams