Breakfast will always be my favorite meal of the day and although the ingredients rarely ever change, the form of my egg scrambles does every so often!  I've mentioned many times that my go to first meal is a HUGE veggie & egg scramble.  I not only love vegetables, but they also provide so much nutrient dense volume in food/meals.  Sometimes I like tricking myself into thinking I'm eating for 2, 3, or 4 people and vegetable definitely provide that HUGE portion size for me.  Its usually just easier whipping up a quick scramble but I had a bit more time one day and was itching to try something a little bit different that was inspired by my recent low carb chicken taco dish. This took a couple of more easy steps than my usual breakfast, but 100% entirely worth it!!!  I'm pretty impress with the results actually…
Isn't it so beautiful?  So full of color, different textures, and all things perfect to get your day started on the right track!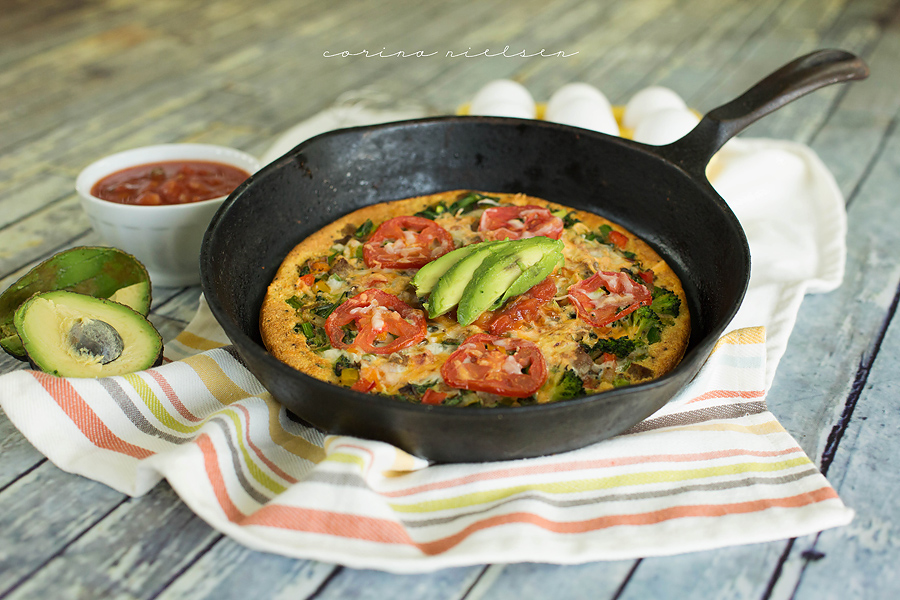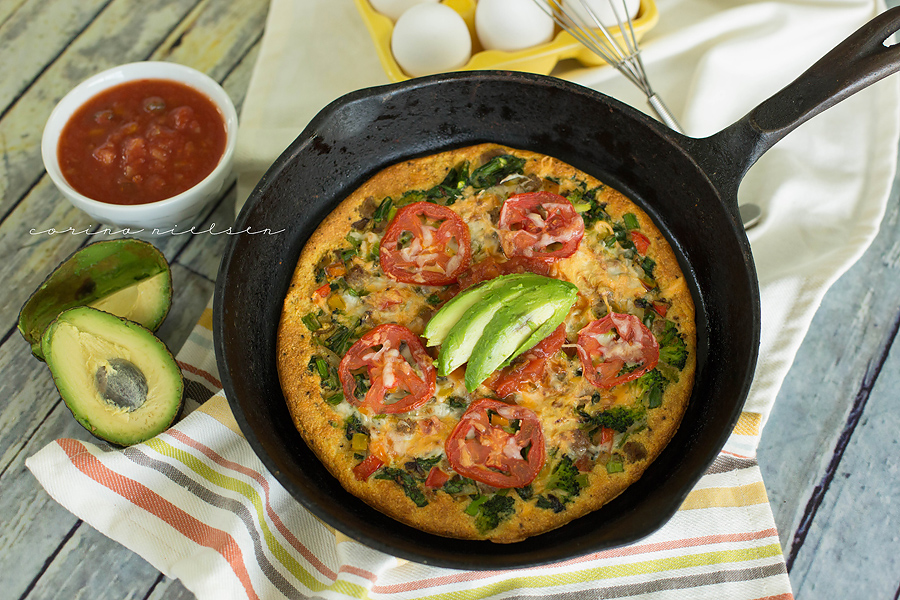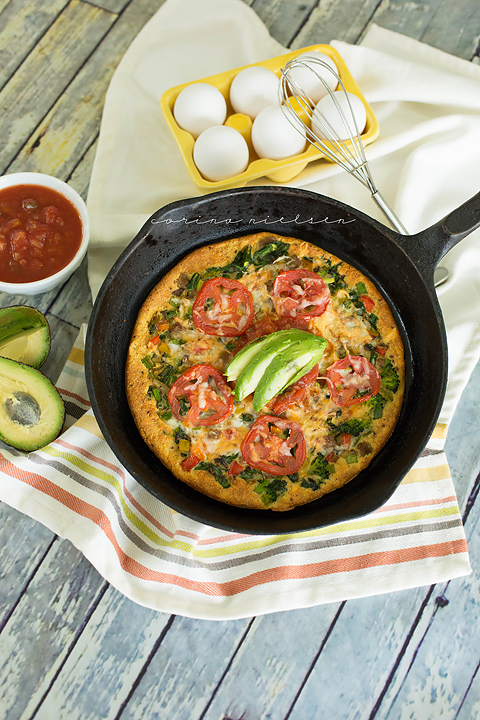 I still can't get over this "crust"… popping it in the oven to toast up the edges makes ALL the difference in the world!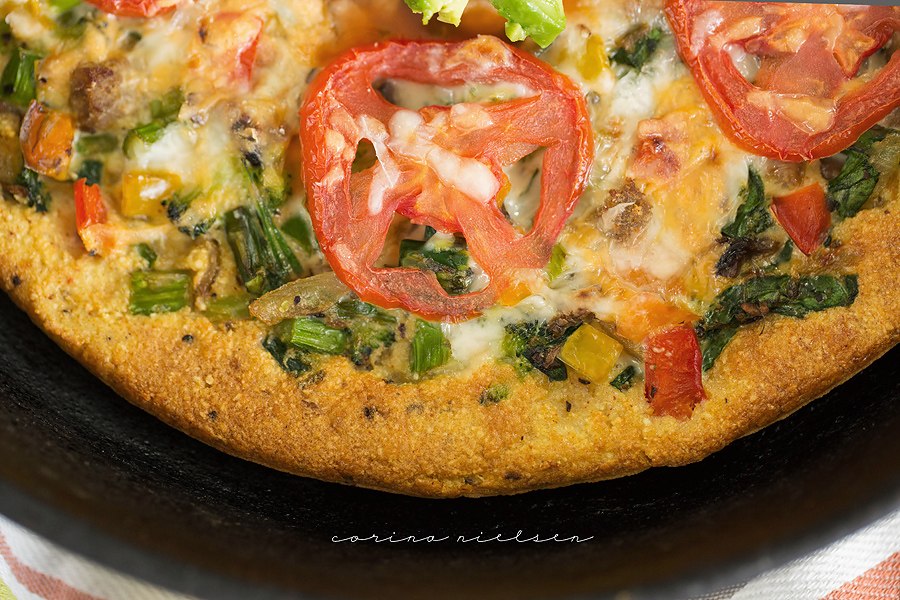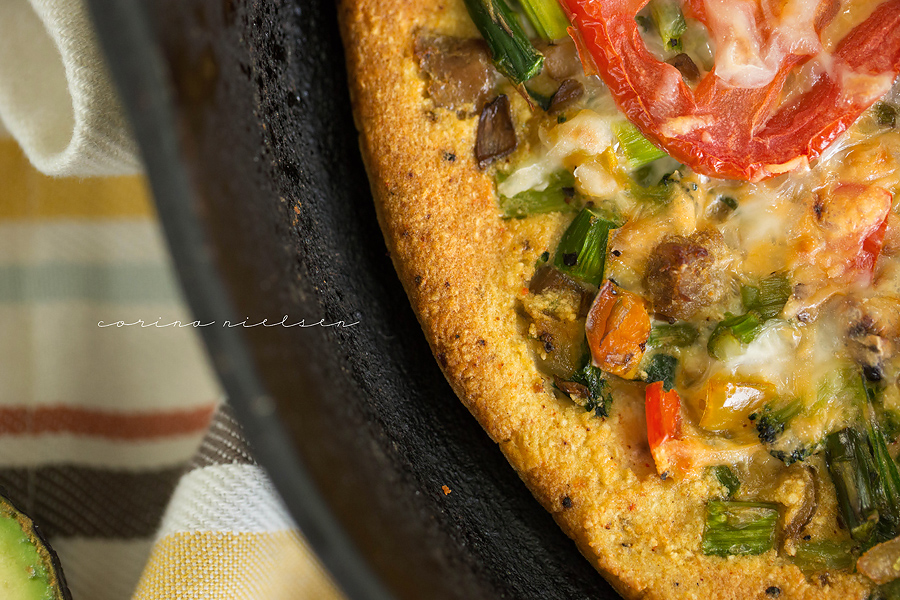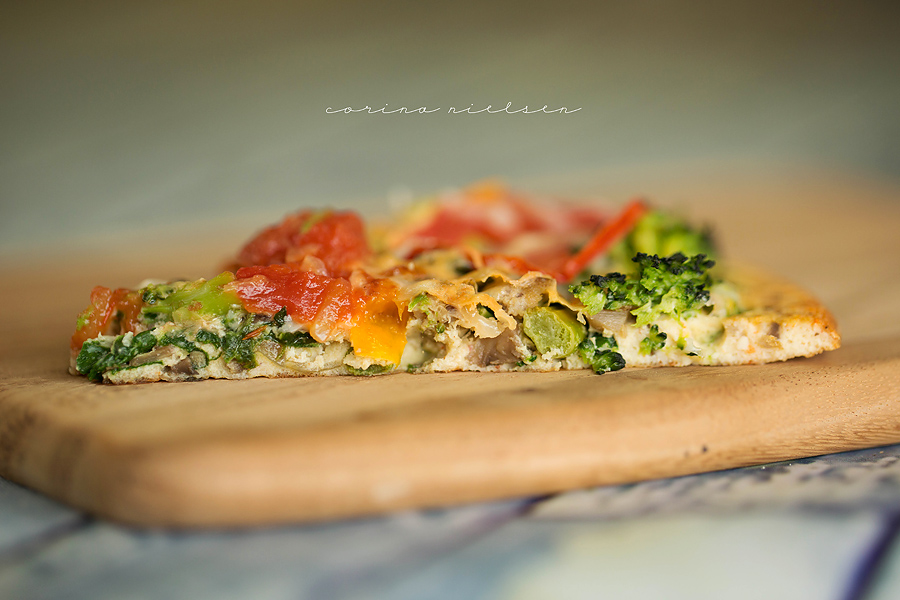 It even cuts and folds just like a pizza…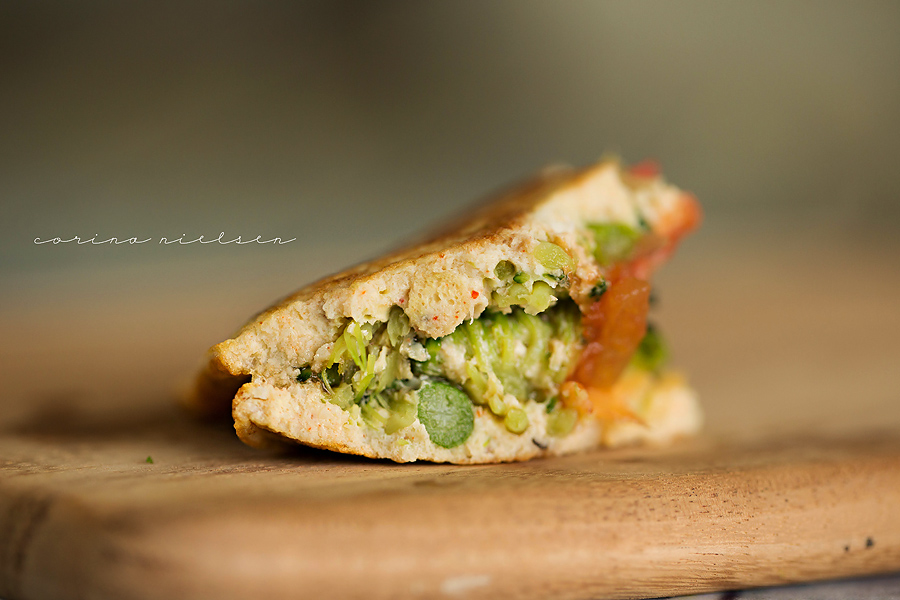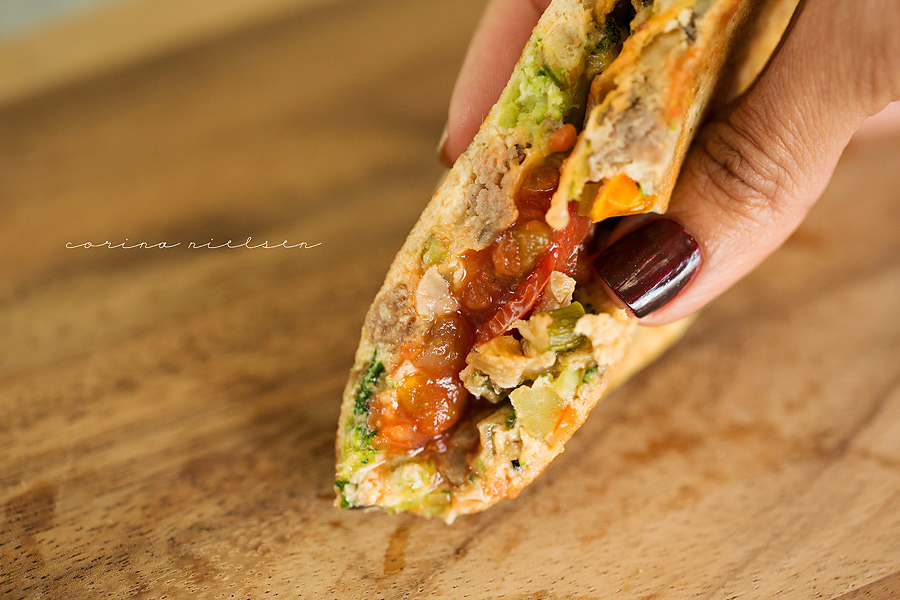 Low Carb Mexican Breakfast "Pizza"

Print recipe
| | |
| --- | --- |
| Serves | 1 |
| Prep time | 10 minutes |
| Cook time | 10 minutes |
| Total time | 20 minutes |
| Meal type | Breakfast |
Ingredients
1 Large whole egg
1/2 cup Organic MuscleEgg egg whites
1 1/2 tablespoon coconut flour
1/8 teaspoon salt
1 pinch pepper
1/8 teaspoon garlic powder
1/4 teaspoon Fiesta Lime Mrs. Dash seasoning
3 teaspoons finely chopped onion
3 tablespoons mixed bell peppers
1/4 cup chopped mushrooms
1/2 cup chopped broccoli
1/4 cup chopped asparagus
1 Small tomato (thinly sliced)
1/2 cup fat free shredded cheese
3-4 tablespoons salsa
1/2 Medium avocado
Optional
1-2oz sausage or chorizo (cooked & chopped)
Directions
Step 1
Preheat oven to 375 degrees AND heat an oven safe sauté pan or shallow cast iron skillet on your stove top. Coat with non stick spray/oil of choice.
Step 2
Combine egg, egg whites, coconut flour, and all seasonings in a large bowl. Mix until frothy and well incorporated. Set aside.
Step 3
Saute veggies under low-medium heat for 3-5 minutes until softened. Remove from heat and place in a small bowl. ** You can omit this step if you prefer your veggies raw **
Step 4
Recoat pan/skillet with non stick spray and pour in egg mixture ensuring it reaches the edges. Cook 1-2 minutes and turn off heat.
Step 5
Sprinkle sautéed (or raw) veggies (and optional chopped sausages) onto "pizza", add sliced tomatoes, cheese, and place in the oven for 8-10 minutes until edges are golden brown. They will begin to curl slightly as well.
Step 6
Remove from oven and and add salsa, avocado, and a squeeze of lime.
Note
NUTRITIONAL INFORMATION: calories- 280, fat- 6 grams, carbs- 21 grams, protein- 34 grams