Did you know I am a self proclaimed "French Toast Queen"?  It's true and I have mentioned it many times before!  I used to make a fresh stack for myself just about each and every single day (usually for my pre workout meal).  I came up with all sorts of fun combinations and flavors.  I'm not even sure that I ever had the same stack twice because I was always throwing a bunch of new things together for my stacks.  Pancakes, waffles, oatmeal, and French Toast serve as the perfect "vehicles" of food to get creative with.  You use the same base recipe and then easily change the flavors depending on your mood and what you have in your pantry/fridge.  And honestly, one simply cannot ever get tired of breakfasts foods.  I could eat them morning, noon, and night!
It had been awhile since I whipped up a stack of my protein packed French Toast, I was completely out of my Kodiak pancake/waffle mix, and I was craving something with a little bit more texture than oatmeal.  I wanted something filling, rich, and PACKED with flavor from beginning to end.  French Toast to the rescue of course and this combination right here was outstanding!  So many flavors and textures in each bite.  These look entirely and truly decadent don't they?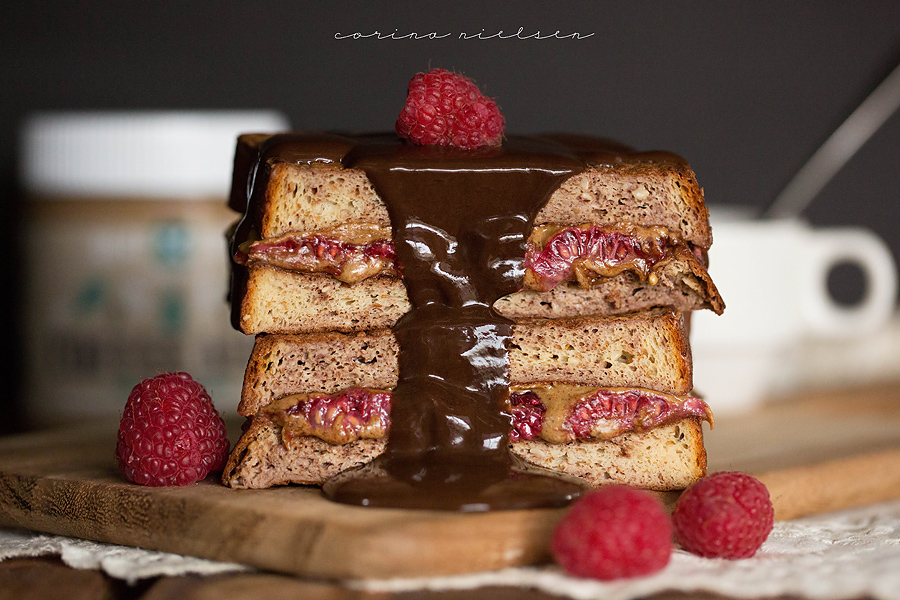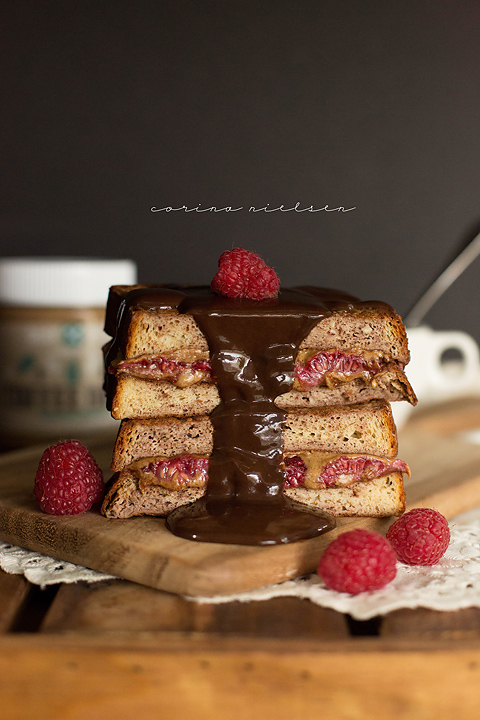 Of course, the "stuffing" has to go all the way to the edges!  I'm very particular about each and every bite I take.  I like equal flavor parties from the first to last bite and everything in between!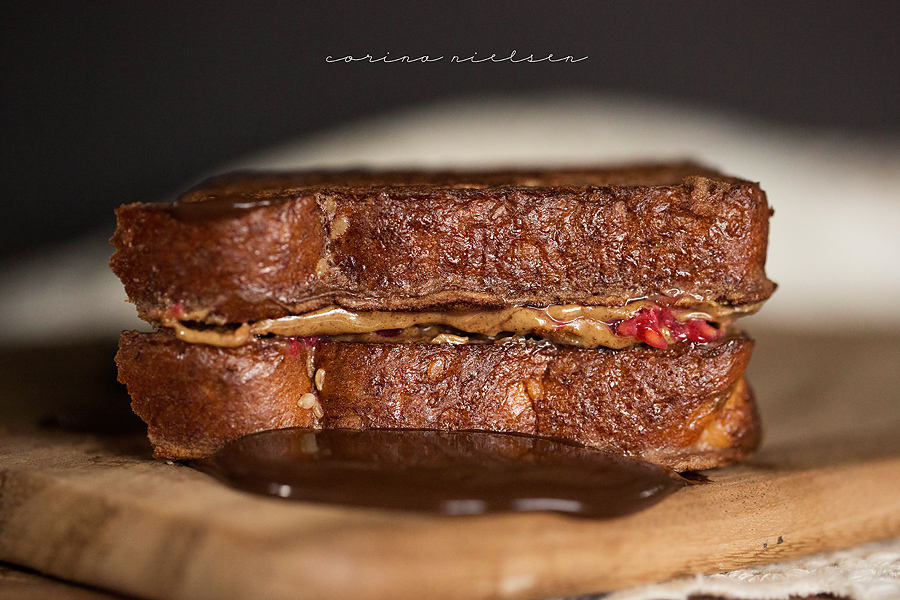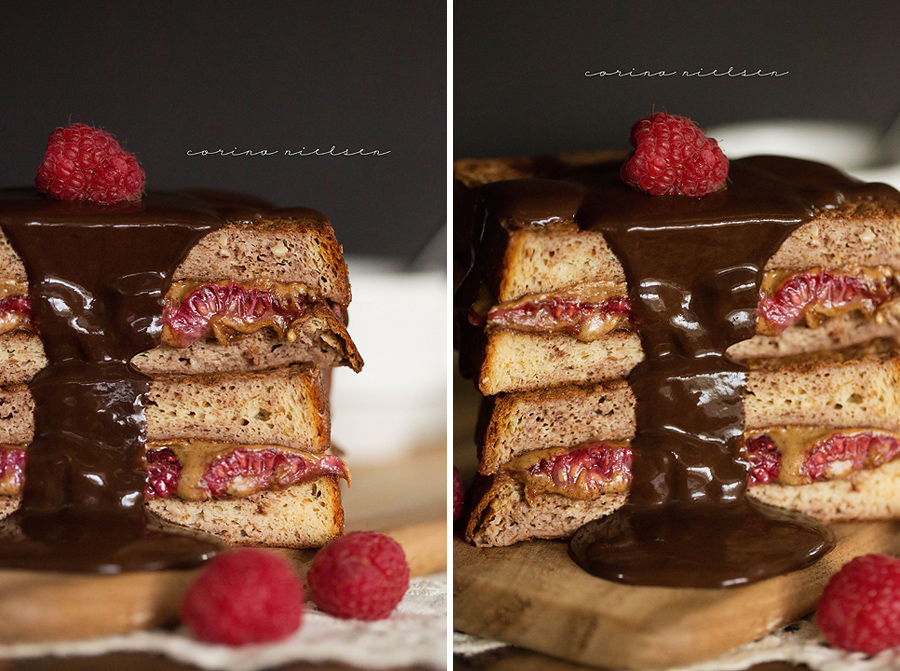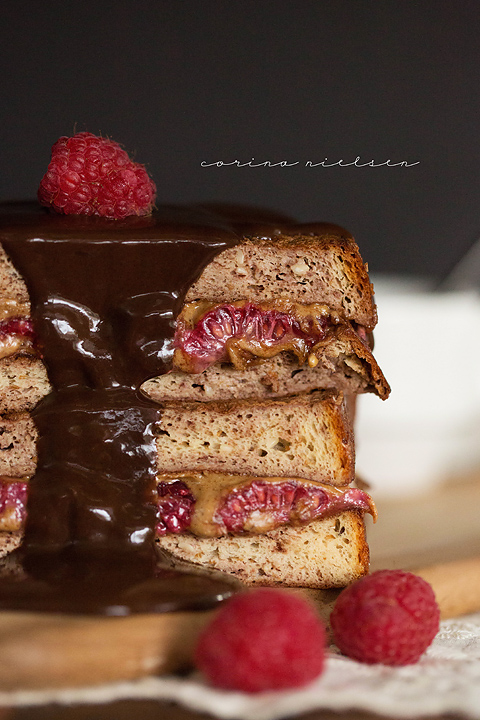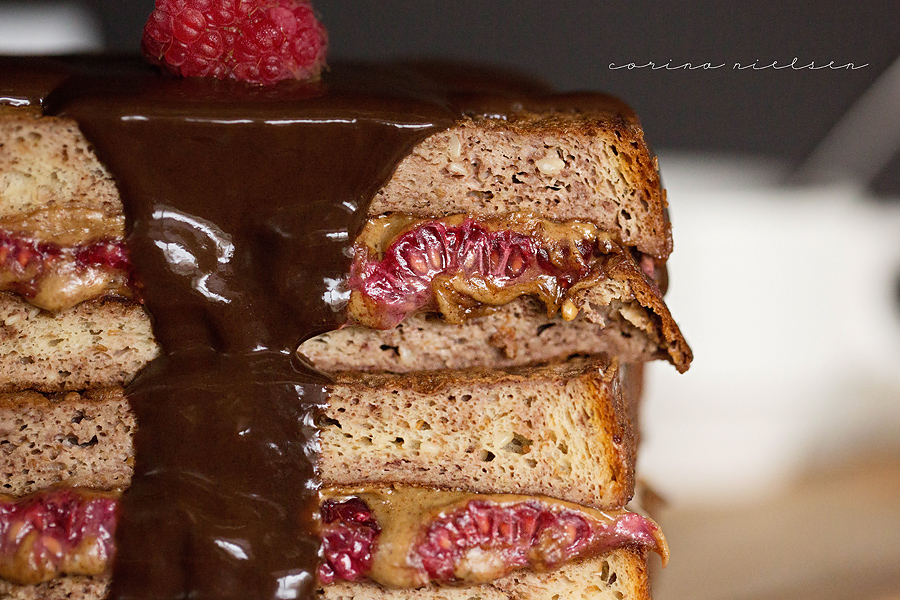 Raspberry Almond Mocha Stuffed French Toast

Print recipe
| | |
| --- | --- |
| Serves | 1 |
| Prep time | 10 minutes |
| Cook time | 10 minutes |
| Total time | 20 minutes |
| Meal type | Breakfast, Dessert |
Ingredients
1/2 cup Chocolate MuscleEgg egg whites
3 tablespoons cold brewed coffee or espresso
1/2 scoop Milk Chocolate PEScience Protein (30% off coupon below)
2 slices of your favorite bread
1/2 teaspoon vanilla extract
1 teaspoon cacao powder
1/4 cup raspberries
1 tablespoon Coffee Bean Buff Bake almond butter (or almond butter of choice)
2-3 tablespoons Walden Farm's Chocolate Sauce
Directions
Step 1
In a shallow bowl, mix together egg whites, protein powder, coffee, vanilla, and cacao powder. Place bread in mixture and let soak for 5-7 minutes until most of the liquid is absorbed.
Step 2
Preheat a griddle/pan and coat with non stick spray. Cook bread 2-3 minutes per side until golden brown.
Step 3
Slather each slice of bread with almond butter, top with chopped raspberries, and stack to enjoy!
Note
NUTRITIONAL INFORMATION (will vary depending on your bread): calories- 346, protein- 40 grams, carbs- 27 grams (16 grams fiber), fat- 14 grams using 2 slices of Thin Slim Foods bread
If you are interested in receiving 30% OFF on Milk Chocolate Select protein or any other PEScience products, use my code CORINA at checkout on www.pescience.com