Here we are yet again friends.  More adventures in "baking with beans".  Had you told me 2 years ago that beans would be a staple in my pantry, I would have told you that you were absolutely crazy.  Like I have mentioned a few times now, up until last year I had never touched a bean in my whole life, let alone eaten one, and never in a million years would have thought to bake with them.  Yuck yuck yuck.  Boy was I missing out!!!  Not only do you not taste beans, you don't even recognize any type of bean texture.  The result when you bake with them is simply just dense and chewy.
For this round of bean baking, I decided to try out the new PEScience Select Protein flavor "Peanut Butter Cup"!!!

Oh my dear God… this new protein is absolutely DELICIOUS.  So rich in flavor.  The company hit the nail on the head with this one.  And as always, one of the VERY VERY few protein powders my sensitive tummy can tolerate.  The blend of casein and whey is ideal for baking as well!  Of course I had to pair this with some of my favorite chocolate MuscleEgg action!  Nothing on the market comes anywhere close to the quality and taste of MuscleEgg.  This makes getting my daily protein requirements in EVERY single day a breeze!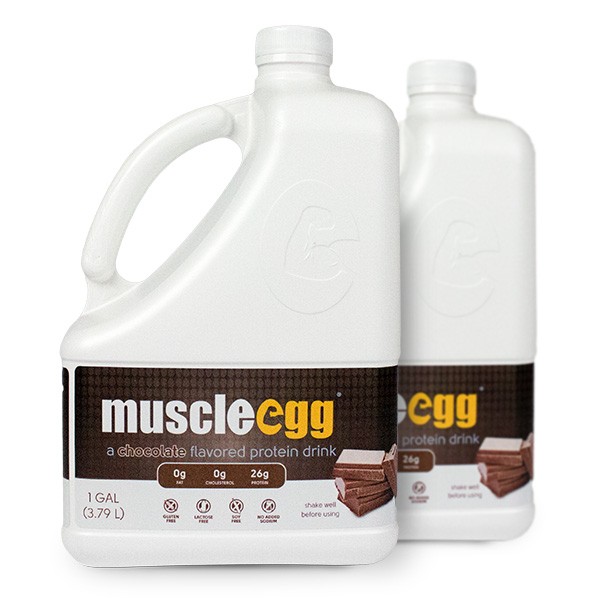 I also never bake anymore without my trust Kodiak POWER cakes!  Whole grain, high protein, and extremely versatile for all your baking needs!!!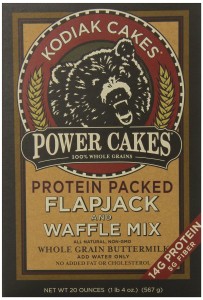 And last but not least, we can't have Peanut Butter Cup anything without PEANUT BUTTER right?  I paired these treats with some Nuts'N More high protein spread!!!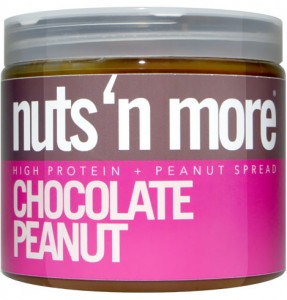 All of my ingredients played so well together…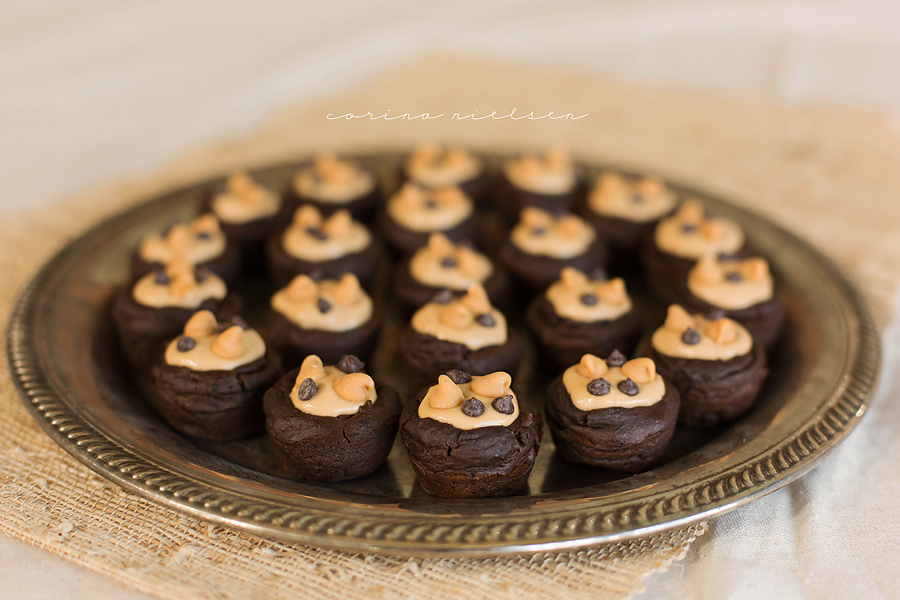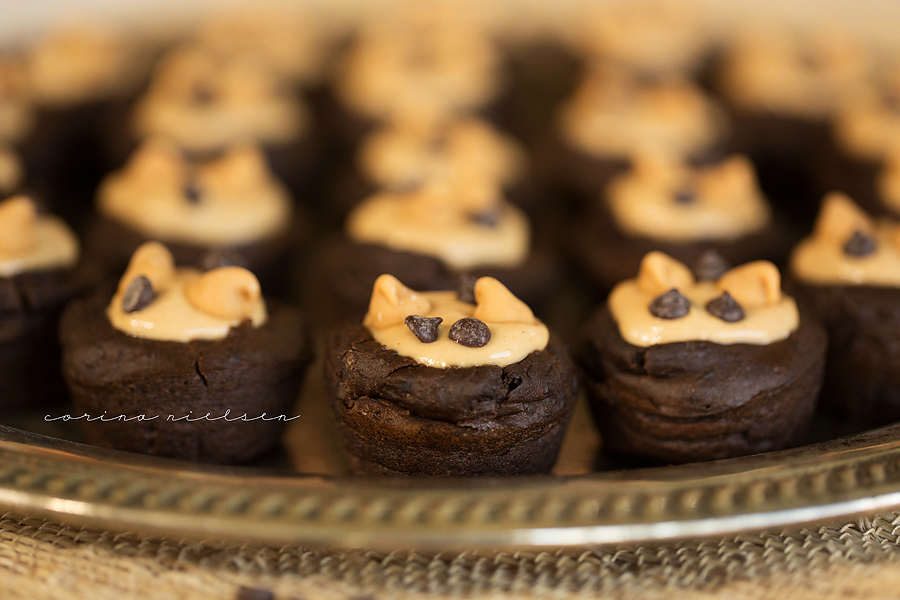 How adorable are they?  Bite sized anything is always a good thing.  It's just so easy to grab and pop them in your mouth!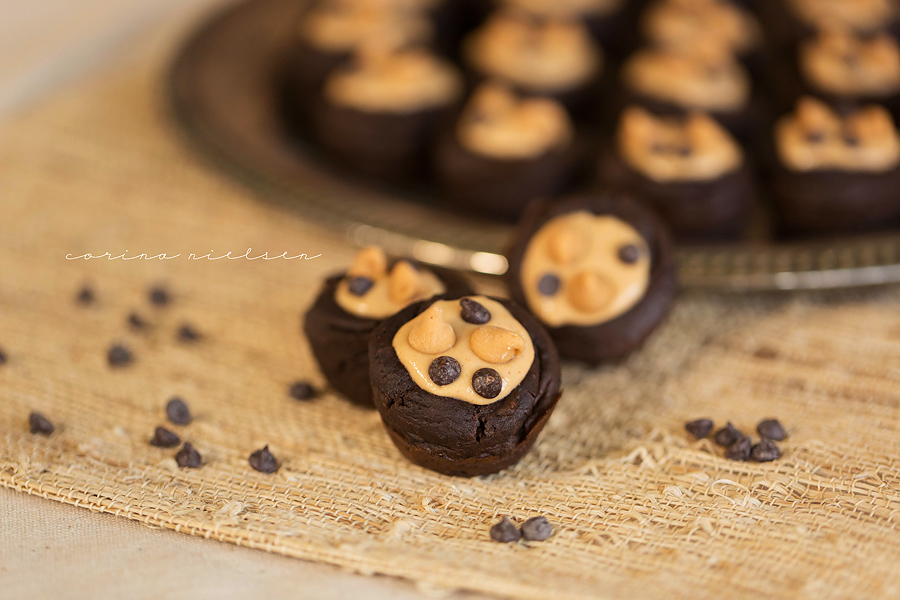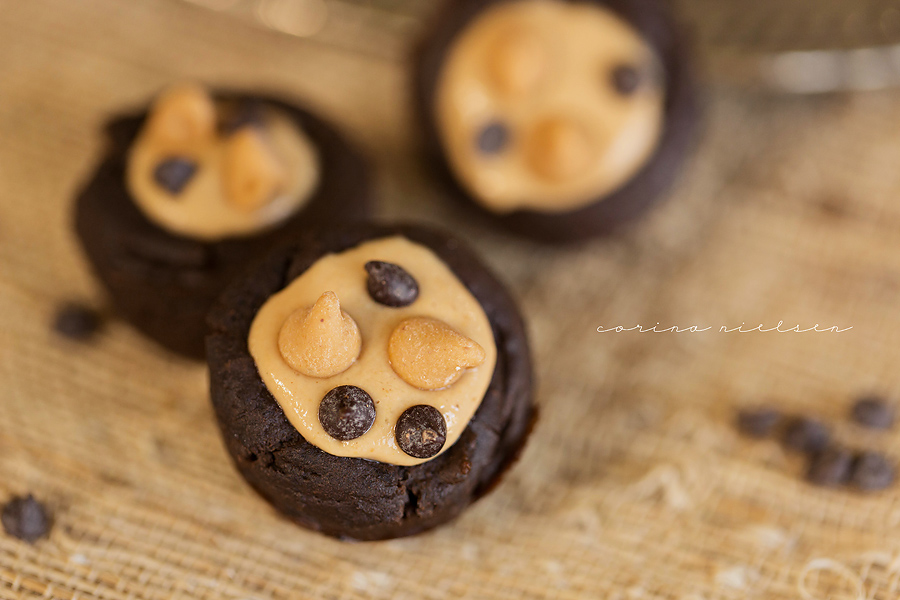 You can't tell me that the texture looks anything but fudgey!  Rich, dense, moist, and full of chocolatey peanut buttery flavor!  I love the tiny addition of the mini chocolate chips and Reese's chips also.  It gives a nice little texture contrast and surprise!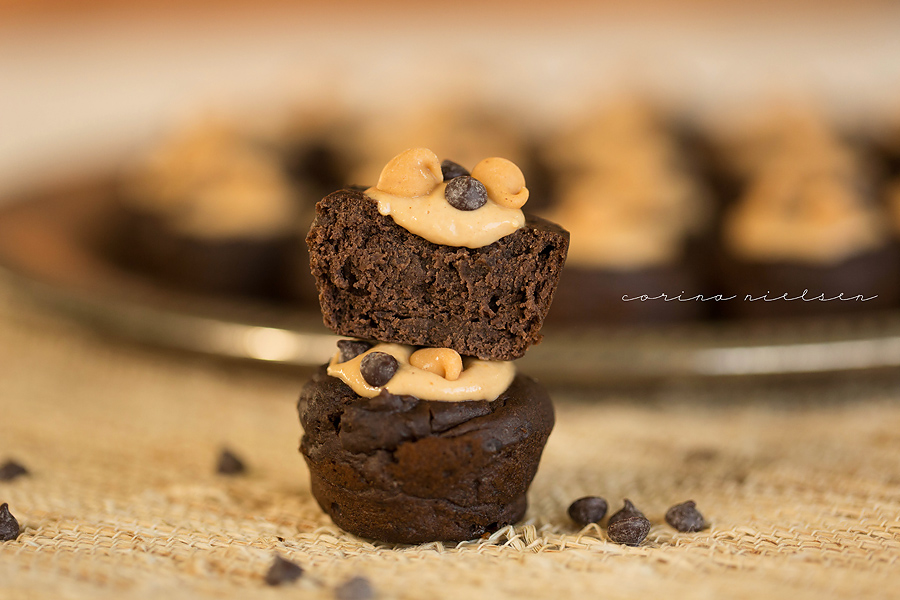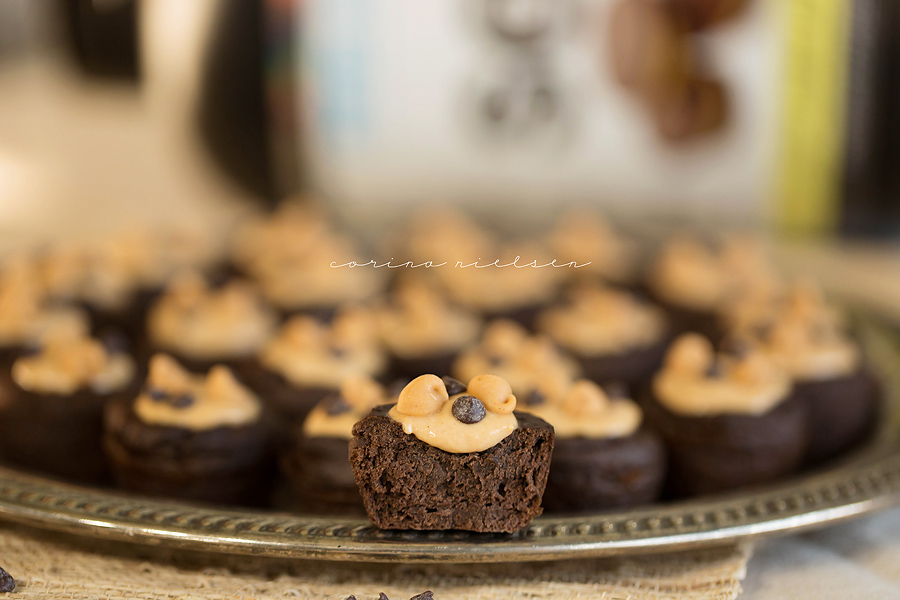 These were a GREAT option for food/meal prep also!  There might be more than a handful of ingredients to use, but only take a few minutes to whip up because you literally throw everything in the food processor.  Then they only bake for a short period so you can easily be eating in under 30 minutes at the very most!  They also store amazing in the fridge and lasted me the whole week (YES, I totally ate every single one of these myself).  Every day when my sweet tooth kicked in (which is usually all day), all I needed to do was grab a couple of these guys!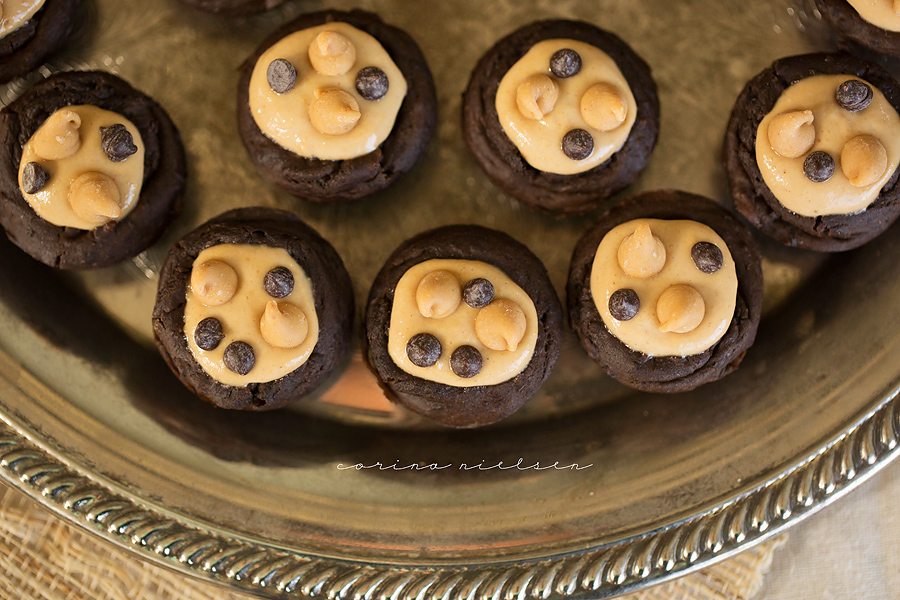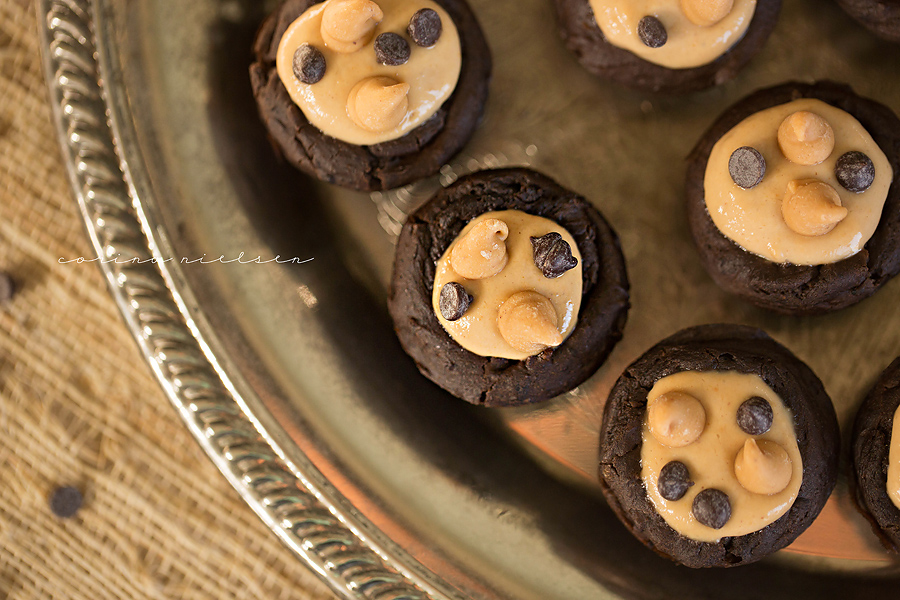 Peanut Butter Cup Protein Brownie Bites

Print recipe
| | |
| --- | --- |
| Serves | 24 |
| Prep time | 5 minutes |
| Cook time | 15 minutes |
| Total time | 20 minutes |
| Meal type | Dessert, Snack |
Ingredients
15oz black beans (no salt added)
3 tablespoons canned pumpkin
1/4 cup Chocolate MuscleEgg egg whites (www.muscleegg.com)
1/3 cup milk of choice
3 tablespoons Nuts N More Chocolate Peanut Butter (www.nuts-n-more.com)
2 teaspoons vanilla extract
80 drops Double Chocolate Sweet Leaf stevia
1 scoop PEScience Peanut Butter Cup Protein (www.PEScience.com coupon below)
1 scoop Jamie Eason powdered peanut butter (or PB2)
1/2 cup Kodiak Cakes Power Cakes (www.kodiakcakes.com)
1/2 teaspoon baking soda
1/2 teaspoon salt
2 tablespoons cacao powder
1 scoop Jamie Eason powdered peanut butter (** FILLING **)
1 tablespoon 0% Greek yogurt (** FILLING **)
1 heaped tablespoon Nuts N More Chocolate Peanut Butter (** FILLING **)
2 tablespoons milk of choice (** FILLING **)
1 heaped tablespoon mini chocolate chips (** FILLING **)
Optional
1 heaped tablespoon Reese's Peanut Butter chips (** FILLING **)
Directions
Step 1
Preheat oven to 350 degrees and coat a mini muffin pan with non stick spray.
Step 2
Add all batter ingredients (first 13 items listed) to a large food processor. Blend until smooth. Taste batter for sweetness and add more stevia if desired.
Step 3
Spoon batter into prepare pan and bake for 12-15 minutes. Remove from oven and carefully press the center of each mini muffin down with your thumb/finger to create a small indentation for filling. Let cool completely.
Step 4
Make filling by combining powdered peanut butter, peanut butter, greek yogurt, and milk. Add stevia if you want a sweeter filling. Spoon filling into the center of each brownie bite and sprinkle with chocolate chips.
Note
NUTRITIONAL INFORMATION (makes 24 brownie bites): calories- 60, fat- 1 gram, carbs- 7 grams/2 grams fiber, protein- 5 grams PER brownie bite
If you are interested in receiving 30% OFF on Peanut Butter Cup Select protein or any other PEScience products, use my code CORINA at checkout on www.pescience.com.