A couple of months ago, I was invited to come into Quest Nutrition headquarters for a little meeting and was so excited I could barely contain myself.  My visit wouldn't going be long, but I certainly couldn't show up empty handed!  After all, it is Quest we are talking about!  This was a very spur of the moment trip that I had not anticipated, planned for, or had much time to even think about, but I did know I needed to prepare something that was A. unique, B. fun, C. easy to transport, D. incorporated a Quest product, and E. obviously delicious!  I decided to do a spin on one of my favorite desserts of all time… Apple Pie!
I could have easily just stopped at using the Apple Pie Quest bar and an apple topping, but that would be far too obvious.  How about adding another layer in between?  How about CAKE?  Yup, sounds about right.  Pie & cake.  Definitely sounds good to me!  And combining them in a cute little jar?  Pretty darn clever if you ask me.  At first I wasn't quite sure the Quest bar would work baked as the bottom layer, but I swear it turned out EXACTLY as I had envisioned in my head.  Such a cute idea for a gift or even to make for a picnic!!!
Seriously.  Shut up.  These are too darn cute!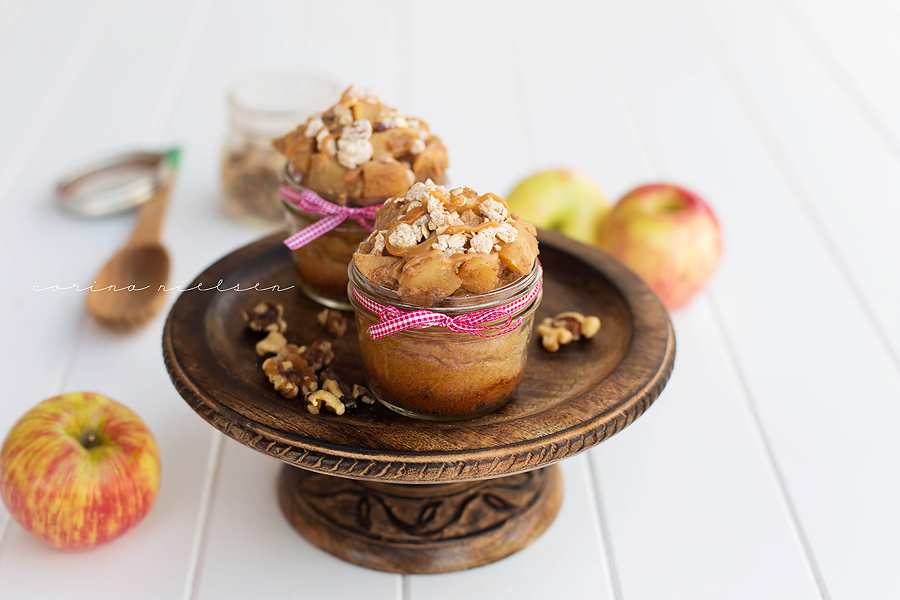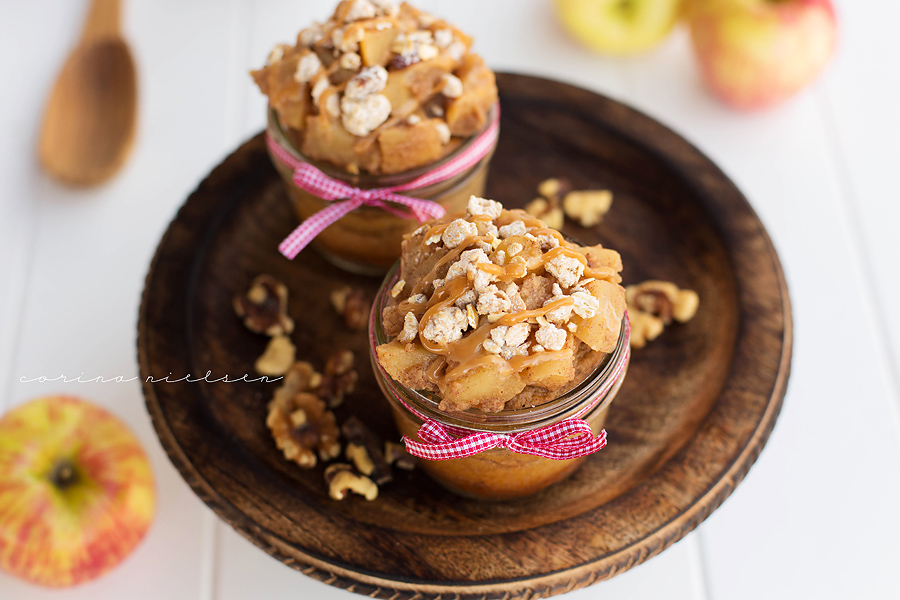 And personally, I'm a apple crumble kinda gal so I enjoy my pie topping (often times more than the the actual pie)!  I just love that added texture and crunch.  Some people think the main star on an apple pie is the apples.  Not me, not here.  It's all about the crust and topping with me!  The Kodiak Green Apple Spice Oatmeal Unleashed was beyond amazing on these.  And I never met a caramel sauce on an apple pie that I didn't like…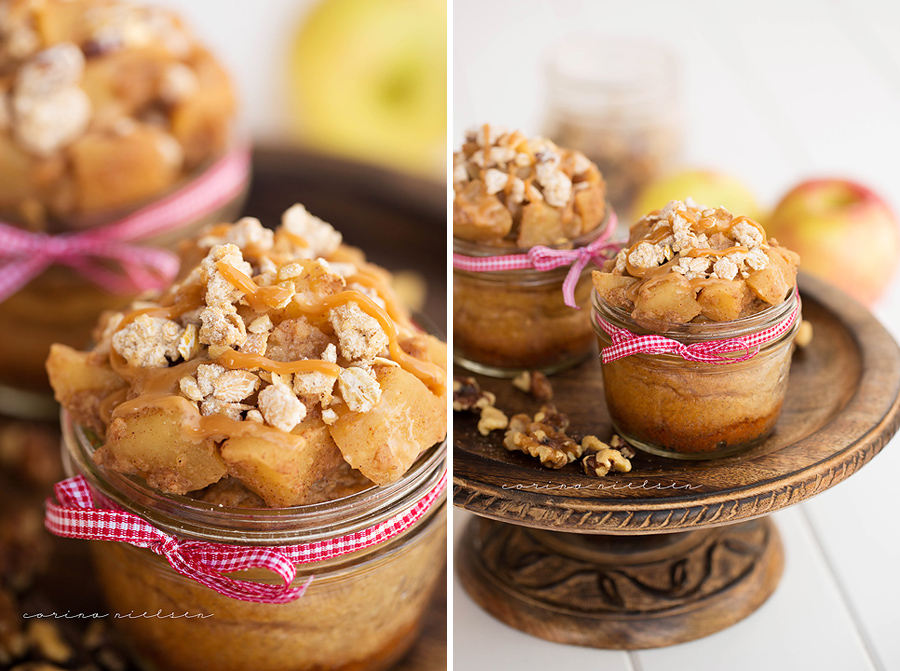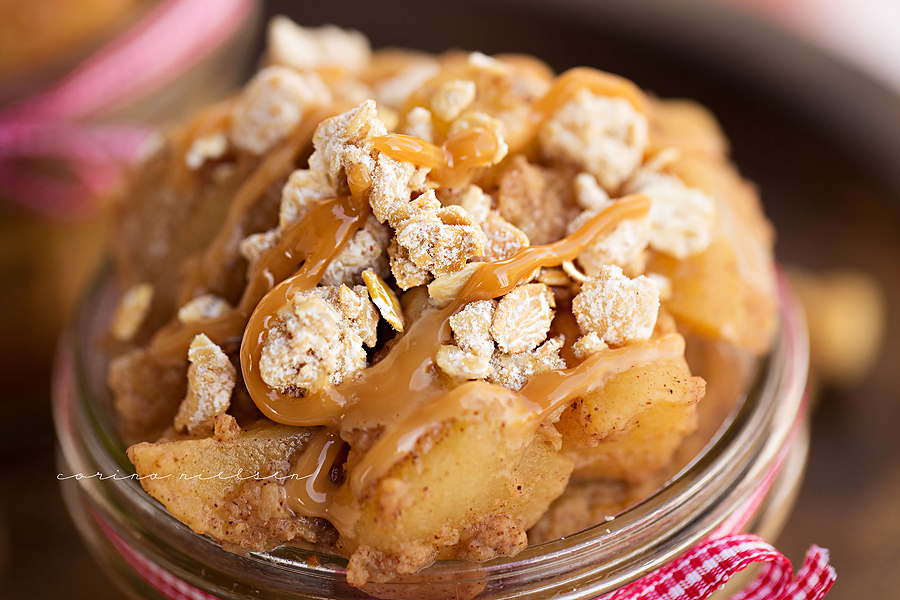 And please.  Let's take a moment of silence for this side view.  Do you see how the Quest bar base and middle layer of cake simply melt together in perfect harmony?  Glorious.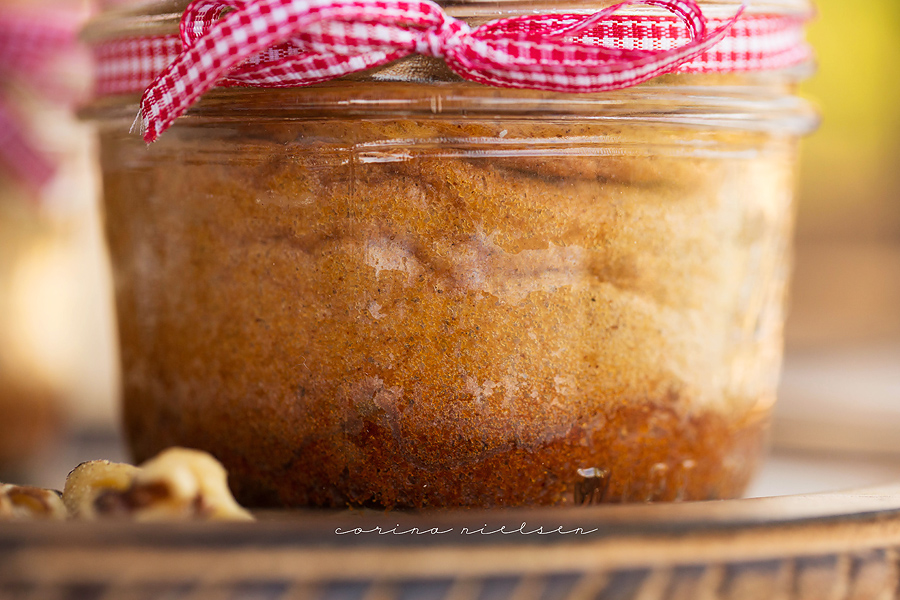 Ok, so I brought one of these guys into Quest… and the other was of course going to be mine.  All mine.  Time to dive in and make sure it tasted just as good as it looked.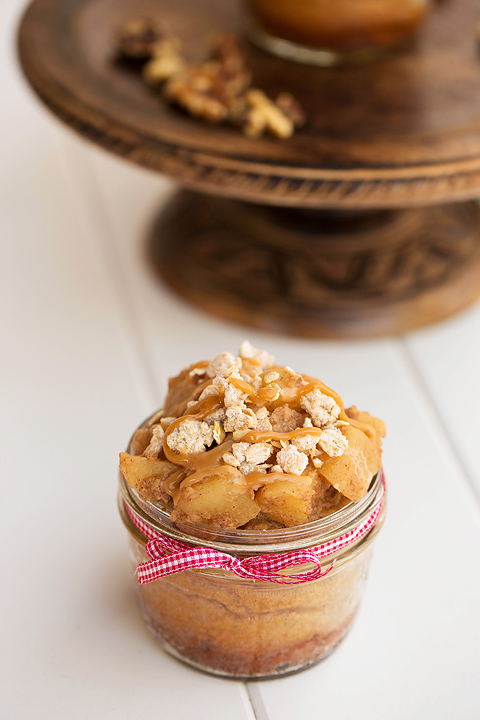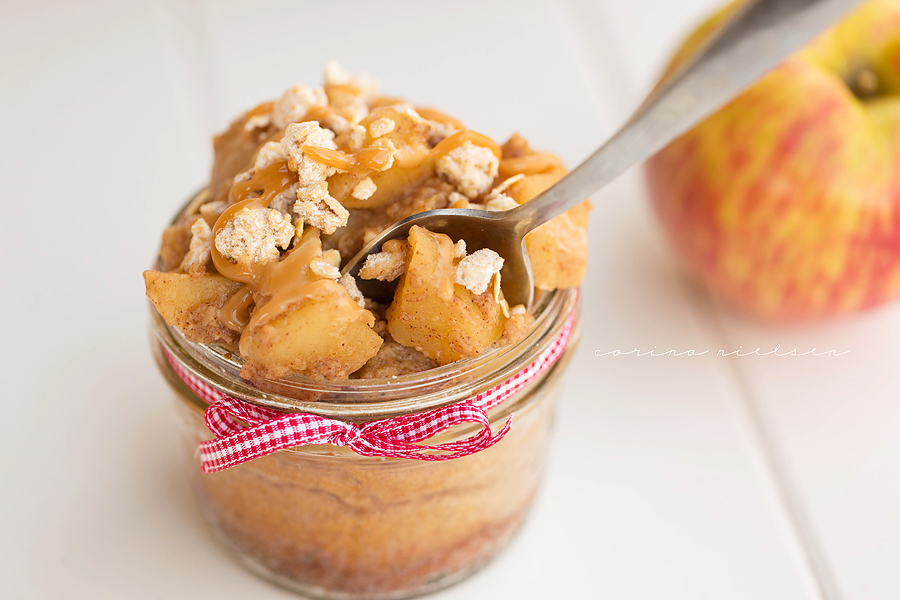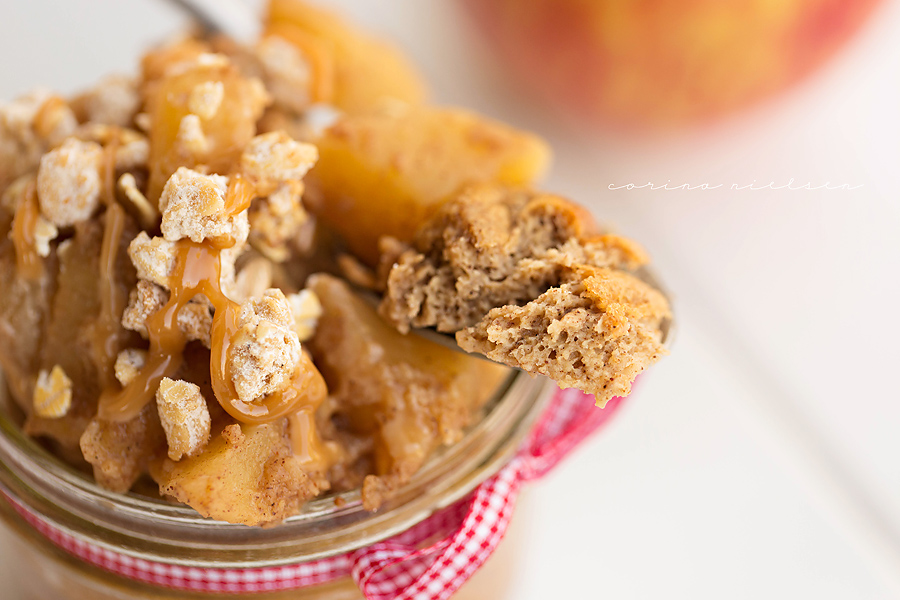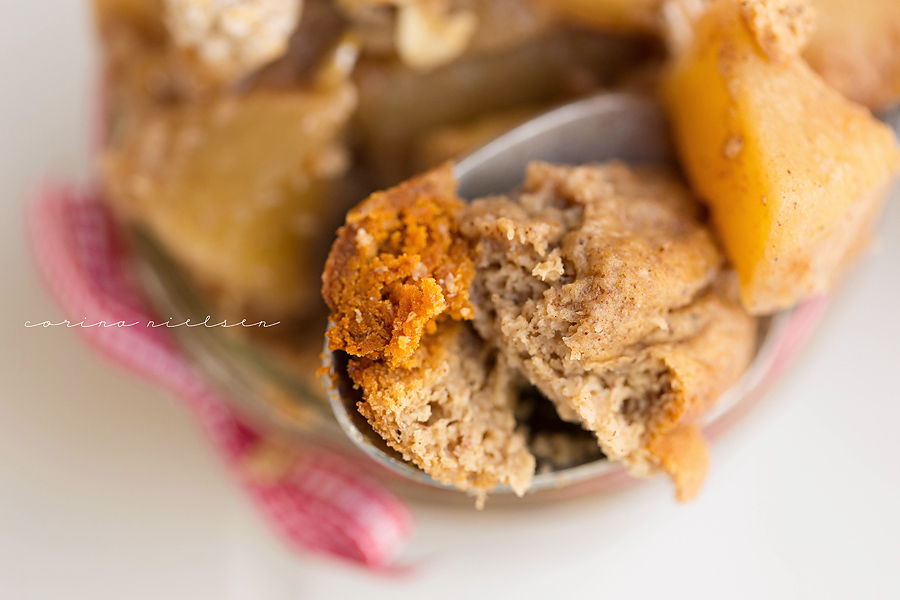 YES.  Every bit as good as it looked.  Even better actually.  It was everything I hoped for and more!  So pleased with this one and I was proud to bring it into Quest!
One last look at those insides though for the road… just too perfect for words!  LOVE the little specks from the spices and of course, the added protein from the MuscleEgg AND PEScience Snickerdoodle Select make the macros on these awesome!  Great for pre workout, post workout, and of course dessert.  And… just throwing this out there as well… adding some vanilla ice cream on top of this?  Yeah, oh yeah!!!!  HEAVEN!  This one is a purebred winner my friends!!!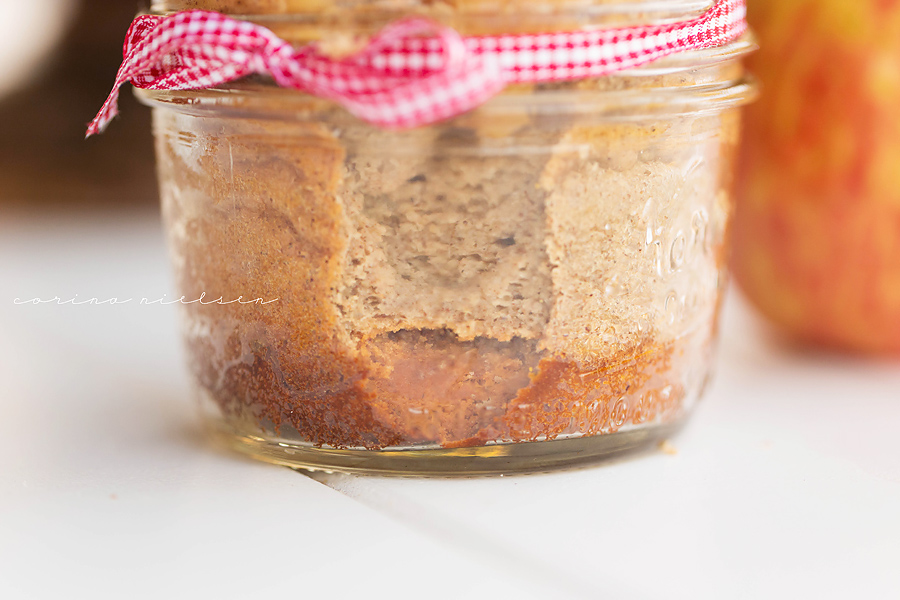 Apple Pie Cake in a Jar

Print recipe
| | |
| --- | --- |
| Serves | 2 |
| Prep time | 5 minutes |
| Cook time | 20 minutes |
| Total time | 25 minutes |
Ingredients
1 Apple Pie Quest bar (www.questnutrition.com)
1/3 cup Kodiak Power Cakes (www.kodiakcakes.com)
1 scoop PEScience Snickerdoodle Select Protein (30% OFF coupon below)
1/4 teaspoon baking powder
1/2 teaspoon apple pie spice
3 tablespoons Vanilla MuscleEgg egg whites (www.muscleegg.com)
1/3 cup milk of choice
1/2 tablespoon coconut oil
1 Small chopped apple
1/4 cup unsweetened apple sauce
1/2 teaspoon cinnamon
Optional
1/4 cup Kodiak Green Apple Spice Oatmeal Unleashed (www.kodiakcakes.com)
2 tablespoons Sugar Free Caramel Sauce
Directions
Step 1
Microwave Apple Pie Quest bar for 10 seconds on high. Cut in half and press each piece into the bottom of a lightly greased/non stick sprayed 1/2 pint mason jar. Set aside. Preheat oven to 350 degrees.
Step 2
Place Kodiak, Snickerdoodle protein, baking powder, apple pie spice, MuscleEgg egg whites, and milk in a large bowl. Mix until smooth and well combined. Divide and pour batter over Quest bars in each mason jar. Bake for 18-20 minutes until top is set, golden brown, and a toothpick comes out clean when poked in the center. Let cool for 5-10 minutes while you prepare apple topping.
Step 3
In a small sauté pan over low-medium heat, melt coconut oil. Add apples, apple sauce, and cinnamon. Add sweetener if desired. Stir and let cook 5-10 minutes until softened. Divide and spoon over cake in each jar. Top with oatmeal/granola if desired.
Note
NUTRITIONAL INFORMATION (makes 2 servings): calories- 277, fat- 8 grams, carbs- 29 grams/fiber- 12 grams= 17 grams NET, protein- 29 grams PER SERVING