Let me introduce you to "Live Love Pop"…

FLAVORS INCLUDE
COMPANY MISSION STATEMENT:
"Whether you're noshing, nibbling, munching or crunching, we believe snacking should be three things: healthy, easy, and extra delicious. That's why at Live Love Pop, we use only three simple, lovable, and wholesome ingredients to create the best popcorn you've ever tasted: popcorn, oil, and salt. After all, the foods that come to us from nature are already perfect — so why mess with a good thing? We want to be the go-to, go-anywhere, guilt-free snack you feel good about. So live well. Laugh often. And pop much. It's good for you!"
I was absolutely thrilled when Live Love Pop asked if I wanted to give their products a try!  I don't think they expected a full review here on the blog, but after my ripping open my packages and then devouring flavored popcorn by the handful, I knew I had to share these with you.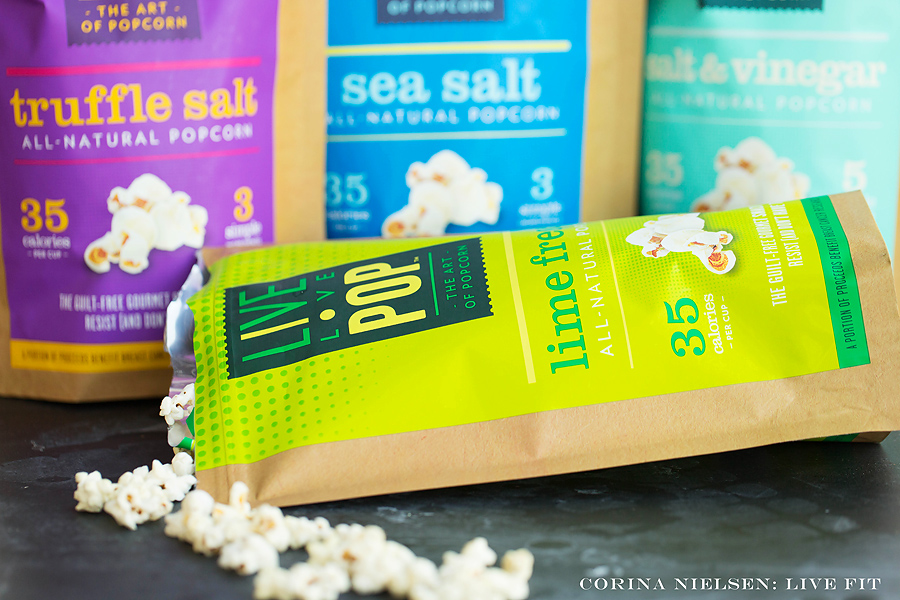 From the moment my eyes saw their "Lime Fresca" flavor on Instagram one day, my heart went pitter patter.  I seem to put lemon and/or lime on EVERYTHING so that flavor was right up my alley.  That flavor alone would be the reason why I would need this popcorn in my life on a daily basis.  Seriously.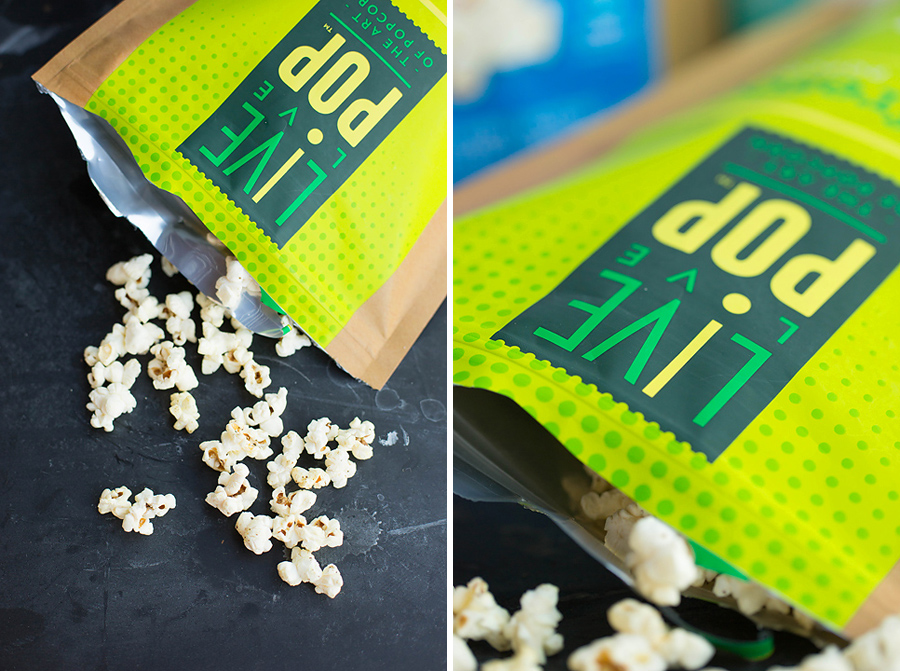 Of course it was the first package I opened!  The flavor is absolutely spot on, tart & tangy with a hint of spice (not "spicy" hot)!  Depending on the kernel (or handful) you are eating, the flavors can be less or more intense which I like because you never know what parties are going to go on in your mouth.  As suspected, this is definitely my favorite flavor of the bunch!
And peep that resealable bag… not sure if anyone else cares, but the company gets bonus points from me for that alone.  I HATE opening up packages of popcorn and then finding they have already gone stale a few days later.  I've had the Live Love Pop bags in my house for over a week now, opened and closed them many many times, and they are still as fresh & crunchy as the first day.  So many brownie points for whoever came up with that idea!!!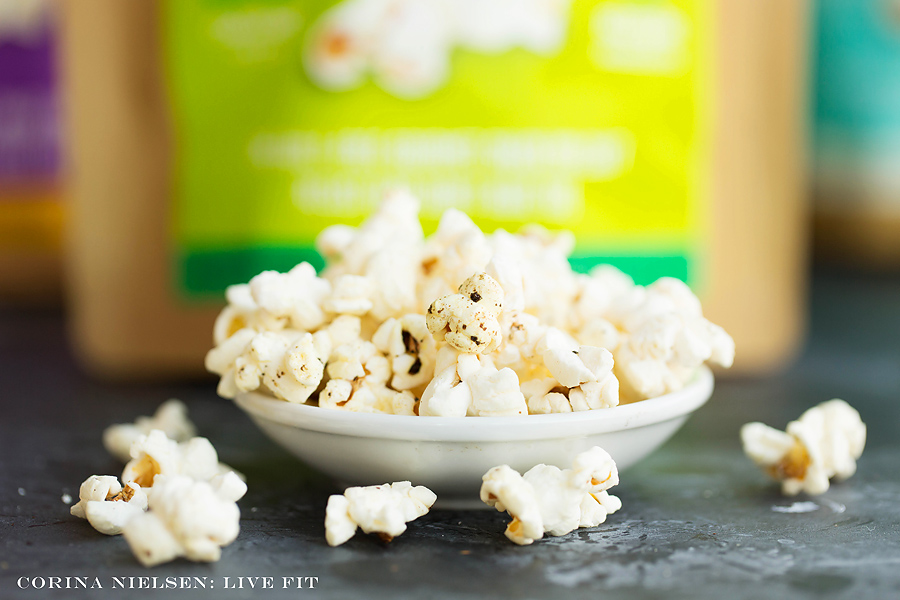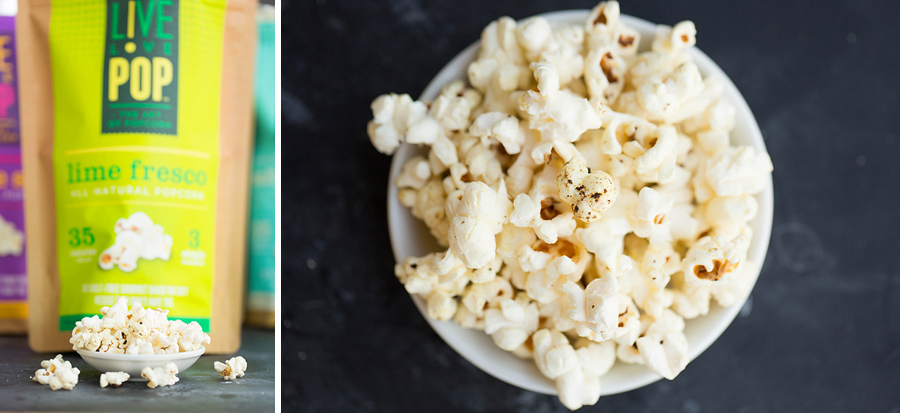 My next favorite flavor would have to be the 'salt & vinegar'.  I was never really a fan of salt & vinegar anything up until about 6 months ago, but now anytime I see it on a product I must try it!  What I love about this particular Live Love Pop flavor is that it's not intense whatsoever.  Sometimes when you have chips and things that are 'salt & vinegar' flavored, its SO overwhelming that you can't enjoy whatever it is you are eating.  The vinegar completely takes over everything.  Not with this popcorn though.  Similar to the 'lime fresco', you know what the flavors are but aren't smacked in the head with them!  Each kernel has a different amount of seasoning on it, so it can either be super flavorful or more on the mild side.  Either way, its DELICIOUS!!!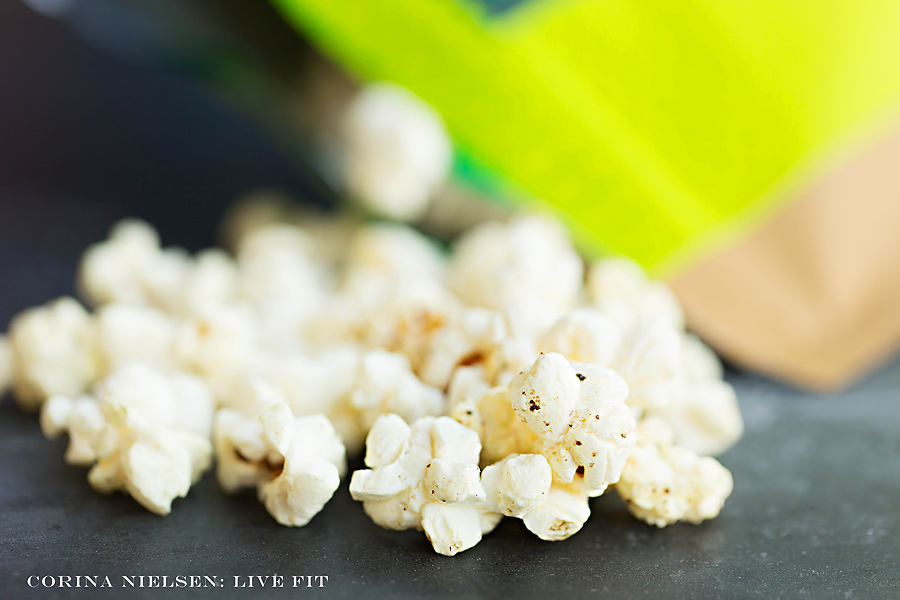 Now, I've never eaten a truffle or anything that had truffle flavor, so I'm not sure what this popcorn is "supposed" to taste like haha!  You definitely do taste hints of something though and like the other varieties, it's not overwhelming.  Subtle, unique, and delicious nonetheless!
Not a fan of flavored popcorn and just need something plain & simple (this would be my husband)??? No worries at all, their 'sea salt' flavor found HERE will satisfy that popcorn itch you have!
"Healthy, clean, and 100% natural, our delicious popcorn is made with the freshest ingredients, free of artificial flavors or preservatives, and seasoned with flavors so tempting, you won't believe it's only 30 calories per cup."
Another thing I absolutely adore about the company is that a portion of EVERY sale goes towards breast cancer research!  I love it when companies support such important causes!!!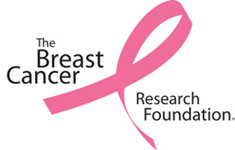 And the last did bit of information I want to share about Live Love Pop is the nutritional profile because they are SO awesome…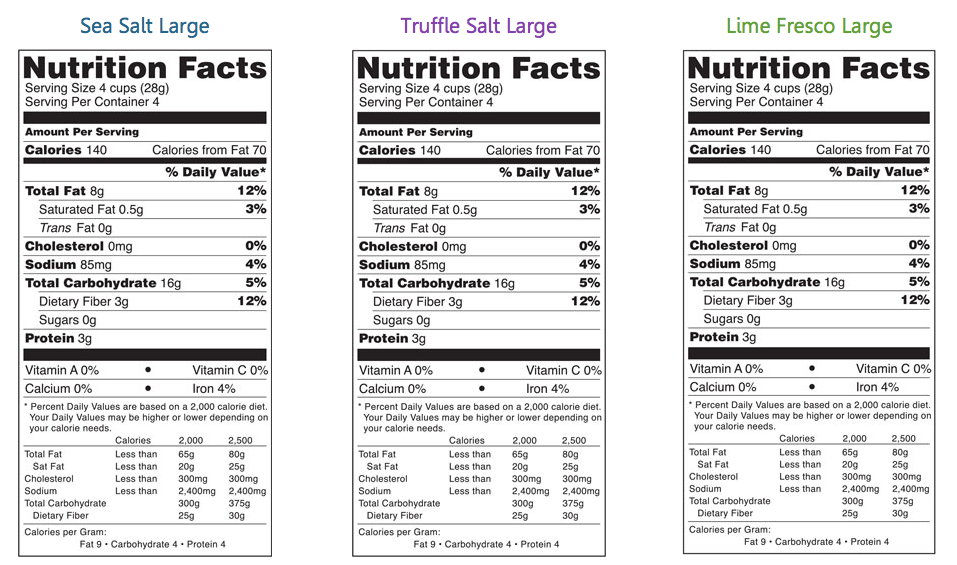 Are you seeing this???  Serving size is 4 CUPS!!!!  Do you know how much popcorn that is?  No really.  Do you have any idea how much deliciousness you can stuff into your mouth???
All in all, I'm a new fan and so grateful to have stumbled upon this company and their products!  All of the Live Love Pop flavors get my two thumbs UP!!!  Live Love Pop can either be purchased on their website HERE or you can use the site store locator found HERE to find a location nearby!