This year for my birthday, my sisters took me to brunch at Pechanga (buffet of course because they know the way to make me happy: unlimited FOOD)!  After stuffing my face with at least 6 plates of food (HERE is a small peak of that), I could barely muster up the strength to hit up that glorious dessert station.  It's UNREAL.  No joke, there are at least 40 DIFFERENT desserts available to choose from.  Pie, cake, frozen yogurt, ice cream, bars, cookies, cupcakes, tarts, donuts, and so much more.  It's really quite ridiculous (but OH SO amazing)!!!
After attacking little & big nibbles of everything, one of the last things I grabbed were these Tres Leches 'shooters'.  There was a little piece of vanilla cake at the bottom of the shooter glass, then soaked in milk (tres leches of course), layered with mixed berries, and topped with whipped cream.  If I could go back to that day, I would trade in ALL of the other desserts I sampled and grab only these little shooters!  It was that good.  I hadn't ever had 'tres leches' anything before that buffet, but I was immediately a fan.  I knew as soon as I waddled out of the casino (I could barely walk I was so full), I would do some research and whip up my own 'Tres Leches' concoction!
I could have made a similar version of the dessert, but I was really hoping for something a little more substantial (I would need 10 tiny little shooters to feel satisfied)!  I could have gone with a big traditional cake, but that wouldn't be as fun to eat.  Instead, I decided to make something for my favorite meal of the day… breakfast!!!  Waffles, pancakes, and "pronuts" (protein donuts) will always have my whole heart ANYTIME of day!  I love different variations of breakfast foods because they are so versatile.  Once you have a solid base recipe, changing flavors and things is a breeze!
Donuts it would be: check!
Although absolutely delicious, the one downside to the shooters I had at my breakfast buffet was that they were a little one note.  Perfect for a small sampling, but kinda boring and plain for a larger serving.  It needed something in it that would give a little more depth, something to make things a bit more interesting.  Even though Tres Leches' is traditionally a Spanish dessert, I had something much more tropical in mind.  Nothing more tropical than coconut!
Flavors decided: check!
And last, I usually make donuts in my cake pop maker so my daughter can easily help me, but again, I was looking for something a little larger.  I could have used my regular donut pan, but that still wasn't big enough for what I had in mind.  Then one day while grabbing some workout clothes at TJ Maxx (the BEST place for gear… so cheap), I spotted exactly what I needed: a DONUT TWIST PAN!!!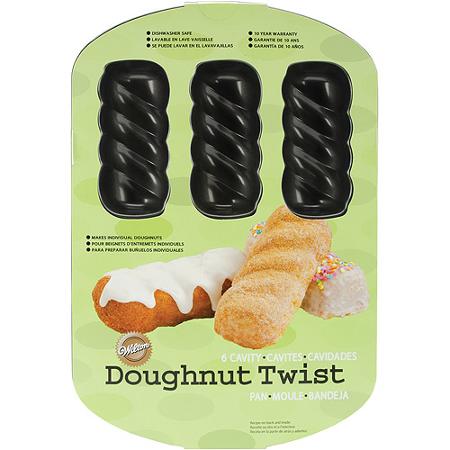 These things are so big!!!  I also only paid $4.99 for it!!!  SCORE!!!
Anyways, the rest was history!  My glorious 'Tres Leches' donuts (for morning, noon, and/or night) were born.  These were EVERYTHING that I imagined they would be!  I'm also fairly certain they are probably the most nutrient dense 'tres leeches' dessert out there!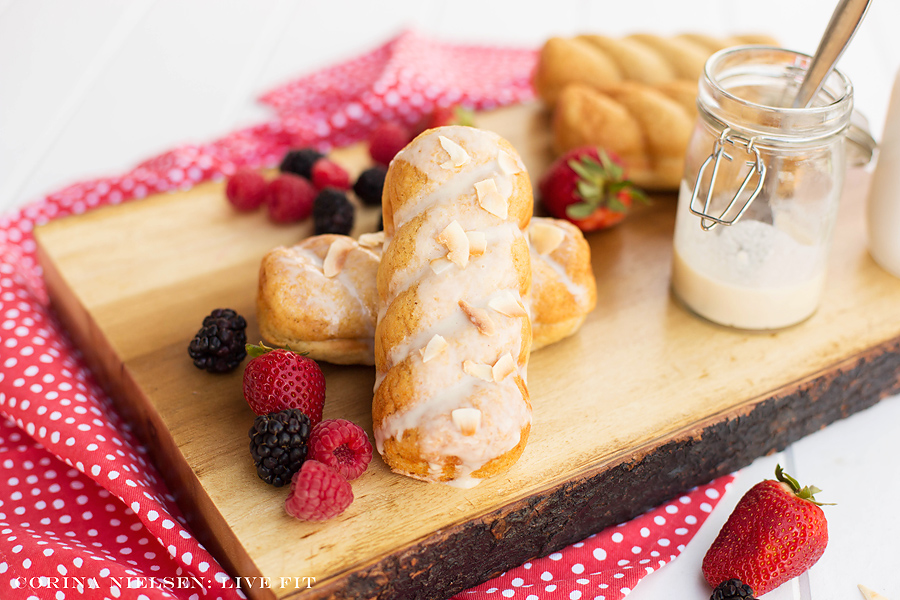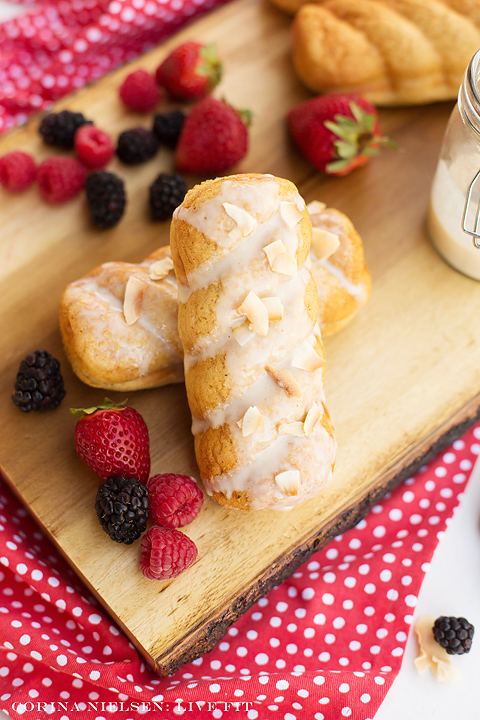 Base of the donut is a simple coconut & vanilla type cake, but it wouldn't be 'tres leches' without the milk!!!
To keep these a little more macro (calorie) friendly, these were the milks I used.  They were all bought at Walmart, but any super market should carry them as well.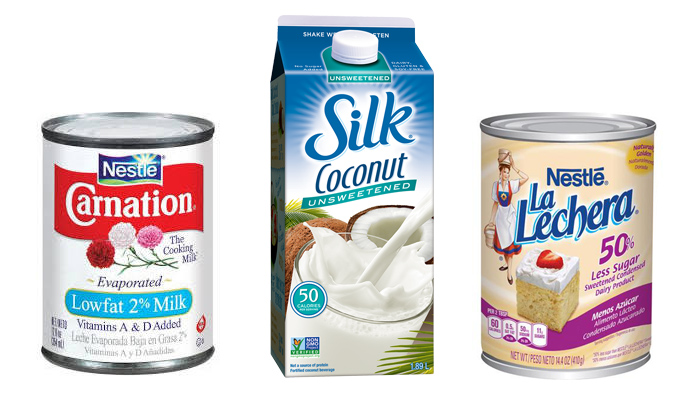 Here is some nice sweet, milky drizzle action for you…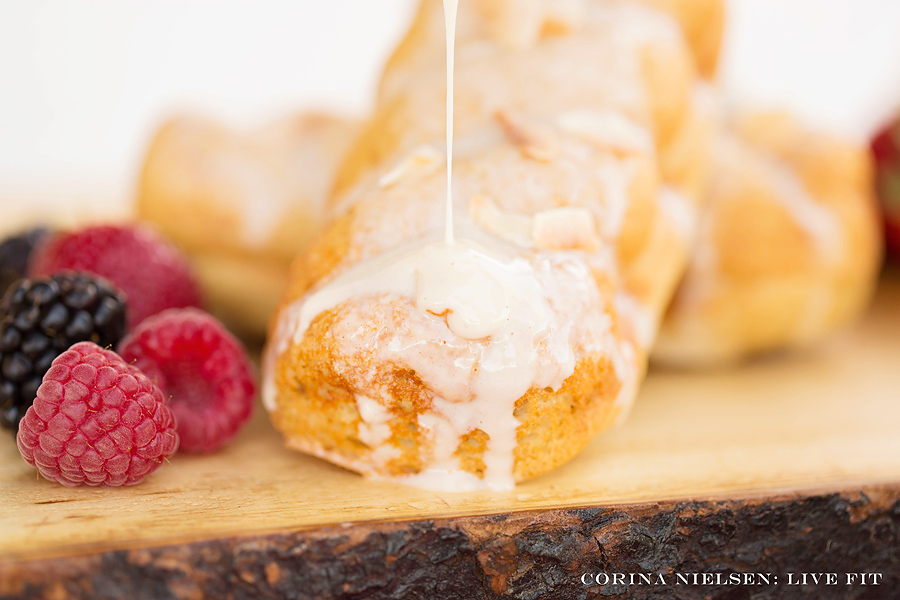 So much perfect!  I adore the hint of coconut and the little toasted coconut bits added a nice contrast in texture.  These are BEST eaten with a plate & fork so you can get bits and pieces of everything in one bite: donut, coconut bits, fruit, and the most important component…. that sweet milk!!!!
You can expect some more variations in the future because I'm hooked on that triple milk action!
Tres Leches Protein Donuts

Print recipe
| | |
| --- | --- |
| Serves | 4 |
| Prep time | 5 minutes |
| Cook time | 20 minutes |
| Total time | 25 minutes |
| Meal type | Breakfast, Dessert |
Ingredients
1 cup Kodiak Cakes Power Mix (www.kodiakcakes.com)
1 scoop Vanilla protein powder
3 tablespoons coconut flour
1 teaspoon baking powder
1/2 teaspoon baking soda
3/4 cups Vanilla MuscleEgg egg whites or plain (www.muscleegg.com)
1 1/3 cup unsweetened coconut milk
1/2 teaspoon coconut extract
1/2 teaspoon vanilla extract
50 drops Coconut Sweet Leaf Stevia (or sweetener of choice)
2 tablespoons low fat evaporated milk (** DRIZZLE **)
2 tablespoons fat free sweetened condensed milk (** DRIZZLE **)
2 tablespoons unsweetened coconut milk (** DRIZZLE **)
berries or fruit of choice
Directions
Step 1
Preheat oven to 350 degrees and coat a donut pan with non stick spray. (I used a "twist" donut pan which is larger than the regular sized circle donuts. Recipe will make 4 large donuts or 8 small ones.)
Step 2
Combine first ten ingredients in a large bowl and mix until smooth (everything except for ** DRIZZLE ** topping).
Step 3
Let batter sit for 3-5 minutes to thicken slightly. Pour into prepare pan and bake for 18-25 minutes (time will vary depending on your use of pan. Large donuts will take 25 minutes, smaller ones will take anywhere from 15-20. Edges will come slightly away from pan once cooked through. Poke centers with a toothpick to be sure. Remove from oven and let cool slightly.
Step 4
Prepare tres leches topping by combining evaporated milk, condensed milk, and coconut milk in a small bowl. Stir until incorporated. Drizzle on donuts and serve with fruit of choice.
Note
NUTRITIONAL INFORMATION (makes 4 large donuts/8 small donuts): calories- 220, fat- 4 grams, carbs- 27 grams/5 grams fiber= 22 grams NET carbs, protein- 20 grams PER LARGE DONUT