Please take me back to when I made these…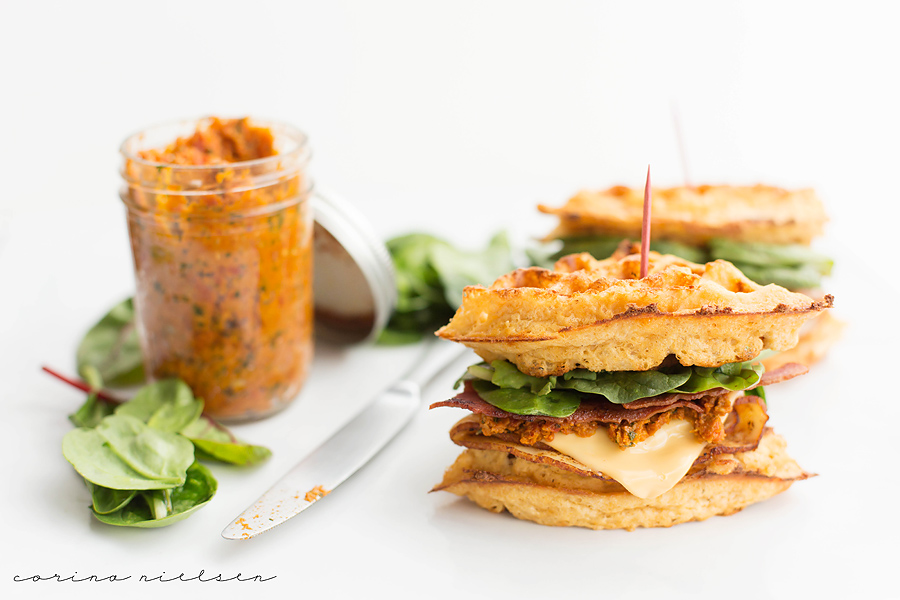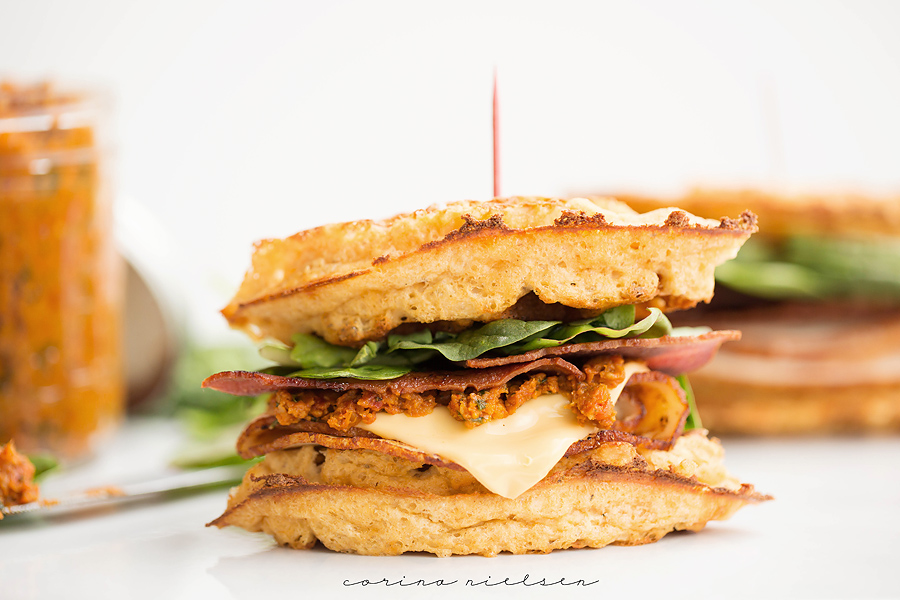 Sometimes I honestly have no idea how or why my brain comes up with these crazy ideas.  Waffles are one thing, sandwiches are another, chips with a sandwich are a must of course, but then you throw those things all together AND add my sun dried tomato pesto into the mix???  It's just a little over the top CRAZY!  However crazy it sounds though, it all somehow worked so well together!!!  I may even go out on a limb and say it's the wildest, yet BEST idea I have come up with thus far.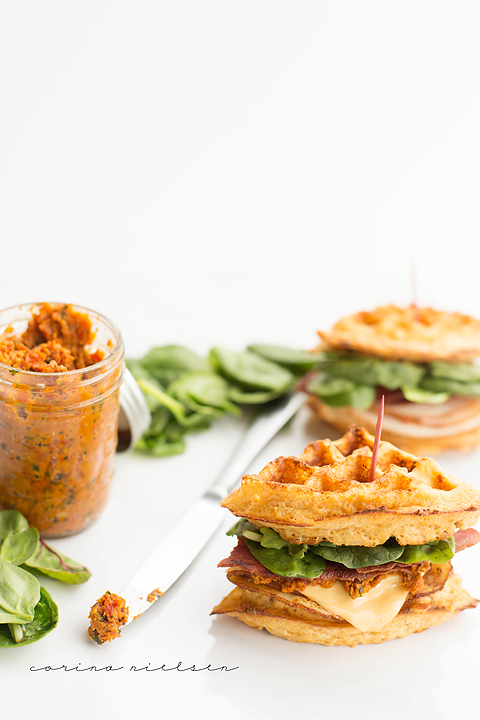 And I mean really though, can a sandwich get much more beautiful?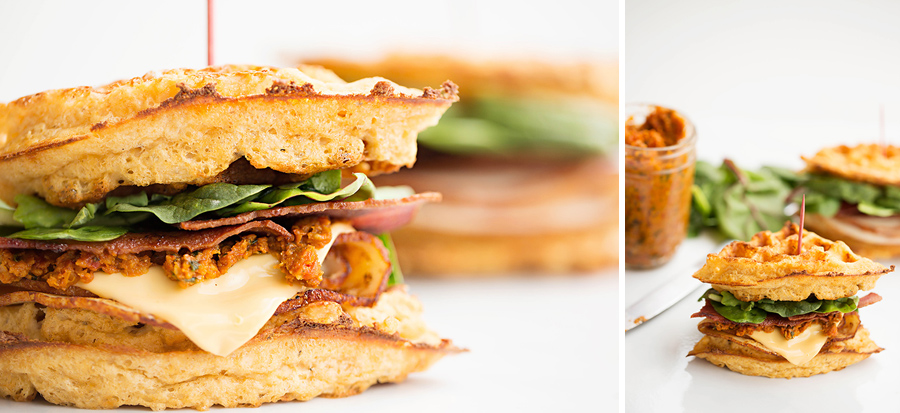 Perfectly crisp waffle edges, but still soft and fluffy on the inside!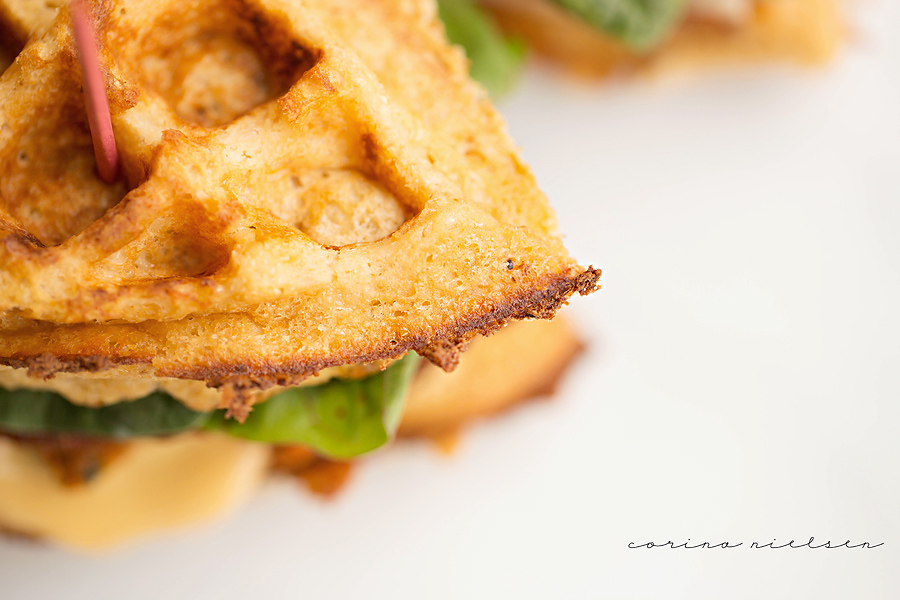 Not only do the waffles have that amazing texture inside and out, they are PACKED with flavor and have great macros!  Made with whole grain, high protein Kodiak "Power Cakes" and organic MuscleEgg egg whites, they also have QUEST chips baked right into the batter.  Wait, what?  Excuse me?  Yep, I figured I would kick things up in the flavor, texture, and protein department by adding an entire bag of Cheddar & Sour Cream Quest chips right into my waffle batter.  Odd yet oh so clever if I do say so myself!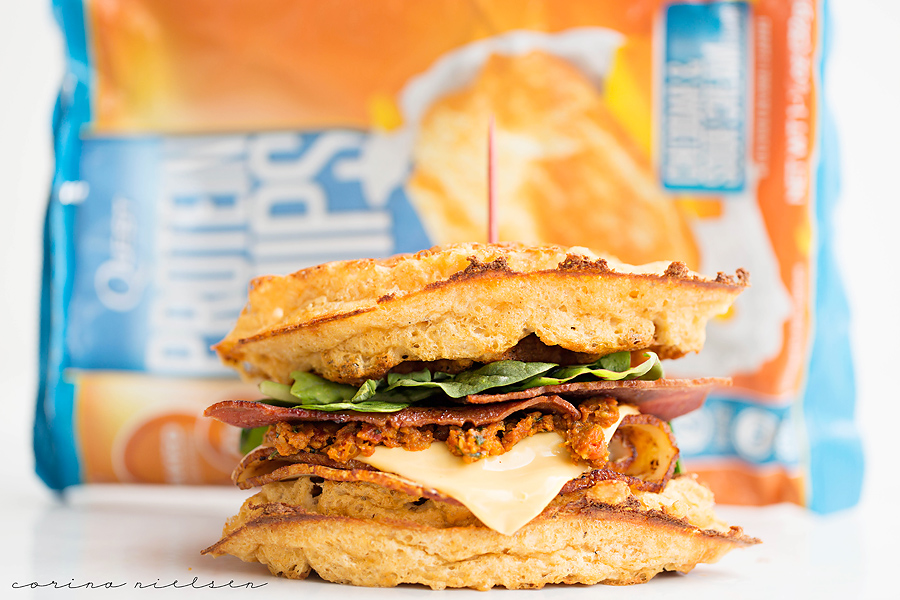 Aside from adding my sun dried tomato pesto, I really couldn't care less about the other stuff I chose to go IN my waffle sandwich.  I went super classic with sliced deli turkey, a mild provolone cheese, baby spinach, and good old plain turkey bacon!  Again, I don't know how & I don't know where, but I promise you one bite of this sandwich and you will thank my brain for working it's mysterious magic!
Crazy I tell you, just absolutely crazy… GOOD that is!!!
Cheddar Bacon Waffle Sandwiches

Print recipe
Ingredients
1/4 cup Kodiak Power Cakes Mix (www.kodiakcakes.com)
1 Cheddar & Sour Cream QUEST Protein Chips (www.questnutrition.com/quest-chips)
2 tablespoons coconut flour
1/2 teaspoon baking powder
1/4 teaspoon salt
1/8 teaspoon pepper
3/4 teaspoons garlic powder
1/4 cup Organic plain MuscleEgg egg whites (www.muscleegg.com)
3/4 cups milk of choice
2oz sliced turkey breast
2 tablespoons sun dried tomato pesto (recipe linked in original post)
1 thin slice provolone cheese
1 handful baby spinach leaves
Directions
Step 1
Place Quest protein chips in a small food processor and pulse until you have a coarse meal type texture. Place in a large bowl and add Kodiak mix, coconut flour, seasonings, baking powder, egg whites, and milk. Mix until smooth. Let sit 2-3 minutes while you preheat waffle iron.
Step 2
Add batter to waffle iron and cook according to manufacturers instructions. Edges should be golden brown when waffles are done.
Step 3
Assemble by adding sun dried tomato pesto, sliced turkey, cheese, and spinach to each sandwich.
Note
NUTRITIONAL INFORMATION (makes two sandwiches): calories- 333, fat- 11 grams, carbs- 28 grams/7 grams fiber= 21 grams NET carbs, protein- 35 grams PER SANDWICH