Seriously, I don't think I have ever met a waffle I didn't like.  Even when they aren't that 'great', they are still always 'good'.  I absolutely ADORE Belgian waffles.  They will always have my whole heart.  Just imaging how thick they are, how perfectly crisp they get on the outside, yet so soft & fluffy on the inside… I get weak in the knees!  Literally, I can't stop thinking about my waffles once my mind gets going.
Sadly though, I didn't always have a Belgian waffle maker.  For quite some time, I was using this one which makes a much thinner style waffle.  Good and did the job I needed, but not my first waffle choice!  My husband and daughter both actually prefer the thin ones, while my son and I rather have the thick ones.  That can only mean we must have BOTH waffle irons in the house at all times AND when waffles are on the menu… BOTH must always be made!
Despite the fact that Belgian is my favorite, I did find my other waffle iron quite useful a few weeks ago when I was finishing off some waffles for my daughter.  I ended up having a bit more batter (sadly not enough for a Belgian of my very own), but just enough to make myself one of the thin ones.  A waffle is a waffle though and I'll take them anytime and anywhere I can get them!  I have to admit though, after it was cooked, I pulled it onto a plate and looked at it, I was slightly disappointed.  Now, I'm used to waffles at least triple the thickness, so looking at this puny little guy sitting sadly on my plate I couldn't help but think "OK, now what?" Putting my usual serving of ice cream on top of it would most likely just leave things soggy and I wouldn't have the proper amount of waffle to ice cream ratio I need, so I simply folded it in half and began to eat my sad, ultra thin, not a Belgian waffle.  Right at that moment though, my daughter looked what I did and asked me "Why are you eating that waffle like a taco?"
LIGHTBULB MOMENT
Waffle TACO… Why didn't I think of this before????  My daughter is a genius!  I may not be able to pile my ice cream on top of this type of waffle like I normally do, but I sure could STUFF them!  Right then and there I decided to make another batch of batter and test things out.  Strictly for blogging/recipe developing purposes of course 🙂  Chocolate seemed appropriate at the time.  Chocolate 'taco shells' (AKA waffles) it is!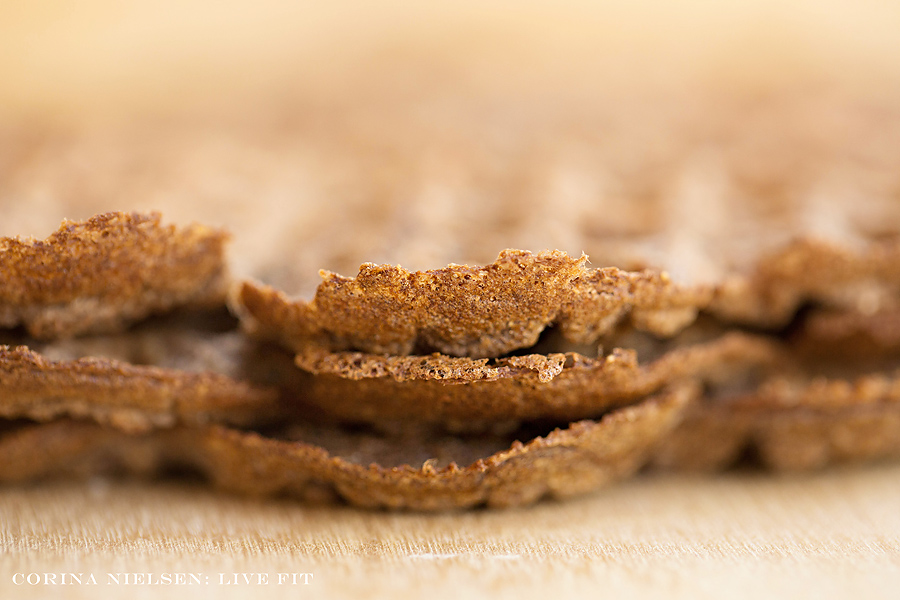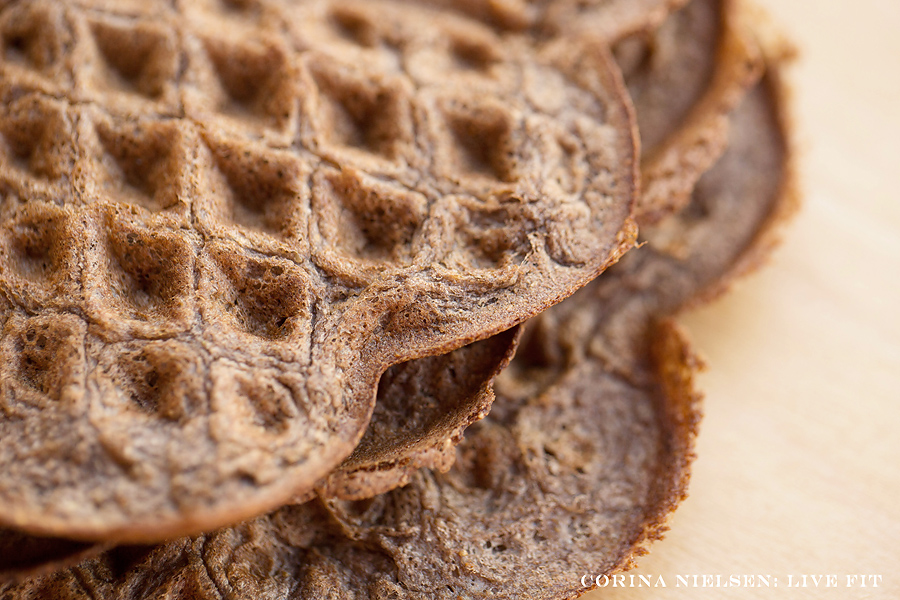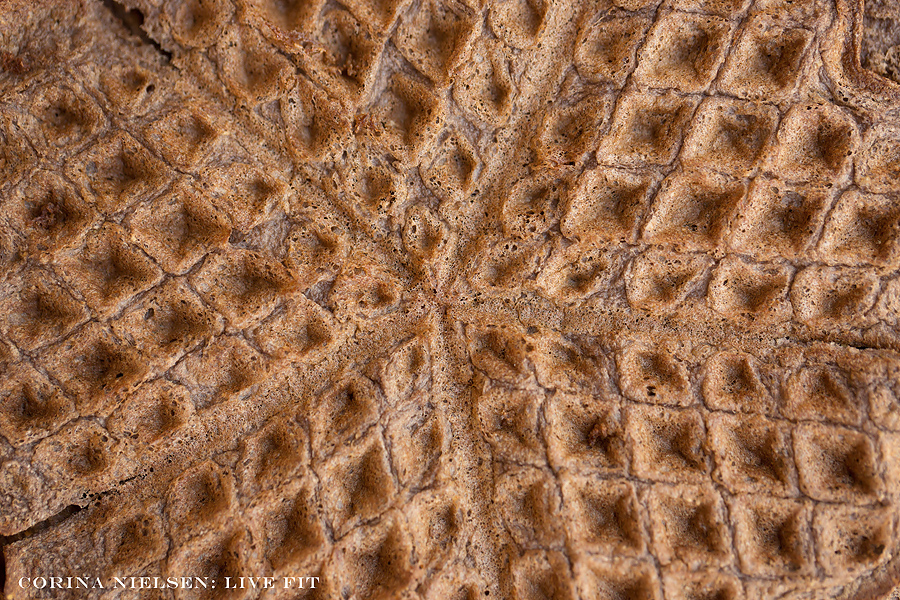 I gotta admit… even though I'm a Belgain waffle kind of girl, these still do look pretty darn perfect!
Since I already had a fresh, brand new pint of strawberry Halo Top sitting in my freezer, I decided that it definitely needed to get in on this taco action.  Chocolate & strawberry.  Classic combination and always delicious, no matter how it's served!  And what goes perfectly with chocolate and strawberries?  Peanut butter of course.  Peanut butter (or any other type of nut butter for that matter) makes everything better!  I decided to go with one of my favorite nut butters… 'Chocolate' BuffBake (10% off using code corinabuffbake).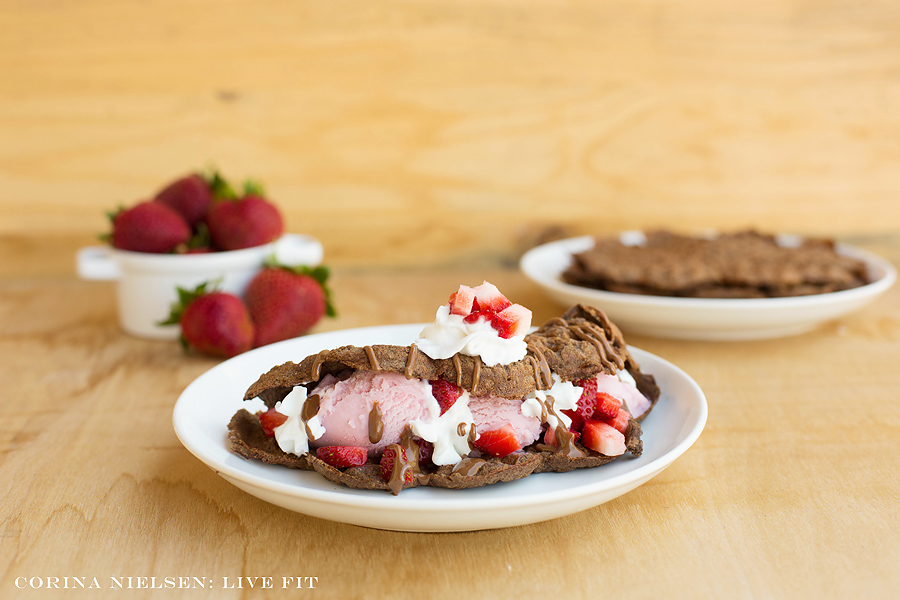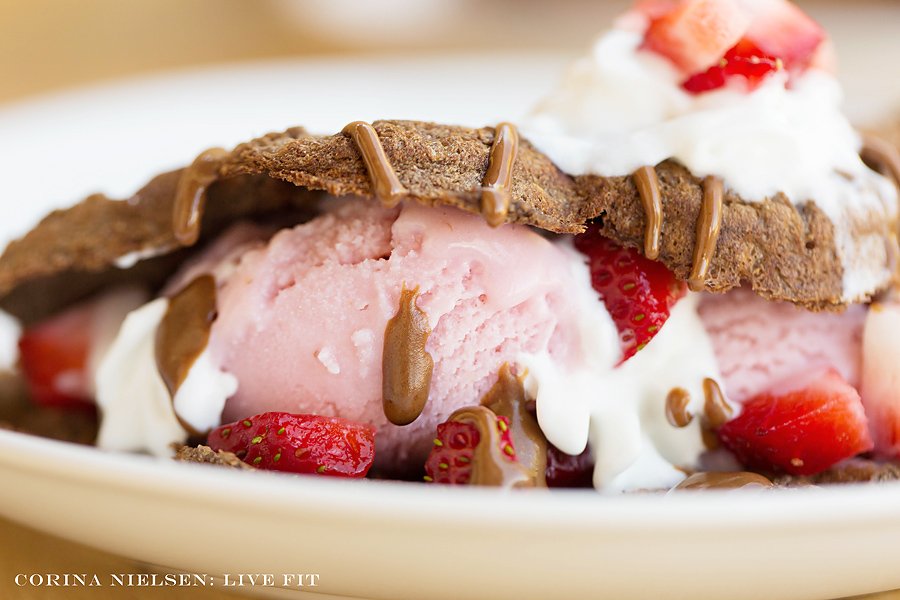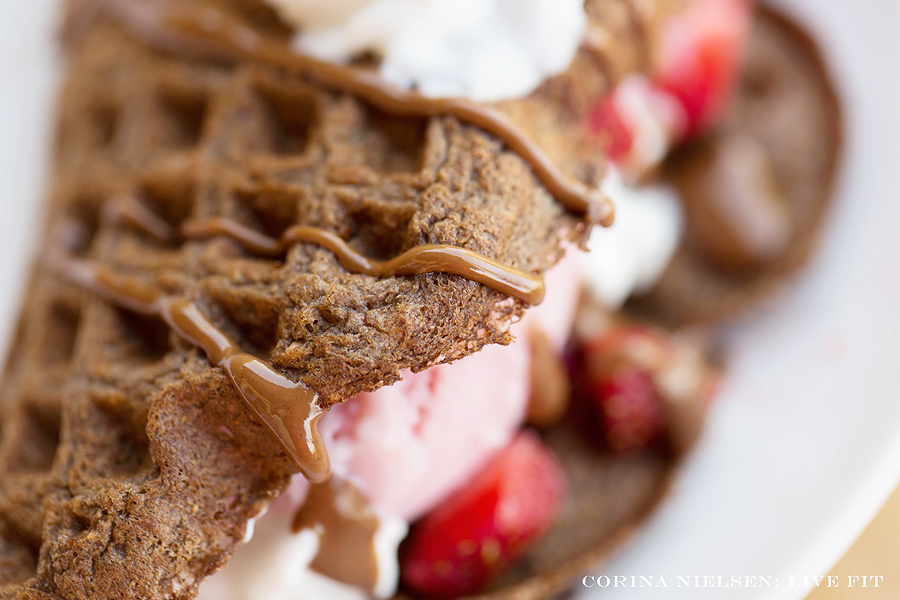 The only thing that I could think of that would make this even better would be some sliced bananas!!!  It would taste just like a banana split!!!!  Sadly I was out of bananas on this day, but rest assured… next time bananas will make an appearance on this creation!
So, while Belgian waffles are still my favorite and first choice, on days that I don't feel like getting two waffle irons dirty, I'm perfectly happy to whip up a few of extra thin guys for myself and these 'waffle taco sundaes'!   Remember, any and all waffles are good, BUT waffles with ice cream are ALWAYS better (even if they are the thin ones)!!!
Chocolate Waffle Taco Sundaes

Print recipe
| | |
| --- | --- |
| Serves | 4 |
| Prep time | 5 minutes |
| Cook time | 10 minutes |
| Total time | 15 minutes |
| Meal type | Breakfast, Dessert |
Ingredients
1/3 cup Kodiak Power Cakes
1/2 scoop Chocolate PEScience protein (30% off coupon below)
2 tablespoons coconut flour
1 tablespoon Sweet Leaf stevia or sweetener of choice
1/2 teaspoon baking powder
2 teaspoons cacao powder
1/4 cup chocolate MuscleEgg egg whites (www.muscleegg.com)
3/4 cups milk of choice
1/2 teaspoon vanilla extract
Strawberry Halo Top ice cream (filling)
BuffBake Chocolate Peanut butter (filling)
strawberries (filling)
Directions
Step 1
Combine waffle ingredients (first 9 ingredients) in a medium sized bowl. Mix until smooth. If you would like thinner waffles, add more milk. Adjust sweetener to taste.
Step 2
Preheat waffle iron and coat with non stick spray. Cook according to manufacturers instructions. Let cool slightly.
Step 3
Fill waffles with ice cream, chopped strawberries, and drizzle with nut butter and syrup if desired.
Note
NUTRITIONAL INFORMATION (makes 4 servings): calories- 199, fat- 8 grams, carbs- 17 grams/fiber- 8 grams, protein- 17 grams PER SERVING as shown
If you are interested in receiving 30% OFF Chocolate Select Protein or on any & all PEScience products, use my code CORINA at checkout at www.PEScience.com