Sprinkles… don't they just make everything better?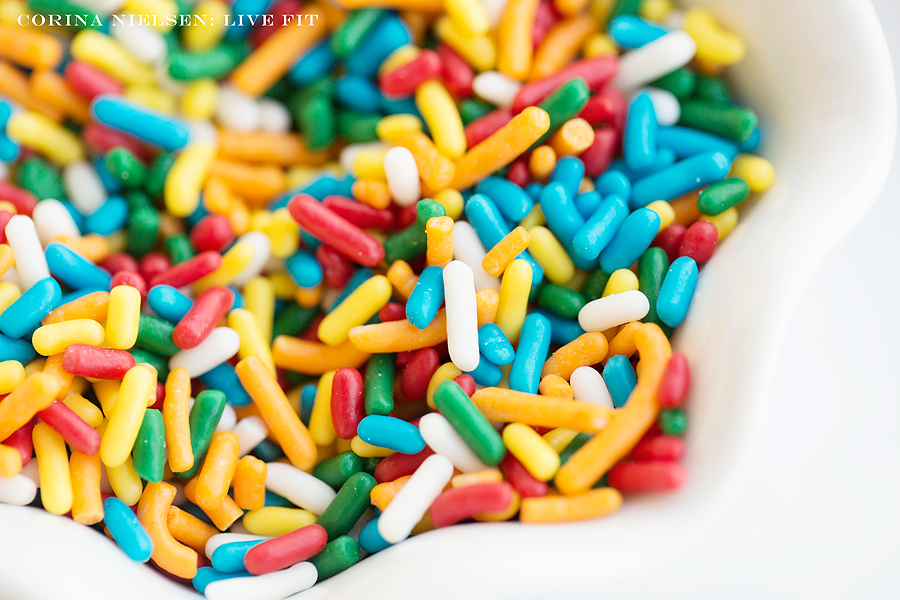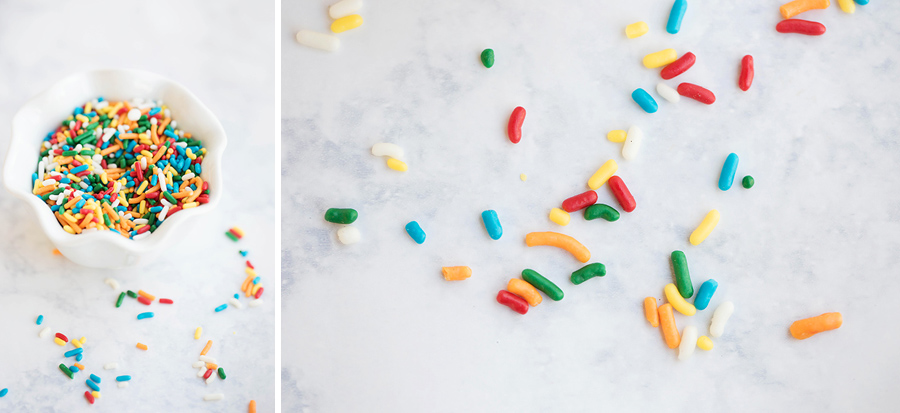 Sprinkles just have a way of brightening any day and they definitely make things more FUN.  I was never a huge fan of them and rarely ever chose sprinkles as a topping on my ice cream as a child, but as an adult?  Yup, they are a must and they simply make my heart smile!  Wanna know what else makes me smile?
THESE…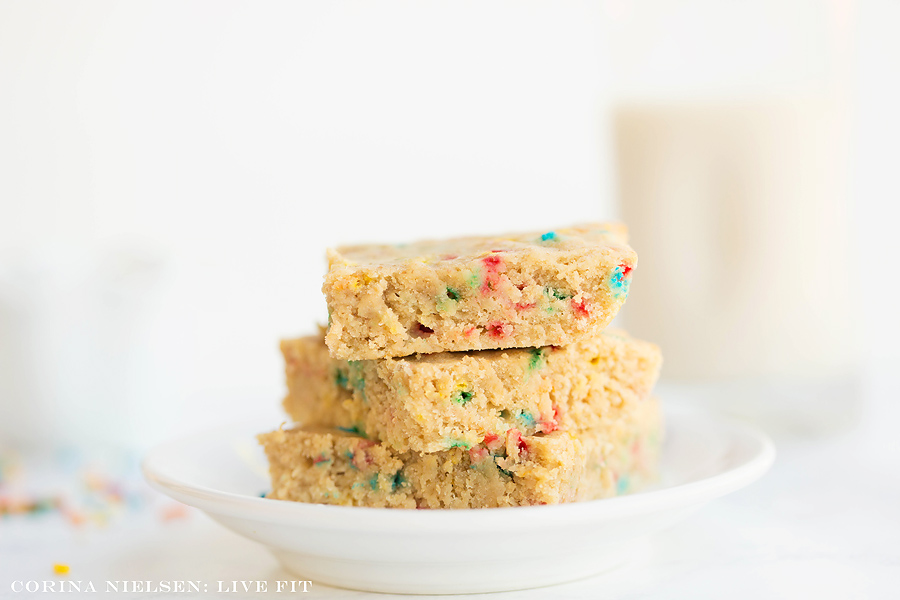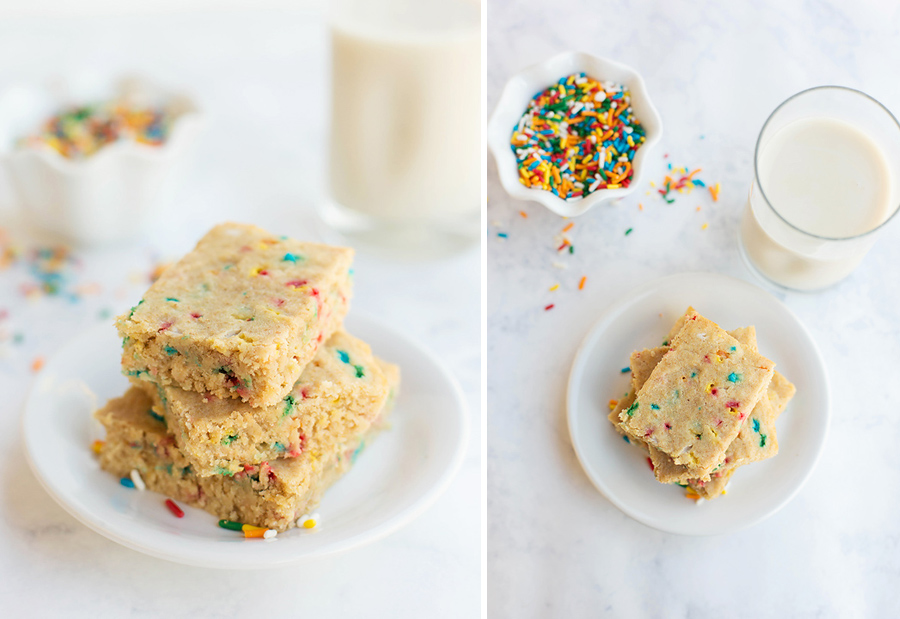 Oh my word.  Don't these bars just scream happiness?  I wasn't sure I would get the right texture on them, but they turned out to be everything I imagined and more!  Thick, dense, not overly sweet, and too adorable for words.  Crumbly on the outside, but soft and moist on the inside.  Just look at the texture on the top , the corners, and the middle.  And the little flecks of sprinkly sunshine, oh those sprinkles!!!!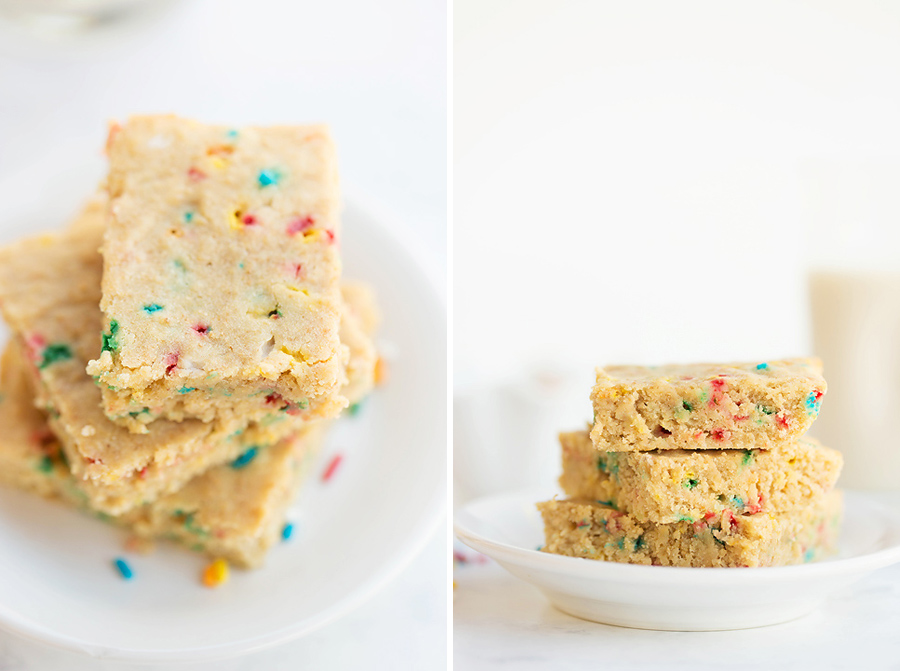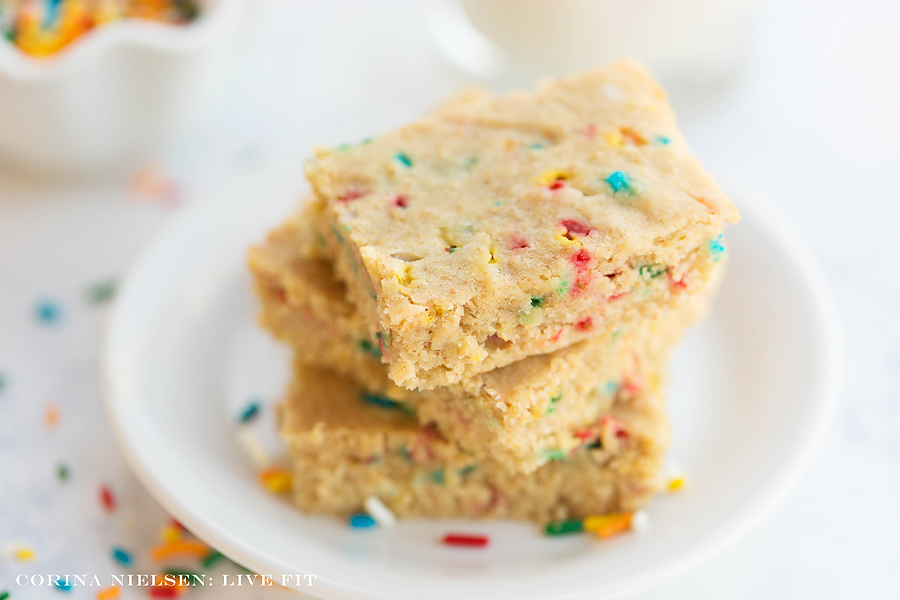 I'd say they were just about as perfect as you could possibly get!  Delicious on their own with a glass of milk and even better warm and served with a nice serving of vanilla or even strawberry ice cream.  Can you believe these are only 98 calories per serving???  I will take 3 please!  Happiness and smiles all rolled into one blondie bar!
Confetti Cake Batter Blondies

Print recipe
| | |
| --- | --- |
| Serves | 9 |
| Prep time | 5 minutes |
| Cook time | 20 minutes |
| Total time | 25 minutes |
Ingredients
1 cup Kodiak Power Cakes
1/3 cup Sweet Leaf Stevia
1/4 teaspoon salt
1/4 cup Cake Batter MuscleEgg egg whites (substitue plain egg whites and add more sweetened)
1/2 cup unsweetened apple sauce
1 teaspoon vanilla extract
1/2 teaspoon butter extract
4 tablespoons melted butter or coconut oil
3 tablespoons sprinkles
Directions
Step 1
Preheat oven to 350 degrees and coat an 8x8 or 9x9 pan with non stick spray (9x9 will make these thinner blondies and size shown).
Step 2
Add dry ingredients in a large bowl and stir until until combined. Add wet ingredients to dry ingredients and mix well. Batter will be thick.
Step 3
Place batter in prepared pan and spread to edges. Bake for 20-25 minutes until edges slightly come away from the pan.
Note
NUTRITIONAL INFORMATION (makes 9 servings): calories- 98, fat- 5.8 grams, carbs- 8.8 grams, protein- 3.8 grams PER SERVING