Let's talk about popcorn for a second.  Easily one of my top 5 snacks of all time.  I think I eat at least 1-2 handfuls every single day and it's something we keep stocked in our house at ALL times.  It's great to nibble on and perfect to throw in a small zip lock bag and put in your purse for on the go snacking.  Sometimes I go with a sweet variety, but most of the time I will reach for my Live.Love.Pop simply because I can eat FOUR cups of it for ONLY 140 calories (fat- 8 grams, carbs- 16 grams/fiber- 3 grams, protein- 3 grams).  Hello VOLUME!!!  I have yet to find another popcorn on the planet with macros as good as that.  Unreal.  Wait, are you sure you REALLY read that… FOUR cups for only 140 calories.  Yeah, I'm still in shock and I've been eating it for months!
Anyways, because the company only has more savory type flavors, I thought it might be fun to transform a serving of the plain "Sea Salt" Live.Love.Pop into a sweet treat!  I hadn't ever made popcorn balls before, but now I'm kicking myself for not trying sooner!  It was definitely simple enough and after making this batch, my mind was RACING with other ideas for flavor combinations!  So many possibilities.
Obviously, the first attempt had to involve nut butter.  And like I've said many times before… nut butter is life and any place I can slather it, glop it, pour it, soak it, or even just spoon it… that's what I'm going to do!  For this first popcorn ball attempt, I decided to go with my favorite nut butter brand "BuffBake".  How could I possibly pick one though???  All of them are amazing, but the girly in me was craving something colorful and pretty.  Nothing more than gorgeous than a deep and bold Red Velvet!!!
Sounds good to me!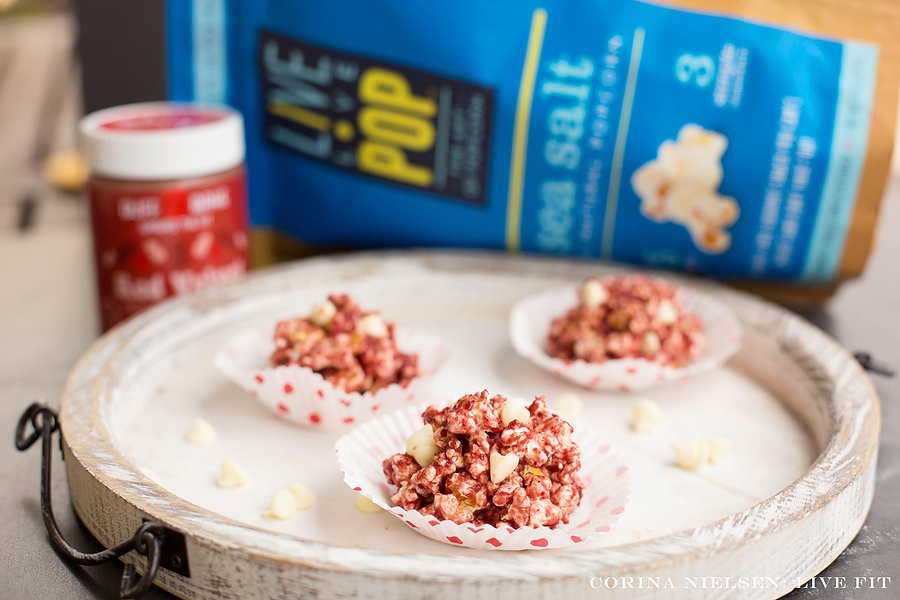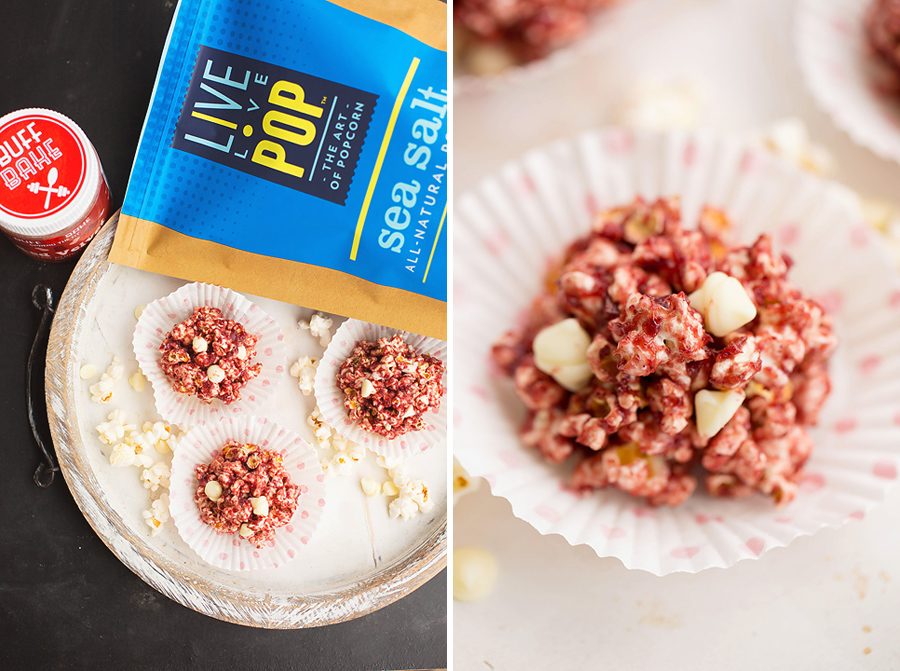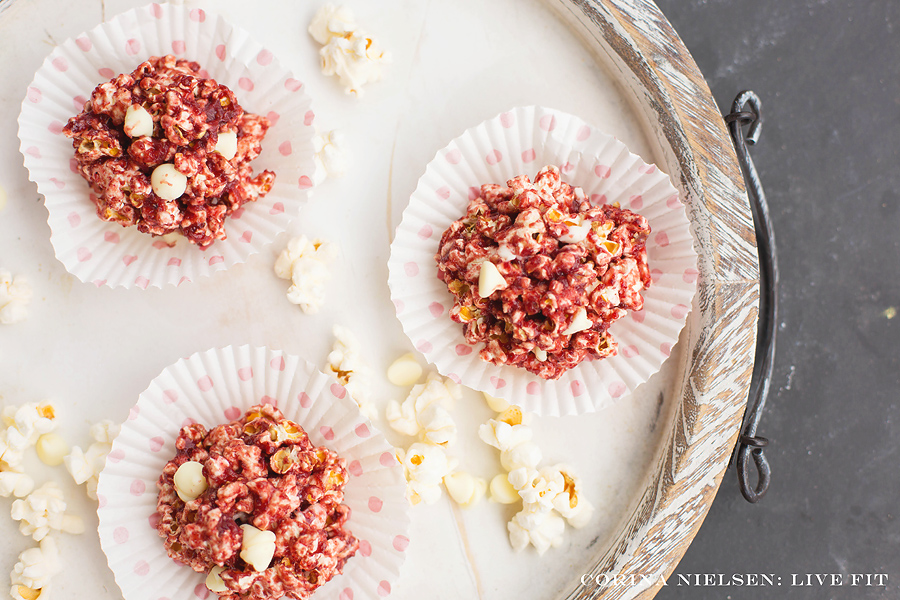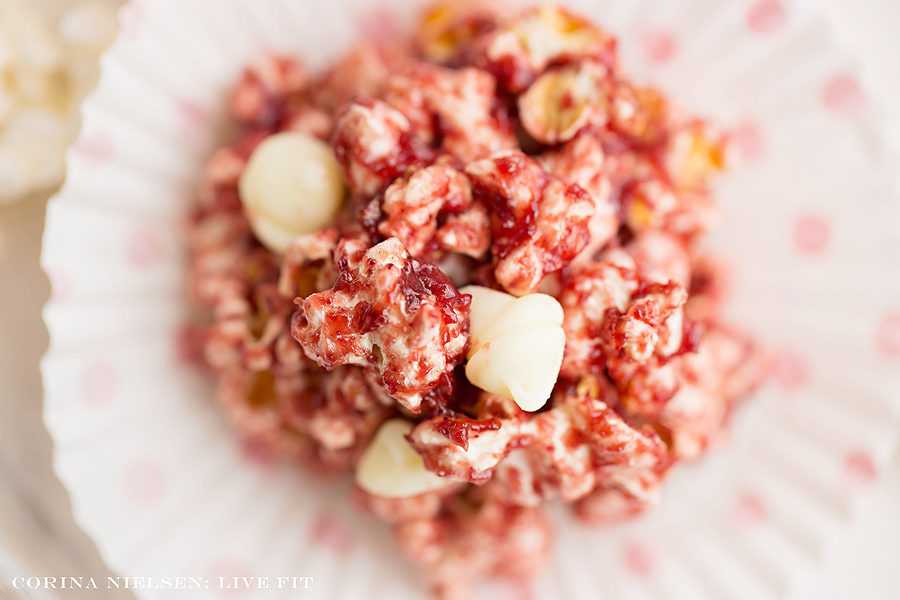 Popcorn balls… new obsession!  Expect may more varieties of these!!!  And yup, that Red Velvet BuffBake peanut butter was the right choice for this first attempt.  The color and flavor couldn't have been more perfect!
10% OFF Live.Love.Pop using coupon code 'corinaLLP' at checkout www.livelovepop.com
10% OFF BuffBake using coupon code 'corinabuffbake' at checkout www.buffbake.com
Red Velvet Popcorn Balls

Print recipe
| | |
| --- | --- |
| Serves | 3 |
| Prep time | 5 minutes |
| Cook time | 5 minutes |
| Total time | 10 minutes |
| Meal type | Dessert, Snack |
Ingredients
2 cups 'Sea Salt' Live.Love.Pop popcorn (10% off coupon below)
3 tablespoons 'Red Velvet' BuffBake peanut butter (10% off coupon below)
2 tablespoons Sweet Leaf stevia
2 tablespoons honey or maple syrup (I used Walden Farm's syrup)
1 tablespoon white chocolate chips
Directions
Step 1
Add honey/syrup, nut butter, and stevia to a small saucepan. Stir over low heat for 2-3 minutes until everything is softened and well combined. Turn off heat and let cool slightly.
Step 2
Place popcorn in a large bowl, pour nut butter mixture over popcorn, and add white chocolate chips. Using a large spoon or your hands, carefully stir together. Ensure each popcorn kernel is covered.
Step 3
Divide popcorn into 3 small balls and place in cupcake liners. Place in fridge for 5-10 minutes until set.
Note
NUTRITIONAL INFORMATION (makes 3 small balls): calories- 113, fat- 7 grams, carbs- 9 grams/fiber- 2 grams, protein- 4 grams PER POPCORN BALL